Dwight: My barcode voting article in March 2018 was the first article to alert voters as to the risks of this type of a system. Do you remember what you said about me in Twitter in response to that article? Should I post it here? cc:
@RickHasen
1/
2/
It was so bad that some people encouraged me to notify your boss. But I didn't because I thought that at some point you might have something substantive to offer and sure enough that has proven true.
3/
I believe in debate, and before I started writing about the dangers of barcode BMDs, vendors and election insiders were only listening g to each other, and voters had no idea there might be cause for concern.
4/
I believe I was also the first to publish an article about the "Permission to Cheat" feature (although it was Appel who later dubbed it "Permission to Cheat."
tyt.com/stories/4vZLCH…
5/
You can see in Appel's Permission to Cheat article where he was gracious enough to reference my earlier piece.
freedom-to-tinker.com/2018/09/14/ser…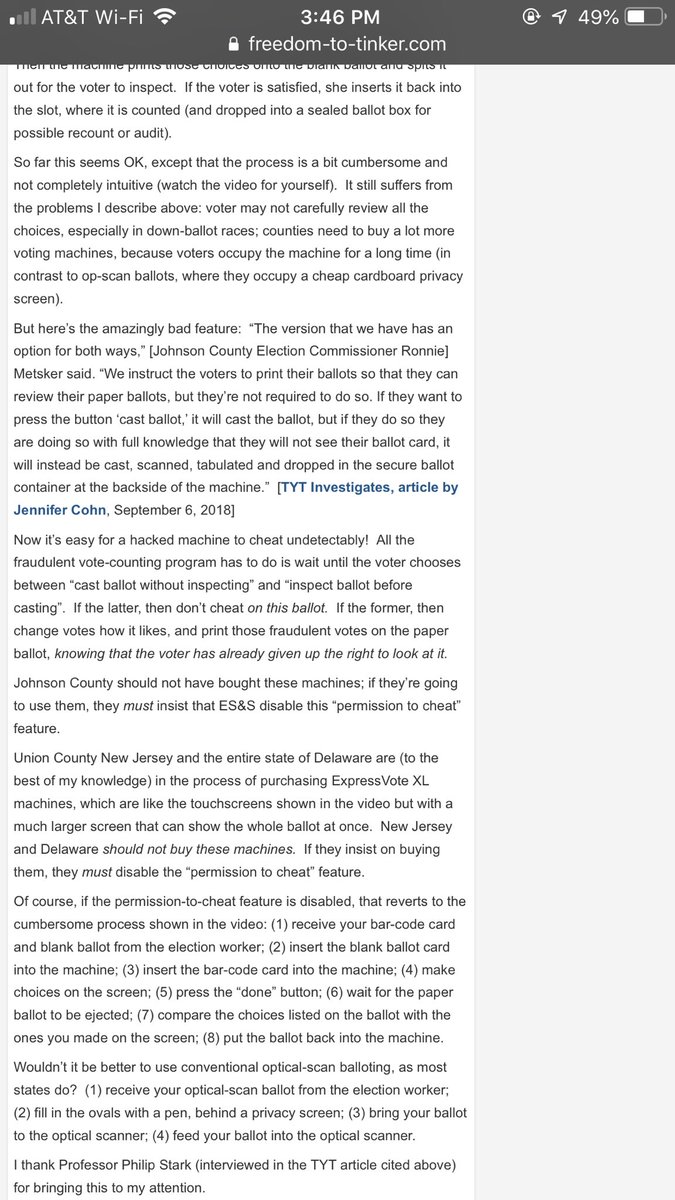 6/
I had to fight—to effectively BECOME a journalist—to get these concerns any sort of attention at all. No one else would do it no matter how much I begged.
7/
And through it all, the Verified Votings and Brennan Centers and Rick Hasens of the world have not once done me the common courtesy of responding to my concerns. It's rude and it's dangerous. So yes I get a bit testy at times.
8/
And to be honest,
@RickHasen
's stonewalling if my Salon piece, selective amplification of a pro-BMD piece, and your "tsk tsking" ME after what you said about me and my article is a bit much to take.
9/
@DavidJBecker
and vendors—and their pro-BMD position—are already in the power position. They already are the ones who advise jurisdictions & lawmakers as to what they should buy and whether there are risks, while they and now
@rickhasen
try to stifle debate.
10/
It's shocking and upsetting.
12/
Another version that I published on Medium. I can't remember which was the one that triggered your highly unprofessional and rude response. Perhaps you can remind me. Thanks.
link.medium.com/ifVgv5GsuV
13/
PS. There is no other article besides my Salon piece identifying the states w/ counties that have already chosen these Hybrid barcode systems. There is no other article putting this issue in the context of what occurred in the 1st jurisdiction to deploy them: Johnson County.
14/
So if you or Rick is under the impression that my article is mere surplusage and that the concerns have already been sufficiently vetted, you are wrong.
salon.com/2019/03/28/new…