Since everyone is talking about Wayanad & Rahul Gandhi, i would like to tell a story which i read in 2012.
In 1958, K Kamaraj, Indira Gandhi & many top Congress Leaders arrived in Kerala to campaign against undivided CPI, in the crucial Devikulam By-election in Idukki.
#Thread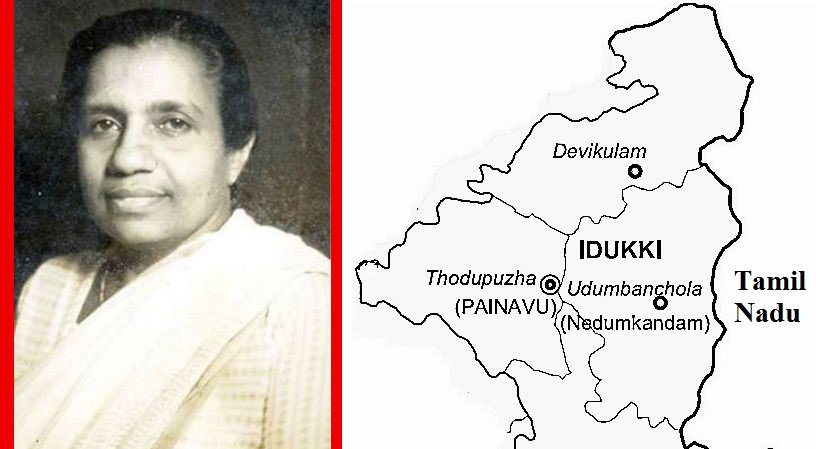 The year is 1957.

EMS Namboodiripad takes oath as Kerala CM on April 5th 1957 and the news sent shockwaves across the world. The news was given importance pages in many International newspapers & CIA began to monitor the activities of the democratically elected Communist govt.
The communists proceeded to usher in a slew of legislations (Land Reforms and Education Bill) and it angered the dominant forces in the Kerala society including the Catholic Church (KCBC) and the upper caste Nair Service Society (NSS).
huffingtonpost.in/anand-kochukud…
The CPI candidate was the legendary Rosamma Punnoose. (mentioned in the 2014 Malayalam Movie 'Iyobinte Pusthakam')

Rosamma came from a affluent Christian family from the Catholic heartland of Kanjirappally and had openly defied the Church many times.
BK Nair was the Congress candidate in 1958 Devikulam by election.

EMS took a decision that not a single CPI minister will go to Devikulam for election campaign.

From Kamaraj to Indira Gandhi, many Top INC leaders arrived in the high ranges of Idukki for the election campaign.
Another interesting fact is that there was a 14 year old boy who sang Tamil songs for the election meetings of Rosamma Punnoose in Devikulam.

His name : Daniel Rasayya, whom we now know as Ilaiyaraaja.
The KCBC (Catholic Church) declared Rosamma Punnoose as an outcast and urged everyone to kick out the Godless creatures from Kerala.

The stage was set for a Titanic clash and all eyes were on Devikulam (May 1958).

The result stunned entire India.
The EMS Govt was brought down in 1959 and The LEFT lost 1960 election against a Grand alliance of Congress, Muslim League, Nair Service Society(NSS) & Catholic Church.

The Communists in 1957 got 34.4% votes but in 1960 election the Left got 39.2% votes, a increase of 5%.
Till age 18, i lived in Bombay and Gujarat, and the moment i arrived in Kerala, i noticed the working of the Communists here.

They work like a well oiled machine, like a para military force. Unlike Communists in Bengal, communists here are street fighters basically.
Like the saying goes in Odanad, If you push a Malayali communist against a wall, he will retaliate with fury.
Wayanad and Idukki has lots of similarities, and the soul of Arikkad Varghese still watches over Wayanad.
Good Luck
@RahulGandhi
#ThreadEnd
The story of 1958 Devikulam election (By Asianet News)

I heard this story in 2008 but read verified papers in 2012. I still wonder why Malayalam Industry has not made a movie on this topic.


I hail from a family full of communist radicals (Infact i'm the most liberal one in my Family)

When i arrived in Kerala, i heard lots of stories described by my relatives (Inculding the story of Com Rosamma). I was skeptical then but as time passed, i found each story was true.
Bonny Mary Mathew as Comrade Rosamma Punnoose in the 2014 Malayalam Movie 'Iyobinte Pusthakam'