I get your argument, but when things like student loan debt have tangible mass effects affecting broader society – delayed marriage, delayed kids, fewer kids, etc – I'm not sure the mockery accomplishes much vs figuring out a viable alternative
"You people are being unreasonable!" has never worked, in the history of ever, to convince tens of thousands (millions?) of people to alter their behavior
Until you live in a rural community where the only hospital for miles is closing down b/c it can't find doctors who can afford to work there while still repaying Sallie Mae 😉


My gf's an optometrist. She's paid well, and her student loan debt will be paid off without a problem.

But the practice where she works has been desperately trying to hire another eye doctor for over a year now. They can't find anyone b/c the service area is mostly rural.
I even tried to help them find someone awhile back 😂


I wouldn't know, I lost my health insurance after the ACA passed and haven't been to a GP in years 🙈


This simply isn't accurate. 2 years of junior / community college may substantively affect the debt load of someone with just a bachelors, but it's a drop in the bucket for anyone attending a professional school after (or grad school w/o a fellowship)


Hard disagree; I think David's wrong here, but he gives the issue meaningful thought


Yep. A good number of community college credits won't be recognized at a 4-year institution (on top of 4-year graduation rates being low anyway)


He may very well be telling the truth. But I guarantee if he is that either 1️⃣ he doesn't have a graduate/professional degree, and/or 2️⃣ he got his degree 20+ years ago, and/or 3️⃣ he had financial help from family


This tweet is dumber than a bucketful of week-old tuna sandwiches


Doubly so coming from a guy who, at least according to his bio, made his living off taxpayer's money for 29 years
"Almost all" == several didn't

You can squawk about bullsh*t all you want, but the reality is most state university systems have studied this issue and identified it as a barrier to improving 4yr graduation rates


The majority of student loan debt is undergrad because the majority of undergrads never pursue a higher degree

It's math


I can only use "dumber than a bucketful of [rusty thumbtacks | used condoms | unwashed jock straps | moldy cheese cubes]" so many times 😂


THIS IS BULL. SH*T. WISH DRAGON. LITERALLY. WELL NOT LITERALLY. BUT NEARLY ALL (not all though) OF *MY CREDITS* TRANSFERRED!!1


Several clients who never finished undergrad are now successful business owners who make more than I do. I wouldn't consider anyone who didn't finish a failure.

But, whether merited or not, a large % of jobs in a large % of industries req a BA/BS/+ now


When I last studied the issue circa 2010, this was the norm: 50%ish credit dropoff, and the ones that transferred all treated as GE


It's similar in concept to NC's old Teaching Fellows Program, as well as the Public Service Loan Forgiveness program the feds run

Certainly should be one piece of the puzzle


Can't speak to other states, but North Carolina already does this

The net result has been voluntary cuts, then NCGA-added cuts (since "they were wasting $$!"), approval for even higher tuition rates to make up the difference, leading to even more loans


The medical school at East Carolina University – a public school in rural eastern NC – charged $23,181.60/yr in 2018-19 for an in-state student.

It was $10,193.67 in 2008-09.

This was after the university self-identified places to cut its budget as part of the UNC Tomorrow plan
The medical school at UNC Chapel Hill – a public school in central NC – had a similar experience

Required costs (excludes room & board) for in-state students –
2018-19: $39,333
2008-09: $12,891
1998-99: $3,353

Costs went up 3x after self-identified budget cuts for UNC Tomorrow
Post-2011 GOP takeover, yes

The hikes during the 1998-2008 span were under D-majority legislatures. They didn't appreciably cut taxes, they just spent the money elsewhere


"People are doing X, and they say ✌️it's because of Y✌️, but the 'X causes Y' argument is absurd because reasons" takes are always fun


"Let me substitute my own judgment for the dispassionate actions of thousands of people acting autonomously" is pretty quintessential leftism, I thought... 🤔
Oh I totally agree w/
@RadioFreeTom
that unpersuadable ppl worthy of vilification should be vilified. But that's because they're unpersuadable, so you'd want their noxious ideas pushed to the margins of public debate instead.
Different scenario here IMO
Correct. And the distributed costs of providing that revenue – to resolve the transfer issue and a host of other problems – expands opportunities for those not coming from an already-well-resourced home, vs paying to solve the problem out of tuition $$


But was it the simplicity of my word choice, or the sheer repetition of certain things happening several times a week for years on end?


Disagree. This may apply in the world of private medical schools, but budgets for public medical schools are set by politicians with little regard for what materials and equipment are needed to do things well


So she would've started college around 1999.

When public university cost of attendance was 1/11th what it is today.

You're not making the point you think you're making.


I was right btw,
@JoshuaIan610
– degree from 20+ years ago
(His wife's was from 20yrs ago. He intentionally avoids mentioning his own, meaning he's older than she is.)
Me: "he got his degree 20+ years ago"

You: "College in '96"

2018 - 1996 == 22 == "20+"

Evidently you didn't get a degree in a STEM field


That's not even getting into "wife graduated high school in '99 ... masters in '99"

Fabricating cover stories is hard
But he totally has an MBA
You already proved my point, several times over. You're just not smart enough to realize it.


Fair, but I suspect that's a both/and issue and not an either/or issue. Good schools are necessary, but not sufficient to replace a loan-repaying salary


Obligatory preface that this isn't an attack on David at all, even though it's going to seem that way because it's the tweet right after I responded to his

Rs need to develop policy solutions to this problems, as a pure matter of political self-preservation
The reason so many people are voluntarily self-identifying as socialists and somehow getting elected to office (esp at the local+state levels) is because a significant portion of the electorate feels like "the way things are" isn't working out for them
Agree or disagree with them, but Democrats have offered their solution with the "eat the rich / let Government run everything" approach

Rs thus far have responded with Trumpism, which is a combination of Big Guv'mint policies that won't work paired with ethnonationalism
The inevitable end result is going to be 2018 again: Rs stay home because their promised glory days aren't returning, and Ds turn out in droves in outrage over the racism
At which point the rich are going to get eaten, the courts packed, guns grabbed, and all these other outcomes Rs supposedly don't want to happen etc etc etc
I didn't make my living asking others to pay for me, just to complain about paying for anyone else after I retired, no


Your earlier tweet confirmed you couldn't do basic arithmetic. You'll have to forgive me if I don't find your weak sauce attempts at an insult terribly persuasive.

Learn your addition and subtraction tables, then get back to us


Sorry, I'm still trying to figure out how you think it's "wrong again" that you "got your degree 20+ years ago" when you graduated in 1996


Indeed. And now apparently thinks he's got a winner with "you're bald!" jokes

It's sad, tbh


So what you're saying is I wasn't wrong, you just want me to focus on something else. Got it.


Article I, Section 8, Clause 1

Agree or disagree with whether it's wise, but it's undoubtedly constitutional


I already shared the data showing medical school cost of attendance tripled from just 10 years ago

So yes, rates have changed pretty remarkably since you graduated with your most-recent degree


14 years from high school (1998) to law degree
(2012)
Spent 5 of those years as a college dropout
I was wondering why I suddenly had less ALL CAPS RAGE in my @'s


I didn't malign your service, I maligned *you* for being a hypocrite. Funding your lifestyle off taxpayers while arguing everyone else should pay their own way.

You're witty though


Basic math is not elitist, no


I'm not surprised you think this is somehow responsive to anything being discussed, but thank you for your insights

You're probably the type who thinks we could cut tuition rates if we just had fewer PE classes


In related news, 70% of all high school students began college the semester after graduation in 2016
bls.gov/opub/ted/2017/…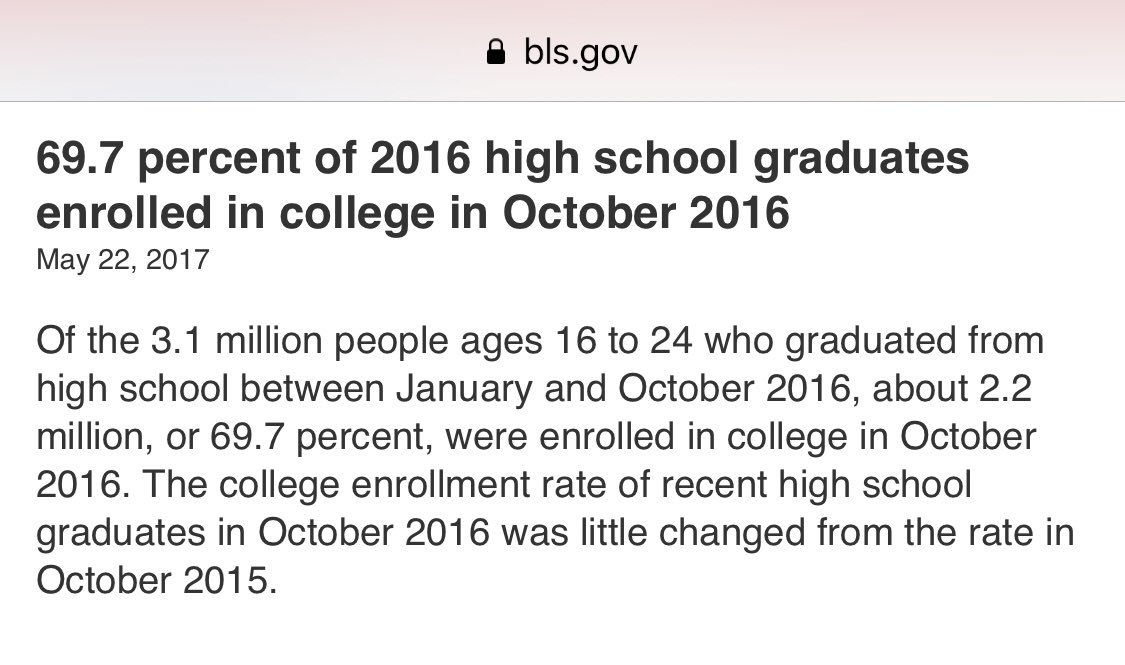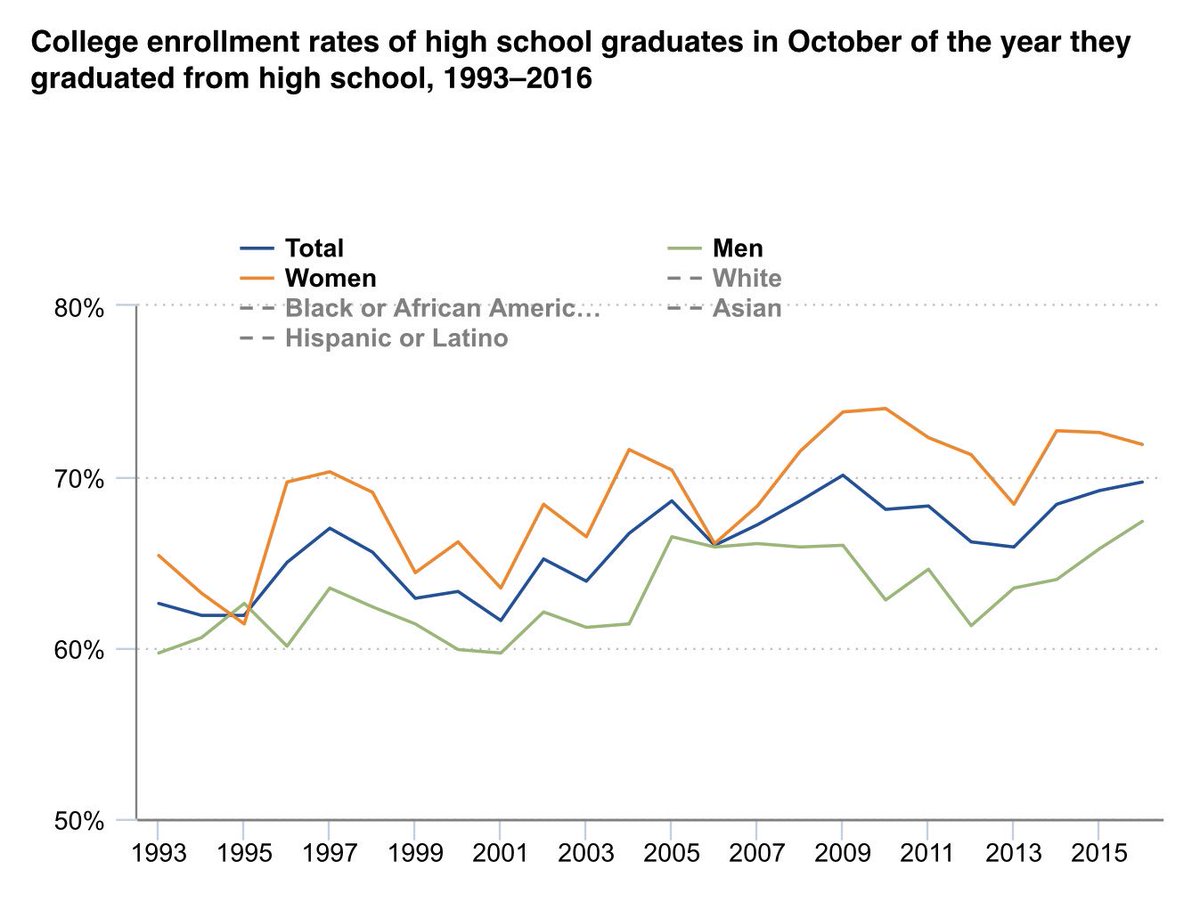 GET OUT OF YOUR BUBBLE NEWK

You and your elitist "context." What is English, anyway?