In today's criminal justice news, Bossier City (LA) police officer Terry Yetman has been indicted for:
➡️ 20 counts of f*cking his police dog
➡️ 24 counts of filming himself f*cking his police dog
➡️ 31 counts of kiddie porn
⚜️
kutv.com/news/nation-wo…
⚜️
ksla.com/2019/04/12/for…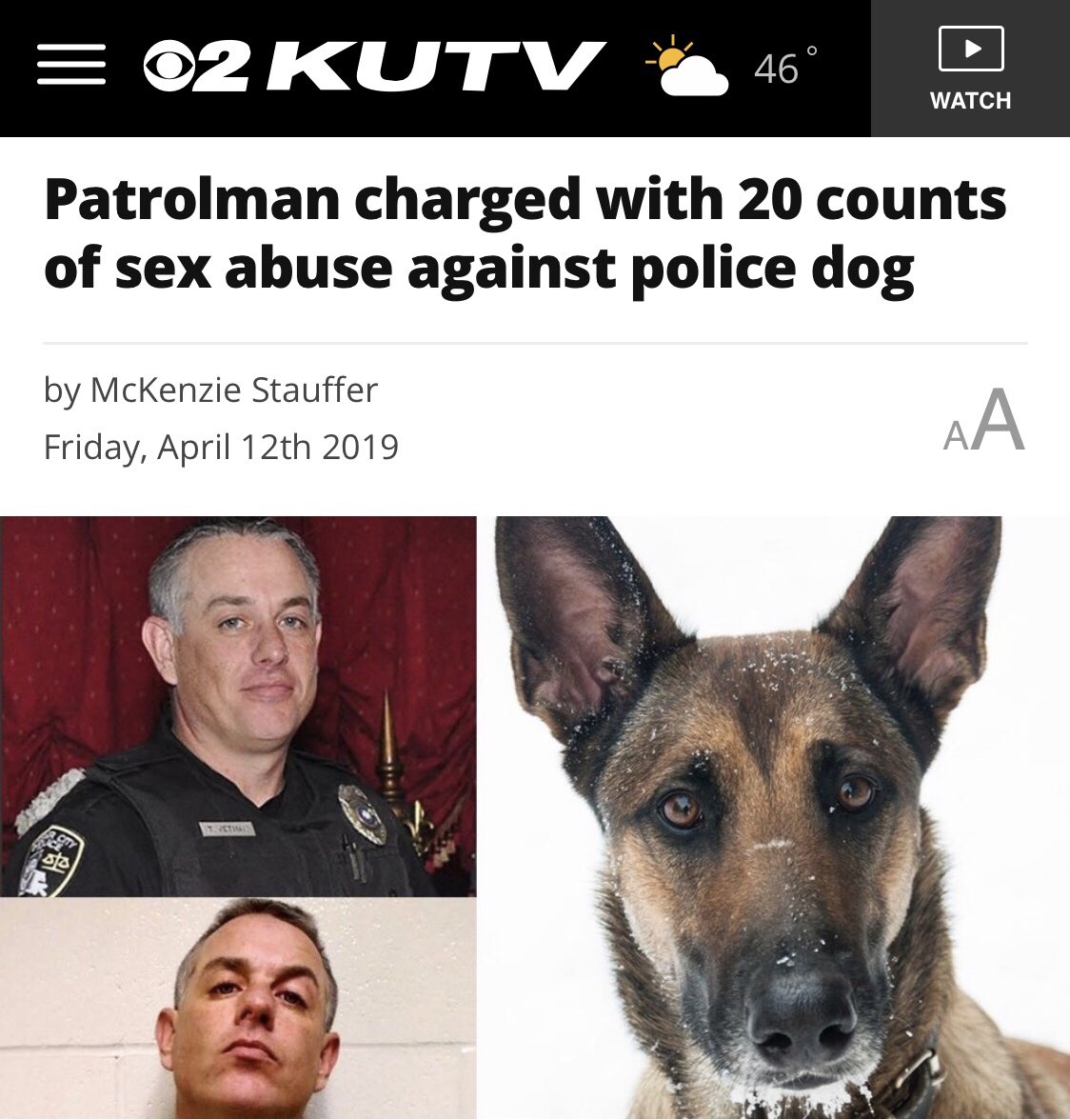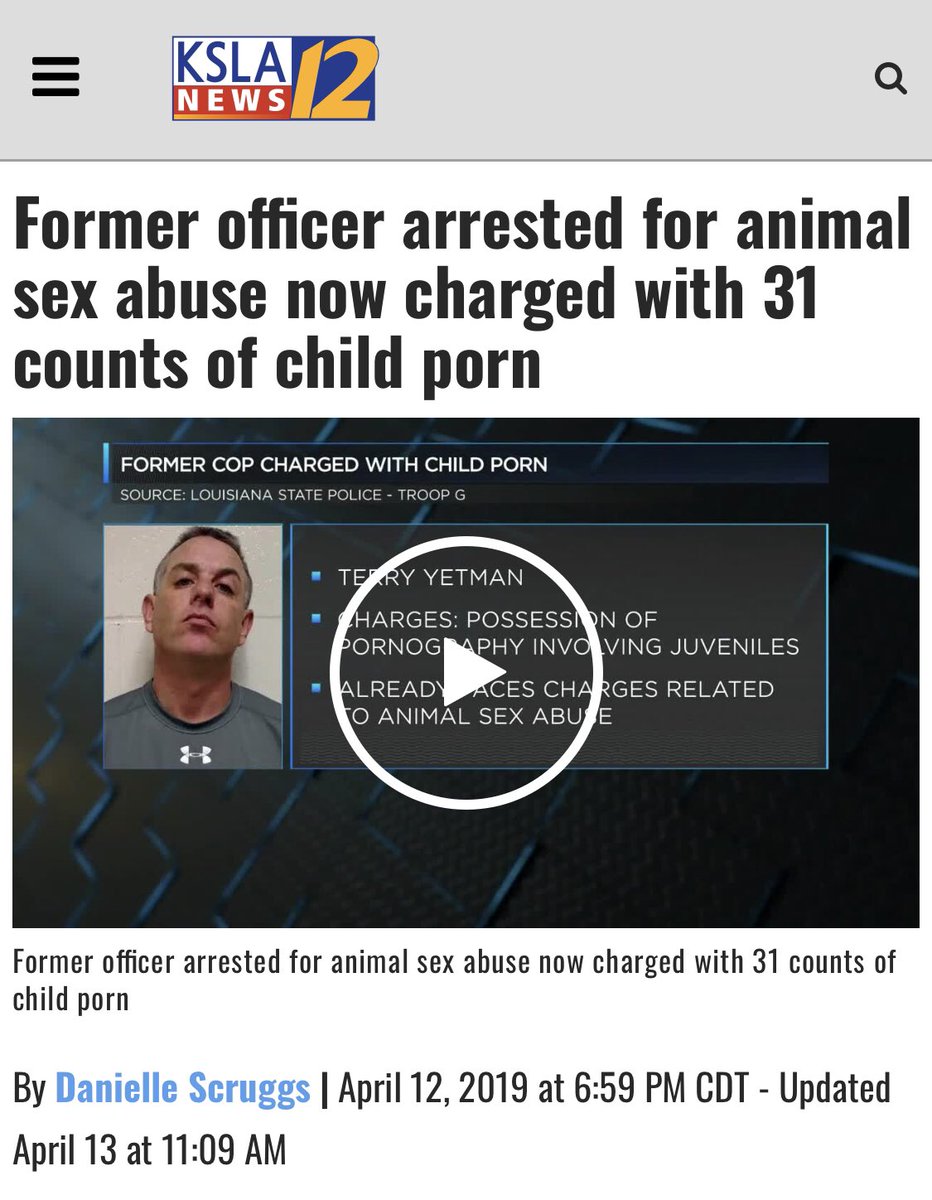 I'd rather not know tbh 🤢🤮


Probably a good thing most lawyers aren't paid with your tax money then given a gun and qualified immunity


Cops hoarding kiddie porn is pretty normal, several stories a week all over the country

The bestiality is new though


Except they're not outlier stories. There are several hundred every month, I've been covering them on
@fsckemall
for two years now
Sure would be nice if "conservatives" put as much energy into reforming Government entities that habitually abuse their power as they do overusing the "every profession has bad apples!" line
Studies have shown 40% of police commit domestic violence crimes (see, e.g., footnotes 1 and 2 at
womenandpolicing.com/violencefs.asp
)
And that's before anyone starts to count the puppy f*ckers
The response will be "I didn't say I don't have a problem with it, I just said it's mean and hurts my fee-fees that he implied there were more than a few bad apples f*cking dogs and hoarding kiddie porn)


I will, when soldiers start patrolling my streets and can kill me with impunity

The UCMJ actually holds people accountable. Qualified immunity does not.


Leave it to a Blue Lives Matter patriot to malign the military though
I can't find the tweet, but someone suggested he kept "accidentally" turning off his bodycam


1️⃣ The number of sworn LEOs is closer to 800,000

2️⃣ "3,600 taxpayer-financed dog f*ckers a year is no big deal!" is certainly a hot take


Paid vacation to f*ck dogs and masturbate to naked children

Quite a system we've got


LOL right?

Of all the hills to die on, and this guy picks repetitive dog-f*cking for sport


The dog was asking for it when it walked around naked


You can take out the "seems." Cops routinely skate on killing people because they make the (well-coached) argument that they feared for their lives, and a whole army of Twitterers / Republicans / jurors will step in to nod sagely that it must be true


Can't make that claim when there's no threat. Hence why such a large number are indicted on child porn each year, drug crimes, etc
Nah, probably will do a stint as a School Resource Officer in a neighboring county first


Quite a few examples just from the last year where several people in all three groups were prosecuted


Police f*cking dogs is an outlier

Police committing crimes is not


Only for charging decisions (presenting a case to a grand jury, etc), and even then the immunity is limited to civil suits for money damages


You tried to turn a thread about 1 particular dog-f*cker into a dissertation on both all police and the military too

Dunning-Kruger is real I guess


The ".45%" is a number you fabricated yourself, based on two other numbers you fabricated yourself

That you think you've somehow made a "point" as a result confirms the Dunning-Kruger issue


No lol. There are 4 more filming counts than f*cking counts, suggesting either multiple cameras or (more likely) multiple clips of a single sex act – and since bodycams so often "malfunction" when police commit crimes, someone joked it was turned off


You "simply did the math" and somehow missed the 40% doing domestic violence crimes?

It's almost like you were more invested in the numbers you fabricated than what's actually going on with tax-funded public servants


This might actually work as a retort, if you hadn't apparently forgotten your earlier response of "now do the military" when the data was provided to you

Lucky for everyone else, your tweets are right here in the thread for them to read for themselves


1️⃣ Notice the fabrication of the %. Based on a fake numerator (I said "hundreds" so he picked "300") and a fake denominator (there are ~800K police, he picked 1M)

2️⃣ Then notice the claim that everyone else is "good" (vs "not charged with criming")


"I calculated this number I made up based on two other numbers I made up. But I don't buy the numbers you cited from people who study this type of thing for a living."

Sounds legit


But he's owning libs Joseph!


It wasn't an argument from authority

Brush up on your logical fallacies then get back to us


👴🏼: "Here are studies from people who do this thing for a living, including the data they had the time to compile by virtue of doing the thing for a living, from which they drew their conclusions, all of which you can review."

🤡: "StOp ApPeAlLiNg To AuThOrItY iT's A fAlLaCy"
You're just confirming here that you don't actually understand what an appeal to authority fallacy is

Add it to your Khan Academy rotation after you figure out how statistics work


You're really bad at this


🤡: "Government-compiled offender data is wrong because of an opinion column criticizing headlines of newspapers interpreting totally unrelated studies!"

Solid retort


You're wasting your time man, the guy's dumber than a bucketful of cigarette butts


So you're conceding that you're "just 0.36% of cops commit crimes!" argument from earlier was bullsh*t.

Took awhile to get here, but your admission is appreciated. Enjoy the rest of your weekend


Yes. 2 links at the bottom are to separate news stories covering the charges.


I included them in the order they happened. He was charged with dog-f*cking in December, the porn charges were added this week.

Tweet less, read more.


I'm not hip to 1930s lingo I'm afraid

The 2019 meaning is quite different lol


Doubt he gets much time for the dog-f*cking

They'll crucify him for the child porn collection though


I believe it. I seem to recall a news story not too long ago where a state legislature somewhere was debating whether to finally criminalize bestiality b/c it was still legal there


Totally conceded that DAs have broad civil immunity. But on big chunks of their job it's just the same QI as police, DAs don't get the same presumption of infallibility as officers when criminally charged, and state licensing agencies will suspend/disbar


DA after him was removed from office + license suspended; an ADA arrested for weed possession. The elected Person Co DA going to prison, elected Rockingham Co DA on probation. A Wake Co ADA charged for concealing evidence. Gaston DA arrested for heroin


Those are just off the top of my head, I'm sure there are more if I looked
Louisiana: working hard to put the F back in JFC


I call it "the floor to ceiling clusterf*ck of criminal justice" on my show


Comes up 100% of the time. It's a weird fetish


Pretty weird reaction to a story about a dog-f*cking cop beating off to kiddie porn. Seek therapy.


Meh. Proper place of qualified immunity is in the garbage can. Let a jury decide if it's a truly novel set of circumstances.


You have a vivid imagination. It's gross that you choose to use it fantasizing about bestiality.


Keep in mind officers are entitled to a defense like everyone else, and there's no effort to uniformly collect the data. So a domestic assault pled down to a simple assault successfully conceals the DV aspect of it


The one used to sniff middle school lockers for drugs, so he can satisfy both vices at the same time


Made me cry when I was a kid. Had I only known them how police *actually* treat their K-9s...


Not quite. Pottawottamie County v. McGhee was dismissed before SCOTUS made a decision, b/c the government settled with the defendants rather than risk an adverse ruling.