I'm reading
@JosephEStiglitz
's new book, "People, Power, & Profits".
Really appreciate this point about globalisation & wages:
It's not just that wages are cheaper overseas, but our trade agreements give companies stronger rights if they invest overseas than at home.
#ISDS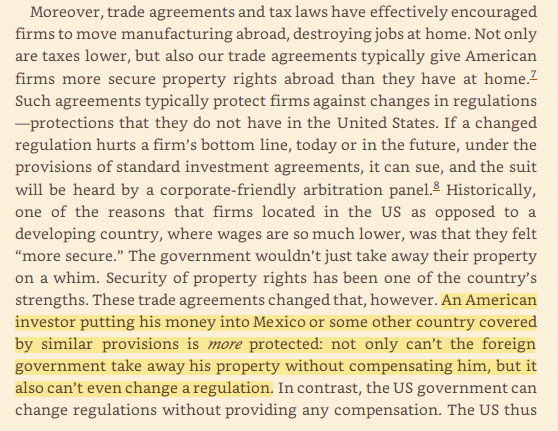 and
@JosephEStiglitz
cleverly frames
#ISDS
as undermining something valued by many of his centrist readers:
the USA's comparative advantage in property rights!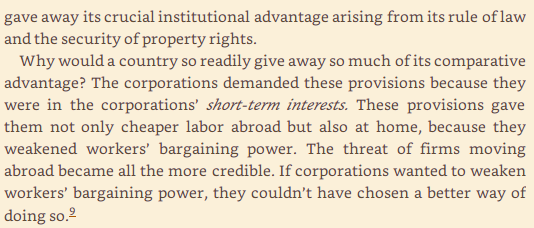 What's wrong with the current rules of globalisation?
@JosephEStiglitz
it safeguards corporations, rather than workers, health, tax collection, or the environment.
[i entirely agree, so very hyped to hear his solutions...]

Maybe I'm interpreting that line unkindly?

Maybe he just means that conservatives focused on these issues, in order to divide urban liberals and blue-collar workers?? Maybe?

But if he's saying that we shouldn't have enacted gay rights, then that is not "growth with equality"
It's a fantastic book - aptly diagnosing the problems with big data, automation, monopsony, the current rules of globalisation. Here, I'm 100% on board.

But I was surprised not to hear more ideas on race, green growth, or better rules for globalisation?

His next book maybe? 😃
For those persuaded by
@JosephEStiglitz
's argument that we need to reform the rules of globalisation,
The next question is HOW?
We know *very* little about
- How to build political support for reform?
- How to design effective inter/national laws that MNCs can't skip over?
Personally, I have zero clue. Even if there was mass support for reforming the rules of globalisation to curb corporate power, i don't think we know how to do this effectively...?
Isn't that crazy tho? Of all academia, in all the world, we do not know how to reform the rules of globalisation so as to curb wage competition, environ. degradation, rights abuses, profit shifting..? Even as economics increasingly documents these ills. That's kinda baffling..