Well my goodness...

The plot, as they say, just THICKENED, didn't it?


Wow they buried the money quote...

"Priestap testified in a separate lawsuit that Clinton was the subject of a grand jury investigation related to her BlackBerry email accounts."

"HILLARY CLINTON" and "GRAND JURY INVESTIGATION" would've been in my headline.
Read that quoted line carefully and tell me what it reveals.
1)
Hillary is the subject of grand jury investigation
2)
GJ is investigating MULTIPLE EMAIL ACCOUNTS she had on her Blackberry device
3)
I'm pretty sure this Blackberry device was NOT gov't issued/secure/encrypted
4)
Blackberry's email servers are not gov't secure/encrypted
5)
Hillary has no control over/cannot erase/cannot destroy emails stored on Blackberry's main email servers.
Any emails sent to/from that device have been recovered.
See, her PRIVATE server, Hillary has control over THAT.

She does not have control over the Blackberry corporation, so that means when somebody discovered her multiple email accounts on her Blackberry device, they were able to go find all the emails Blackberry had stored.
I see the usual idiots immediately attempting to spin this.

Listen up: Horowitz's MYE investigation was into the *FBI'S CONDUCT* in handling the Clinton email investigation.

He didn't empanel a grand jury to investigate that.
Priestap is testifying that Hillary Rodham Clinton is the subject of a grand jury investigation probing how she came to have multiple accounts on a Blackberry device while she was Sec State.
If Clinton *never* disclosed these multiple email accounts on the Blackberry, & they found them on their own, and went an obtained the emails from Blackberry's servers, and they found CLASSIFIED information in those emails up to and including Special Access Programs [SAPs]....
HELL YES there is a grand jury investigating this.

THIS DOESN'T INVOLVE THE PRIVATE SERVER AT ALL. THIS WOULD BE NEW.
Let's take a poll! Who believes while Secretary of State, having both a private server *and* a personal Blackberry with multiple email accounts on it, Hillary was sending CLASSIFIED INFO by email thru the server but NOT thru the Blackberry email accounts? 🤔
Again I have to explain the obvious.
Gregory Craig once WAS the subject of a grand jury investigation.
Alas, now he no longer is.
DO YOU KNOW WHY?
Because the grand jury FINISHED IT'S WORK AND INDICTED HIM and then that indictment was sealed until John Demers and Jessie Liu were ready to unseal it.
So people instantly leaping to assume the use of the past tense in that sentence to only mean the Grand Jury must've no billed Hillary are jumping the gun here.

A grand jury also ends it's investigation when it RETURNS AN INDICTMENT.
And the US Attorney who empaneled that grand jury can SEAL that indictment and hold it and wait until they want to unseal it.

Let me give you an example of this I'm already 100% positive about:

The sealed indictment/s relating to ANDREW MCCABE.
What do we *already know*?

Andrew McCabe engaged in illegal leaking, was investigated by the DOJ IG, admitted to MULTIPLE acts of perjury to OIG investigators, was fired, referred for criminal prosecution.
And?

Well after that, PUBLICLY, as far as the DOJ/AG goes, NOTHING.

No public announcement of a US Attorney assigned? ✔️
No public announcement of a grand jury empaneled? ✔️
But aside from the fact the DOJ *never made a public announcement about it*, we found out McCabe is/was being investigated by a grand jury for his leaking. And when we found this out in Sept. of last year, that GJ had been investigating McCabe for months to that point.
So all the people going "Well shit bro, if they'd launched a new email investigation of Clinton, they have TOLD US BY NOW!", I can't f**king roll my eyes hard enough at people who will never, EVER grasp how stuff actually works no matter how many times you tell them.
Literally NO INDICTMENTS COMING OUT OF THE DOJ has the start of it's investigation publicly announced, the public identification of the US Attorney leading the grand jury announced, the end of the grand jury's probe announced, whether indictment made/sealed.
I mean, why can't some of you grasp this?

Is it, like, a mental glitch or something?
Quick, find me any public announcement by the DOJ about the start of the grand jury investigations of:
1)
James Wolfe
2)
Natalie Edwards
3)
John Fry
4)
Meng Wangzhou
5)
Andrew McCabe
6)
James Baker
Go head, I'll wait.
[humming to myself]
So basically people keep asking me to *explain* why the DOJ isn't doing something that.....

and pay attention here!

...why the DOJ isn't doing something that is ALMOST NEVER DOES.
Think of how politically sensitive these investigations would be, how many of them involve nat. sec. issues and classified info.

And yet morons pester me endlessly about WHY ISN'T THE DOJ BEING COMPLETELY OPEN AND TRANSPARENT ABOUT THESE INVESTIGATIONS, WHEN THEY START, ETC?
I'll tell you right now, I get every morning and I get on my knees and I *thank God* Trump and the people he's unleashed on these traitors know exactly what they are doing.

Which means they DON'T listen to people who insist this should've all been done openly & transparently
So.

HELL NO.

Hell no the DOJ is *not* going to announce they've opened a grand jury investigation of Hillary Clinton's multiple email accounts on her Blackberry, not going to announce when/if that GJ is finished, and if it indicted & if that indictment is sealed.
Trump and his people, after handling the concise preparation of all of this for the past two years, are going to CAREFULLY manage the rollout of it all at the right time.

The signs are EVERYWHERE if you know how to read them.

/end
And yes, some of this came out in 2017 but hardly anybody paid attention at the time:
h/t:
@themarketswork
courthousenews.com/ruling-shows-n…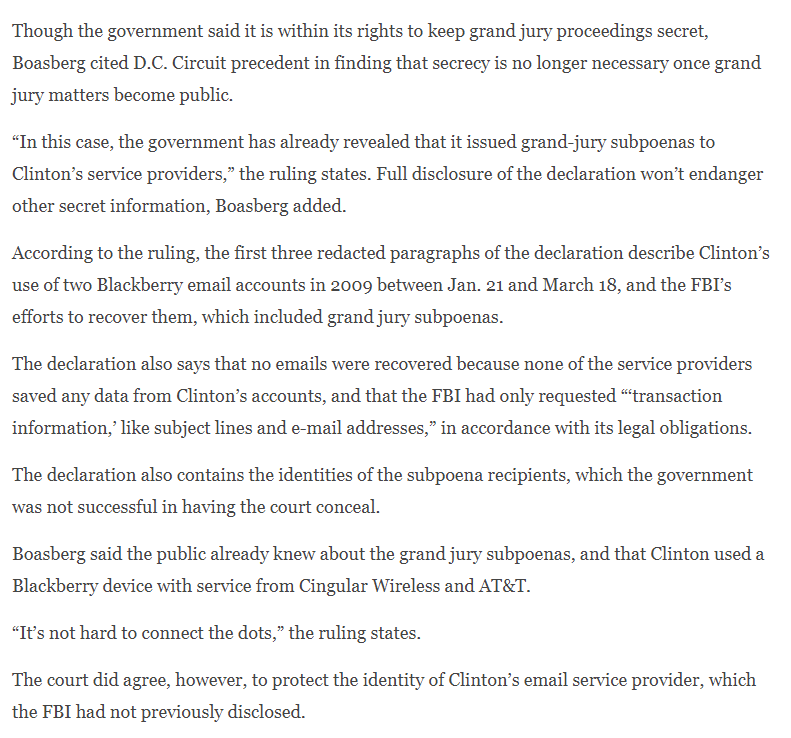 Note the claim 'no emails were recovered' from the Blackberry accounts. Because it's claimed the 'service providers' did not keep any records or copies of them.

Sure bro.
Judicial Watch's release today also highlights the fact 49,000 Clinton emails were found on the Weiner laptop.

Gee, kinda funny how that laptop keeps popping up, isn't it? 🤔
Now, don't miss this:

Hillary had all Sec State work-related emails under Congressional subpoena when she defied that subpoena, erased over 30k emails and wiped/destroyed the server & multiple devices.

BUT the Weiner laptop has 49,000 Clinton *server* emails on it.
"The FBI also admitted nearly 49,000 Clinton server emails were reviewed as result of a search warrant for her material on the laptop of Anthony Weiner."

So US Attorneys looking to this don't have just ONE source for HRC emails besides the private server; they have TWO sources
And if EITHER of those two sources for HRC emails besides the private server show she was sending classified info up to and including SAP's over that server and 2 Blackberrys and also storing them on an unencrypted unsecure laptop...and she erased the server emails showing that?
What a fun month May is going to be....

/end