Here's an interview w/ Netmarble's Head of NAmerica Shim Cheol-min about
#BTSWorld
. He said, "2.5 years ago, Netmarble paid attention to
@BTS_twt
's musicality, while
#BTS
' agency BH paid attention to our company's ability to make games." [
#TeenChoice
#ChoiceInternationalArtist
]

[contd] into becoming world-class stars with them. "There is a lot of diverse content that we put a lot of work into; you can, of course, see pictures/videos of the members but also message and video chat with them and experience each member's growth story."
@BTS_twt

In fact,
@BTS_twt
members are said to have been very deeply involved in the game's content by shooting separate videos for game content and completing a story that reflects each member's own personality through in-depth interviews. As a result, it is expected that there will be +

[contd] become the world's top artist in name and reality, with 3.23M copies of its album MOTS: Persona sold through May, and 90k tickets sold out at Britain's Wembley Stadium.
He said, "Of course we thought
@BTS_twt
were global artists during the planning stages, but we had +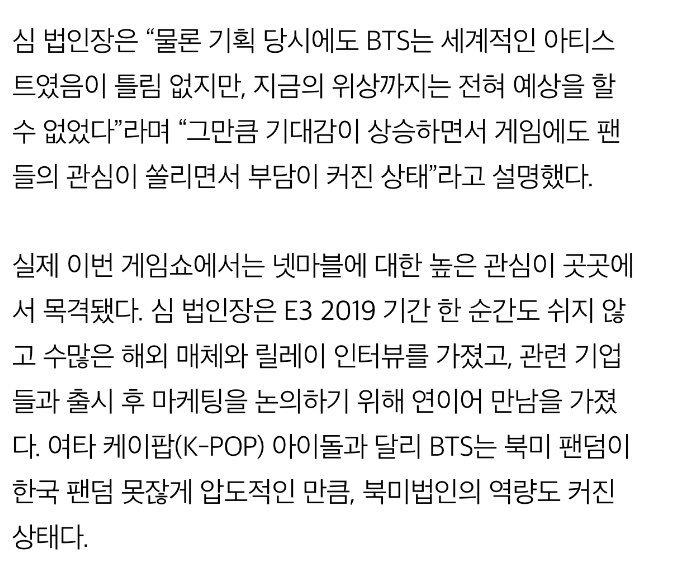 [contd] "no idea they would reach this level, so as the level of expectation & fans' interest rose, the pressures we felt increased."

The level of interest in Netmarble has clearly increased. At the E3 2019 convention, Shim was interviewed by many outlets about the game, +
[contd] holding interviews w/o a break and meeting other companies to discuss post-release marketing. Unlike other K-pop idols,
@BTS_twt
's North American fandom has become as dominant as the Korean fandom, so the Netmarble North American subsidiary has grown in capacity.