Indian media needs half a dozen journalists and ground reporters like
@swati_gs
. Just half a dozen.
Then watch how these gangrenous, scaremongering, utterly mediocre selactivists who currently manage to run fake narratives and hate trackers run for cover.
Just half a dozen.
"Leave our area, you Hindus."
Yet another Hindu lynched. Yet another Hindu lynching ignored by the media and
@narendramodi
.
Meticulously detailed and objective ground report by
@swati_gs
. Very distressing to read, but read it must be.
swarajyamag.com/politics/leave…
Muslim man arrested for torturing another Muslim man and forcing him to chant Jai Shri Ram.
This follows eye-witnesses rubbishing a Madrasa teacher's claim that he was beaten and forced to chant Jai Shri Ram.
A new template has been found. (image via
@swati_gs
)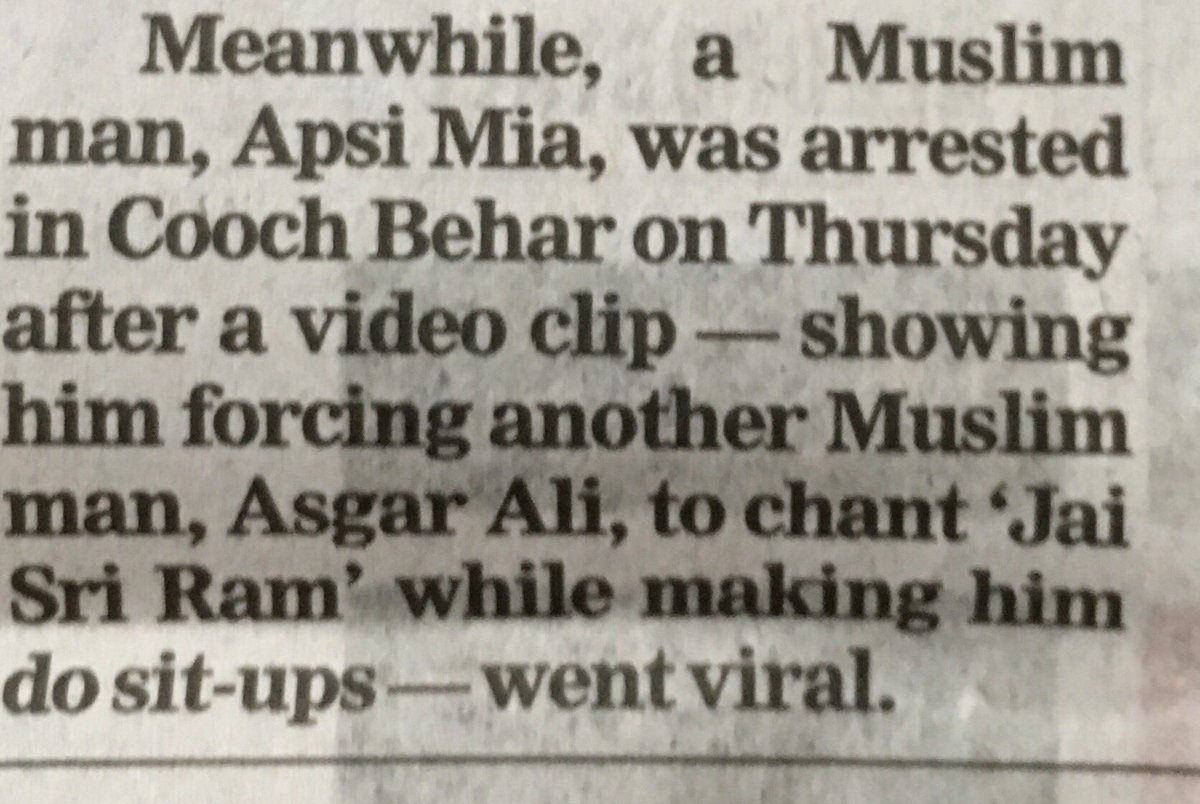 Muslim mob vandalises a temple in Delhi while chanting Allah O Akbar & Naara E Takbeer. NO media outrage.

Now imagine a scenario where a Hindu mob vandalised a mosque in Delhi while chanting Jai Shri Ram & Har Har Mahadev. How would the media have reacted?
The rise of the 'revenge mob' attack. Brilliant deep-dive by the incomparable
@swati_gs
, where she explores this recent troubling phenomena by talking to both sides of the divide. Journalism like how it used to be.
swarajyamag.com/politics/the-r…
Ignored by our media, it is left to
@swati_gs
to report on the lynching of innocents at the hands of the cattle-smugglers, the so-called Beef Mafia. 20 in just this past year.
These lives don't count. And neither do these deaths. They enter no database.
swarajyamag.com/politics/since…
Where the inimitable
@swati_gs
meticulously and BRILLIANTLY exposes yet another fraud.
This is an ESSENTIAL read, because it tells you the lengths to which these vipers with brimming poison-sacks will go to peddle their fake-narratives.
BRAVO, Swati.
swarajyamag.com/ideas/what-rep…
The woman who moved a mountain. A mountain of lies, selectivity, bigotry, and hate.
Congratulations,
@swati_gs
, for SINGLEHANDEDLY demolishing the hateful tracker. No praise is high enough for your perseverance and dedication.
The Muslim mob mercilessly thrashed Bharat Yadav, calling him a Kaffir again and again. Then they lynched him.
But his death does not matter. Because he was a Hindu lynched by a Muslim mob.
Eye-opening follow-up report by
@swati_gs
and
@haryannvi
.
swarajyamag.com/politics/you-k…
"Every year, a line is drawn on either side of the mosque to define the no-go area for the Durga idol."
This ground-report on the Balrampur attack firmly establishes
@swati_gs
as one of the finest journalists working today. Breathtakingly objective.
swarajyamag.com/politics/groun…