Outrageous.
This is DNC Media's "If **WE** Don't Acknowledge It, It Doesn't Exist!" syndrome on display.
This is how you got Trump. And this is how you'll get Trump AGAIN in 2020.
dailycaller.com/2019/07/11/tv-…
Great work from
@lukerosiak
how the same DNC Media that relentlessly pimped that poor disturbed woman's book & her Trump tall tales about rape haven't even called
@MZHemingway
or her coauthor up for a single interview when they have the nations #1 selling book.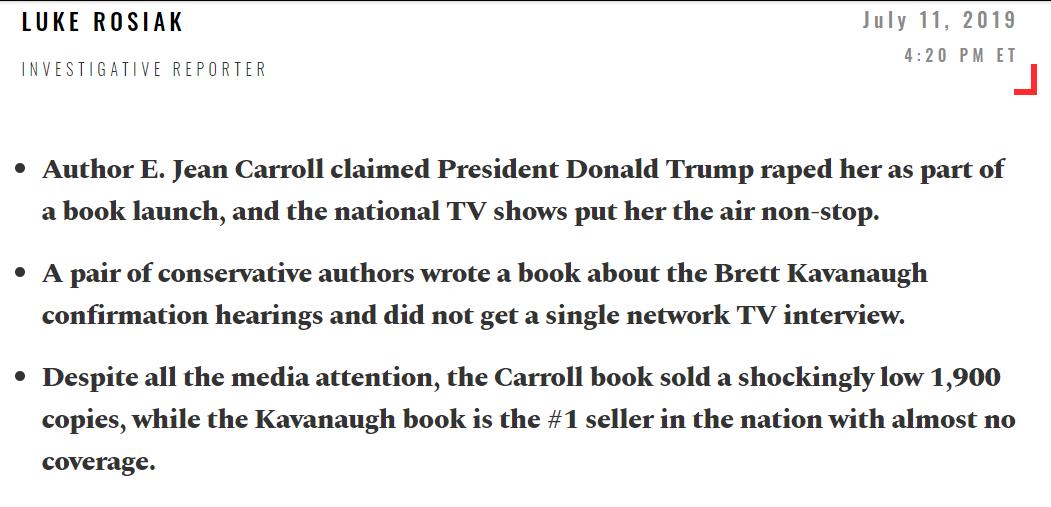 DNC Media won't acknowledge Mollie's book because it starkly shows how
1)
the Media was complicit in driving the fake narratives that turned the Kavanaugh hearings into a travesty
2)
The vile tactics that were employed were TRANSPARENT and they FAILED
3)
If RBG has to be replaced on Trump's watch, and it's a man that's nominated, they FULLY intend to employ these tactics again. So there's no payoff in raising the visibility of a book that goes in-depth into how vile the tactics were.