If you are thinking of using the
#FaceApp
consider Section 5 of the ToS & that you grant FaceApp a perpetual, irrevocable, nonexclusive, royalty-free, worldwide, fully-paid, transferable sub-licensable licence to use your content (and which may be of your friends or colleagues)
for a range of commercial purposes & that you acknowledge that some of the Services are supported by advertising revenue & may display advertisements & promos, & you agree that
.. FaceApp may place such advertising & promos on the Services or on, about, or in conjunction with your User Content.

Recall that your behavioural data may be used to support such commercial purposes such as advertising. Ask, what would my friend say about using her/his image?
Section 5
#FaceApp
ToS.
S10, you also "indemnify, defend, and hold harmless FaceApp .. your violation, misappropriation or infringement of any rights of another (including intellectual property rights or privacy rights)"
<waves at friends and their privacy rights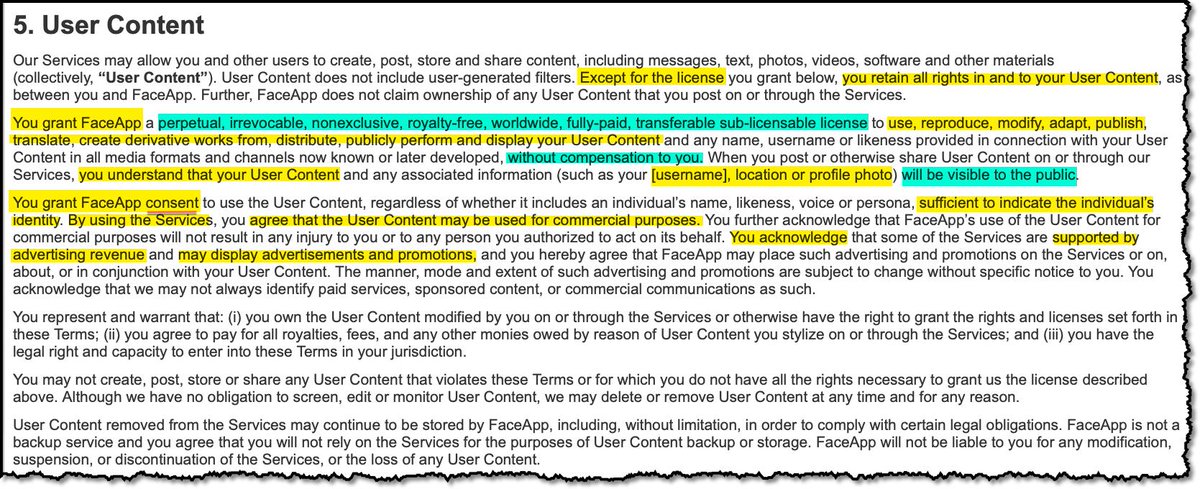 Section 5 of the Tos
faceapp.com/terms
should be read in conjunction w/the privacy policy
faceapp.com/privacy
"Log file information is automatically reported by your browser each time you make a request to access (i.e., visit) a web page or app." That's a lorry data


Please note: these observations are a result of reading the TOS & Privacy Policy.
#FaceApp
gives themselves a range of rights to your image/content & device & behavioural data. I also used the ExodusPrivacy tool. I have not examined the exfiltration of data.
Others have looked at the exfiltration of data
Here's a statement
#FaceApp
sent to journalists.
Their support desk is overwhelmed with requests from people to delete their data. it had instructions how to request removal of data.
Also they don't sell or share data with 3rd parties. Hmmm .. what about the advertisers ?