Meanwhile Jaishankar-Pompeo ASEAN meet in Bangkok over Indo-Pacific Strategic Partnership gets targeted with multiple explosions. Simultaneously India-US Defence Policy Group meeting was being held in Washington. Sametime theres heavy military deployment in
#Kashmir
.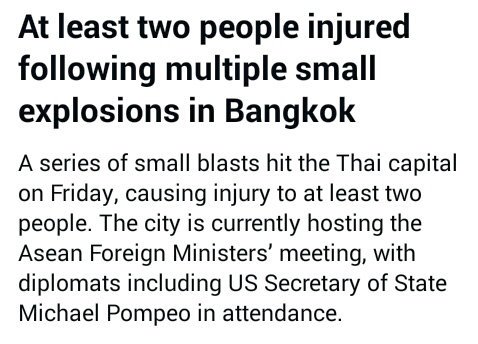 Interestingly just hours before Jaishankar-Pompeo meet Trump again for SECOND time offered his mediation on
#Kashmir
.
The FIRST time Trump offered intervention was before heavy military deployment in Kashmir.
Did Americans knew something was afoot?
thehindu.com/news/national/…
As per latest update 6 bombs exploded across 3 locations as well as one unexploded bomb recovered. Target was Asian Security Meeting being attended by Jaishankar & Pompeo.


Thaksin Shinawatra is the former prime minister of Thailand who was found guilty of corruption to the tune of 2.8 billion dollars in 2008 and he fled to (wait for it) London. He is now a fugitive of Thai Govt living in self-exile.
#BangkokBlasts
theguardian.com/world/2008/oct…
Thaksin has history of targeting ASEAN meet. In 2009 ASEAN meet Thaksin's red shirts stormed convention center forcing 9 foreign leaders to flee by helicopter to military-base & killing two shopkeepers while trying to loot their businesses.
#BangkokBlasts
theguardian.com/world/2009/apr…
In 2010 Thaksin deployed 500 armed militants murdering soldiers, police & civilians. Thaksin's militants also threatened judges on a court case over the seizure of $1.4 billion of his assets including grenade attacks on court buildings.
#BangkokBlasts
hrw.org/report/2011/05…
In 2014 when protesters were oppossing Thaksin's sister Yingluck Shinawtra his militants again carried out grenade attacks killing 20 including women & children until the military intervened, ousting Yingluck, and taking over as an interim government.
altthainews.blogspot.com/2014/05/thaila…
Meanwhile Thaksin's sister Yingluck Shinawatra also a former PM who also fled was recently spotted in (wait for it) London.
How many global terrorist orgs have their HQ in London?
How many global fugitives are hiding in London?
WHY?
#BangkokBlasts
google.com/amp/s/www.firs…
For inside intel behind mainstream news and discussions follow GGI on Whatsapp. Click this link and hit send
tinyurl.com/GGIUpdates