3/
So this is just another exodus to a different platform in response to a crackdown. But there's a big difference: ZeroNet is not a website - it's a bunch of data files shared by people all over the world using the bittorrent protocol. Those data files are images and comments.
4/
You download them using bittorrent to your hard drive and then your local browser displays them using javascript in a browser window. It looks like a normal image board but it is very different in many ways.
#8chan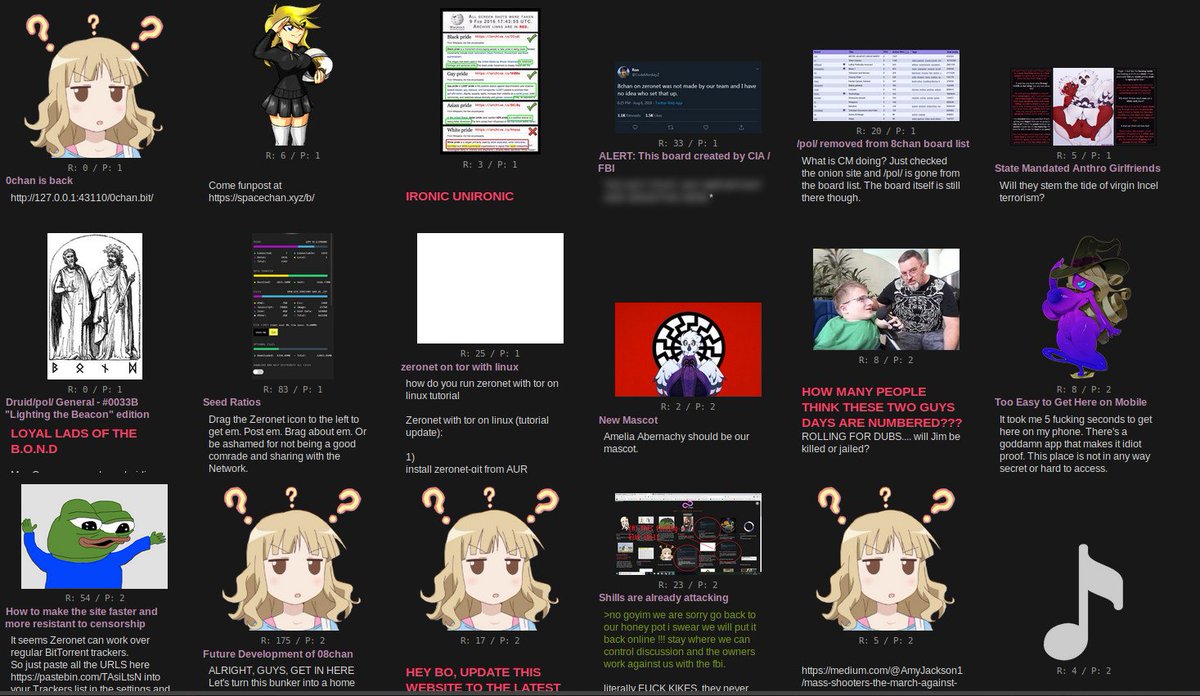 5/
For a start it is very very difficult to attack. As long as a single user is seeding the data files (i.e. making them available to other users) it cannot be shut down. Also it is trivial to clone or backup an entire board - literally the click of a button in each case.
6/
If the Board Owner of 08chan is compromised, users can simply backup the board and create another.
Which brings me to my next point: Codemonkey and Jim Watkins are not
#8chan
- the users are 8chan. If the majority of users decide to move, there's nothing they can do about it
8/
The Internet needs free speech more than ever in the face of tech giants who continue to censor it at a platform level. A single website is just too much of a risk. So anons and devs will find a way. They always do.
#8chan
9/
Centralized file-sharing apps like Napster were attacked and kicked off the Internet by the music and movie industry in the early 2000s. But hackers see censorship as an irritant and simply route around it. Bittorrent was invented. Bingo: problem solved.
#8chan
10/
This move is merely /pol/ anons and devs deciding that freedom of speech is too important to be left to the tender mercies of the ADL and making a plan to move beyond its reach. And judging by the people it's pissing off, it's working.
#8chan
11/
But..but..but.. what about child porn on 08chan? There's a mute button for comment threads. Mute a user and any local copies of what they've posted will be deleted and you'll never download or share stuff from them again. The users have control.
12/
The code that runs both the underlying network - ZeroNet - and the 08chan image board - millchan - is open source and I installed it from scratch on a Linux server. ZeroNet is rock solid and quite mature now and I don't see any back doors or malware in the board software.
14/
This is very early days of course - it's not even been a week since the exodus. But expect kinks to be worked out very quickly. Mobile support is a bit lacking but there is already an Android app or you can set it up on your PC and access it from your phone via a browser.
15/
Having looked carefully at this option, I am very optimistic that this is the future of image boards. Freedom of speech, crowd-sourced investigations and dank memes helped get POTUS in to the White House. They need to keep him there.
The war is just beginning.