Second Girl testifies to sex with Prince Andrew
Ms. Sjoberg also testified about sexual acts that occurred with her, Prince Andrew, and
Ms. Giuffre, when she and Defendant were staying at Epstein's Manhattan mansion
#Sjiberg
#PrinceAndrew
#Epstein
#Ghislaine
#SexSlaveCult
It is an undisputed fact that Rinaldo Rizzo testified that Defendant took the passport of a 15-year-old Swedish girl and threatened her when she refused to have sex with Epstein.
#RinaldoRizzo
#Epstein
#SexSlaveCult
Ghislaine lied about being on Lolita Express flights and denied that she appeared on Epsteins flight logs
But It is an undisputed fact that Pilot David Rodgers testified that he flew Defendant and Ms. Giuffre at least 23 times on Epstein's jet, the "Lolita Express" and that "GM" on the flight logs Stands for Ghislaine Maxwell.
#Ghislaine
- has not been able to procure a single witness - not one – to testify that Defendant did not procure girls for sex with Epstein or participate in the sex. Even one of her
own witnesses, Tony Figueroa, testified that she both procured girls and participated in the sex
Maxwell was at Epstein's Palm Beach mansion in 2004 and 2005, incidentally a time period she has denied being around the house in her deposition
Book receipts included SM 101: A Realistic Introduction, Wiseman, Jay;
SlaveCraft: Roadmaps for Erotic Servitude – Principles, Skills and Tools by Guy
Baldwin; and
Training with Miss Abernathy: A Workbook for Erotic Slaves and Their Owners
#SexSlaveCult
#Ghislaine
#Maxwell
It is undisputed fact that the FBI report and the Churcher emails reference Ms. Giuffre's accounts of sexual activity with Prince Andrew that she made in 2011, contrary to
#Maxwells
argument that Ms. Giuffre never made such claims until 2014.
Virginia Giuffre told the FBI in 2011 that she had sex with Prince Andrew
#PrinceAndrew
#SexSlaveCult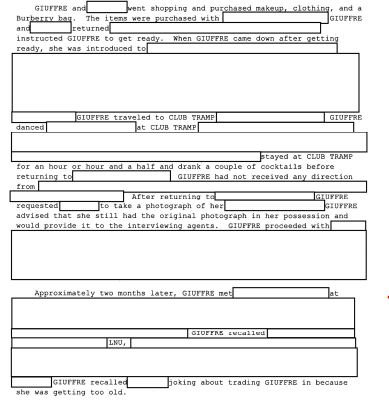 In Palm Beach butler's, Alfredo Rodriguez's testimony he stated that he personally saw photos of naked children on Ghislaines computer. See
McCawley Dec. at Exhibit 21, Rodriguez Dep. Tr. at 150:10-17; 306:1-306:24.
#ChildImages
#Ghislaine
#AlbertoRodriguez
flight logs evidencing Ms. Giuffre flying to London alongside Maxwell and Epstein on Epstein's private plane . Photo of f Ms. Giuffre, Maxwell and Prince Andrew with no legal
reasonable explanation for photo or for traveling with 17? year old girl overseas
#SexTrafficking