Every now n then, some traders/friends keep asking... X co. has bad news, shud I Short? Y co.'s no.s r gud, shud I Buy?
My ans wud b, if Good news mean price WILL rise & bad news mean Fall, ten isn't tat sure way of making money?
It doesn't work tat way. Let me elaborate...
1/n
Case 1. Sometimes, Price has factored in upcoming News/ Event. (EMH)
Why this happens?
Smart money/ Promoters/ Politicians hv faster access to information. They create positions well before news is knowns to Panwallahs... n that time biggies cover positions, trapping retail.
2/n
Case 2.
News/ events not factored in (Inefficient price):
Market can't discount severity of every news/ event efficiently. Specially, wen it comes to geopolitical issues/ decisions (for Economy) or Corporate Governance/ Regulatory or structural changes- deals(for company)
5/n
E.g 3
#Reliance
AGM: ARAMCO deal & other Biz decisions...
Prior to AGM, price was in 11xx s. It COULDN'T have factored key decisions from AGM.
So when news broke out, big gap up n follow thru happened.
8/n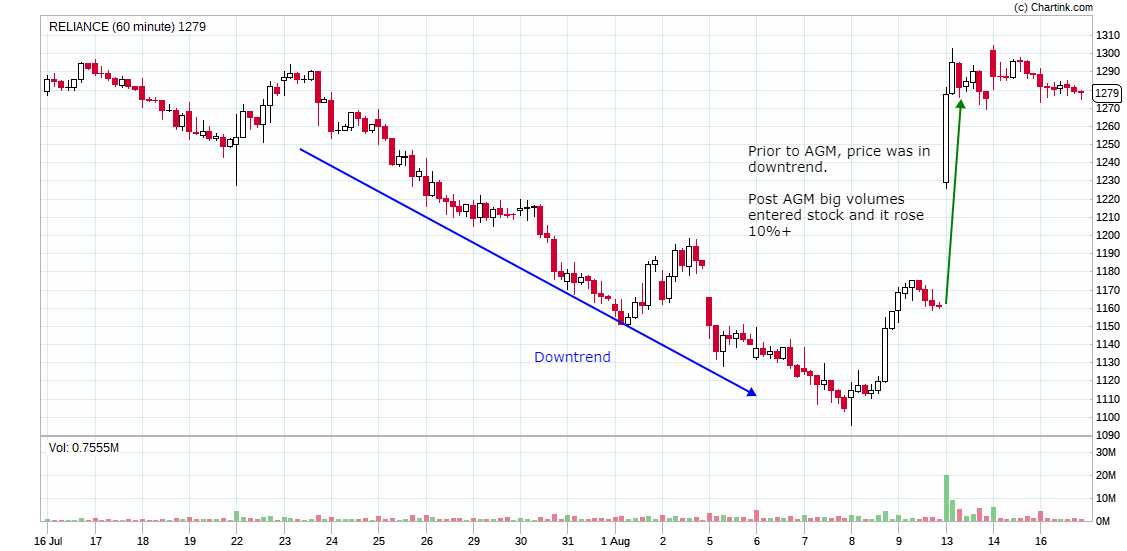 Case 3:
This is a typical scenario which is quite Gray area. Here, same news affects different stocks differently (Even if stocks are co-related).
9/n
Finally,
as above examples show, there NEED NOT be direct positive correlation between News & price move. Price moves due to reaction of players to the news and not news itself.
n sometimes different traders may interpret same news in different ways.
11/n
My action plan POST news/ event:

- I trade following big guys' footprints. (Analysis thru PA-Volumes-OI)
- So, Trade can be with the news in some cases, and against the news other times. Chart reading is more important than news itself!
n/n