Hello! It's 7 PM now so it's time for
#AuthorAMACelestineTrinidad
for
#romanceclass
x
#BuwanNgMgaAkdangPinoy
! 😁So this will be an hour (or so) of me answering questions you sent in through the romanceclassbooks IG. But feel free to send your own questions here too!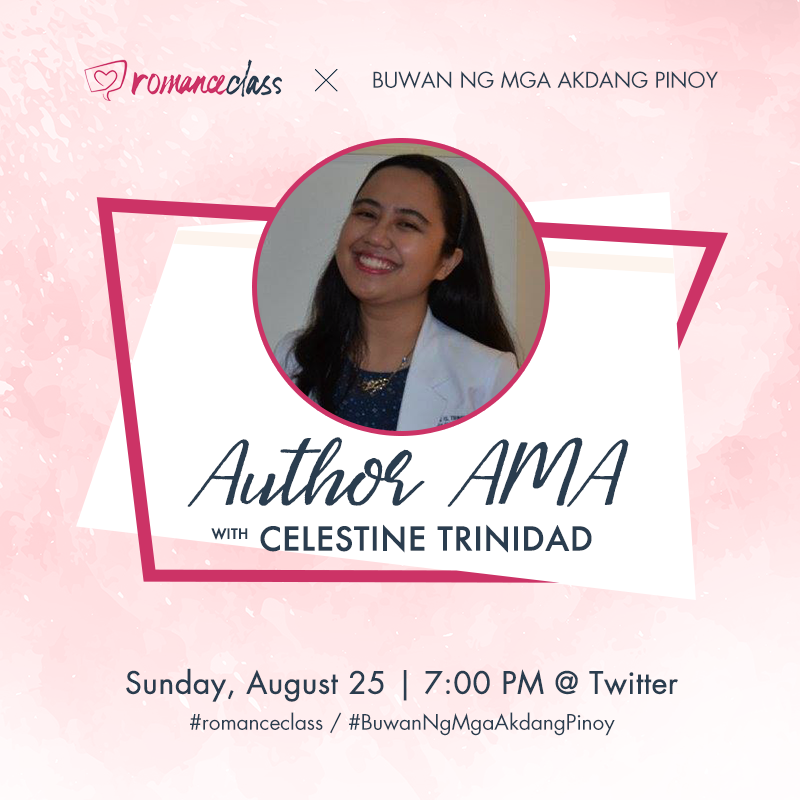 So an introduction first. My name is Celestine Trinidad, and I write fiction of different genres, including romance through
#romanceclass
, speculative fiction, and crime. You can find all my other works here:
celestinetrinidad.wordpress.com
And yes, I am also a doctor, particularly, a pathologist. What is a pathologist? Basically, we're the doctors who diagnose diseases, whether through tissue samples taken from patients, or in some cases, in patients who are no longer living, through autopsies.
Here's a video of what we do, just because I like advertising my specialty haha:
Anyway, my day job influences my writing very much, as I see from the questions I received. So on to
#AuthorAMACelestineTrinidad
!
By the way, at the end of this AMA, I'll be giving away a surprise gift to people asked questions, and that is -- a
#romanceclass
print book of your choice! 😁 If you need help picking a title (since some of you are new readers), I'll be happy to give recommendations!
And I also contributed the story "Monito, Monita" to the Make My Wish Come True anthology of
#romanceclass
, edited by
@itstimeana
:
amazon.com/Make-Wish-Come…
And yes, my characters are mostly in the medical field, because draw inspiration from your life, right? 😆
@itstimeana
Soooo finally! Q1 from
@TheStellaTorres
!
Well...my knee-jerk reaction then was to hide and run from their reactions, haha, but I've gotten over that through the years, and now I actually welcome my colleagues reading my work.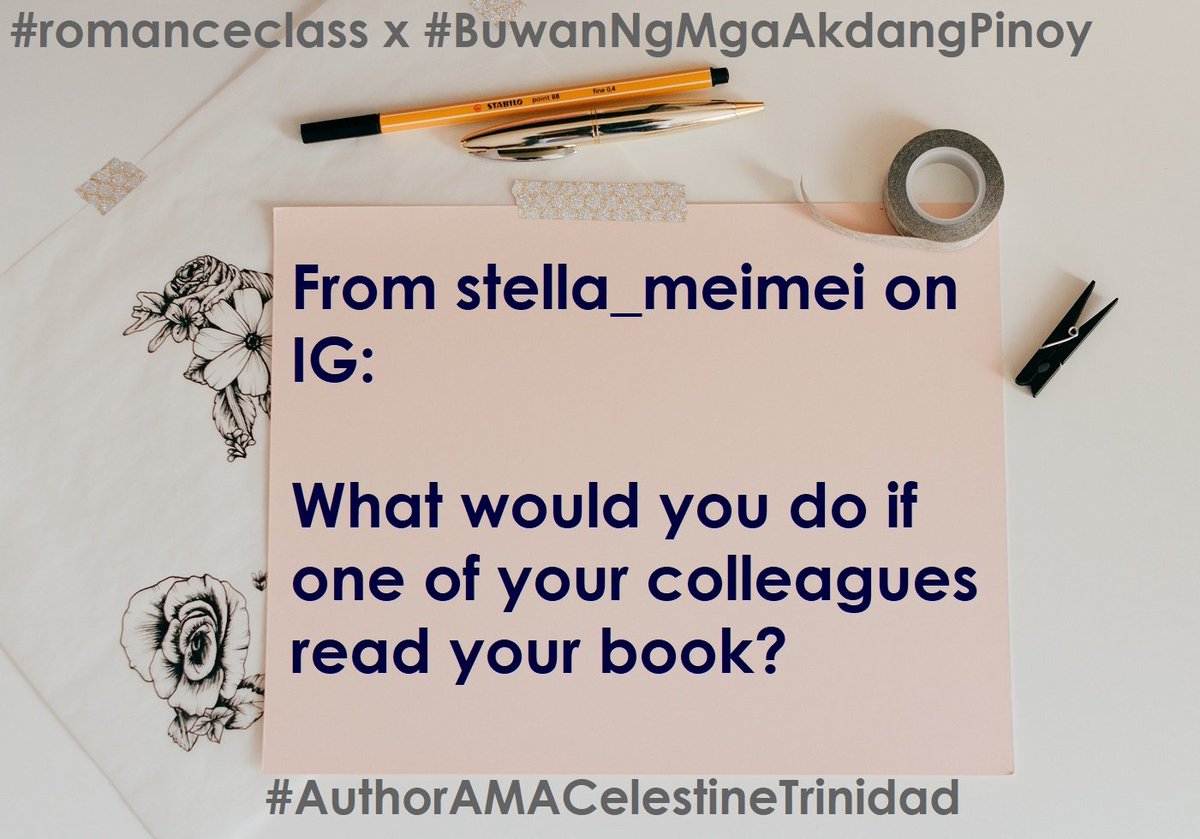 @itstimeana
@TheStellaTorres
In fact, with Ghost of a Feeling, I *do* want them to read it, because it deals with certain things that are a reality for us doctors, and must be addressed. Like bullying of junior doctors and mental health issues, which is something I care deeply about.
@itstimeana
@TheStellaTorres
Sometimes I get questions like, "Is this character based on [insert name of someone I know]?", etc, and I always say, not exactly, but these characters are a sort of an amalgamation of all the people I've known through my training in medicine throughout the years.
@itstimeana
@TheStellaTorres
On to Q2! From
@theresecsy
(who is actually also in medicine herself!)
Well, I'm speaking from my own experience, and I think it's different for everyone, really, but this is what I do: I set a little bit of time not just for writing everyday, but also READING.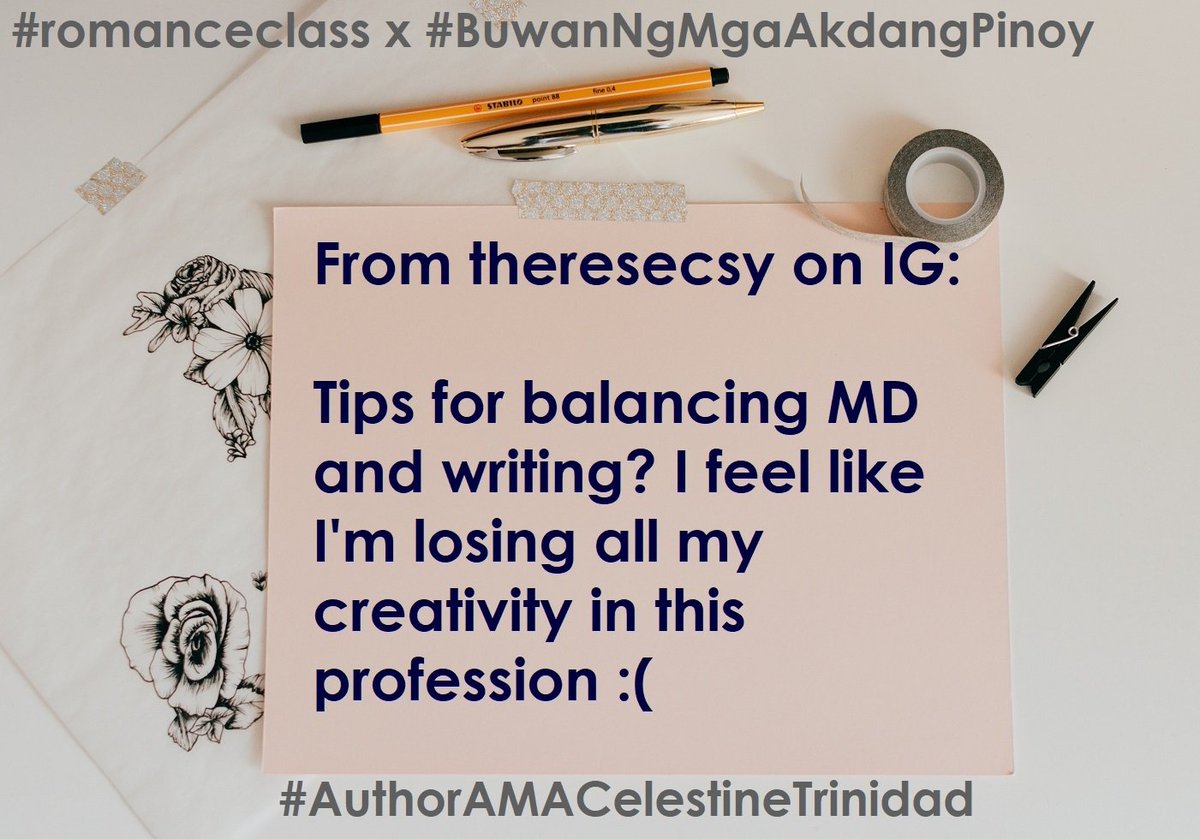 @itstimeana
@TheStellaTorres
@theresecsy
Because really, sometimes it's just not realistic to write something everyday in our profession, because sometimes you're too tired to, or too sad to (because of what happened to your patient, or you got into trouble). So forcing yourself to write actually isn't healthy.
@itstimeana
@TheStellaTorres
@theresecsy
But reading something outside of medicine (whether fiction or poetry, or even fanfiction) helps me keep the creative juices flowing, so to speak. And it...keeps my sanity? Until the day I have time and energy to write again.