It can't be said enough times that .
@realDonaldTrump
began his presidency under surveillance. That is not what our intelligence community should ever be doing - spying on the opponent's campaign team.
And I tell ya, get ready for Comey, Brennan et. al, to say they believed there was reason to surveile. But if they thought it was so dangerous for America, they would never have used what they used in front of the FISA court. They used political opposition from Hillary Clinton.
The Steele dossier. It was front and center. But Comey et. al, did not show exculpatory information which would include Papadopoulos transcripts.
#Hannity
@RepRatcliffe
It can't be said enough times that .
@realDonaldTrump
began his presidency under surveillance. Today from the IG report we learned that when Comey met w President-elect Trump it was in a capacity to surveil. It was a member of Crossfire Hurricane.
@DevinNunes
Comey et. al, planned for him to "use a prearranged secure videoconference to discuss the information, and fit it all into the FBI's ongoing (but unknown to Trump) "Crossfire Hurricane" investigation."
He was being surveilled and Obama was part of that.
washingtonexaminer.com/opinion/column…
That was her email. It was about Obama spying on Trump "Comey briefed the team on the discussions, and shared the memo so that it could be added to the FBI case file."
dailycaller.com/2019/08/29/fbi…
More about Susan Rice email to herself in Ball of Collusion from .
@AndrewCMcCarthy
Combine her email and what we learned yesterday from IG that Comey was acting as part of the investigation we also learned that Obama was being apprised.

With Comey's words here:
"When Obama asked who would tell Trump about the so-called "pee tape," Clapper pointed to Comey and said, "Jim is gonna do it." in
@julie_kelly2
piece
amgreatness.com/2019/05/20/why…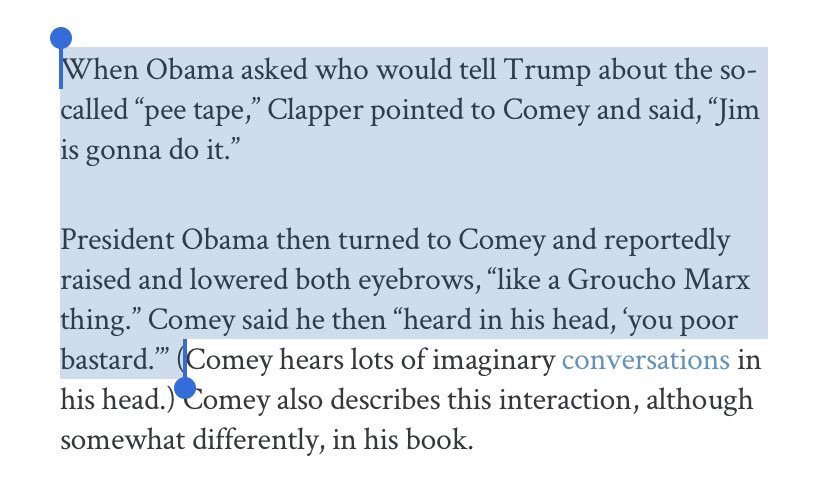 We learned straight up yesterday that Obama knew about it all.
"The Obama administration had exploited its foreign counterintelligence powers to spy on the opposition parties presidential campaign."
@AndrewCMcCarthy
is correct.
We know Obama sent Comey to meet
@realDonaldTrump
We learn from IG, that was to get information for Crossfire Hurricane ergo
America learned yesterday that
#ObamaKnew
I think too that America learned that Rice's email was about Obama's direct involvement in spying on Trump.