well, i knew our very observant readers would be peeking at the December solicits, so it's time to make it official: the
#Ironheart
solo title with wrap with issue 12! thank you to all of you who have been with us on this journey. i'm not sad about this, for three reasons.
first, working on this title and writing this character has been such a once-in-a-lifetime opportunity. i always said that even if i got to do one issue it would mean the world. we did 12, in a tight market that is not always welcoming to new characters, especially "risky" ones.
second, IRONHEART 11 AND 12 ARE ABSOLUTELY BANANAS. saying we are going out with a bang is an understatement. i did the script review for 11 yesterday and i was gasping and yelping as i moved through the issue, despite having literally written it myself. i'm proud of us.
third, i am not going anywhere, and neither is Riri. we're shifting gears and we will be back. quite soon.
...not in a movie and not on TV so please don't @ me on that, lol. all i can say is check out
#Incoming
this December for clues.
thank you to one of the best creative teams in the world. you have made this title so special. i have so, so so so so so much love for
@LucianoVecchio
and
@KevinLibranda
, for Matt Milla,
@Geoffoarto
and Clayton Cowles, for our rockstar editors Alanna, Tom, and Shannon.
I esp have to give very special thanks to
@AlannaWrites
who is one of the best editors i've had in any genre, and who does so much work to make these stories great, and to the amazing
@LucianoVecchio
who has made this one of the most rewarding creative collaborations of my life.
the question of how you represent a black teen girl hero, how we show her world and her family and her friends and her body and her feelings, is immensely political. Luciano gets that and it has been a joy to work with him. he's also kind, VERY GOOD AT ART and weirdly fast?!?
and above all, i have to thank everyone who has been rocking with us. thanks for the warm reviews, for the letters, for the fan art, for the cosplay. for the pictures of kids reading, which mean EVERYTHING to me. i know i'm only here because you believed in me.
#Ironheart
11 will be out October 30. it's all the way off the chain, as implied by the cover art (look closely) which Luciano did. please pick it up, and pick up 12, so you can see how we wrap up this story.
excelsior!!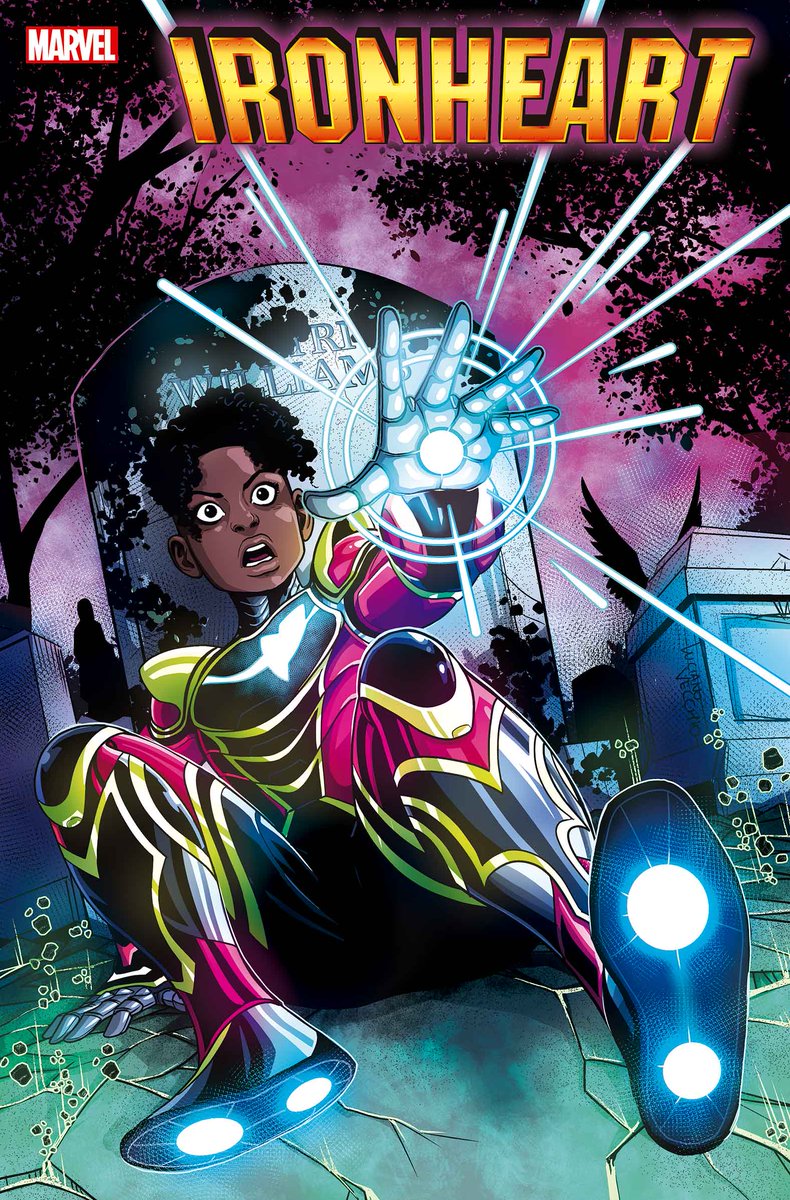 post-script: don't forget Ironheart vol 1 is out wherever you get books, and Ironheart vol 2 should be out i believe in February? so you can collect them all
OH and last last thing [knowing me probably not but let's pretend] - i won't be at
#NYCC
because i'm giving a keynote in california but Luciano will be there and you should go buy his art and get him to sign comics for you!