Teachers, Parents and all other peoples! Lend me your ears!
If anyone ever shrugs off the murdering, raping, starving, pillaging and enslaving actions of
#ChristopherColumbus
as "it was the times", I want you to tell them about a man named Father Bartolomé de Las Casas.
#THREAD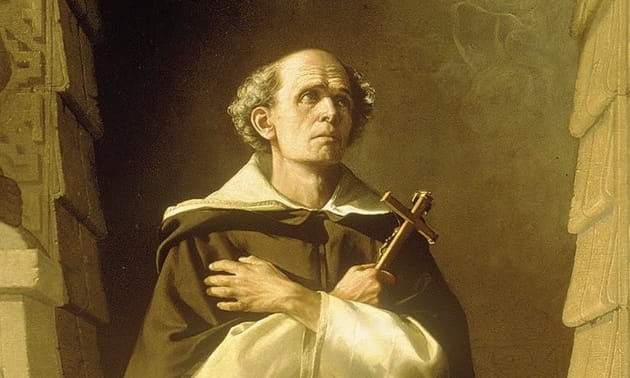 Father Bartolomé de Las Casas, the contemporary 16th century historian, *initially* believed
#Columbus
had been divinely inspired to make the "discovery".
He was a man of the cloth THAT WAS PRESENT WITH CHRIS ON THE LAND OF THE INDIGENOUS PEOPLE.
And he wrote about it all.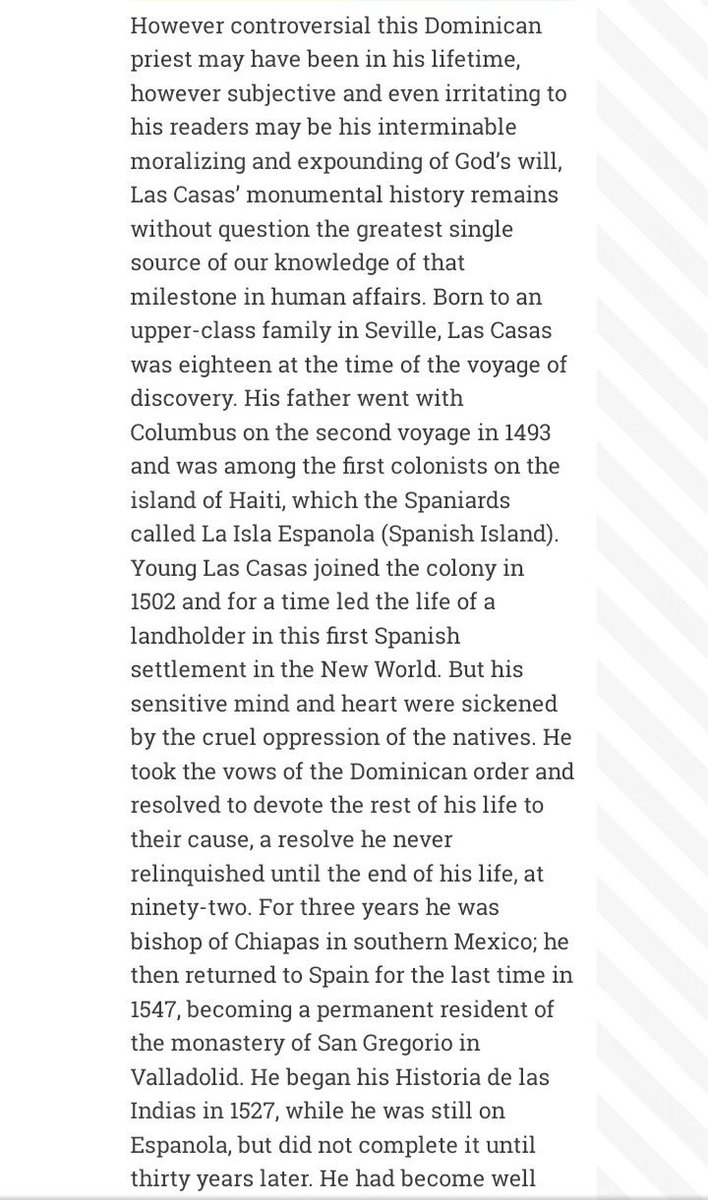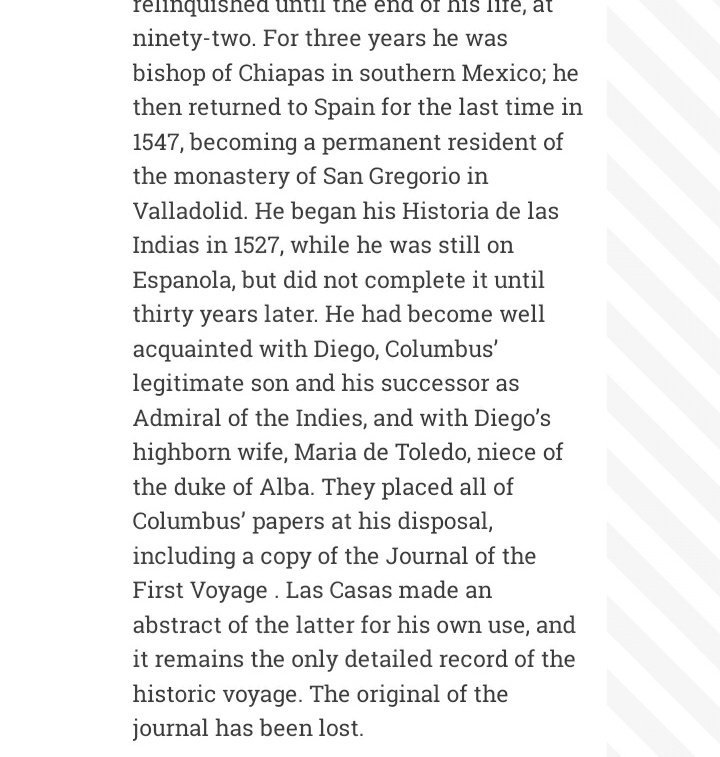 The next time anyone excuses, "explains", justifies, lies or miseducates you or your children by saying,...
"Welp. He didn't know better."
"That's just what they did back then."
"You can't judge 1492
#ChristopherColumbus
by our present day standards"
...read Father Las Casas.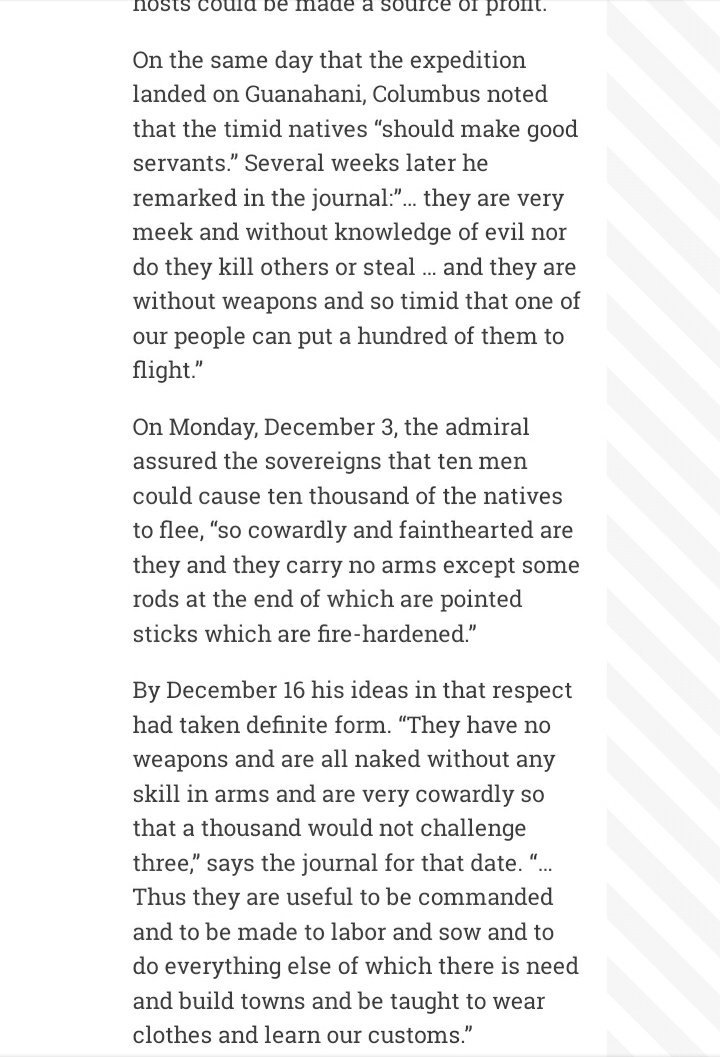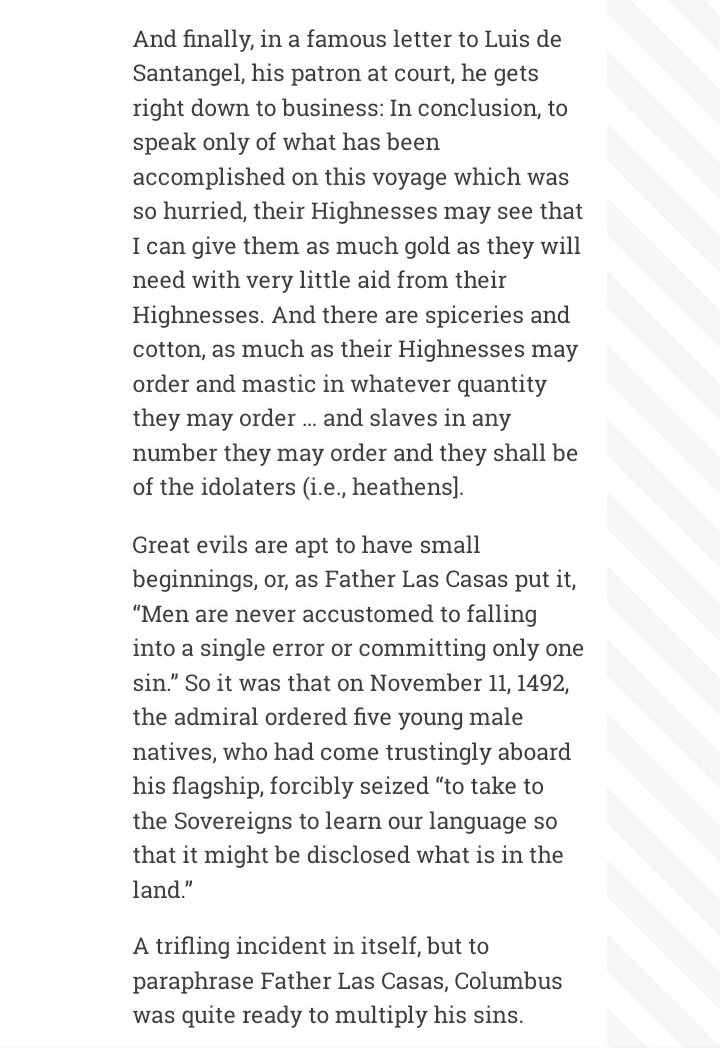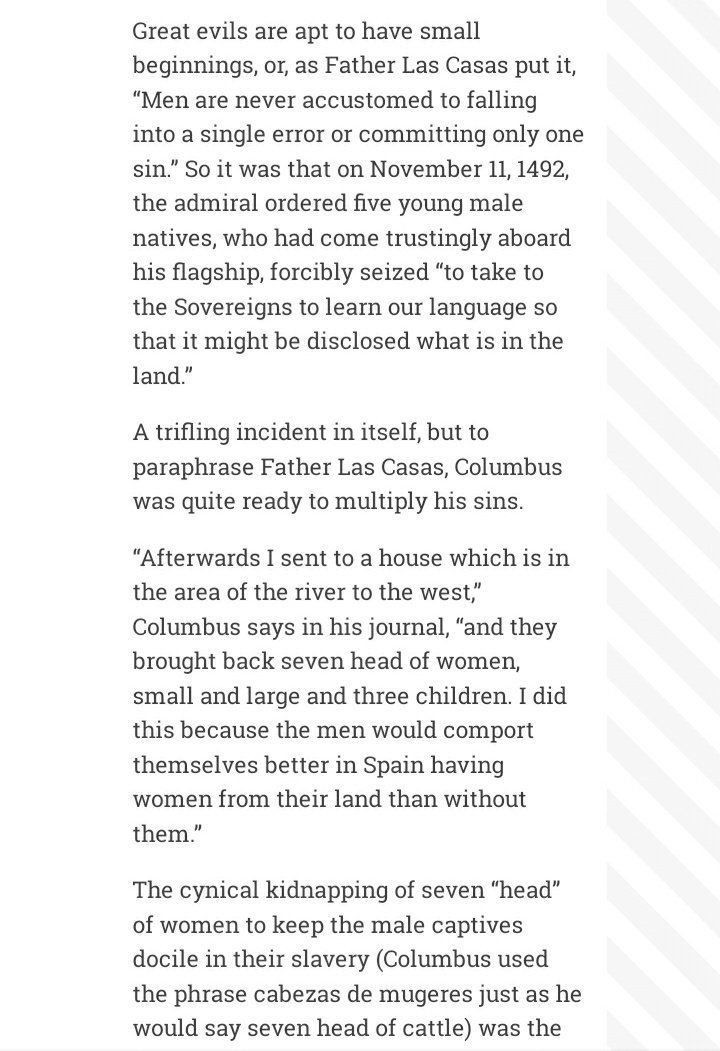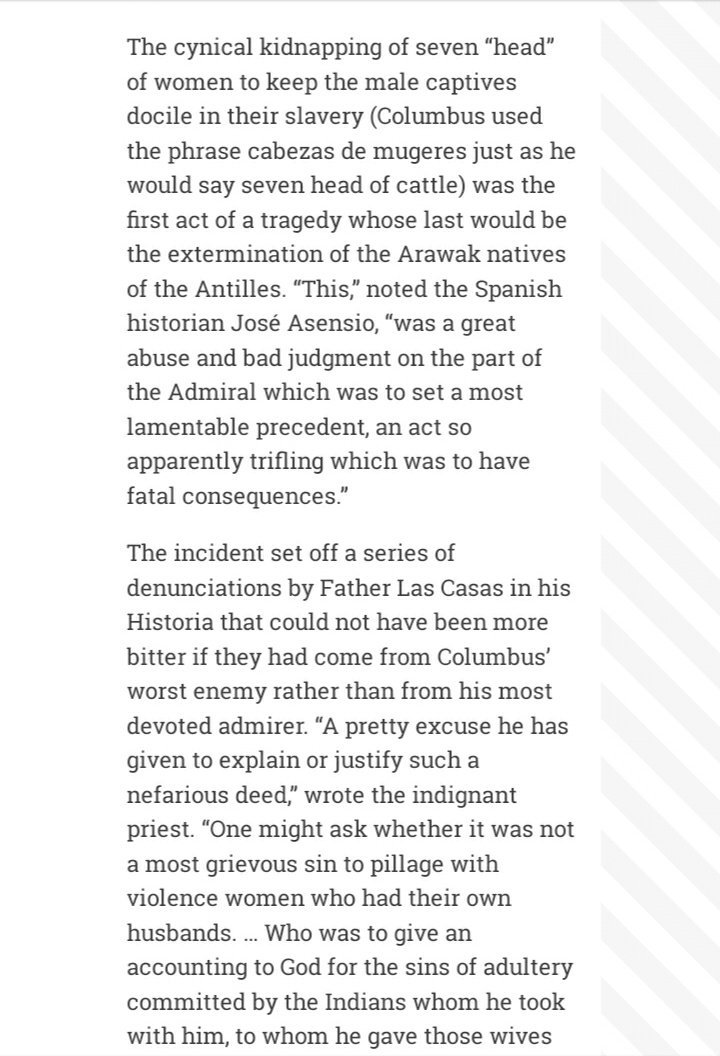 One thing important to note in this history is while White folks did/have widely disguised White Supremacy as Christianity, tangling it up so badly that not even Black folks can often conceive of one existing without the other (even though one existed BEFORE the other)...
...it's important to note that this man, Father Las Casas, that put Columbo's cruelty on blast and read him for filth over and over again, saw his
#CancellingChris
letters as his CHRISTIAN duty and Cruel Chris' sadism as SIN.
Which is correct.
(*stares blankly @ "Christians"*)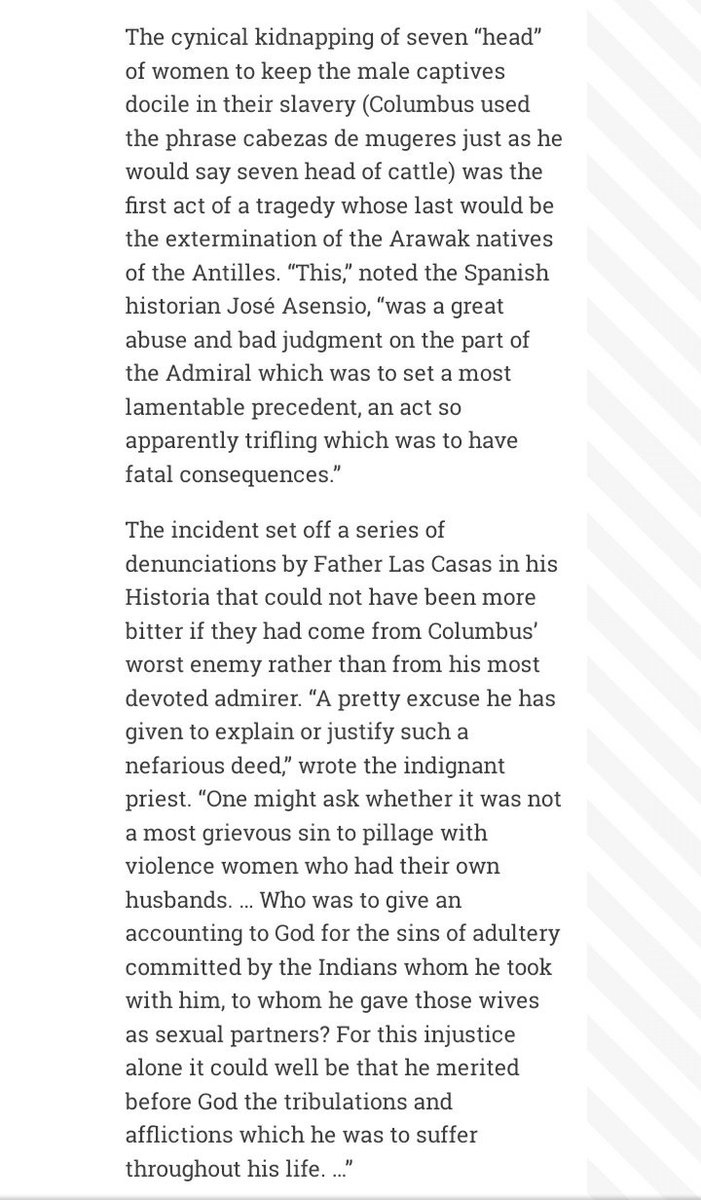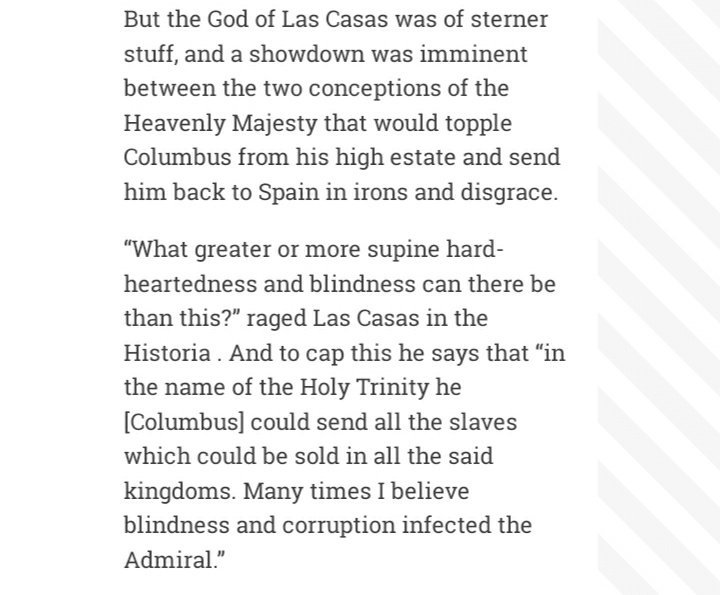 Now, don't get me wrong & start trippin - this ain't no Ode to Nice Colonizers.
Let's be clear, they should have waved & left.
The point of this is to make you aware that there is PRIMARY HISTORICAL RECORD that
#Columbus
' sadism was seen as heinous by some EVEN IN HIS OWN TIME.
And while it still wasn't an overwhelming popular view at the time,
#ChristopherColumbus
was indeed seen as a savage not just by some in his own time, but by a man (
#LasCasas
) that was literally there seeing everything firsthand in real time.
Columbus also ticked off the queen.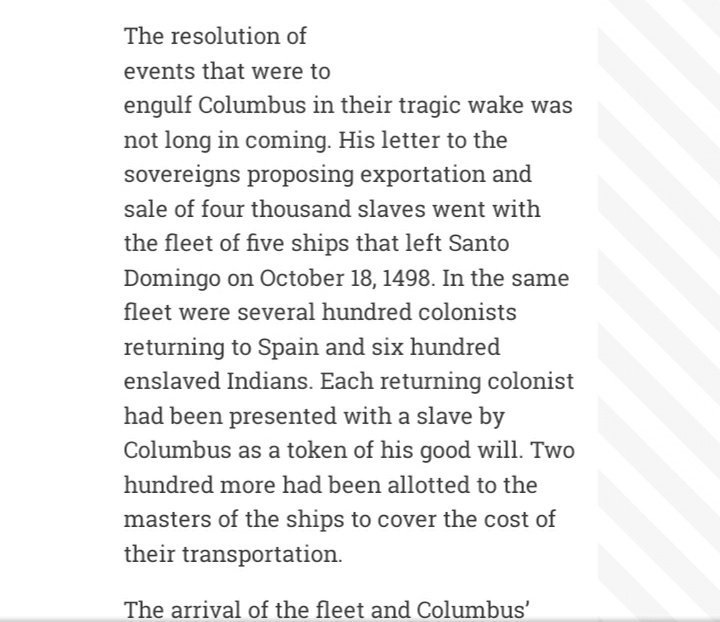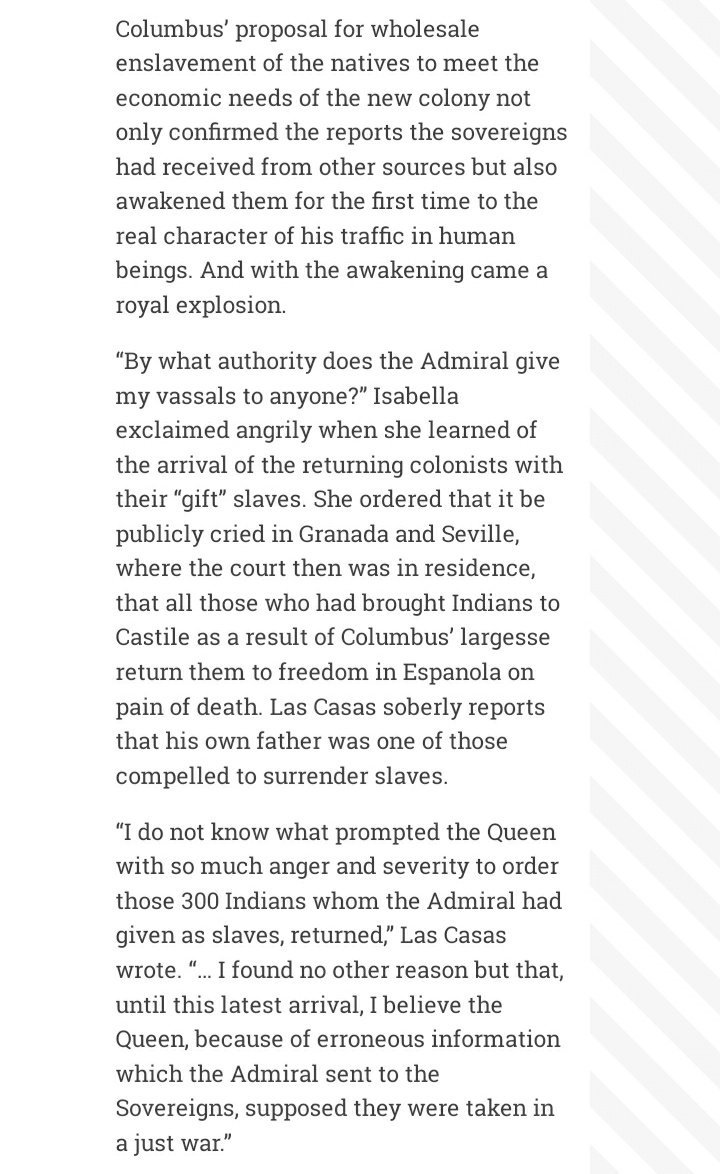 Was Las Casas paternalistic in his writing? Yes. Is that a problem? Mmhm. Should he have seen the practice of colonization wrong period? Yep. Is he a problematic White man still acting out a form of White Supremacy? Indeedalidoodly.
Does that mean we should ignore his record?
Why? Because he had enough God and sense to recognize that
#ChristopherColumbus
was a filthy animal and not acting in alignment w Christianity, and he wrote it down (thank God!), thereby definitively making it plain that the "then-now" WSupremacist
#Columbus
apologists are WRONG.
Instead of
#ColumbusDay
fables, give your students the writings of Father Las Casas. Discuss that, but CENTER education on the history, needs and rights of Indigenous People.
#HappyIndigenousPeoplesDay