I met with
#TulsiGabbard
in 2016, while campaigning for Bernie.
I was a State Director for Vets For Bernie at the time (not supporting him this election) and our vet organization was having some issues with the campaign.
I had raised the issues, so they sent in Tulsi. (thread)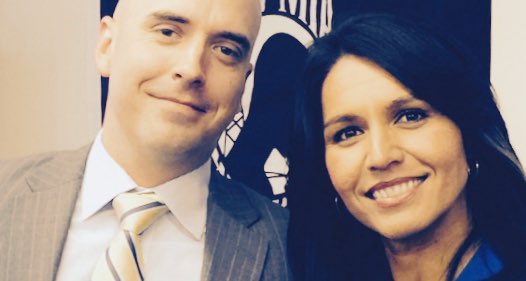 The issue we had was that the campaign had been completely ignoring us.

No mentions, no retweets, no events—nothing.

We had built a liberal veteran organization, numbering some 15K, and the campaign refused to acknowledge us.

So we let them know we weren't happy about that.
It seemed perfectly logical to us, that promoting the fact that Bernie had that kind of veteran support would be a huge benefit.

So we pressed them on this, and they came back with a plan for a veteran event for Bernie to speak at.
It was to be in NYC, and we contacted all the vets we could to be there.

Plans were made, time off work prepared for, and flights booked.

But at the last minute, they canceled on us—

so that Bernie could fly to Rome, and receive an award from the Pope.

He's not even catholic.
Naturally, this upset us. And a number of our vets said "screw it", and left the organization.
That's when I notified the campaign that we were fed up with how they were running things, and were going to start talking about the incident publicly.
Enter
#TulsiGabbard
.
They set up a meeting for us to speak, but I knew she would just try to placate us and squash the issue.

So we met, and talked for quite a while.
When I asked her why the campaign wasn't promoting Vets For Bernie, she said—and I'm quoting here—"appealing to veterans is not a winning strategy in a Democratic primary."

That was interesting, considering the fact that she touts her veteran status at every opportunity.
When I further explained that we weren't seeking the "veteran vote" —only trying to highlight Bernie's veteran support—she still acted like it wasn't a worthwhile endeavor.

Again— she's a veteran.
They were upset by the fact that I'd threatened to go public with the fact that they'd snubbed our vets for a trip to the Vatican, so I explained why we'd made that threat.

I used an analogy, as I often do.
I said, "Vets For Bernie is a powerful weapon. But you don't realize that, because you refuse to use it. Sometimes, you don't know the full power of a weapon until it's used against you. That's what we're trying to show you."

The meeting ended pleasantly.

Or so I thought...
The next day I was told by the director of Vets For Bernie, that Tulsi was offended by my use of a "weapon analogy."

That was her takeaway.

An Iraq War veteran, was "offended" that another Iraq War veteran used an analogy about a weapon?
No.

No.

She wasn't "offended."

She was just playing the game.

She's a two faced politician—nothing more.

It was simply their attempt to silence my objections, and discredit my position.
It ended up causing quite an issue for me as a State Director for VFB.

I didn't leave the organization, but I was effectively silenced — as were our objections to being snubbed for the Pope.
I guess I'm crazy for thinking that our veterans should be more important to a presidential candidate, than a foreign religious leader.

Even if he is the goddamn Pope.
But I don't even care about that incident anymore.

What sticks with me is how Gabbard responded — with an attempt to smear me, by claiming I'd "offended her."
#TulsiGabbard
will say and do whatever she can to protect herself, and get ahead.
Believe me when I say this:
She can't be trusted.
I was content to keep this little incident to myself.

And in the grand scheme of things, it's not a "big story."

But seeing her recent behaviors: threatening to boycott the debates, and acting as a Democratic Party disruptor—
I thought I'd share it.
#TulsiGabbard
is a fake.
I don't know what her agenda is, but it's not "what's best for the nation."
Whatever it is, it revolves around what's best for her.
And she'll trash any group or person who gets in the way of her ascension— including her fellow veterans.