In 1974 US National Security Council under Kissinger completed classified 200-page study "National Security Study Memorandum 200: Implications of Worldwide Population Growth for US Security & Overseas Interests" advocating
#depopulation
of
#India
greatgameindia.com/population-con…
Kissinger said "Control Oil and you control Nations; Control Food and you control People" . His strategy deliberately destroyed family farming in India leading to most grain reserves in world under control of 6 multinational agribusiness corporations.
gginews.in/green-revoluti…
In 1973 US President Nixon & Secretary of State Kissinger instigated CIA-Kurdish uprising in
#Iraq
against Saddam Hussein. US chickened away from the rebellion when Saddam & Shah of
#Iran
settled their differences leaving
#Kurds
to face their own fate. 
greatgameindia.com/kurds-kurdista…
From the Oval Office tapes: "Nixon bitterly said, 'The Indians need—what they need really is a—' Kissinger interjected, 'They're such bastards.' Nixon finished his thought: 'A mass famine'."

When Kissinger and Nixon wanted to kill Indians in a mass famine. Kissinger did achieve this, although not by carpet bombing as he did in other countries but by codifying
#DeepState
#depopulation
policy into NSSM 200 later to be impemented in India in various forms.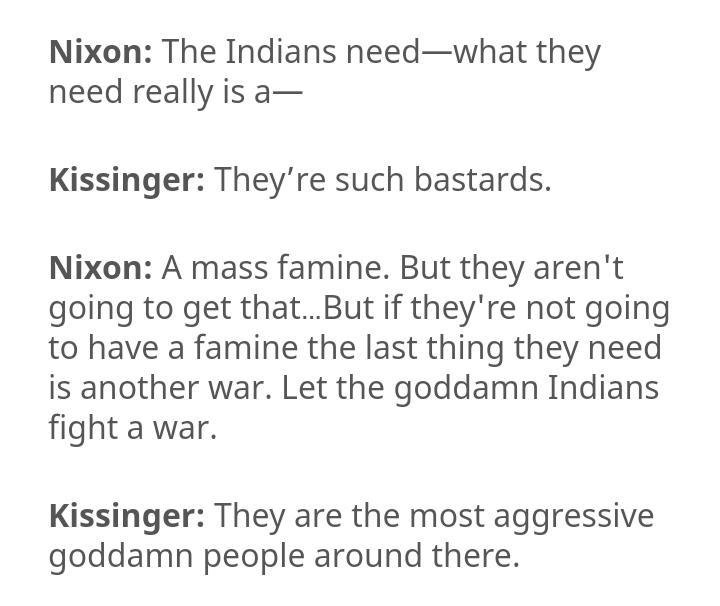 #DeepState
Connections
Henry Kissinger & Ratan Tata
Join us on Telegram for more intel
t.me/greatgameindia