China started to scale back it's lending spree in late summer 2017, which started to slow the global economy.
The tax-breaks of President Trump carried to world economy in 2018, but the engine of global growth (China) was already sputtering.
8/
The end of 2018 brought a shock to the world economy.
The decline of global central bank balance sheet had started in August 2018, and two months later the asset markets were in trouble.
The
#Fed
and the PBoC panicked, and "pivoted" pushing liquidity into the markets. 9/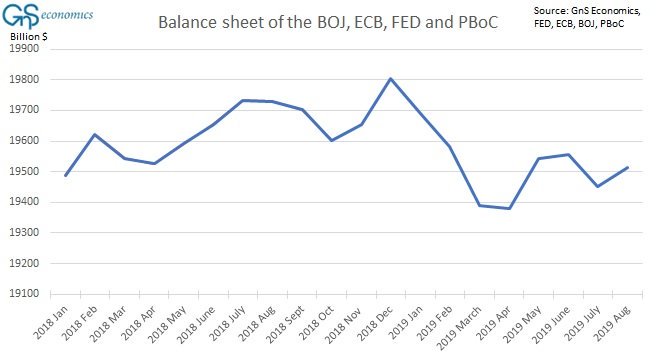 The Chinese economy was also in serious trouble causing Chinese leaders to panic and issue massive additional stimulus in Q1 2019, including around $320 billion for infrastructure projects, and over $300 billion worth of tax-cuts.
Explained here. 👇10/
gnseconomics.com/en_US/2019/06/…
But, despite of massive debt and fiscal stimulus, China's econ. growth kept on falling. China has, thus, very likely reached "debt saturation", on which we warned in January. 👇
China simply cannot reflate its (or global) economy anymore.
12/
gnseconomics.com/en_US/2019/01/…
This was recently "confirmed" in a very informative piece on the ability of China to increase debt to create growth. 👇/13
ft.com/content/8cb854…
Alas, it's useless to think that the
#centralbanks
, with their additional mon. easing and QE, could turn the global cycle around.
We are currently experiencing a 'bounce' from China's massive early fall stimulus, which is unlikely to continue and/or to be effective.
14/
The rather mediocre "stabilization" seen in econ. indicators across the globe is thus a 'red herring'.
Markets will gain a boost from the artificial liquidity central banks are currently conjuring, but the world
#economy
is still heading down.
Brace.
/End