I'm going to share a thread with you on evidence of Eliot Higgins' fraudulence.
An alleged chlorine attack occurred in
#Douma
on Feb 01, 2018. Higgins, as usual, took control of the claim and acted as narrative manager making up the facts as he went along, as I will show.
It was alleged by an opposition source,
@firasabdullah_
, that 3 chlorine cylinders landed on the outskirts of Douma in "the Farms" area.
Let's remind ourselves of what one these "chlorine cylinders" looks like: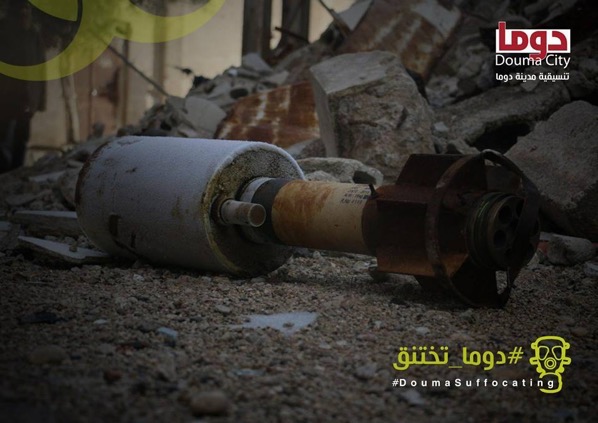 I asked the video's producer about this in October and June and both times he ignored my requests for more information:

How does this make Higgins' intervention into this affair, fraudulent? Rather than Eliot asking how a cylinder left a 90º footprint in soil or how, whilst landing on the soil, it left perfect angular flattened side walls in said soil; or how upon impact the cylinder vanished?
Eliot believes;
"The shape of this crater indicates the rocket would have come from the west,.."
Why the west? Eliot answers why:
"from the direction of the Syrian government positions around 1km away."
That's where the
#SAA
were so it had to come from there!
How could one have reached that calculation based upon the evidence presented? Only if they began with a predetermined conclusion & worked in reverse could they have reached that ludicrous result. That's what you call making stuff up hoping nobody notices. That's fraudulence.
The wall does run North - South and given the buried object's proximity to the wall it is not likely it could have been fired from the North, South or East so, if it was fired at all, it had to come from the west, right? Right?
Look at the angle of the object in the ground. It's orientated with its front end in the soil pointing westerly with its aft (what you see) pointing towards the wall. Physics teaches us that an object's descent to earth is equal to its ascent, all things equal.
For an object launched into the sky to fall into a vertical footprint it has to be fired vertically into the sky. Therefore, this "rocket" had to have been fired beside were it landed. But for it to land pointing towards its launch position defies all reasoning. Almost all..
There is one other possibility that fits the evidence. There was a hole dug and the object was forced into it. Either way, Higgins offers no calculations; no insight into how he reached his conclusions or based upon what evidence his conclusions were reached.
This was an exercise in making the evidence fit the crime. Something I've shown he & his Bellingcat Narrative Management Team have done time & time again. I even offered to debate him on the matter at a time and place of his choosing and at my expense:


My full report on the staged event can be found at the link below and I welcome any respectful attempt at rebutting my findings.
hiddensyria.com/2019/06/27/1-f…
OK, so having established that Higgins just makes stuff up to fit Jihadist propaganda (Jiyash al-Islam were in charge of Douma Farms at the time) we can therefore extrapolate that claim to conclude he is a Jihadist apologist. Sound fair enough?
What about the claim these modified IRAM "chorine cylinders" were only ever found the possession of the
#SAA
as claimed by the likes of Tobias Schneider and Eliot Higgins? Does that claim hold water? No.
We now know that the opposition, after being relocated to Idlib from Douma, are using, producing and firing the exact same "chlorine cylinders" we were told they never had!
I was the first person to highlight this. I brought it to the attention of Tobias Schneider and asked him for a comment given he was so adamant *only* the
#SAA
were using them. I received a response: