#China
has been hanging into the edge of a financial crisis for two years, and now the likelihood is growing, again. 4/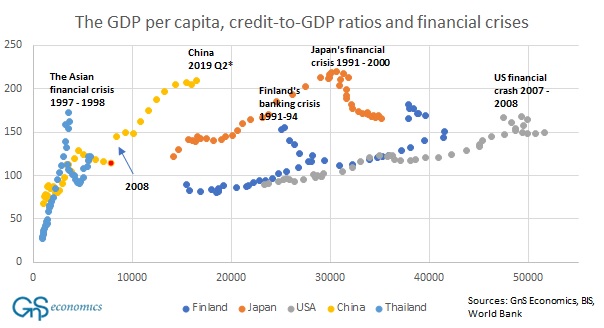 We first noted the debt problem in China in September/October 2017.
"Because the private debt grows around three times as fast as GDP, it is evident that China cannot continue on this path much longer, but will it keep going till the bitter end?"
5/

gnseconomics.com/en_US/2017/10/…
If this comes to be, it will alter the likelihoods of the three scenarios we're heading into:
1)
Global Depression
2)
Systemic Collapse
3)
Global Bailout, hyperinflation/stagnation.
7/

gnseconomics.com/en_US/2019/01/…
If the current policy line continues, central bankers and Chinese leaders are pushing us either into the Systemic Collapse or Global Bailout, from which the latter is the worst of all.
It's a massive problem that the horrors of such a scenario are not widely understood.
7/
Still, the massive role
#China
plays in the global economy should be acknowledged, thoroughly.
We don't yet know all the channels, but the "recovery" of the Eurozone in late 2019 was very likely driven purely by it.
But, the road is ending.👇
gnseconomics.com/en_US/2019/11/…