Thread
Now we get to see how far leftists are willing to go.
Kathy's lying.
I'll prove that this is the NEW hoax to discredit
@realDonaldTrump
.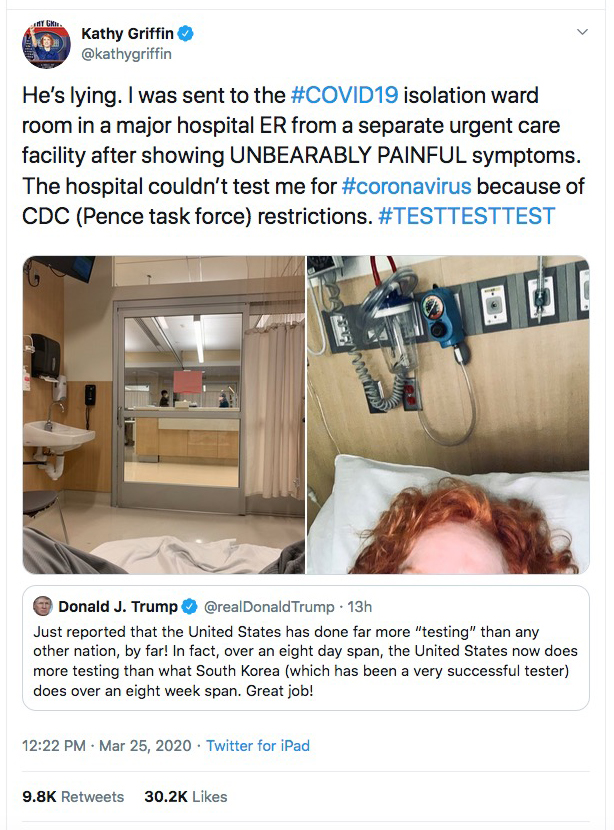 Note that Kathy doesn't name the hospital.

This is because they wouldn't put her in a COVID-19 isolation ward without testing her.

The ward is reserved for COVID-19 cases.

A funny thing just happened that PROVES Kathy's lying.
It also proves that there's a new coordinated campaign against Trump.

An hour ago, I got a call from a rabid leftist informing me that he has COVID-19.

But he said that he's isn't allowed to be tested.

So how does he know that he has the virus?
He lives in New York.

He said that he went to the doctor, and the doctor diagnosed him but told him that tests were prevented due to Trump's rules.

Think how utterly stupid this is.

COVID-19 can't be confirmed without a test.
Therefore the New York leftist and Kathy are lying.

The CDC desperately needs data. If someone is showing symptoms, they get tested.

Period.

This NEW hoax is a level of depravity and sedition unprecedented in American history.
Leftists are much crazier than anybody knew.

I encourage everyone to spread information about this new hoax designed to harm Donald Trump.

The saving grace is that leftists don't know how anything works.

They don't know how people are diagnosed or treated.
Kathy Griffin doesn't understand that she wouldn't be put in a COVID-19 isolation ward unless she tested positive.

The legal liability for the hospital would be off the charts if they isolated people without testing them.

Same with the idiot in New York.
No doctor in the country diagnoses people without testing them.

The legal liability would be incalculable.

So just take some time to appreciate the level of insane hatred that would motivate someone to lie like this.
We've never seen anything like this before.

Combine insanity, hatred, and total lack of all factual knowledge, and you have a new species of person.

Their DNA is no longer the same as yours or mine.
If you hear of people claiming that they've been diagnosed with COVID-19 but Trump is preventing them from being tested, just post it and tag in the president.

The more ammunition we give him, the better.

This allows him to fine tune his plans for the Democrats.
People are being charge with terrorism for making videos showing them pretending to spread the virus.

Maybe Homeland Security can pay Kathy Griffin a visit and make her prove her accusation.

Maybe there will be consequences.
So this is the new hoax.

Luckily these people are so stupid that the sane can immediately see through it.

But they still need to pay.

END
ADDENDUM 3:
THERE WE GO, KATHY.
"CDC has guidance for who should be tested, but decisions about testing are at the discretion of state and local health departments and/or individual clinicians."
@realDonaldTrump
has nothing to do with it.
cdc.gov/coronavirus/20…