Some police forces are, in my view, making three mistakes in how they enforce the Health Protection (Coronavirus, Restrictions) (England) Regulations 2020, which provide that "no person may leave the place where they are living without reasonable excuse."
Yet some police say you must only leave the house if it is "absolutely necessary or once a day for exercise". That is a more restrictive test than the regulations, and it is made up law.
That's partly
@BorisJohnson
's fault: his speech said something along these lines (right).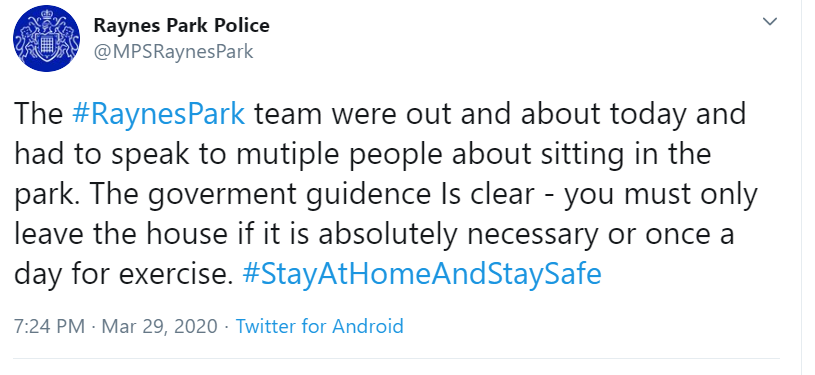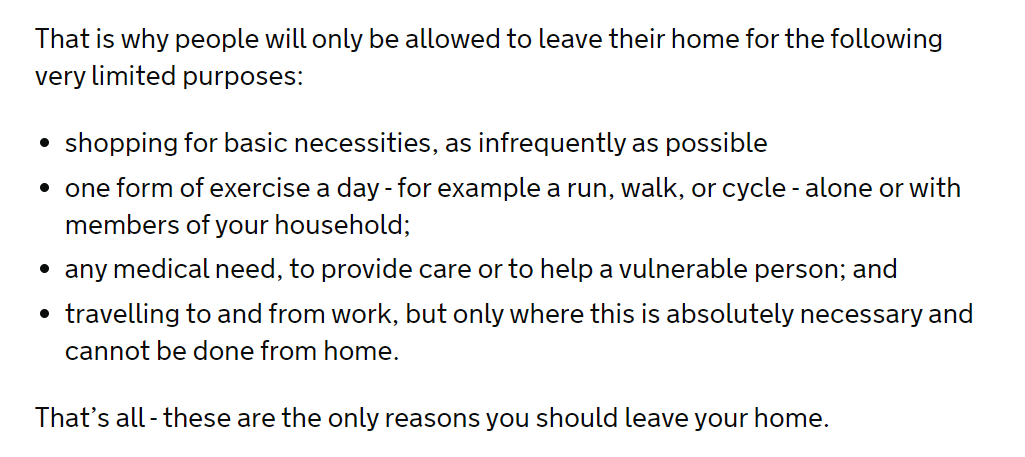 The
@CollegeofPolice
publishes guidance, and to their credit they do suggest the list is non-exhaustive. But they also suggest exercise must be "once a day". In England, that's not the law. Depending on circs, it could be reasonable to exercise more. The Q is what's reasonable.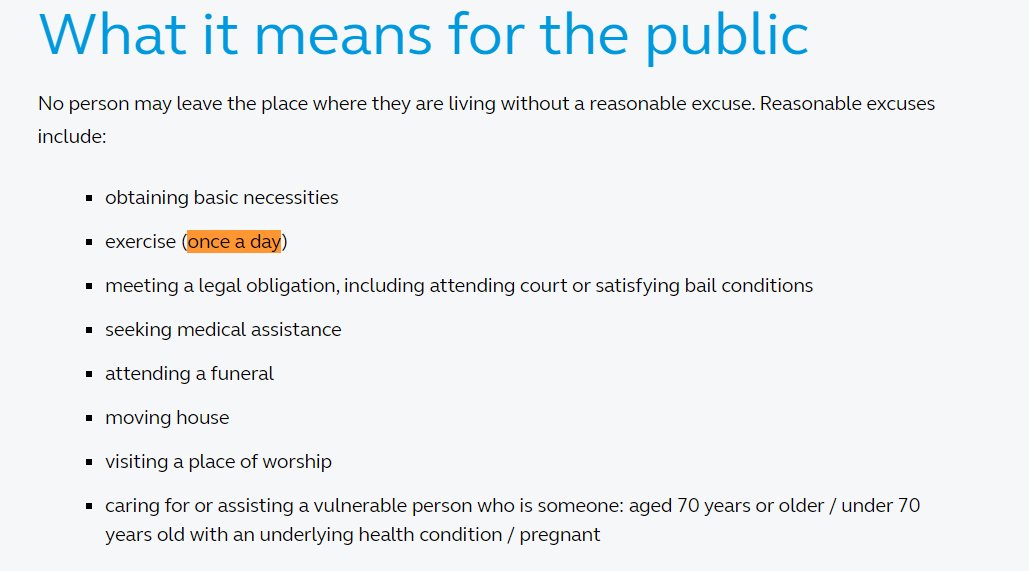 So if you go for a run, are out for 5 mins, then your partner calls from home to say the baby's hungry but we're out of baby food so could you pick some up, and you come back, pick up food and feed your child... then I think it'd be absurd to say you can't later go out again.
Once a day will often be plenty; it's a decent starting point for asking "is this reasonable?" Likewise, can start by asking "is this travel essential?".

But it's harmful to suggest to people that these tests are the law. To do so restricts their liberty more than the law does.
Second problem: some police forces seem to be using their powers without any regard to the *purpose* for which these powers were conferred.

The purpose of the legislation is to stop the virus spreading, by stopping unnecessary inter-household contact.
If you go out solely to buy an Easter Egg, that's probably not a reasonable excuse.
Baffled by reports some police have tried to stop sale of EEs altogether (have they really?!). Adding an EE to your grocery shop obviously creates no public health risk.
bbc.co.uk/news/business-…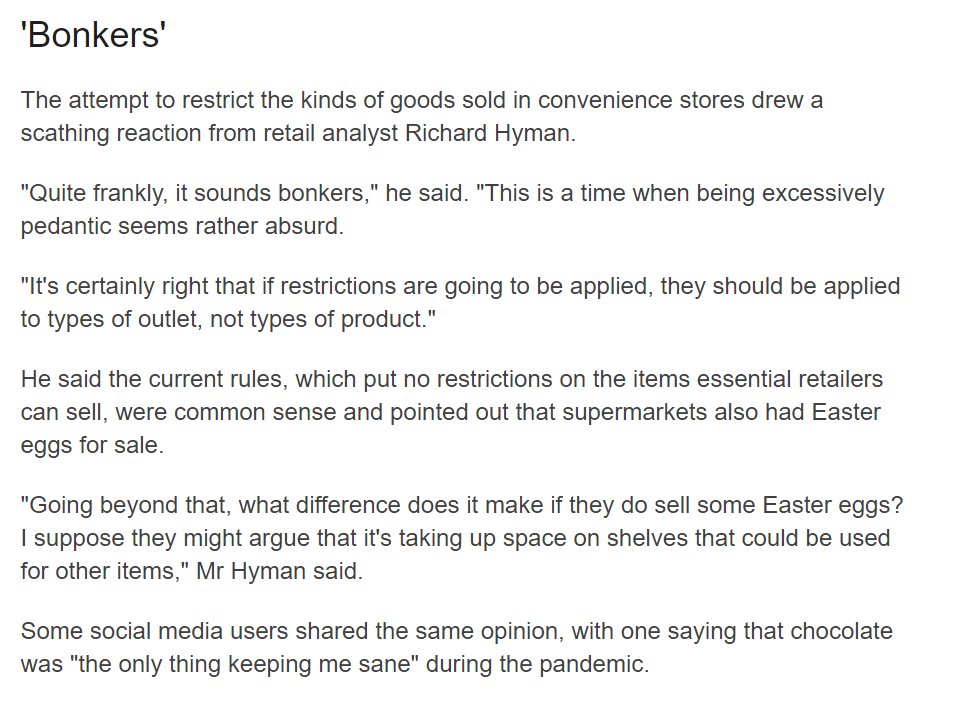 Likewise, there are several reports of police objecting to people driving to their intended exercise location. If you are driving to a busy, popular spot, then this is likely to be an issue. If you're not, I've no idea what the legal (or public health) issue with this would be.
In my local park, Clissold Park in Hackney, all the benches have been taped over to stop people sitting down (presumably because sitting down does not constitute exercise), consistent with some of the policing implied by this tweet.

Obviously, most excuses given by members of the public there are fatuous, but no one is going to transmit/catch the virus by breaking up their walk for a few minutes to sit on a bench, alone, and read. Suspect a court would be slow to conclude the regs restrict freedom to do so.
Third, some of the *methods* police have adopted have been badly judged. Dying a blue lagoon black to deter visitors seems, to me, a simply bizarre thing to do. Likewise some of the drone action in Derbyshire.
news.sky.com/story/coronavi…
I'm sure the vast majority of interactions = officers getting people to comply with the actual rules in a non-coercive and public-spirited way. I suspect that, where coercive powers are used, they're usually warranted. This, from
@CollegeofPolice
, is obviously sensible.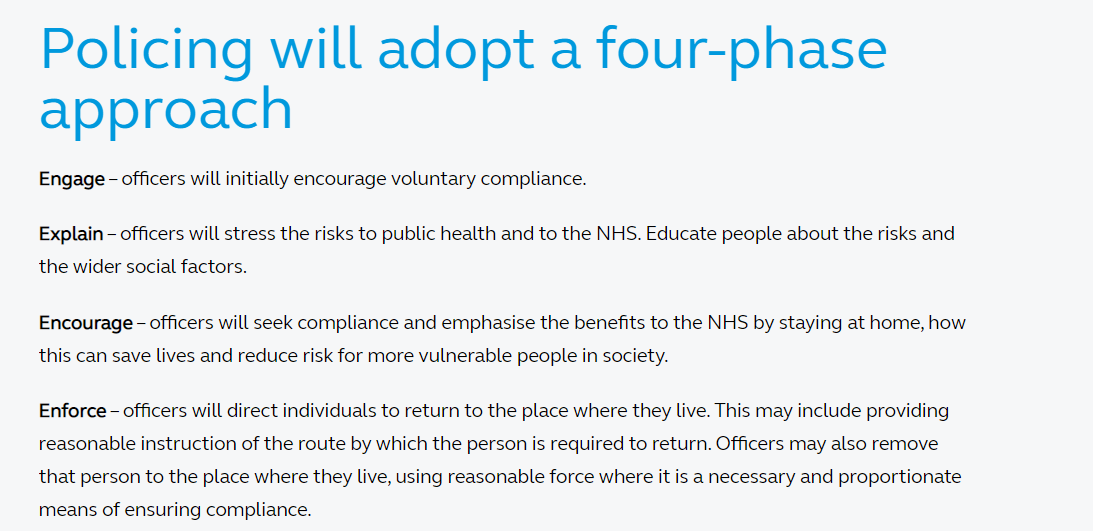 But it does really matter, in my view, if
- Law-abiding people are told the legal restrictions go further than they do and so are deterred from lawful/harmless activity
- Some bad judgement reduces public trust in, and respect for, police.
If any exercise of these powers is ever challenged in court, you can bet the magistrates will be invited by counsel to use their common sense in working out what's reasonable.

Couldn't both members of the public, and the police, just do that?
/ends