Our new paper rapidly studied T cell + antibody immune responses in average COVID-19 cases. This is good news in multiple ways, including coronavirus vaccines.
@ljiresearch
cell.com/cell/fulltext/…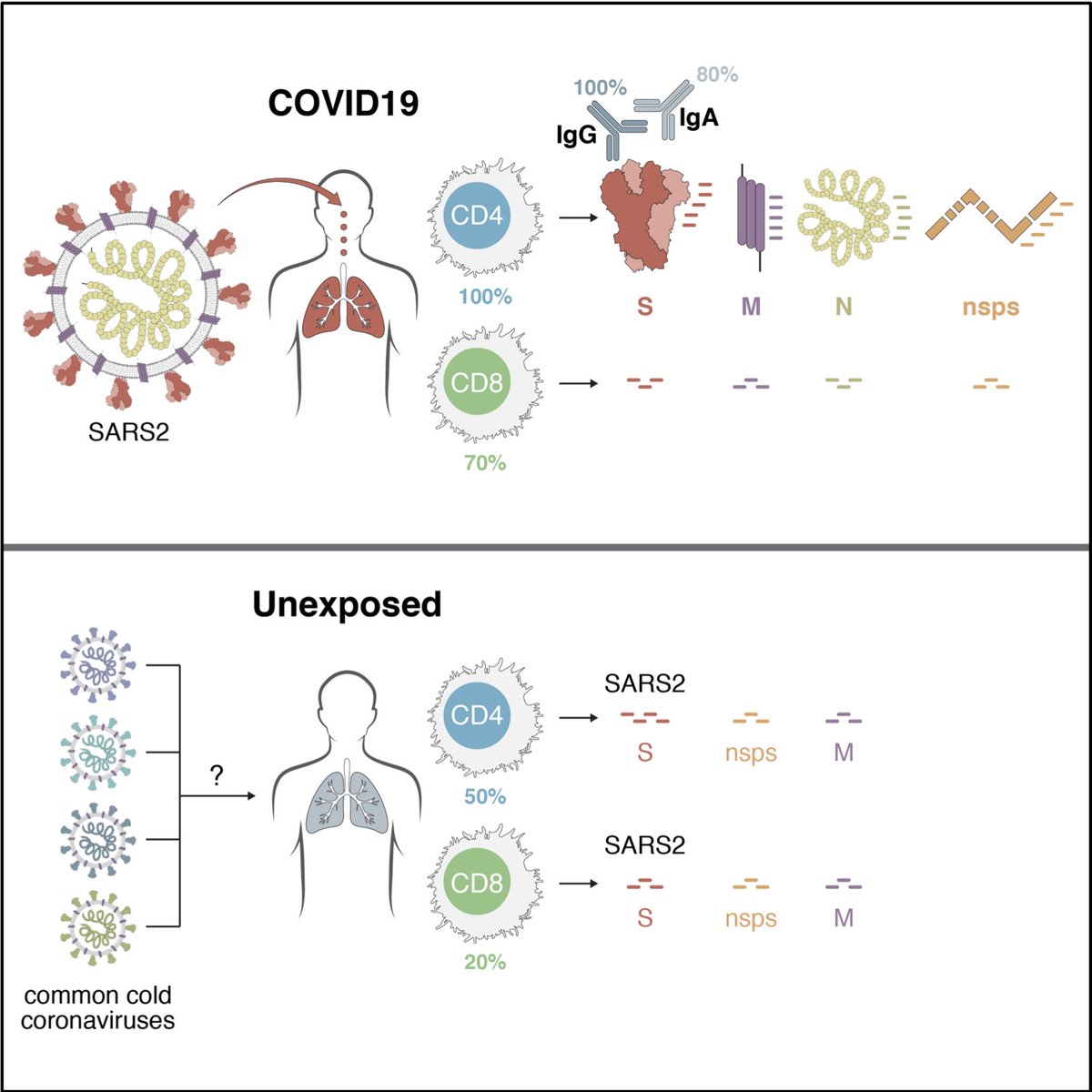 This is good news in multiple ways, for coronavirus vaccine development, understanding disease, and even modeling the future course of the pandemic.
There has been a huge amount of uncertainty about immunity to SARS2—both in the context of COVID19 disease pathogenesis and in the context of how to develop a good vaccine.
In our study, 100% of COVID-19 cases made antibodies. 100% of COVID-19 cases made CD4 T cells. 70% of COVID-19 cases made measurable CD8 T cells. We believe these findings are good news, and consistent with normal antiviral immunity.
CD4+ T cell responses to spike, the main target of most vaccine efforts, were robust and correlated with the magnitude of the anti-SARS-CoV-2 IgG and IgA titers. Again, good news.
We specifically chose to study people who had an average COVID19 disease course—non-hospitalized—to provide a solid benchmark for what a normal immune response to SARS2 looks like.
Additionally, any potential for crossreactive immunity from other coronaviruses has been predicted by epidemiologists to have significant implications for the pandemic going forwards. We detected SARS-CoV-2-reactive CD4+ T cells in ~50% of unexposed individuals.
Detecting SARS2-reactive T cells in ~50% of unexposed people suggests cross-reactive T cell recognition between circulating 'common cold' coronaviruses and SARS-CoV-2. This might influence susceptibility to COVID-19 disease.
Crossreactive T cells are also relevant for vaccine development, as cross-reactive immunity could influence responsiveness to candidate vaccines.
Whether this immunity is relevant in influencing clinical outcomes is unknown, but it is tempting to speculate that the crossreactive CD4+ T cells may be of value in protective immunity, based on SARS and flu data.