Exactly
#40YearsAgo
Doug Geisler was asleep atop Manastash Ridge Observatory. An astronomy grad student, he'd just logged his first excellent night at the telescope for his PhD thesis.
He was the only person on the summit, ~90 miles from
#MountStHelens
...
#MSH40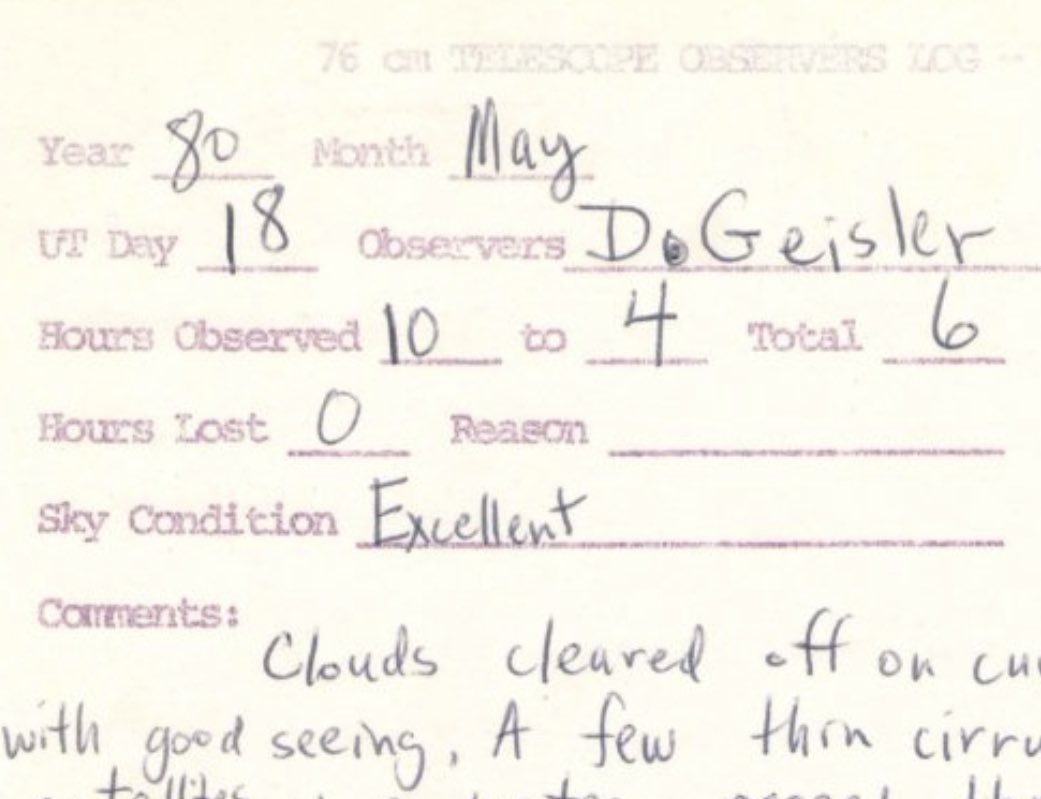 Around this time
#40YearsAgo
Doug woke up briefly at Manastash Ridge, convinced he'd heard a low boom or distant rumble.
Tired after a night of observing billion-year-old stars, he went back to sleep.
Years later, he told me he dreamed about the end of the world.
#MSH40
(it's hard to say exactly what he heard - it could have been the initial 26 megaton blast or the deafening secondary explosion from the volcano's superheated material instantly vaporizing nearby bodies of water into steam)

Anyway, back to sleep for the tired astronomer...
While we wait for Doug to wake up
#40YearsAgo
, a couple notes about telescopes and volcanoes.
The telescopes atop Mauna Kea share Hawaii's Big Island with Volcanoes National Park and occasionally run into complications. The most common culprit is "vog", aka volcanic smog.


Eruptions on the island can sometimes send substantial amounts of sulfur dioxide into the air, which mixes with condensation to create a mildly acidic fog.

This means lower humidity tolerances for opening the telescopes they don't get little acidic droplets on the mirrors...
(I remember being a grad student in Honolulu and having a few "voggy" days as far away as Oahu; the stuff can get pretty thick and travel far!)
Back in May of 2018, during Kīlauea's recent eruption, Halemaumau crater produced a huge ash plume. THAT ash blew away from the mountain, so aside from vog there was no impact on the observations, but a webcam at the Gemini-North telescope did catch the eruption!
But speaking of plumes and telescopes, back to Manastash Ridge Observatory the morning after
#MountStHelens
erupted...
#MSH40
Doug woke up around noon on May 18 1980 & immediately noticed something a little weird. Observatory dorms are pretty light-tight since people have to sleep during the day, but usually a little bright sunlight squeaks through the cracks. There was no hint of light in his window...
Worried that the weather may be taking a turn for the worse, he decided to step outside for a look.

He was greeted with thick, inky pitch-black air that had what he later described as a "fire-and-brimstone" smell.

Even with a flashlight he couldn't see more than 10 feet.
This GIF shows what happened.
#MountStHelens
erupted from its north side and blew a plume of ash 15+ miles high; prevailing winds then carried the plume ENE at ~60mph.
This sent the ash right over Manastash Ridge Observatory...and, as a result, right over Doug.
#MSH40
So, imagine being alone on a remote mountain. 1980. Pre-cell-phones, pre-wifi. You heard a giant boom in your sleep and wake up to warm, silent, total darkness in the middle of the day.

Doug's first thought was that he was now in the aftermath of some sort of nuclear attack.
He headed back indoors to try and get an emergency signal on the ratio, and eventually managed to catch a radio report explaining that
#MountStHelens
had erupted. Welp.
As the only observer on the mountain, Doug knew he had a couple important jobs at this point.
Finally, like any well-trained observer, Doug was keeping careful night logs of his time at the telescope, noting any hours lost and why along with sky conditions and whatnot. His log entry from that night has become an astronomy classic ("Sky Condition: Black + smelly")
#MSH40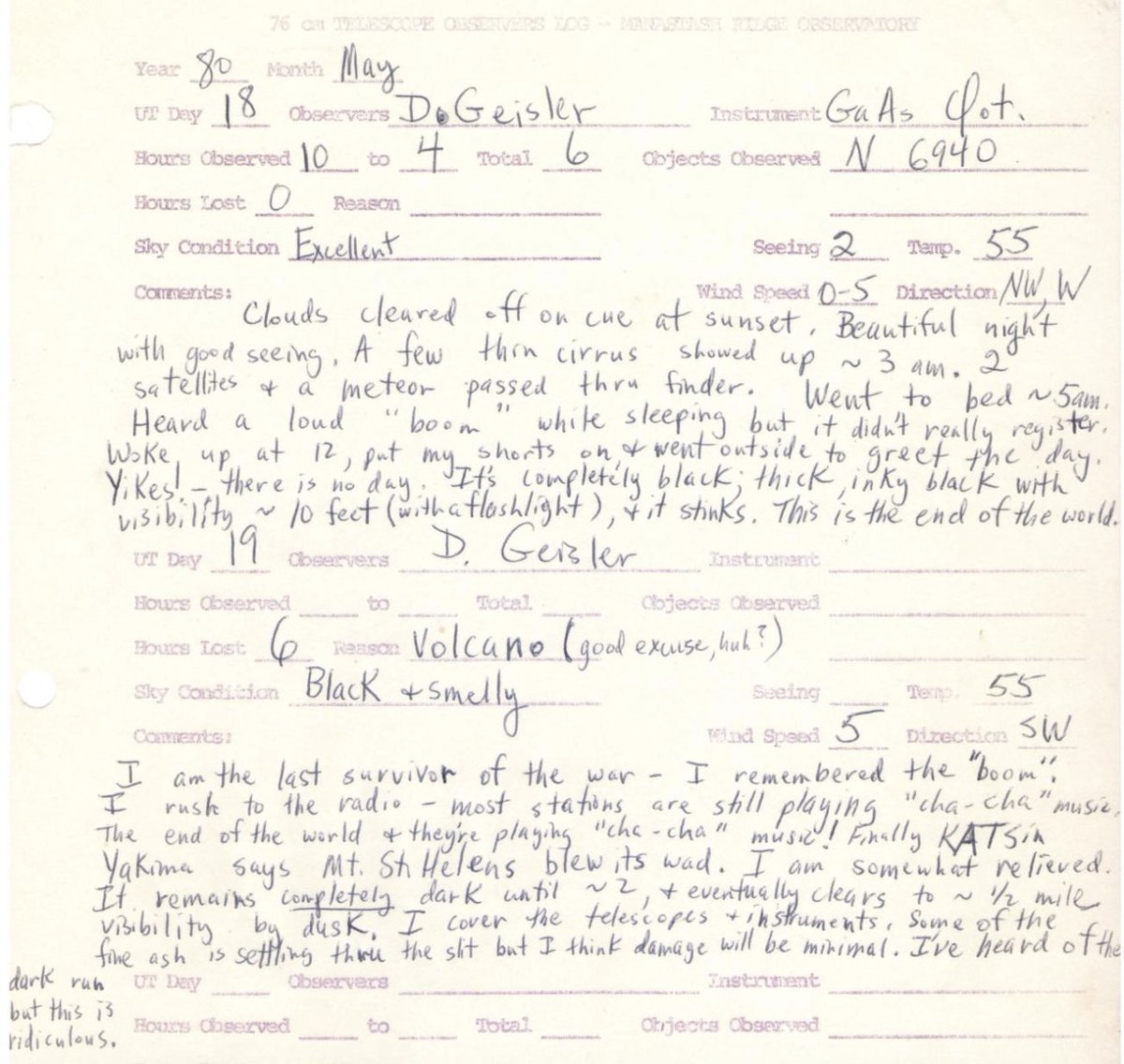 I interviewed Doug in 2018 for
#TheLastStargazers
, my book on the adventures and stories of life as a professional astronomer.
This log entry is why one chapter of the book is titled "Hours Lost: Six. Reason: Volcano."
#MountStHelens
#MSH40
Hi new followers! If you want more stories like this then check out
#TheLastStargazers
' website to learn about my book, sign up for news & excerpts, and pre-order a (gorgeous) hardcover or ebook from an online retailer or your favorite local bookstore!
thelaststargazers.com