What follows is pure speculation.

We're in the Third Revolution in Military Affairs (3RMA).

The Revolution in Military Affairs (RMA) was the introduction of smart weapons, GPS, unmanned drones, and so on.

Lates 1980s to early 1990s.
The Second Revolution in Military Affairs (2RMA) was the creation of STRATEGIC special-operations units armed with massively powerful weapons.
Only one person has spoken about it:
Retired IDF Brigadier General Gal Hirsch.
israeldefense.co.il/en/content/oth…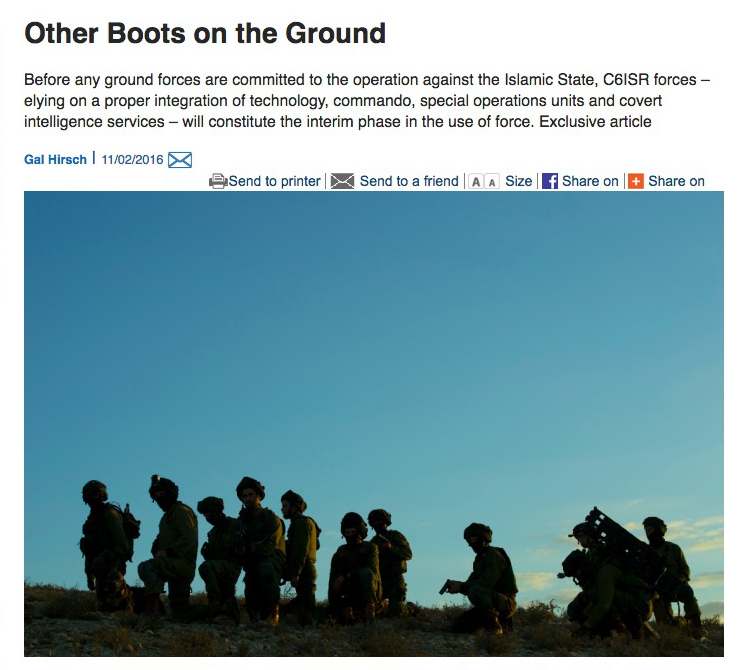 Special-operations units were always TACTICAL assets.

With the introduction of new weapons and tactics, they became STRATEGIC assets known as C6ISR units.

Command, Control, Communications, Computing, Cyber Warfare, Commando, Intelligence, Surveillance, Reconnaissance.
The 2RMA was an interim phase.

Nobody really knew what would come next.

The 3RMA is the most flexible war-fighting doctrine ever created. It appears that each country decides how it's going to fight.
Massive transnational wars are OVER.

Russia will never invade Europe, China will never require an American invasion, and so on.

This is why the US Marines are getting rid of their tanks and artillery.
The Marines Commandant said that the troops are being trained in new military operational specialties (MOS) in preparation for new weapons.

US Special Forces Command (USSOCOM) is ditching all ITS weapons too.
"In this rapidly evolving environment for the purpose of future combat development, we should consider the technology and platforms that today's [special operations forces] use as legacy systems, already legacy systems whose sunset is nearly upon us."
Bush and Obama didn't fund the armed forces for TEN YEARS.

Don't kid yourself:

The changes announced have already happened.

There's no way we could go from NO capabilities to the greatest capabilities on earth in only four years.
The Israelis and Gulf Cooperation Council don't have blue water navies or strategic bombers.

WE have those weapons and will use them in defense of our allies if asked and if it's in our national interest.

As for everything else, I think the armed forces will bifurcate.
Special-operations units have always had the same problem:

They have contempt for conventional forces.

In Mogadishu, the Delta Force didn't wait in the chow line. They simply barged their way in and told everyone else to shove it.
I think we're in effect EXPANDING and ELIMINATING special-operations units.

There won't be a real difference between conventional and unconventional combat-arms units.

The marines, for example, are morphing into one enormous special-operations unit.
People are worried that without tanks, the marines won't be able to land, take ground, and hold it.

Correct.

IT WON'T BE NECESSARY.

Here's something nobody knows:
The Special Purpose Marine Air-Ground Task Force Crisis Response-Central Command (SP-MAGTF-CR-CC) spent 18 months fighting in multiple undisclosed countries without suffering a single casualty.

The unit was DISPERSED. Their weapons are CLASSIFIED. Their home base is CLASSIFIED.
One report said that the marines had unspecified antitank capabilities.

A Russian survivor said that an entire motorized rifle company of 130 men "died instantly."

That was Putin testing Trump.
What I think is going to happen is that we'll adopt the Saudi model of refusing to reveal our capabilities.

We'll just use them with no comment.

And we'll rigorously screen people who are trained to use these weapons.

We've really slid in that arena.
TWICE he had to write open letters to active duty SEALs, telling them to shut their yaps because they were spilling the beans on everything.

He's an absolute disgrace.

We need to make sure that the people who operate the new weapons never reveal them.
Now, it doesn't make sense to keep a nation-killing weapon secret.

If nobody knows that you can destroy an entire nation, they going to attack you.

But we go back to that deterrence issue.

It actually doesn't stop countries like Iran.
You have to hit them clandestinely and never acknowledge it.

When you have a treasonous Congress, it makes no sense to tell them.

There are already tons of completely unidentifiable weapons being used.
It's obviously some form of targeting system that uses visible white laser.

The terrorists were all killed from behind.

My guess is that the white laser is a bracketing device. White laser carries enormous amounts of data.
The combat videos from Syria, Iraq, and Yemen are full of outrageously futuristic weapons THAT NOBODY NOTICES.

"Experts" scoff at the possibility of heir existence.

Well, the battle damage assessment shows terrorists killed by "precision obliteration."
I won't post the images, but the damage is done by kinetic energy and directed blast effect.

An entire courtyard of Hezbollah terrorists with the tops of their heads flattened.

Some kind explosive vapor that was like thirty pile drivers coming down simultaneously.
Dead men sitting with their legs crossed, a cigarette in one hand. And no heads.

Men burned to charcoal from the neck to the knee, with their hair intact.

Men with the FRONT SIDE of their bodies burned to charcoal. It happened while their were standing.
Most of our armed forces will be assigned to units that use weapons we can reveal.

But a large number will become strategic special operators with a different ethos from today's special operators.

The best strategic commandos in the world are the UAE Presidential Guard.
Fifty of them defeated 10,000 Islamic State terrorists armed with main battle tanks and heavy artillery at Kobane in 2014.

Fifteen of them held off 40,000 Houthis for a month in Aden in 2015.
Recruits are encouraged to ask WHY they must do things in a certain way.

The instructor is a mentor, not a screaming tormenter.


Looks almost like a debate, huh?

But you can't argue with the results.

These guys have pulled off astonishing operations. In five years of combat in Yemen, they lost only a handful of men. Most of their casualties were support troops.
It's for this reason that we're building weapons with much longer ranges.

The support troops will no longer come under enemy fire.

So I don't think our REAL capabilities will ever be revealed.

It makes no sense to tell the enemy what you have.