Our paper out now describes phylogeny of >700 novel RdRp sequences of bat-CoVs from China w/ all others known (500+ bat-, 8 pangolin-CoVs) in press w/
@NatureComms
Collab w/ Wuhan Inst Virol, Guangdong Acad Sci
@DukeNUS
@UQ_News
@nycbat
@dukenus
@EpsteinJon
biorxiv.org/content/10.110…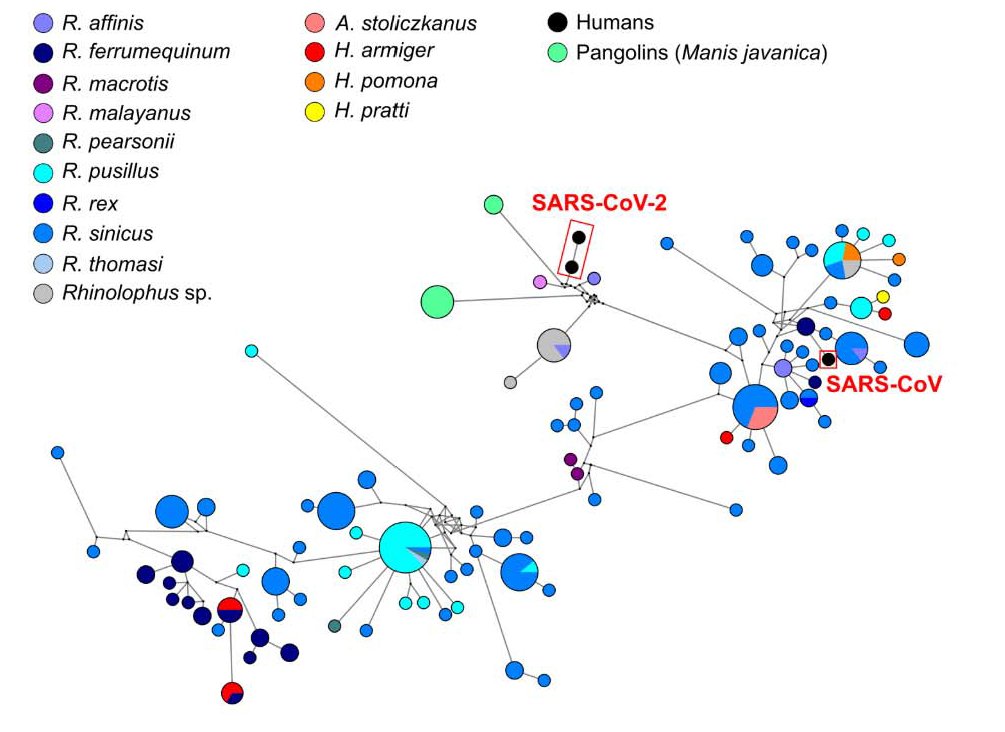 Adds more evidence SARS-CoV-2 emerged naturally: High diversity of bat-CoVs in wild; 100+ Sarbecovirus genus sequences (SARS1/2 clade); Pangolin viruses close to SARS-CoV-2 but RaTG13 & RmYN02 bat-CoVs closer (Rhinolophus hosts). This clade has Spike insertion cf. SARS-CoV-2
SARS-CoV-2 (COVID-19) prob emerged from Rhinolophus bat-CoV clade in SW China or neighboring countries. 2 closest (RaTG13/RmYN02) from Yunnan close to Myanmar & both bat hosts found across SE Asia. Sampling only in China, so can't rule out origin in Myanmar, Lao PDR, Vietnam etc.
High exposure to bats throughout region (incl. hunting/eating) so neighboring countries should be priority for sampling. Whole region was Quaternary glacial refugium for bat spp. incl. Rhinolophus & may have allowed survival of older viral strains leading to increased diversity
Why is S. China/neighboring countries high risk for CoV emergence? It's a hotspot of bat+CoV divergence w/ subtropical climate; dense, growing, rapidly urbanizing population; widespread wildlife/livestock farming; high rates wildlife consumption. Drives risk of emergence.
Yes, work funded by
@NIH
grant terminated 'for convenience' by
@NIHdirector
, protested by 77 Nobel Laureates, 31 US Scientific Societies. Future plans were to sequence Receptor Binding Domains to see if viruses able to infect humans. That work cannot happen without
@NIH
grant.
Limitations of study: Short RdRp may not reflect whole genome phylogeny but likely broadly consistent. PCR uses primers from known viruses & reports consensus sequences so may miss some unknown viruses. Work only sampled bats, only focused in China. Key take home message is....
We need more sampling of: 1) bats in China (expect many more SARS-CoV-2-related viruses for eg.); 2) bats across SE Asia; 3) other mammals across region; 4) pangolins & others in wildlife trade - do wild pangolins have similar CoVs?
.
@PREDICTproject
@USAIDGH
funding also supported this work. PREDICT's goals included viral discovery, & working w/ local communities, agencies, govts to build capacity to reduce risk of emergence. Important work that builds on science to help prevent outbreaks.
The region where China, Laos, Vietnam & Myanmar converge may be "the real hot spot for these viruses." Extensive monitoring for viral diversity there would be very costly, but compared to a pandemic, "You're definitely getting a good return on investment."
nytimes.com/2020/06/01/sci…
Just saw comment re.
@NIHDirector
's termination of grant. Still lots of data not yet published.
@EcoHealthNYC
's mission is to understand risk & help prevent EIDs. We pledge to continue as volunteers even w/out funding to get data into public domain.
Responding to another comment in this thread: I've seen bat feces in medicine shops in China & on Weibo, but not sure of contamination risk - prob most is dried & old so viruses not infectious? Many other potential pathways for spillover, including..
People living, eating, working near bat caves; using bat feces to fertilize crops (like we used horse manure in UK); sheltering in caves; working in caves for tourism/bird's nest collection (for soup); tourism in caves (incl. many European/American/other tourists).