I guess now is a good time to remind ourselves, why further debt and monetary stimulus is a bad idea.
I understand the desperation, but the fact is that the
#economy
is not something you can manage from above. Thread.
Let's start with a familiar chart. 1/14
@GnSEconomics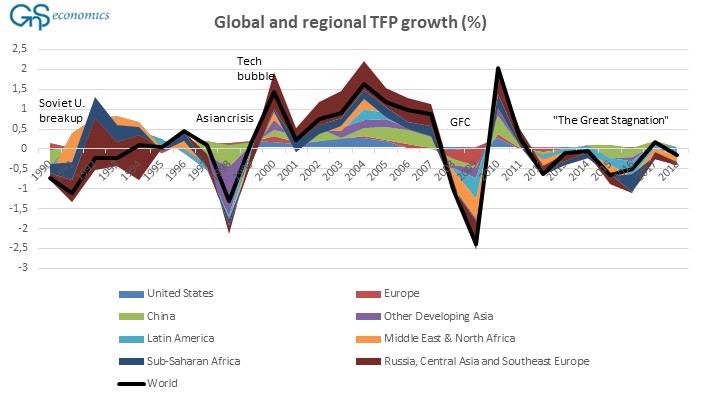 I've been doing empirical research on economic growth for 18 years, and the above is the strangest thing I've ever seen.
There's absolutely no reason, why the productivity should fall, globally, in an expansion. It's an aberration.
2/
Some Post-Keynesians have made up different imaginative explanations, as they often do, but the fact is that, e.g., not wages nor the commodity cycle drive productivity.
Productivity grows through profitable investments, which drive wage growth. Investments...
3/
...also tend to drive the commodity cycle.
The total factor productivity (TFP) is simply the growth in gross domestic product not explained by increases in labor quantity, quality and capital services.
And so, it falls during recession and crises, when investments flag.
4/
But, what happened after 2011?
The most likely explanation, as detailed in the thread below, is that ultra-loose monetary policies and debt-stimulus, applied during the past 11 years, destroyed our
#economy
.
5/
Interest rate is essentially the price of time. Future tends to be more risky than now, and so the "price" of tomorrow is higher than that of today.
When we borrow from the future, to invest, the interest rate reflects the price of the money from the future.
7/
This ensures that:
1)
Money is only available to potentially profitable investments.
2)
All non-profitable investments fail, as they are unable to master the income stream needed to pay the "time preference of money".
What happens with very low or negative interest rates?
8/
Money becomes available also to potentially non-profitable investments and, as money is abundantly available and with negative interest rates you even receive money from borrowing, the non-profitable investment projects do not fail.
What this means then?
9/
Firstly, capital allocation become less and less efficient as many non-profitable investments projects receive funding.
Secondly, capital is tied to non-profitable investments, which do not fail, suffocating the funding for new and potentially more profitable investments.
10/
The above is essentially the process of "zombification".
When rates are extremely low and cheap money abundantly available, there are more and more unprofitable firms, and thus the productivity of the overall economy starts to fall.
11/
gnseconomics.com/2019/03/11/the…
Now, what happens when you add even more debt and push interest rates even lower ?
Unproductive firms multiply, while we go deeper into debt. This means that our ability to pay back the debt diminishes further.
This is no way to "invest for future generations"!
12/
So, what the current spree of government and central bank stimulus will do, is that it will just foster growth of unproductive firms and blow asset bubbles, while diminishing our ability to pay back the debt.

It's completely ill-advised!

I understand that it's...13/
... difficult to grasp that we are at the end of the road, but that's where we are.
We should embrace the 'reset', and not make the imbalances even worse.
This because at the end of that path, an utter collapse of economies and societies awaits.
/End
#depression2020
#Fed
#ECB