Personally, I am not in favour of ticking boxes, in the sense of asking whether the ANC-led government implemented this or that, and whether or not the ANC has been "true" to the ideals of the Charter.
What the words of the Freedom Charter mean are not set in stone, frozen in the year 1955. The document needs to be understood contextually. It needs to be understood within the conditions in which we find ourselves.
What South Africa's distinguished liberation theologian, Father Albert Nolan, says of religious texts is applicable. The gospel is not meant to be interpreted by the letter, he argues, but its spirit must be carried through with due regard to changing contexts.
Likewise, the Freedom Charter must now be addressed in relation to a number of questions that had not arisen then or were not critical issues in the same way as they are today.[end of extracts]
Interestingly President Mbeki both in a tribute to the late Fidel Castro and in
@MarkGevisser
's The Dream Deferred says, Castro warned us about the Freedom Charter.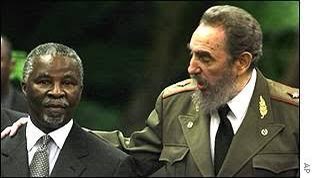 According to President Mbeki, Fidel Castro said: 'You see, in the Freedom Charter you talk about nationalisation of banks and mines and all of this. Will you have the capacity to do that, and simultaneously defend the revolution?