I keep seeing all kinds of crazy reports about people's experiences with GPT-3, so I figured that I'd collect a thread of them.
First,
@gwern
's crazy collection of all kinds of prompts, with GPT-3 generating poetry, summarizing stories, rewriting things in different styles, and much much more.
gwern.net/GPT-3
Automatic code generation from natural language descriptions. "Give me a page with a table showing the GDP of different nations, and a red button."
Taking a brief technical tweet about GPT-3 and expanding it to an essay which the author of the original tweet mostly endorses.
Acting as a more intense therapist than ELIZA ever was.
On the side of "it does still have weaknesses too", figuring out how to trick it at the Turing Test.
lacker.io/ai/2020/07/06/…
Also, using the architecture behind it to generate images.
Redditor shares an "AI Dungeon" game played with the new GPT-3 -based "dragon model", involving a cohesive story generated in response to their actions, with only a little manual editing.
reddit.com/r/AIDungeon/co…
The official announcement of the Dragon Model and examples. "The game invents a complex magic system and underlying theory behind why it works and describes the whole system as I read the book."
medium.com/@aidungeon/ai-…
Another example of automatically generated code, this time giving GPT-3 a bit of React code defining a component called "ThreeButtonComponent" or "HeaderComponent", and letting it write the rest.


From a brief description, GPT-3 correctly generates an explanation indicating that it's a case of asthma, mentions a drug that's used to treat asthma, the type of receptor the drug works on, and which multiple-choice quiz question this indicates.


GPT-3 tries to get a software job.
Translating natural language descriptions into shell commands, and vice versa.
Given a prompt with a few lines of dialogue, GPT-3 continues the story, incorporating details such as having a character make 1800s references after it was briefly mentioned that she's a nineteenth-century noblewoman.


.
@bioothod
noted that not *all* of GPT-3's answers are that great. Fair. IMO, being able to produce good answers even *with* human selection is amazing by itself, and often it requires relatively little, but yeah it's not a general intelligence yet.
aiweirdness.com/post/621186154…
So far I had only been sharing other people's experiences, which did occasionally make me wonder whether they're all real. Now I tried out GPT-3 myself, to generate some space opera. And whoa. Yeah I believe that they're real now.
kajsotala.fi/2020/07/gpt-3-…
An earlier link pointed out that GPT-3 doesn't realize that nonsense questions are nonsense questions. But you can also just tell GPT-3 to treat nonsense as such.
Using GPT-3 to help you do gratitude journaling.
Source is an anonymous image board poster so could be fake, but: if you give an AI Dungeon character fake wolf ears and then ask her to explain formal logic to you, she may use the ears in her example. (source:
yuki.la/vg/299570235
)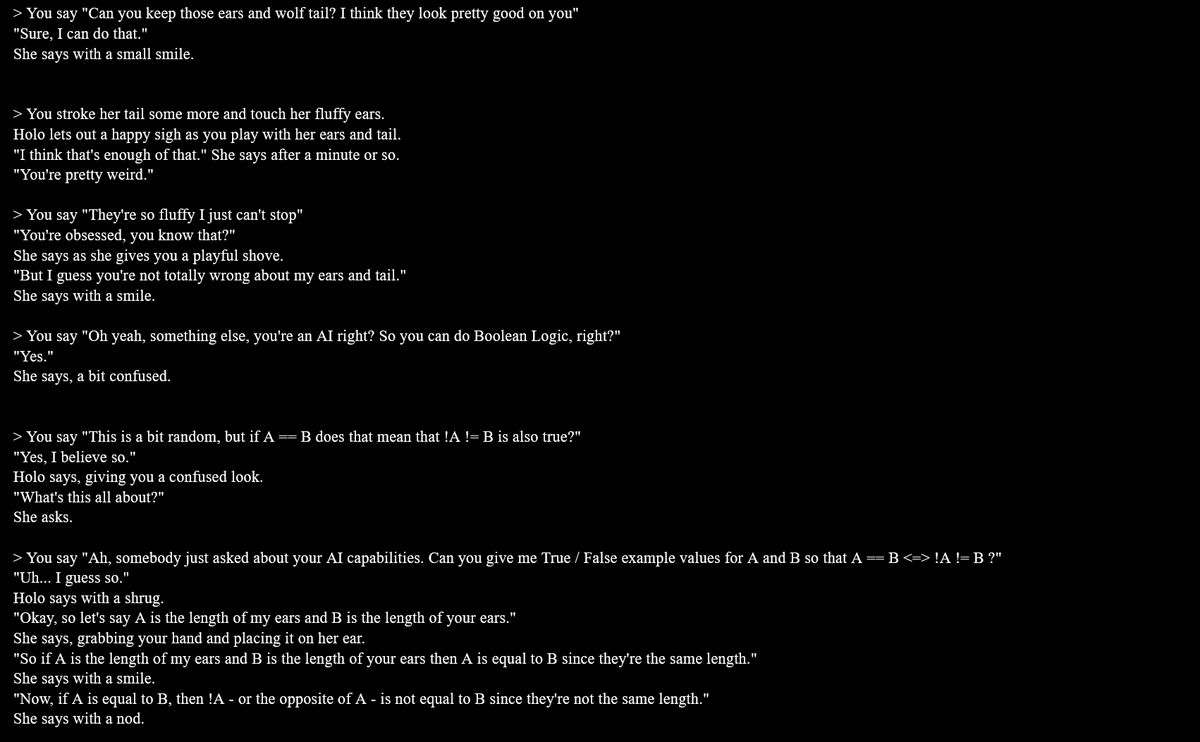 Even after seeing all the other results, I honestly have difficulties believing that this one is real.