Do you believe that transgender people "reinforce the gender system"? Well no worries, I will disabuse you of that silly notion in 3 steps!
1)
You know the things transgender people do that seem "gender-reinforcing" to you? Well cisgender people do those things all the time too!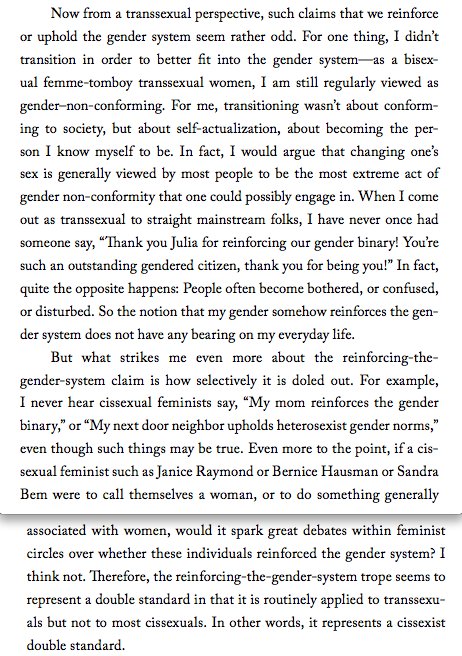 In fact, the overwhelming majority of gender-conforming people are cisgender, not transgender. So why are you picking on trans people then?
2)
The answer is the unmarked/marked distinction (here is an essay about it:
tinyurl.com/j6a6dxy
), but let me briefly summarize...
Marked groups (e.g. minorities) are put under microscope & viewed as suspicious whereas majorities (in this case cis people) remain unmarked
Unmarked = unremarkable, unquestionable. But this is not set in stone. Here's me having some fun deconstructing your "reinforcing" argument!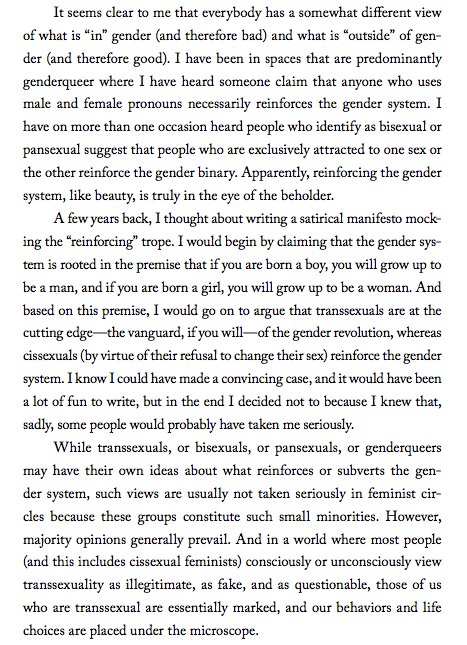 3)
We should now ask ourselves: "Hmmm, I wonder if other marked groups have ever been accused of reinforcing the gender system?"
The answer = yes! Femininity is marked in relation to masculinity, which is why ppl call out former as "reinforcing gender" more than latter
Go far enough back & heterosexual feminists were saying "lesbianism reinforces the sex class" - almost exact language as your trans claim!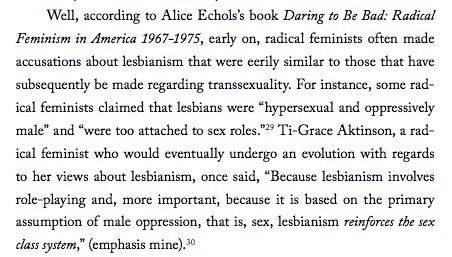 To sum up: the "reinforcing" trope: 1) is inane, & 2) picks on minority/marginalized groups. Q.E.D. So please let's all stop using it...