Unrolled thread from @conspirator0 #TrumpRussia #FireMcMaster #UniteTheRight #AltWankers
A pattern you may have noticed: many bot and troll accounts have usernames that end in 8 random digits.

Searching their followers for similarly named accounts, and subsequently their followers' followers yielded 63099 accounts.

Here's the follower network formed by those 63099 accounts. Larger circle = more accounts with the 8-digit numbers among its followers.

Let's look at the largest node in the network, DavidJo52951945. This account's been around for a while - since early 2013, 136K tweets.

Here's an interesting observation - David is posting 8 AM - 8 PM every day, Moscow time. Almost like it's his job or something.

What's he tweeting about? This figure illustrates the volume of DavidJo52951945's tweets mentioning various topics over the years.

The messaging is very interesting. Let's go back to 2013, check out DavidJo52951945's tweets about Ukraine:
#TrumpRussia

Fast forward a couple years, and it's time for Brexit. I particularly enjoyed the suggestion of vote tampering.
#TrumpRussia

Along comes the 2016 US election, and DavidJo52951945 is tweeting some very familiar-sounding material about Hillary Clinton.

Very alt-right-esque messaging about Michael Flynn and "deep state". Bear in mind that DavidJo52951945 is posing as British.

Some interesting post-Charlottesville tweets from DavidJo52951945 to round out the story.
#TrumpRussia
#AltWankers
#MAGA

I do have to say, this is one of the more interesting troll accounts I've seen (and almost certainly human-operated, not a bot).
136K tweets from DavidJo52951945 over four years on a variety of topics, all aligned with the interests of the Kremlin at the time.
(And speaking of time, I'll again point out the schedule. 12 hour days, 8 AM - 8 PM Moscow time every single day. . .)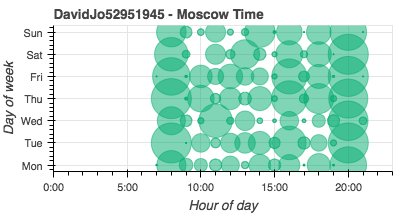 Conclusion? A) Almost certainly a Russian invention and B) a far more influential social media node than your average bot.
#TrumpRussia
Oddly, sometime in the 12 hours since I originally posted this thread, the subject blocked me. Sad!
#TrumpRussia

Apparently "David Jones" has decided that having random numbers in his handle is no longer desirable.

I find it kinda funny, I find it kinda sad. . . people get attached to long-term disinfo accounts. "David Jones" has been silent for 3 days.

Important point here, though. Once folks have been taken in by propaganda and pervasive deception, it's not an easy road back.

This content can be removed from Twitter at anytime, get a PDF archive by mail!
This is a Premium feature, you will be asked to pay 30$/year for a one year Premium membership with unlimited archiving.
Don't miss anything from @conspirator0,
subscribe and get alerts when a new unroll is available! This is a Premium feature, you will be asked to pay 30$/year for a one year Premium membership with unlimited subscriptions/alert.