1)
Repeat after me: After every mass shooting I will kick and scream and freak the f out because that's what the
@NRA
doesn't want us to do.
2)
And if you're guilty of saying "Nothing happened after
#SandyHook
so nothing ever will," you're not only wrong - you're the problem.
3)
We didn't get here overnight - the
@NRA
had a 30 year head start. They've hijacked our nation and now it's on us to take it back.
5)
We have 60,000 active volunteers (like me) and 4M supporters. We are in every single state. We pass good bills and stop bad bills.
6)
We helped pass background checks in 7 states, bringing total to 19. 50% of Americans now live in states requiring them on every gun sale.
7)
We helped pass laws in 24 states - red and blue - to keep guns away from domestic abusers. Just last week we passed one in Rhode Island.
8)
In 2017 alone, 7 states enacted domestic gun violence laws, almost all of them led by Republican governors: LA, NV, NJ, ND, TN, UT, RI.
9)
We've passed bills to strengthen our background check system and bills that enable emergency gun violence restraining orders.
10)
We've killed HUNDREDS of
@NRA
bills to force guns on campus and in K-12 schools, to expand Stand Your Ground, to dismantle permitting
11)
In fact, gun safety was silver lining of 2016 election: Gun safety ballot initiatives won in NV, WA and CA - despite
@NRA
opposition.
12)
And we're changing US culture by getting companies like Trader Joes, Target, Starbucks and Levis to prohibit open carry inside stores.
13)
After open carry was passed in Texas,
@MomsDemand
volunteers went door to door and convinced 500+ local businesses to prohibit it.
14)
After bill passed allowing guns in Ohio daycares,
@MomsDemand
volunteers went convinced more than 1,500 daycares to prohibit guns.
15)
We are fiercely and fearlessly taking on the most powerful lobby this nation has ever seen – and we are winning. But this is a marathon.
16)
93 Americans are shot and killed every day, hundreds more injured. That's the equivalent of nearly two Las Vegas shootings every day.
17)
Americans shouldn't worry about being shot at concerts, theaters, schools, churches and nightclubs. We don't have to live like this.
18)
This is a defining moment: Do we want to live in a country where
@NRA
vision prevails? Where we're armed to the teeth all the time?
19)
Or do we want to live in a country where we feel safe in our daily lives? Will we fight for stronger gun laws that make us all safer?
20)
Here's how to start. First, text ACT to 64433 and join us. We'll keep you updated on fights in Congress and the state where you live.
21)
Now text SILENCERS to 64433; tell Congress to vote NO on silencers and concealed carry reciprocity -
@NRA
priority bills in Congress now
22)
Now Google
@NRA
ratings for your representatives in the statehouse and Congress. If they have A ratings, call them and FREAK THE F OUT!
23)
Vow today to get off the sidelines; protect your family and community - your own life. Commit to ACT in honor of Las Vegas
#VegasStrong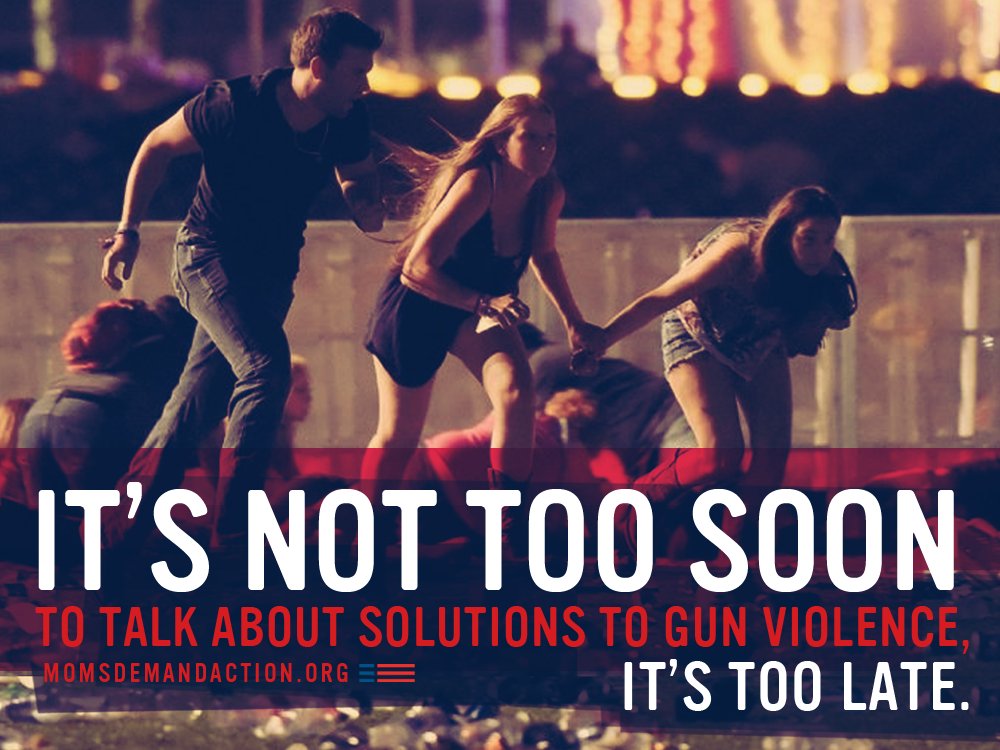 24)
Here's how to act today. Text REJECT to 64433 and warn Congress that we'll hold them accountable for not acting.
#RejectTheNRA