Every day Trump does something horrific.
And every day we recoil.
And then we bitch and tweet, and bitch and tweet some more.
1
FACT: Trump is a clear and present danger to the United States and the world.
He is gunning for WWIII.
He is unfit and unstable.
2
He is dismantling our freedoms and institutions, and all we do is bitch and tweet, bitch and tweet.
3
Our democracy is dying before our very eyes, but all we do is bitch and tweet, bitch and tweet.
4
He must be removed from office.

We the People know it.
Dem MOCs know it.
WH staff know it.
Republican MOCs know it.
5
FACT: the Republican majority will not remove Trump from office. They will let our country die before they go against him.
6
Unless, and until, we stand up for our rights and force their hand to uphold the will of the people.
7
Until the GOP sees the MIGHT of MILLIONS of US STANDING IN UNISON DEMANDING TRUMP'S REMOVAL, they will keep this madman in office.
8
So we must hit the streets - AND STAY IN THE STREETS - until they have no choice but to remove Trump.
9
We are reaching the point of critical mass, people.

We're running out of time. We can't wait for midterms or Mueller.
10
Our democracy is dying. We must act now.
11
We either galvanize the masses, and show Congress the MIGHT OF US.

Or we kiss our freedoms goodbye, while bitching & tweeting.
12
I weep at the thought of this big, beautiful country brought to its knees, all while we did nothing but bitch and tweet.
13
We stand to lose everything.
Life
Liberty
The Pursuit of Happiness
Equality
Justice
The chance to strive for a more perfect union
14
We must protest Thanksgiving week across the country - the holiday when the first freedom-seeking stragglers stepped on these shores.
15
We need to commit ourselves to peacefully protesting at Thanksgiving, or we're done.

And we'll have no one to blame but ourselves.
16
Please stop just bitching and tweeting.
ACT.
We must bombard Congress with our demand for Trump's removal.
17
Print and send these postcards to your MOCs:
Remove 45 Postcards
19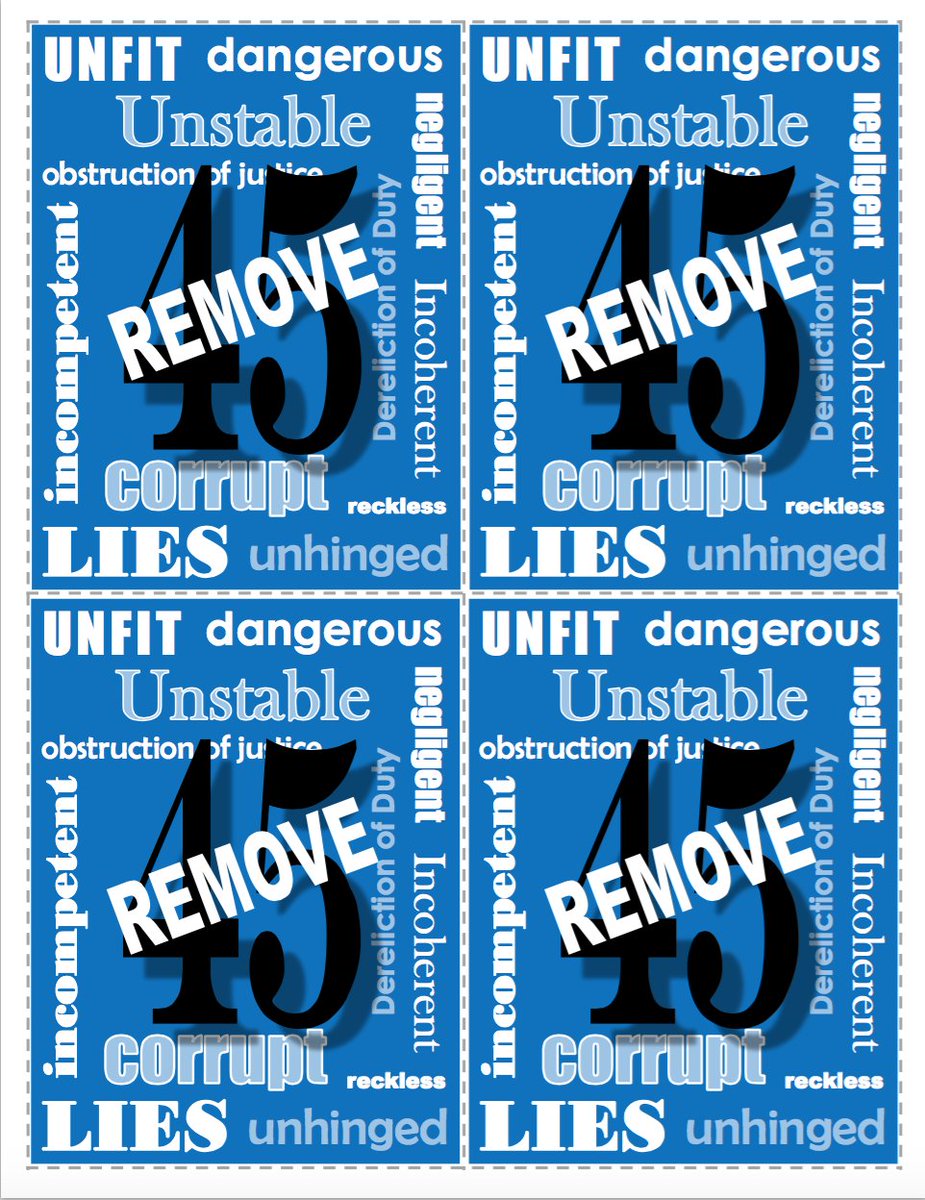 Impeach 45 Postcards
20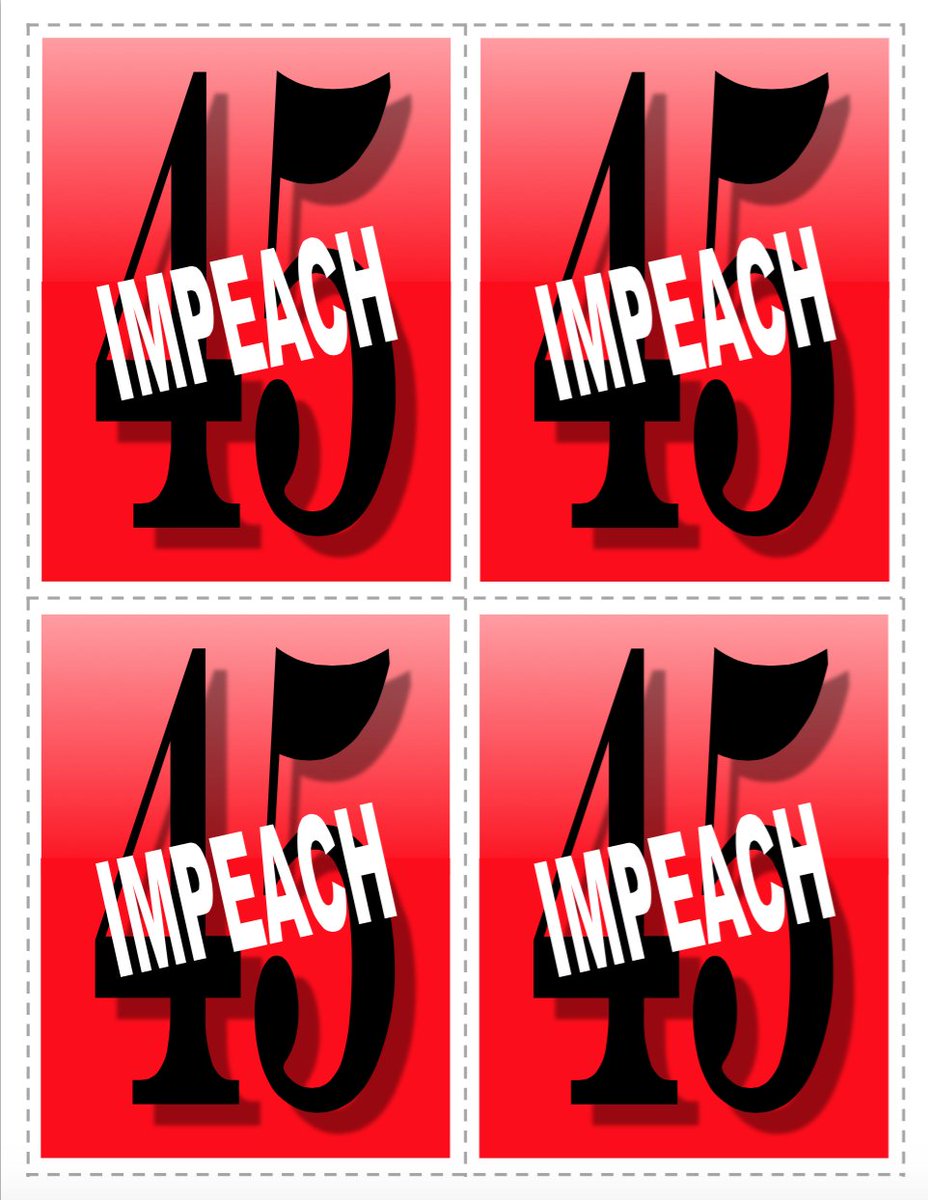 Clear & Present Danger Postcards
21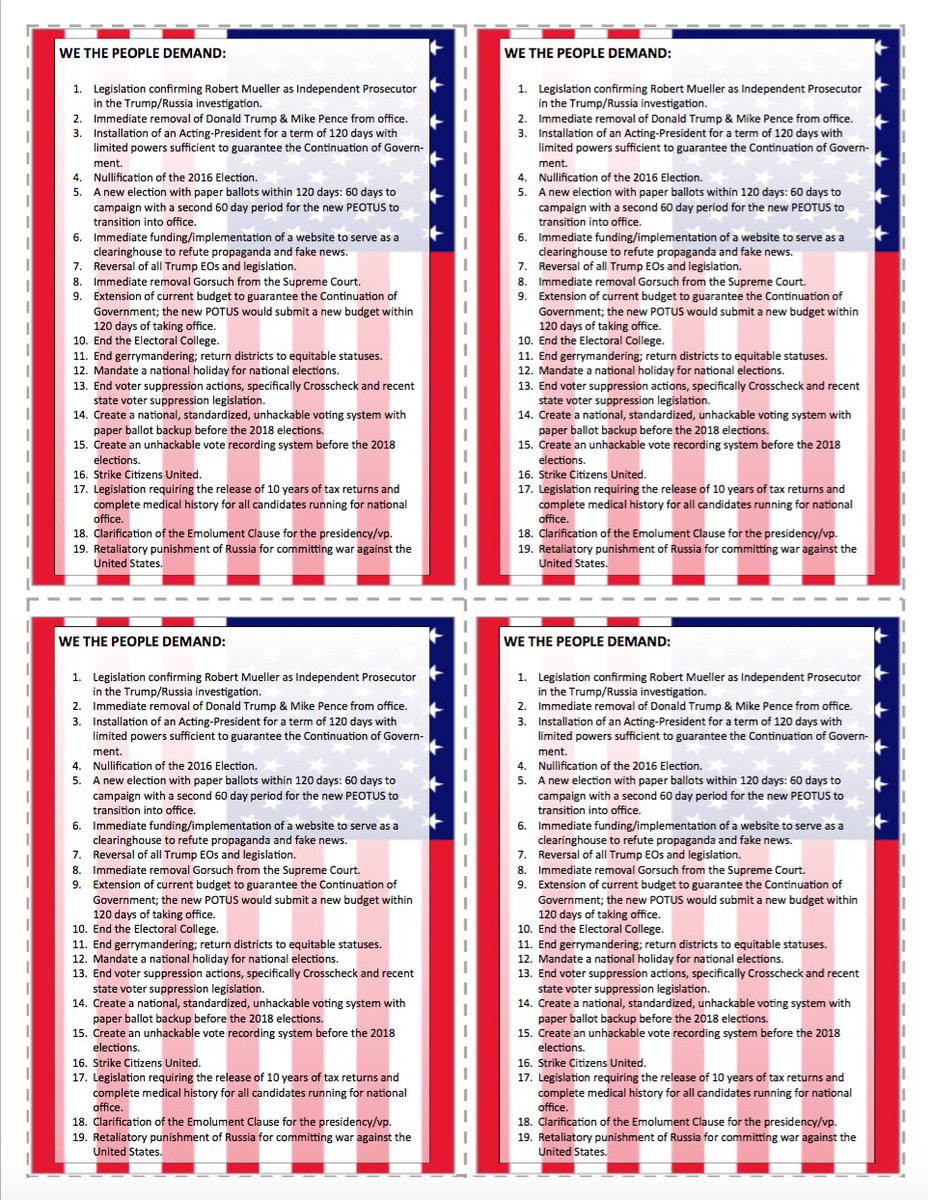 Sorry - I mixed these last 2 up.
Demands Postcards
22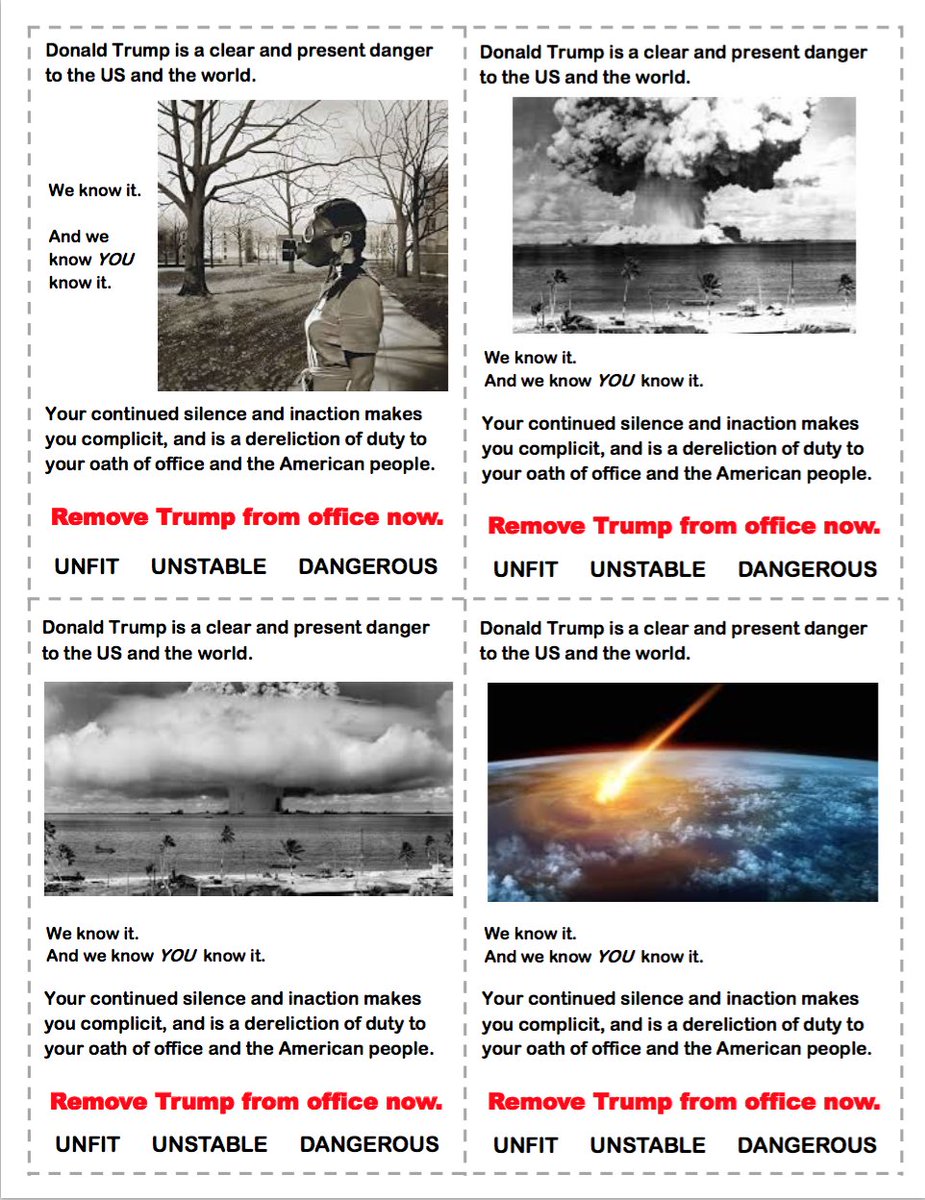 We must ratchet up the pressure on Congress between now and Thanksgiving - Trump's removal must be our ONLY FOCUS.
23
Call, send postcards weekly - throw everything at them. Do not be distracted!
24
Imagine more months, or years, of this horror.

We can end this national nightmare simply by hitting the streets.
26
I can't take much more of this.

I'm begging you, please do more than just bitch and tweet while our country goes down in flames.
/EoT
Thread, Part II - Game plan and answers to all of your questions:
Forget the idea that someone's going to come & organize
#RemoveTrump
for you. I've tried since April.
1b
Change your thinking: WE own this country. We are the adults here. Gov't answers to US. Remember, you're an American.
2b
YOU have the permission & authority to stop waiting for the cavalry. WE ARE THE CAVALRY, PEOPLE!
3b
And it will be YOU who has to explain to your children why all you did was bitch and tweet while America lay dying.
4b
The
#RemoveTrump
premise is based on "It take just one drop of water to start a waterfall."
You need to be that drop of water.
5b
Here's the plan:
Between now and Thanksgiving (TG) week, bombard MOCs with
#RemoveTrump
postcards & calls. ALL MOCs, not just yours.
6b
Commit to spending 5 or 10 minutes every day doing this until TG. Postcards are in this thread. Print & mail them.
7b
Then, and only then, can you move on to recoiling, bitching and tweeting about Trump's latest outrage for the day.
8b
Use
#RemoveTrump
. "Remove" covers all legal means of removing him from office - A25, impeachment, resignation.
9b
Get others to join this effort: your followers, FB, social networks, friends, family, etc.
Retweet, retweet, retweet!
10b
MOCs will be in their home districts for Thanksgiving.
November 17-26 is the full TG holiday period.
12b
TG week, grab a sign & some friends, go to your MOC's local office at a day/time of YOUR choosing.
13b
Imagine if 10, 20, 30 other small groups did the same - a trickle. Imagine even more people doing the same the next day - a stream.
14b
This will grow organically - just as the huge travel ban protests grew. More people will join you as you post about it.
15b
An advantage of this fluid strategy is that it makes it harder for counter protesters to organize around it.
16b
They don't know when you're going & it's spread out all over the country. (Every small advantage helps.)
17b
Please don't make this complicated - mail postcards, make calls, show up.
YOU are needed to save our country. YOU are an American!

18b
And if you don't remember what the hell that means, here's a reminder:



/End