Many raising questions re: WH reaction to violence in NYC v. violence in Las Vegas. Feel it's important to revisit Charlottesville too:
1/x
Let me first lay out some facts to remind everyone & then I'll expound:
2/x
Much energy was given to debating whether the incident in Charlottesville could be classified as "terrorism"
google.com/amp/s/www.wash…
A white supremacist, James Alex Field, Jr., plowed his car into a crowd of anti-racist protesters, killing 1 & injuring 19 others
3/x
He was there as part of an organized, national mobilization of white supremacist groups to Charlottesville 4/x
google.com/amp/s/www.wash…
They were there to protest city's plan to remove a monument to Robert E Lee (a stance John Kelly defended yesterday 👀)
5/x
Again, this was an ORGANIZED NATIONAL NETWORK of white supremacist hate groups mobilizing to a city & people were beaten and killed
6/x
*rubs temples* There's so many layers as I recall it all. Please google search if you don't remember. I'll move on to next set of facts
7/x
1 of "Unite the Right" rally organizers who led infamous torch march, Richard Spencer, held event in FL recently 8/x
google.com/amp/s/amp.cnn.…
Following THAT event, 3 white supremacists who traveled there for speech, opened fire on anti-racists protesters 9/x
google.com/amp/s/www.wash…
At least 1 of the men involved in FL shooting, Tenbrinck, had also attended the rally in Charlottesville 10/x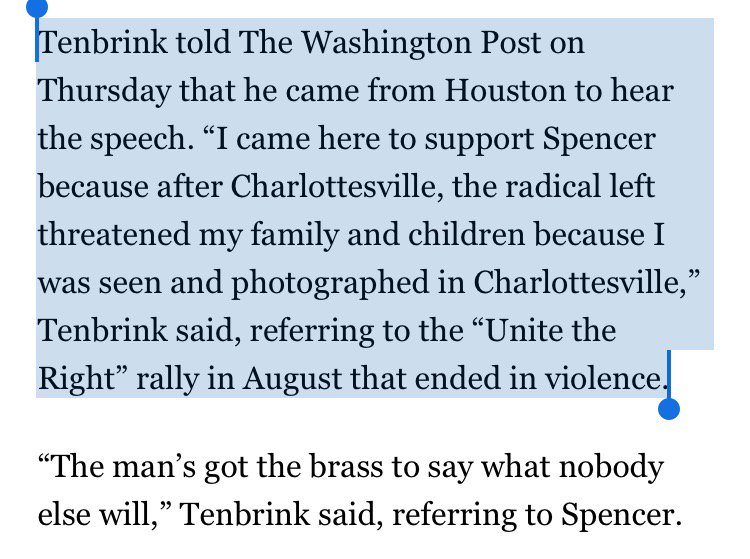 Another, Fears, said he was also in Charlottesville, that he came equipped for violence & man who killed Heather Heyer wasnt unjustified 11/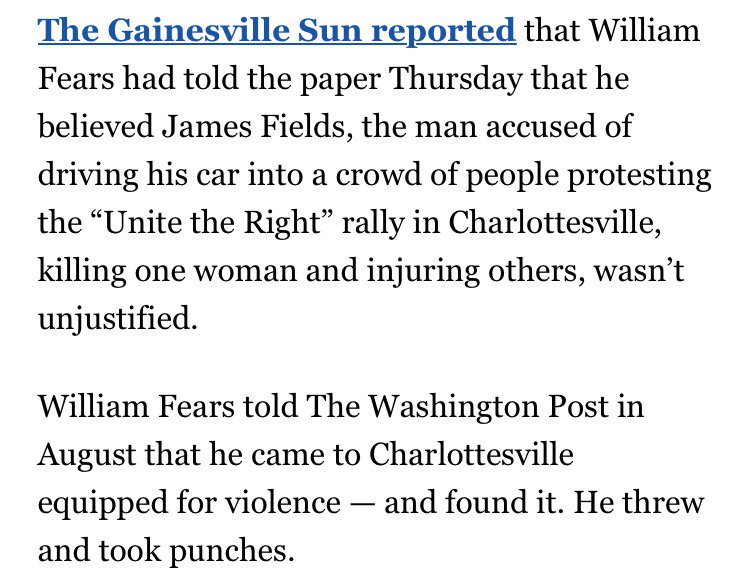 So we're talking about same individuals participating in at least 2 acts of violence that we know of as part of an ideological movement
12/x
Now, some observation.
13/x
Only real factor distinguishing what happened in NYC & what happened in Charlottesville is the identity & ideology of the killer
14/x
Hesitancy 2 use "terrorism" describing attacks by racists w/ same ease & immediacy it's used 2 describe attacks by PoC & Muslims...
15/x
...reflects a reluctance to acknowledge white supremacy as the organized, violent ideological movement it is
16/x
I could go into all the reasons why this reluctance exists, but if you follow my feed I lay these reasons out on a near weekly basis.
17/
1 of most striking differences in how white supremacist violence is covered in news is that it's rarely placed in context of other violence
Yesterday's attack in NYC was immediately framed as occurring within context of a series of similar attacks internationally
19/
By contrast, white supremacist attackers often framed as acting alone, w/o connection made to a larger ideological movement or similar acts
Former Trump adviser Bannon initially described his media outlet Breitbart as "the platform for the alt-right" in August 2016
22/x
Now, imagine if either white supremacist ideology or the "alt-right" received same type of policing as "Islamic extremism"
23/x
That would have major implications for figures involved at the highest levels of government, wouldn't it?
24/x
Tho not advocating violence, Kelly's statement on Lee was an ideological defense of Unite the Right rally in Cville
google.com/amp/s/www.thea…
Remember, Kelly's comments on R.E. Lee came within the context of a question posed to him about efforts to remove confederate monuments
26/
Now, if I'm not mistaken, Muslims have been hyper-policed in response to terrorist attacks for far less. For things like... being Muslim
27/
Again, difference is white supremacy can not be identified as a violent, ideological movement w/o indicting the power structure itself
28/