It's
#WorldAidsDay2017
, fam! Let's talk about MANY exciting things: What new knowledge we have, what we should be reflecting on, and where the world is going. Vaccine, PrEP, sugar daddies, STIs, barriers, and all that all that. Yes? /Thread
The first thing we MUST be grateful for is all the human beings - and they are mostly Africans (this has its problematics. That's another thread) who are in different HIV trials. Drug, vax, behaviour study, etc. Most new knowledge comes through these people. 🙏❤️👑⭐
Let's break it down into 3 overall parts. I'll really try to keep it as concise as I can.
1.
Vaccine and treatment
2.
General prevention
3.
Human behaviour factors
And then we'll talk about what happens from then.
Okay! Vax and treatment. Basically, the main reason a vaccine has always been so hard to isolate and discuss is that the HI Virus mutates very easily to newish forms which then escape whatever plans you had for the prior one.
That said, the people in the labs keep thinking up new ways to try scam it into submission. They just launched a new trial in Southern Africa, so we just have to keep hoping and waiting. But just imagine what a real vaccine would mean for the world.
Here's a nice little breakdown of the myths surrounding this process, and I thought the writer(s) explained it very simply, kindly, and patiently.
hvtn.org/en/participant…
Drugs. Combining 3 drugs for HIV management is the strategy for Highly Active AntiRetroviral Therapy, (AKA HAART), to get the virus at several places in its life cycle all at once.
In general HAART means you're using more than 1 drug. It becomes very hard to maintain compliance, so people have to figure out making it as easy as possible.
We have drug combinations that mean you only take one pill a day, which is great. But because it can be better still, people are working on what are called depo preparations.
That means you can have an injection and then go away for a period of time (a month, 6 weeks, 3 months, depending on formulation of the drug) and then come back again. Etc.
With depo preps you have to make sure the injection isn't more painful than it must be, so all that has to be worked on. Different people working on different things.
The other cool thing about the drugs is that policy has shifted to get people to start them earlier. Before, we used to wait until CD4 cell counts were low, and viral load high. Now more emphasis is on starting HAART as early as possible after diagnosis.
Quick note - the HI virus targets CD4 cells, which work fighting disease in the body. It uses the cell's own DNA to multiply and then kills the cell when it's done. That's why a low CD4 count usually exists with a high viral load and vice versa.
Earlier starts get us faster to that wonderful place called "undetectable", which means the viral load is so low it cannot be detected. It also means that it's untransmittable. Someone with an undetectable viral load cannot pass HIV to another person. U = U.
#UequalsU
Additionally, an undetectable viral load means very few viruses are available to scam their way through one's CD4 cells, which means immunity is nice and high, and the person is generally really healthy. ⭐⭐⭐⭐⭐
Let's go to what people are doing and thinking through as far as prevention. PEP is still a mainstay during crisis points of sudden, unexpected exposure - condom bursts, needlesticks, sexual assault, etc.
The thing with PEP (sorry! Post Exposure Prophylaxis) is that in a crisis point, a lot of other support is needed. So more work needs to and is being done to make sure that the full range of support people need is available.
PrEP, or Pre-Exposure Prophylaxis is the one that is all the rage now. In Kenya we have a wonderful campaign called
#JiPendeJiPrEP
, and it's quite progressive as a state intervention.
A lot of people moralise around PrEP because apparently "it will make people go and engage in risky behaviour". They say the same thing about contraception. Data proves such moralisations wrong.
PrEP is a daily pill taken by a HIV negative person to reduce the risk of contracting HIV. It is taken leading up to and during the period of risk.
Does that means you can just swallow a pill before a one night stand and be at less risk? PrEP, most unfortunately, doesn't work that way.
You have to take it for a period of time for it to be working at optimum, which is why it makes most sense for it to be taken by a person with an longer-term to a high risk situation.
This includes discordant couples, where one person is pos and the other is not, or if one is a sex worker, an injecting drug user, exposed to high risk situations more often than not etc.
If one is in a relationship with someone who is pos, PrEP should be taken for the duration of the relationship. (Remember the person is also likely on HAART, and U equals U, so it's just additional protection.)
For other non-relational high risk exposure, one ideally takes it for the period. That could be daily for a long time, and it is fine. The point is prevention.
PrEP should be initiated and followed up by a doctor. They will help one monitor the (mild, temporary) side effects, and just offer care through the period. Look up
@NimejiPrEP
in Kenya for more info.
When one is pregnant, the strategy for care changes. We check if one has HIV, and then manage accordingly. Prevention of Mother To Child Transmission (PMTCT) in Kenya has worked absolute wonders.
You can't talk about HIV prevention without talking about barrier methods. Consistent, correct condom use remains the mainstay, but male-dependent methods within power dynamics can be difficult to rely on.
People have really struggled with the female condom, mostly because we don't have as much exposure to it and practice using it.
But this is the thing with the female condom - people use it, and it works for prevention of both pregnancy and STIs as well as HIV. Some folks are working to reengineer the female condom to make it a little more user friendly.
There's been little success with gels containing either antiviral drugs or general virus killing compounds, which the receptive partner would then ideally apply before sex.
Which is particularly sad, because methods that give decision making power to the receptive partner really shift power balances. But people are still trying, so we'll see.
STI prevention has been shown to really help prevent HIV infection as well. Most conversations have been about prevention and treatment of herpes, chlamydia, gonorrhea, HPV, hepatitis B and C, etc.
It's important to note that gonorrhea is quietly becoming antibiotic resistant, and that's really going to be a game changer. It means it will be that much harder to treat.
It will be far more expensive, for one. That's why using barrier methods is so important. We can't be out here thinking PrEP alone saves. It doesn't.
Human Papilloma Virus has a vaccine now (YAY!) and ideally all children (yes, even boys) should be vaccinated. Before they start having sex.
The focus on girls/women/people with cervixes is because we have most data about connection of HPV with cervical cancer. And budget constraints.
But yes, the links of HPV to cancers also found in men are starting to become clearer, so that conversation is also becoming a little louder.
Women until the age of 45 can get the HPV vax. So it's not just for children or very young women.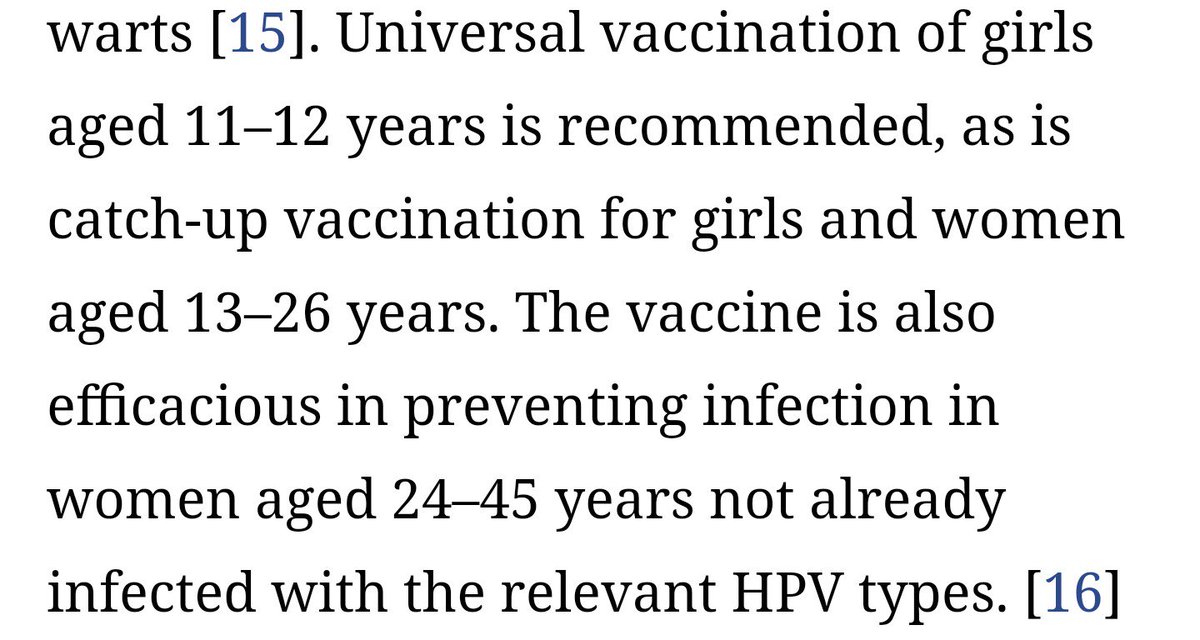 I'll link to this paper at the end, because it's full to the brim of gems. Here is what they have to say about general vax guidelines, and the vax for boys/men.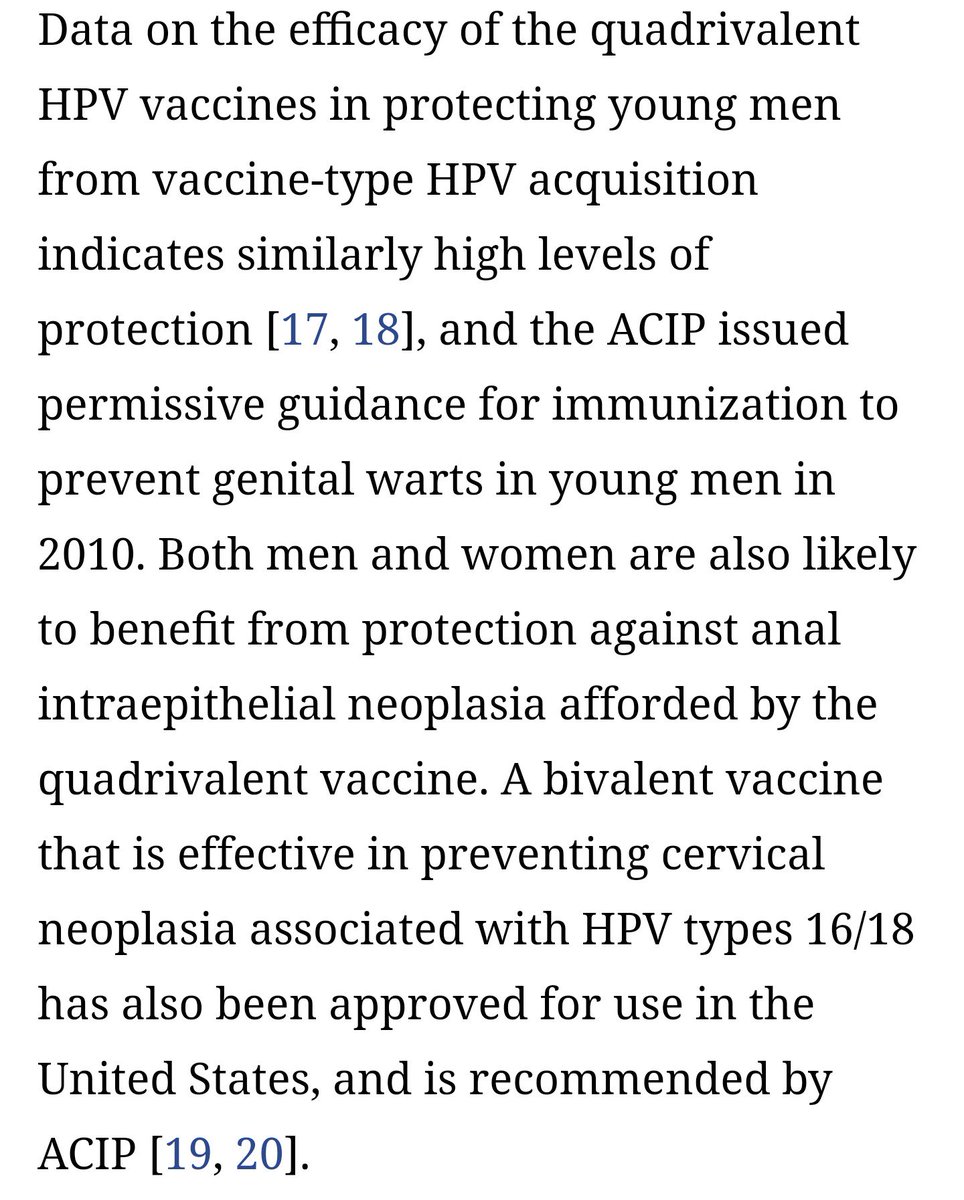 It's a little dense, but basically the vax works, and more people can and should get it. Unfortunately, because capitalism, figuring out subsidies and mass rollout is still being worked on.
We have to be much more careful with STI prevention now. We dropped the ball a little with the hyperfocus on HIV when it was the size of crisis it was, but now we have to come round.
Now let's talk shifts and evolutions in behaviour. We've already talked about shifting decision making power to receptive partners, who tend to be the ones living the result of the decisions of the penetrative partner.
Another thing HIV researchers really talk about is moving preventive method use to times where people tend to be more rational. Many people find that put-on-condom time isn't really that time, LOL
Hence the usefulness of PrEP because swallowing a pill after breakfast doesn't have the same erotic urgency as things getting hot and heavy and then suddenly realising you ran out of condoms last week.
Female condoms can be put on before, as can other barriers which also protect against pregnancy and STIs as well as HIV as we said before. People are thinking more about things like that, the intangibles which matter very deeply.
An alarming number of new infections in Sub-Saharan Africa are among 15 to 24 year olds, which means we really have to reconsider whether current sex ed and messaging is as effective as we imagine.
Additionally, the stats are even more alarming for young women in the demographic, who are traditionally the least informed and least supported with the least access to help. It's not a good situation.
That's why there's so much urgency around educating girls about sugar daddies, which I suppose is fine, but we often ignore how capitalism works when we do this.
The fact remains that sex has value, which creates demand and therefore supply. At the same time, people have such need to access resources that are scarce. So what are you going to do?
If Sugar Zaddy says he can educate you and your siblings and open for you a shop and pay for your father's meds and to roof mum's kitchen? Can we blame girls (and boys) for accepting?
I think these kids are put in between such a rock and a hard place. We want them to do what, pray that they won't be hungry at night? Sometimes all that Zaddy has to come through with is dinner.
It's actually much cheaper to spend money to "educate girls against sugar daddies" than do real poverty eradication that would make these zaddies stop doing government level intervention in the socioeconomics of homes.
Also, the girls are actually the low hanging fruit. They're easier to reach because they are poorer and in more need, and more affected. The zaddies can potentially access care and info much easier.
Radical disruption can also consider the demand side. Perhaps someone can design a program for affluent adults telling them that they don't have to be glucose guardians (the gender neutral term 😃) to the vulnerable.