1)
Look at the time line here regarding Lt. Gen. Michael Flynn:
washingtonpost.com/news/politics/…
The entire timeline assumes Flynn made his contacts with Russian Ambassador Kisylak WITHOUT the knowledge or approval of the Obama administration.
2)
As a 33 year spook involved in the highest levels of intelligence tradecraft, was Flynn aware all these calls to/from Kisylak were being monitored?
The answer to this question is: of course he did.
The Obama admin. announces the new Russian sanctions on Dec. 28th.
Flynn & Kisylak have their conversation about the sanctions on Dec. 29th.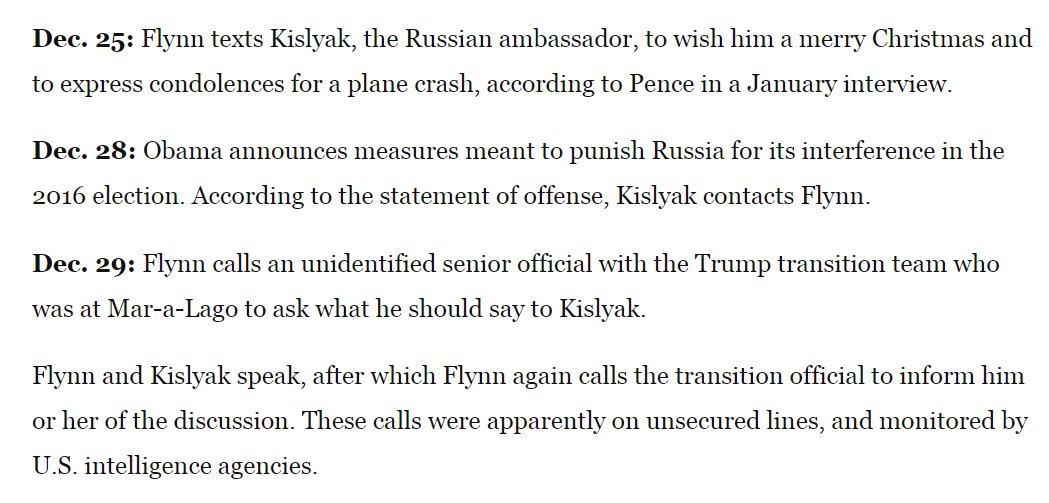 4)
You think a guy with 33 years of spooking experience wasn't aware calls to/from Russians top US-bases spy - which is exactly what Kisylak is - were being monitored, especially on unsecured lines?
This question answers itself.
5)
So Flynn is not only aware that the calls to Kisylak are being monitored, he's aware that TRANSCRIPTS are being made of these conversations & the Obama White House knows EXACTLY what he & Kisylak are talking about.
6)
In fact, it's umasking of Flynn's name & the LEAKING of the transcript of his phone call with Kisylak that starts this entire investigation. That happens on January 12th.
Note carefully the use of the word 'unauthorized' there.

7)
Between Dec. 29th and Jan 12th, somebody in the Obama Administration accessed the classified intelligence report detailing Flynn's call with Kisylak, unmasked Flynn's name, and then leaked it to Ignatius at the Washington Post.
8)
A narrative has been created since Jan. 12th that without any authorization or approval by the then-in-power Obama Administration, Flynn & Trump team members were contacting the Russians & 'secretly' doing deals.
9)
And this unmasking of Flynn & leaking of the phone call transcript has been endlessly presented as if it's a huge GOTCHA, catching him in the act of doing something highly illegal or improper.
10)
"Thank God for our intrepid intelligence community for catching Flynn here trying to secretly, without any approval whatsoever, make a secret illegal deal with Russia about sanctions!", etc. etc.
11)
However there are several serious problems with this narrative.
First, the FBI already looked at the CONTENT of Flynn's phone call with Kisylak & cleared Flynn of any wrong doing for what he & Kisylak talked about.
12)
A national security advisor for an incoming new administration is SUPPOSED to be contacting foreign officials and discussing issues with them. So the phone call ITSELF is not in any way illegal.
13)
But look at what happened. Flynn made a perfectly LEGAL call to the Russian ambassador about a subject he could LEGALLY discuss with him.
The FBI itself said so, after looking at the content of the phone call.
The nature of this phone call was CLASSIFIED INFORMATION.
14)
And what happened next?
Somebody in the Obama administration unmasked Flynn's name, took the transcript of the phone call contained in a CLASSIFIED INTELLIGENCE REPORT and leaked it to the news media.
15)
And a narrative that Flynn had just been caught doing A VERY BAD THING immediately sprang to life.
16)
Put yourself in Michael Flynn's shoes on January 12th of this year after that Washington Post report printed that illegal leak of a classified intel report that makes it look like YOU just got caught doing something illegal.
17)
Remember, the Trump team is still PRIVATE CITIZENS at this point. They have no power. They run nothing.
The OBAMA people in the White House have all the power. They are running everything.
And somebody just used the intel community to come AFTER YOU.
18)
A smear has been engineered by some VERY HIGHLY PLACED GOVERNMENT PEOPLE to make it look like Flynn just committed a VERY SERIOUS crime making this phone call.
19)
And now he's going to be investigated by the FBI for supposedly doing this very bad, illegal, treasonous thing, whatever it was he was supposed to have done.
20)
Stop and ask yourself a question at this point: Would YOU trust ANY of these investigators working for the government at that point?
21)
Somehow, you just doing your job reaching out to the Russian ambassador has been tricked out into being a huge crime, and the same people who did this tricking out now want to INTERROGATE you about it.
22)
Now, you know you didn't do anything illegal. But powerful people in the government using media allies quickly launch a powerful narrative that you just got caught red handed doing something tantamount to treason.
23)
If you're Lt. Gen. Michael Flynn, here's how you respond to this:
You don't give gov't investigators anything further that they could use to damage the incoming Trump administration.
24)
These people arrayed against you already took a completely legal phone call and transformed it into a crime for which you should go to prison.
25)
I think at the point he watched that intel report get leaked with his name unmasked Flynn told himself "I'm not going to give these people ANYTHING else they could leak to try to hurt Trump."
26)
This is WHY when Flynn is interviewed by the FBI on Jan. 24th, he has made the decision to not give these FBI agents any info that can be passed up the chain and then leaked by politically motivated partisans.
He UNDERSTANDS this decision is going to cost him.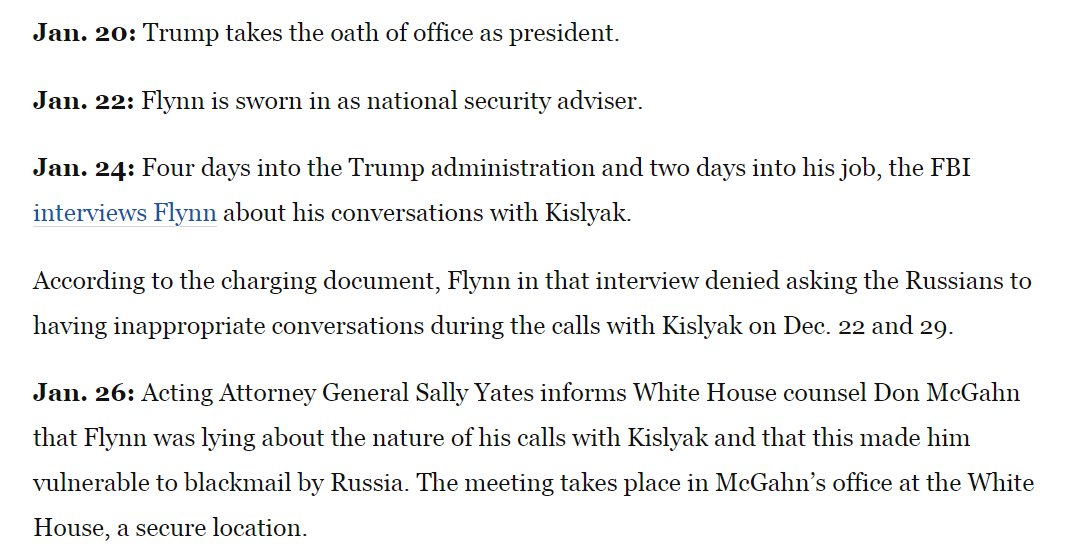 27)
Remember: Flynn knows a transcript of this conversation with Kisylak exists. Parts of the TRANSCRIPT WERE PRINTED IN THE WASHINGTON POST JUST 12 DAYS EARLIER.
What are we led to conclude?
Flynn is a monumental idiot?
28)
Actually I don't happen to think
@GenFlynn
is an idiot. He was very aware during his interview with the FBI agents that he was directly contradicting the transcript of the phone call.
29)
Now here's something else for you to ponder: Yesterday a few hours after Flynn's guilty plea to lying to the FBI investigators was announced, The White House claimed THIS:
thehill.com/homenews/admin…
30)
Of course, DNC Media *immediately* laughs & dismisses this claim out of hand. OF COURSE there's no way Flynn had permission from the Obama admin to make these contacts with the Russian ambassador, duh!
31)
The ENTIRE NARRATIVE that's been spun by the Obama administration and DNC Media since the leak published in the Washington Post on Jan. 12th is that Flynn was doing something REALLY GODDAMN ILLEGAL HERE so of course he had no permission!
32)
Is the White House really THAT desperate to just invent this claim out of thin air?
Or could it be a 33 year veteran spook sensed he was being SET UP by some powerful people, and protected himself....just in case?
33)
Consider this theory here: Flynn knows he's reaching out to Kisylak with the Obama admin. knowing about it and approving it. He DOCUMENTS it somehow to protect himself later in case they try to f**k him.
34)
The people in the Obama admin then pretend they had NO IDEA Flynn was doing this, unmask his name & leak the phone call transcript & accuse him of having committed a CRIME.
35)
HOW would you pay back the people who just tried to f**k you like that?
36)
You know they are looking for ANYTHING they can use to hurt the incoming Trump administration. You refuse to give them jack shit.
37)
They want to use YOU to hurt your President. Instead of falling for their trap, you create your own trap for THEM.
You deliberately lie to the people trying to trap you.
And on the DAY they think they've got you right where they want you....
38)
...you drop this bomb on them.
"I'm a 33 year veteran spy. I document everything. I protect myself. I cover my ass. You didn't think I documented I got permission from you guys for those contacts with Kisylak?
Well I did. Doom on you."
39)
Yeah Flynn did lie to the FBI. And like a man, he's gonna take his punishment. But he had good REASONS for doing that.
And I don't think the Trump White House claims he had permission unless they could prove it.
Next week is gonna be really interesting.
/end