(1)
The missing piece of the
@MooreSenate
yearbook story:
Gloria Allred was the attorney responsible for Roe v. Wade. This was her "life's work." This is her motivation.
#ALSen
#GloriaAllred
#BeverlyYoungNelson
#ForgedYearbook
#ProLife
#TheLeftIsEvil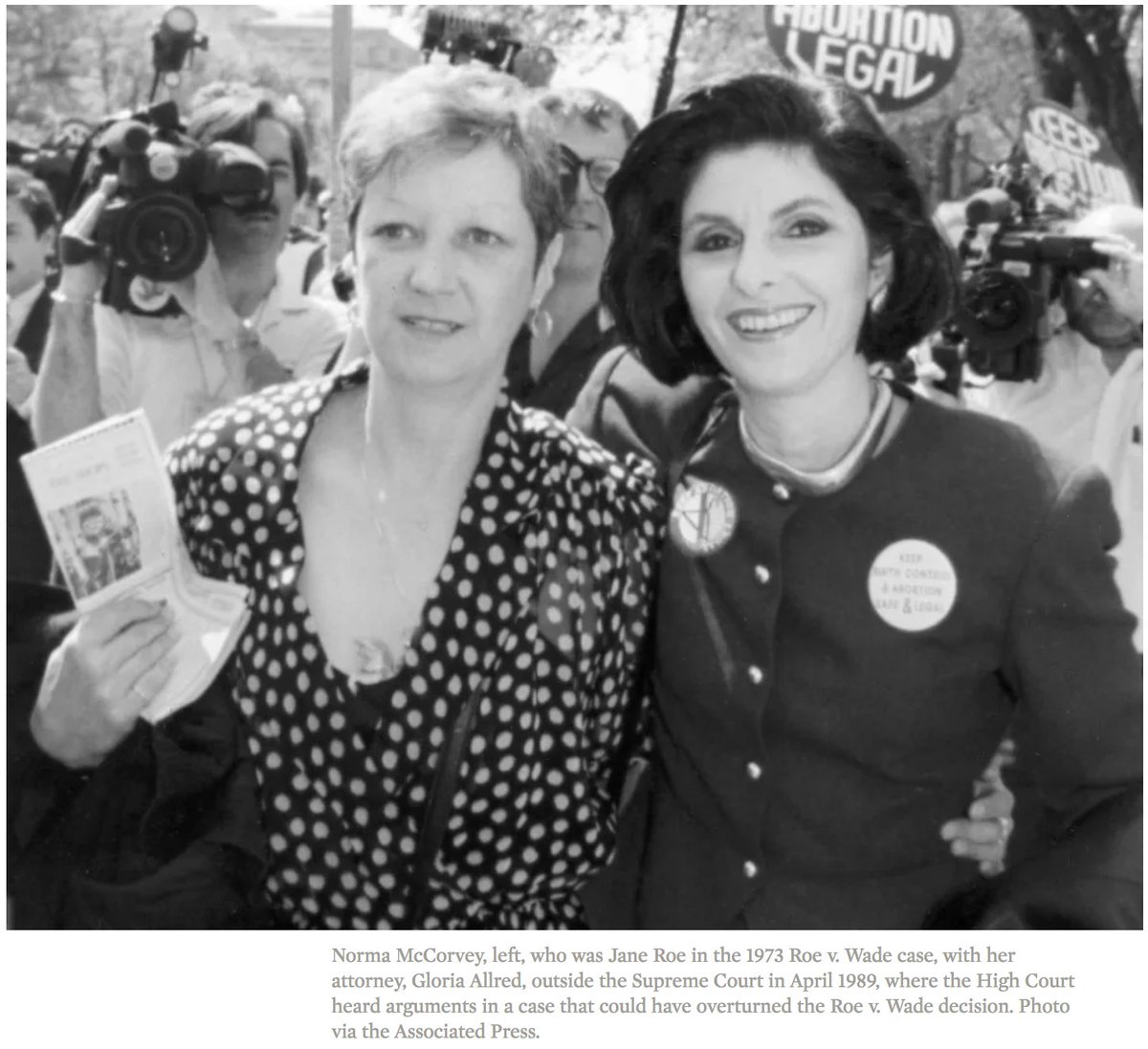 (1b) Here's the link to the underlying article, if you're interested. The full caption wouldn't display in the preview, which is why I'm sending it along separately.
thenation.com/article/januar…
(2)
Judge Moore is a strong committed Christian -- and a strong pro-life advocate.
(3)
His opponent, Doug Jones, is a strong abortion advocate, potentially even into the third trimester (believing on which reports you believe).
(4)
The difference between Judge Moore and Doug Jones on this issue could not be clearer: One wants to overturn Gloria Allred's life's work, the other wants to extend and firmly cement it in the American conscience and "legal" jurisprudence.
(5)
This is her motivation to lie so boldly, blatantly, and repeatedly. She HATES Judge Moore because of what he stands for -- life; and because of what he stands against -- her life's work.
(6)
How did we not realize this sooner?
(7)
But alas, better late than never.
(8)
This likely why she also tried to smear Mitt Romney (not that I'm a fan, but a man should stand or fall on his own merits, not on a smear campaign, not even in part).
(9)
And this is also, at least in part, a likely reason why she hated President Trump and tried to smear him with the
#FakeRape
allegations: He was a strong beta-male who threatened feminism by his very nature.
(9b) He also promised to appoint conservative Supreme Court Justices, who would threaten her life's work (Roe v. Wade) by THEIR very nature.
(10)
He had to be stopped, at any cost.
(11)
So did/does Judge Moore.
(12)
She failed to stop Trump, a man who I firmly believe was chosen by God for a moment such as this.
(12b) And she's going to fail to stop Judge Moore as well, because he's a decent man who stands for Jesus Christ as well as human life -- actually defending the least among us in the womb, whereas she wants to exalt women badly enough to support killing the fruit of their womb.
(13)
Gloria Allred's mind has been darkened by the lures of feminism some time ago, and she cannot stand what she sees happening now: Her life's "work" is being genuinely threatened.
(14)
And she will go to any length, and do whatever it takes, to try to stop that: Not only fighting dirty, but even outright lying and all the way to committing defamation.
(15)
This is often what happens when a person gets blinded by their idols. They worship that idol at any cost, even as their mind becomes "progressively" darkened to the truth.
(16)
And this is most certainly what has happened with Gloria Allred.
(17)
I can't help but compare her to George Soros, in at least this way: He sees himself as a "Messianic" figure of sorts.
And she likely sees herself in the same light, when it comes to so-called "women's rights."
dailywire.com/news/857/five-…
(18)
For those who doubt, here's the book where Soros originally made that claim:
amazon.com/Underwriting-D…
(And the left says that President Trump is delusional and egotistical, but I digress ...)
(19)
But yet, most of what passes as "women's rights" is really just a marketing term for the rejection of God's naturally created order -- and an embrace of the ideology that stands almost directly opposed to the Word of God, that being Cultural Marxism.
(20)
As I said the other day, all of these issues tie in together. Feminism, LGBT advocates, and
#BLM
are all struggles for power -- just like the Progressive wing of the Democratic Party. That's why they all fit so well (and "work" so well) together.
(21)
They are all attacks on truth and reason, among other things.
(22)
Gloria Allred is their "champion" and leading advocate, the female equivalent of George Soros.
Donald Trump and now Judge Moore are her "challengers," and they must be stopped at ANY cost.
(23)
But what she fails to realize is that both men have been chosen by God for a moment such as this. They are both men who are strong enough to stand firm even in the face of unbridled and often unprecedented character assaults from the "warriors" of the left.
(24)
No weapon formed against God shall prosper.
(25)
And neither shall she, nor her baseless attacks.
(26)
Her life's work is finally in the crosshairs, and justice is about to be done -- regardless of her every attempt to stop it.
(27)
Donal Trump won. And come December 12, I firmly believe that God will grant Judge Moore the victory as well. And all of this is a part of God's own "march through the institutions," to borrow from the Cultural Marxist refrain.
(28)
Just as Cultural Marxism sought to win the West away from God through its covert "march through the institutions" of academia, media, government, and so forth; God is seeking to win this country back to Him through the destruction and redemption of those same institutions.
(29)
And in the process, it looks like one of cultural Marxism's greatest "champions" is about to be taken down.
(30)
We can only hope (and pray and preach) that the male figurehead known as George Soros will be toppled next.
/ The End for Now /