1.
Brave new films: the founder of Brave new films is Robert Greenwald: a left wing activist and writer for HuffPo. Brave new films produced the new movie "16 women and Trump. 3 of these women were on Megyn Kelly today
2.
Here is a partial list of Greewald's filmography. Very impressive, but certainly left leaning and anti-right.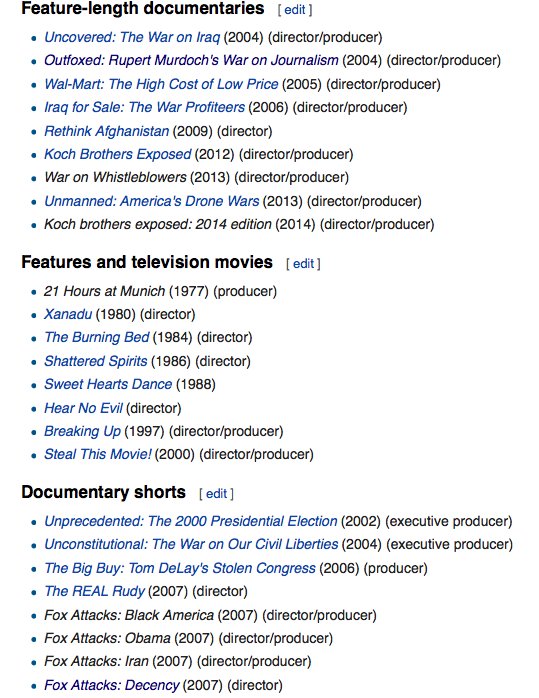 3.
One look at their webpage will convince most that their agenda is one sided: Namely, left leaning, anti-Trump, anti Trump appointees: They talk about social justice and causes near and dear to them
bravenewfilms.org
4.
Brave New Films is registered with IRS as 501(c)(4) advocacy organization. The organization's board members are Greenwald, entertainment executive Danny Goldberg, Progressive Majority president Gloria Totten, Guy Saperstein and Jane Fonda ex-husband Tom Hayden
5.
The group reported contributions of over $1,000,000 in 2009 and total revenues of about $1.465 million. In 2010, Brave New Films reported just $257,000 in contributions and $850,000 in total revenues. Brave New Films is member of networking group known as the Media Consortium
6.
Media Consortium which counts 40 left-wing media outlets such as Nation magazine, AlterNet, and Center for Independent Media. Consortium's sponsor is San Francisco-based Foundation for National Progress, known for its financial support for the far-left magazine Mother Jones
7.
Liberal foundations supporting the work of Consortium frequently channel contributions through Foundation for National Progress. In 2010 George Soros's Open Society Institute announced two-year, $200,000 commitment to the Consortium through the Foundation for National Progress
8.
"Left is positioning people like Robert Greenwald to shape political messaging. People like Greenwald are "community organizers" for the digital age" taken from this website
capitalresearch.org/article/brave-…
9.
Which brings us to Megyn Kelly's interview today of 3 women included in the 16 who are alleging Trump sexually harassed them
11.
Brave New Films, which received $250,000 from Mr. Soros' foundation, tried to make waves for Republicans by creating misinformation about their convention through social media.
washingtontimes.com/news/2016/jul/…
12.
Remember I said this about the concentric circle of filth yesterday
13.
Despite a complete paucity of evidence, Washington DC stool sample and shifty creep Adam Schiff has been peddling his street wares on MSM.
cnn.com/2017/12/10/pol…
14.
Anytime you see a confluence of political and Media concerted confabulation, always ask yourself why? The media moguls also control DC. Its all connected at the top. Follow the feculent trail and you will see truth. In feces/filth you will find truth.