(1)
The Framing of Lt. General Michael Flynn
My current theory based on the now publicly available evidence, is that a group of political fixers/saboteurs inside the DOJ/FBI made Trump's incoming Nat'l Security Advisor the target of a frame.
(2)
These same political fixers/saboteurs, having covered up crimes relentlessly for Hillary Clinton, her aides & other top Dem officials due to their political partisanship, fixed their sights on the incoming Trump administration.
It is no secret at this point, based on the publicly available evidence, that Hillary Clinton & her aides, Cheryl Mills & Huma Abedin, repeatedly lied to FBI agents during interviews about the email server/handling of classified information.
Despite the fact that Clinton & her aides told numerous lies about the email server & the classified information sent/received from it, FBI agents like Peter Strzok & others made sure no charges were brought against them.
Having cleared the way by sabotaging any chance at a case against Clinton & others based on the crimes they committed so she could run for President, these DOJ/FBI political fixers/saboteurs turned their attention to ensuring her winning.
These political fixers/saboteurs [PF/S] using their offices/jobs inside the DOJ/FBI to cover for Hillary knew very well just how dirty & corrupt she actually is.

They were aware of her numerous pay-for-play schemes, garnering massive foreign bribes for herself & others.
Not surprisingly, these PF/S fully expected TRUMP to be *just as corrupt*, if not more so, than Hillary Clinton.

They determined that if they could listen in on Trump campaign team communications, they were SURE to collect evidence of pay for play schemes Trump was setting up.
Now after Trump launched his campaign, he surrounded himself with very smart people who knew how the Obama administration & how Dem partisans in the LEO/IC would come after them.
Trump & his team KNEW how the Obama/Hillary/DNC nexus inside the US gov't was going to come after them to try to attempt to fix the election in Hillary's favor.

They were not caught unawares, they expected this.
As I've explained elsewhere, this is why shortly after his campaign was launched, Trump hired 1 of the sleaziest, dirties Russian lobbyists in DC to be his fake campaign manager: Paul Manafort.
Having been warned how the O/H/DNC nexus would attack him, Trump gave them a TARGET to attack. He may as well have staked out a goat in his front yard for the wolves.

And it worked exactly as intended.
While Jared Kushner was working in deep background as the real campaign manager, for 3 months the media & the O/H/DNC nexus focused like a laser on the slimy Paul Manafort, who just HAD to be engineering pay-for-play deals for Trump, right?
When Manafort is hired, the PF/S inside the DOJ/FBI shifted into overdrive in their quest to get surveillance of Trump's campaign team.

They need that surveillance NOW so they can start collecting evidence of all the sweet sweet pay for play Trump is using Manafort to set up.
As FBI Agent/Political Fixer Extraordinaire Peter Strzok texts to his lover Lisa Page, while Trump winning the election is a long shot, they can't take chances.

They need an INSURANCE POLICY in case by some miracle, Trump beats Hillary.
And so as it turns out, the PF/S go to the FISA Court & file a request for a warrant for surveillance of Trump campaign team members who they suspect are operating as agents of foreign powers, chiefly Russia.
The people that we know thus far that the PF/S want surveillance of are Trump's then-fake-campaign-manager Manafort and Carter Page, a fringe figure of the campaign.
To bolster their case for claiming these people on Trump's team are working as foreign agents, the PF/S proffer to the court the STEELE DOSSIER to 'prove' or provide evidence for claims Page/Manafort are Russian agents.
As it so happens, the PF/S end up misrepresenting the Steele Dossier to the court, as if it's US intelligence community work product & *not* political opposition research paid for by Hillary Clinton that hasn't been verified.
There has been reporting that an earlier FISA surveillance request was too broad & not sufficient enough for the court to grant it. Which was unusual because such requests are rarely denied.
However it's likely that Manafort being brought aboard as bait and the addition of the PF/S passing off fake/unverified info from the Steele dossier to the court as 'classified intelligence' from the US IC, got them the warrant approved the 2nd time around.
(21)
Having broken the law by lying to the court to get the FISA surveillance they wanted of what they *assumed* were the key Trump team personnel in setting up Russian collusion/pay for play deals, the PF/S then eagerly began listening in to Trump team communications.
SURPRISE! Now that they are tapped in and eagerly waiting to begin collecting all that evidence of the collusion with the Russians & all the pay for play deals, BOTH Manafort and Page....leave the Trump campaign.
Months go by as the PF/S eagerness to collect evidence of Russian collusion/pay for play deals turns to bafflement. Kellye Anne Conway is brought in as the new front person for the campaign. They don't have a warrant for her comms.

Neither do they have 1 for Jared Kushner.
Having gotten the surveillance they wanted, the PF/S then spend months finding....

nothing.

Manafort isn't there any more. He served his purpose as a target and was ditched once the suckers took the bait.

Page isn't there any more. Was always a fringe figure to begin with.
This FISA surveillance gambit having failed, the PF/S realize that if they are going to have an insurance policy against Trump, they are going to have to find it by other means.
The PF/S inside the DOJ/FBI are kicking around various scenarios about what they could do as the election arrives.

To their shock, the long shot actually happens. Trump actually DOES win the election.

Now they need that insurance policy MORE THAN EVER.
It becomes IMPERATIVE that the PF/S find evidence of Russian collusion or pay for play deals being set up during the Trump transition before he takes office in January 2017.

And they will have to find it WITHOUT FISA surveillance.
The Obama/Hillary/DNC nexus gives the PF/S what they need. Claiming extensive Russian interference in the 2016 election, then-President Obama levies harsh new sanctions against Russia in late December.
EVERYBODY knows the incoming administration will have to deal with these new sanctions & talk to the Russians about them during the transition.

1 of the people who will tasked with doing that is Trump's incoming National Security Advisor, Lt. Gen. Michael Flynn.
Michael Flynn is the former head of the Defense Intelligence Agency with over 33 years in the military intelligence field.

He lost that job as the head of the DIA for publicly contradicting Obama's false narrative about ISIS & other terrorist groups.
With their allies in DNC Media, the PF/S inside the FBI/DOJ wait to collect evidence of Flynn and other top Trump team officials contacting the Russians to discuss the new sanctions.
Everybody, even people not involved in the intelligence trade, knows phone calls to the Russian ambassador & other top Russian officials are monitored, recorded and often transcribed.

Especially phone calls on unsecured phones.
So in late December, knowing full well US intelligence people are tracking, monitoring, recording & transcribing these phone call, General Flynn calls up then-Russian ambassador Sergey Kislyak to discuss the new sanctions Obama just imposed.
Flynn & Kislyak have several phone calls, all on unsecured phones.

Flynn knew the Obama administration would know everything he discussed with Kislyak about ten minutes after he hung up.
(35)
Now, remember: the PF/S & the Obama/Hillary/DNC nexus don't need FISA surveillance to get the content of these phone calls.
The US intel community [IC] always monitors these communications from Russian agents on our soil & you don't need a FISA warrant.
It also needs to be pointed out that acting as Trump's incoming NSA, calling foreign officials & discussing transition issues is Gen. Flynn's JOB.

And the Russian sanctions are a transition issue. There was nothing illegal whatsoever about Flynn discussing them with Kislyak.
On Jan. 12, this column appeared in the Washington Post strongly hinting that if Flynn discussed the expulsion of 35 Russian diplomats & the new sanctions with Kislyak, this was a Logan Act violation:
washingtonpost.com/opinions/why-d…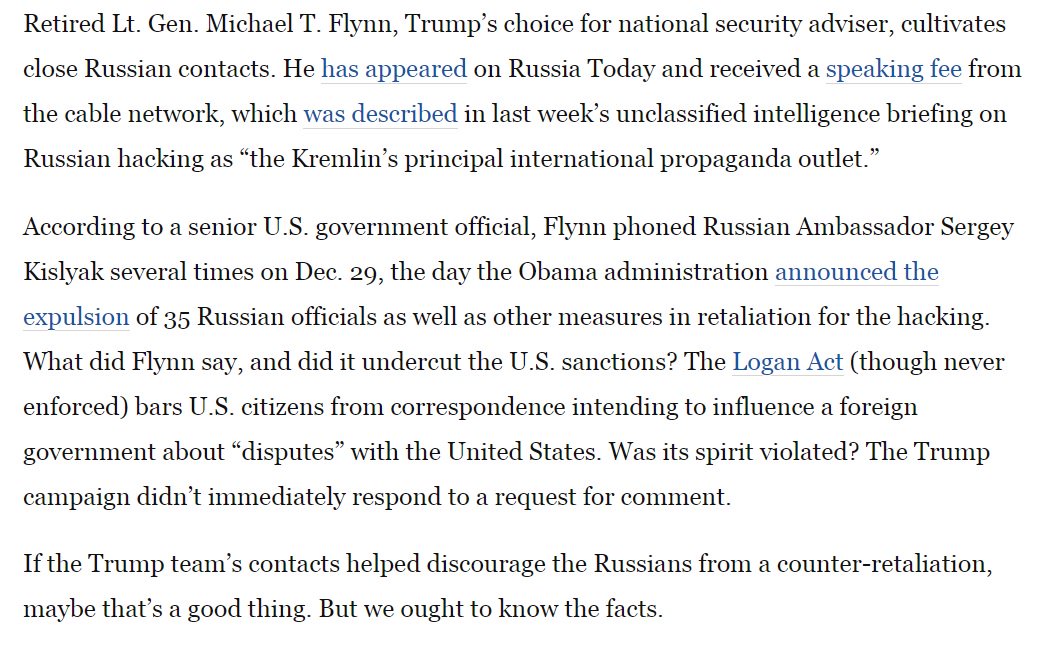 Anybody who knows what an NSA does & that it would've been Flynn's job to reach out to the Russians finds this Logan Act stuff laughable.

But note how Ignatius frames his questions about these phone calls: as if it's a mystery exactly what Flynn said to Kislyak.
When this column appeared in the Washington Post on Jan. 12th, Flynn knew there was no secret involved at all what he & Kislyak discussed in those phone calls.

When Flynn read this column, he would INSTANTLY grasp the narrative being launched here.
And the narrative is this: that somehow Flynn thought by calling up Kislyak on UNSECURED PHONES he somehow thought he & the Russian ambassador were engaging in some kind of ILLEGAL and improper secret dealings.
I stress again: as an experienced spy master with over 33 years in military intelligence setting up intel operations, the idea Flynn DIDN'T KNOW THESE PHONE CALLS ARE MONITORED has always been comically absurd.
So on January 12, after this narrative is launche in the Washington Post, what does Flynn know?

The MEDIA is launching a narrative that by calling Kislyak he did A Very Bad Thing because he apparently thought he was doing a secret deal nobody else would know about.
Over the course of a few days, this false narrative launched on Jan 12th in the Washington Post gets run by numerous other media outlets and calls for Flynn to be investigated/resign for Russian collusion begins to build.
And so now the stage is set: on Jan 24th, unannounced, without any advance warning at all, Flynn suddenly finds himself face to face with....
FBI agent Peter Strzok.
Still desperately seeking his 'insurance policy' in case of a Trump victory, Stzok thinks he's found it.
Like the other political fixers/saboteurs in the FBI/DOJ, after the huge disappointment of their FISA surveillance on Manafort/Page turning up nothing, Strzok is convinced he can turn Flynn's calls to Kislyak into the much needed 'insurance policy'.
Now put yourself in Lt. Gen. Michael Flynn's shoes on Jan. 24th. when FBI agent Peter Strzok suddenly appears to question him about those phone calls to Kislyak on Dec. 29th.
WHAT does Flynn know, and what does Flynn know that STRZOK knows, given that he's an FBI agent with counterintelligence experience?
Well, Flynn would know that Stzok knows the narrative launched in the Washington Post on Jan. 12 is blatantly false.

Flynn knew those weren't 'private' phone calls, there was no secrecy involved in the discussions and he knows that STZOK knows this.
But as the interview with this chief member of the Political Fixing/Saboteur wing of the DOJ/FBI progresses, what does Flynn discern?

Flynn realizes Strzok is asking him loaded questions based on the false narrative.
Flynn quickly realizes that Strok is questioning him with the agenda of VERIFYING that he believed he was doing a secret deal with Kislyak and that he must have 'forgot' the phone calls on unsecure lines were being listened in on.
Realizing Strzok is trying to frame him as having done something he didn't do, Flynn sees Strzok is going to try to use him to get at his boss: The President.
At this point, Flynn decides to stop cooperating with his answers. What would be the point of helping Strzok by giving him answers that would appear to help his agenda of dragging Trump into this?
So here's what happened:
@GenFlynn
pleaded guilty to lying to an FBI agent with an agenda who was questioning him to try to nail him based on a narrative that agent KNEW was not true.
Would YOU tell the truth to an FBI agent you knew had to know the real facts, yet was clearly trying to frame you as having committed a crime?

I know *I* wouldn't
During that interview with Strzok, Flynn became aware he was looking at someone who was abusing their role in the agency to try to frame him for something that person had to know was not a crime.
So yes, let the record reflect: On January 24th, in an interview with FBI agent Peter Strok, Lt. Gen. Michael Flynn gave answers to questions that were FALSE.

And he has pleaded guilty to giving false statements to Strzok.
But I want to let you in now on another thing Flynn knew on January 24th as he was watching FBI agent & political fixer/saboteur Peter Strozk trying to frame him for a crime they BOTH knew he didn't commit:
SURPRISE!
Think Flynn & his team didn't know about THIS being launched on January 12th?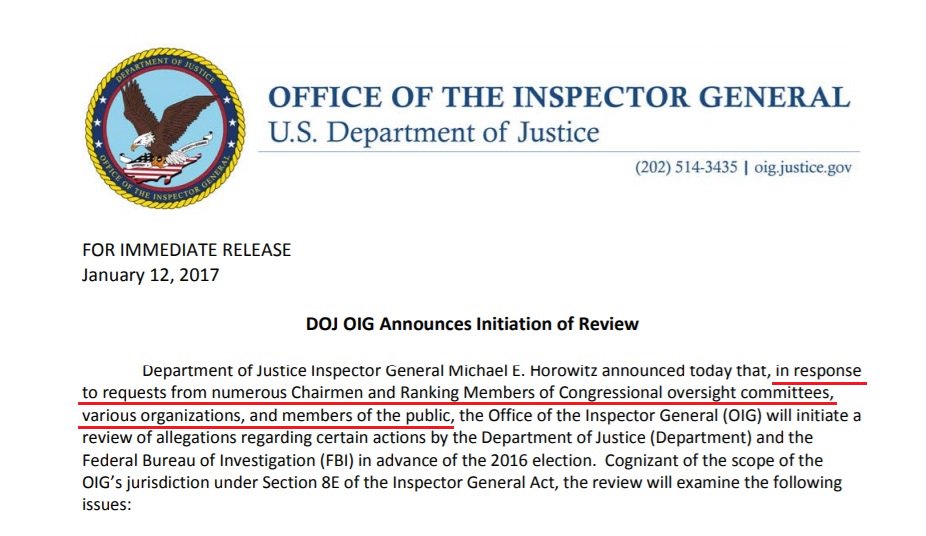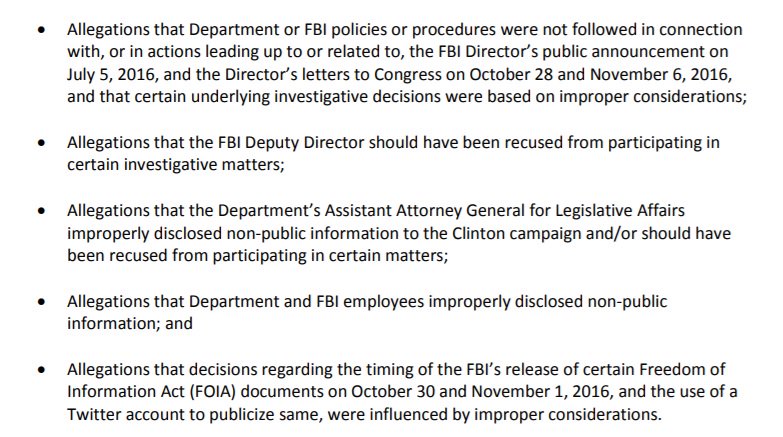 As Flynn is watching this dumbass political fixer trying to frame him for a crime they both know wasn't a crime, Flynn knows DOJ Inspector General Michael Horowitz is already on this guy's trail.
Strzok thinks he's getting that insurance policy he & the other DOJ/FBI political fixers have been after for months when he gets Flynn to give him some false statements.

He was already a dead man walking.
From January until August, I'm pretty sure the political fixer/saboteur wing of the FBI/DOJ thought Stzok had done a fantastic job nailing Flynn for that 'crime'.

I'll bet he got a lot of 'atta boys!' and pats on the back.
Mark this date on your calendars: Jan 15th is the current announced date for when DOJ IG Horowitz's report on politically motived abuses/fixing/sabotage inside the DOJ & the FBI is slated to be released.
is going to be vindicated.

There was never any Russian collusion to be found, either from the FISA wiretaps, the Flynn investigation or Mueller's special counsel investigation.

And Strzok & several others are going to prison.

/end