1.
Made it by the skin of my teeth, but achieved my goal of finishing 12 books this calendar year. Not bad considering I have a 1-year old.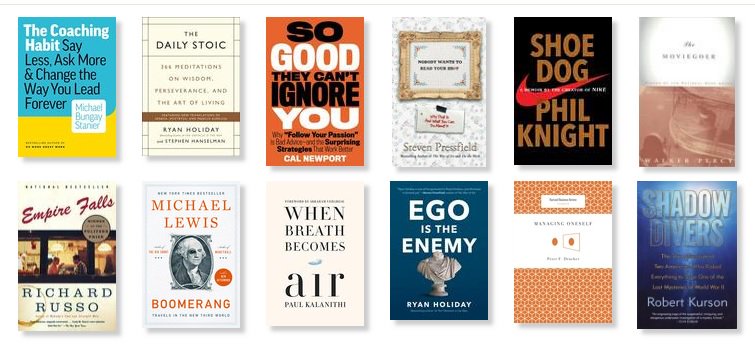 2.
Paul Kalanithi's "When Breathe Becomes Air" is beautiful, heartbreaking and poignant. Here's what I tweeted right after finishing it:
4.
Cal Newport's "So Good They Can't Ignore You" is fantastic. I highly recommend it to college seniors, grad students and newer employees. That said, I prefer his book "Deep Work." True game changer. Here's 90+ insights from the latter:
ryanstephensmarketing.com/cal-newport-de…
5.
Speaking of
@RyanHoliday
I read two of his books this year. "The Daily Stoic" is a a wonderful daily companion to help you find self-knowledge, and resilience. "Ego is the Enemy" will help you take responsibility for your life. My 3-part review here:
ryanstephensmarketing.com/ego-is-the-ene…
6.
@boxofcrayons
' book "The Coaching Habit" is the book I *just* finished so I need a bit of time to process and synthesize, but I'd definitely recommend it to those who lead/manage others.
7.
@SPressfield
"Nobody Wants to Read Your Shit" is a must-read for writers. "Shoe Dog" was good -- absolutely worth the read -- but not as ground-breaking as so many people made it out to be. "Boomerang" was certainly interesting, but not one of Lewis' best.
8.
Life is too short to read bad books. The remaining three "Empire Falls," "The Moviegoer" and "Managing Oneself" didn't particularly do it for me. /FIN