A glimpse into the history of Soviet repression: One of hundreds of pages from 'These Names Accuse', listing the fate of individual Latvians deported to Soviet Russia in 1940-41. Documents like these graphically illustrate the experience of the victims of Soviet Communism. 1.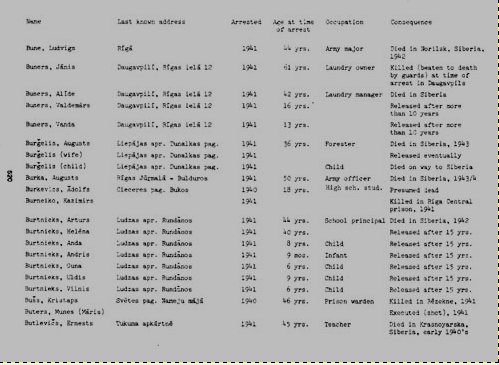 The details shown bring home the human tragedy of Soviet repression in the Baltic States & help us to understand why the suffering of that period remains an integral part of the national consciousness of these countries today. The childhood of Vanda Buners (#5 on the list)...
would have ended suddenly at the age of 13 when the NKVD arrived unannounced to deport her family, including her 16 year old brother, giving them no more than a few hours notice to pack, perhaps less. Their father was murdered in front of them as they were arrested...
3/7
Their mother died in exile in Siberia, either of starvation or of disease which became fatal because of her malnourished state. The children were at least 30 and 33 years old by the time they returned to a country occupied by the regime that had killed their parents.
4/7
The family property could well have been confiscated so they would have had no home to return to. On the journey east to Siberia, exiles were packed into cattle-cars with little food, water or heat, often for many days. For a latrine, there was a hole in the floor.
5/7
Old and young were particularly vulnerable and many died. This is probably how another person Augusts Burgelis and his wife, also on this list, lost their child. They were probably separated as many male deportees were sent to stricter labour camps.
6/7
In the worst days of the war, in 1942/3, the mortality rate in the camps was 25% a year. Augusts died then, his grief-stricken wife alone in exile, thousands of miles from home. She would not have returned home a now childless widow for 15 years.
7/7