1)
It's time to ask: Was
@IgnatiusPost
an unwitting dupe of a malicious leaker or was he in on the plot to frame
@GenFlynn
for a nonexistent crime?
On January 12, 2017,
@IgnatiusPost
published this column in the
@Washingtonpost
:
washingtonpost.com/opinions/why-d…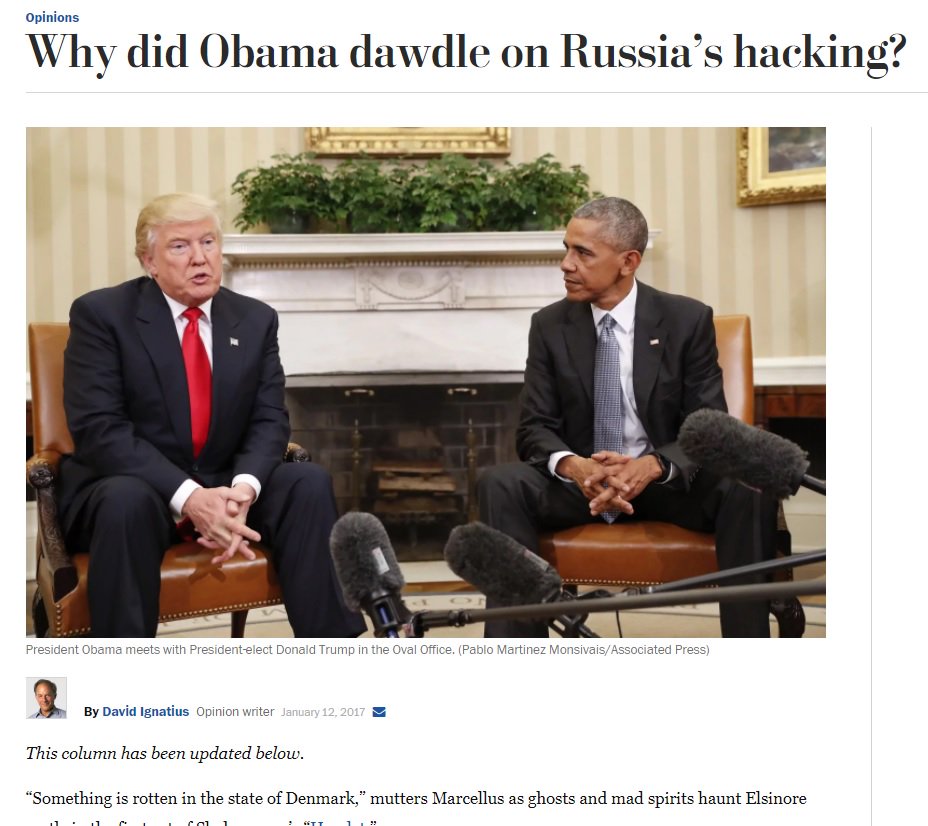 In that column, Ignatius relates some info leaked to him by an anonymous gov't official. Here's the section of interest: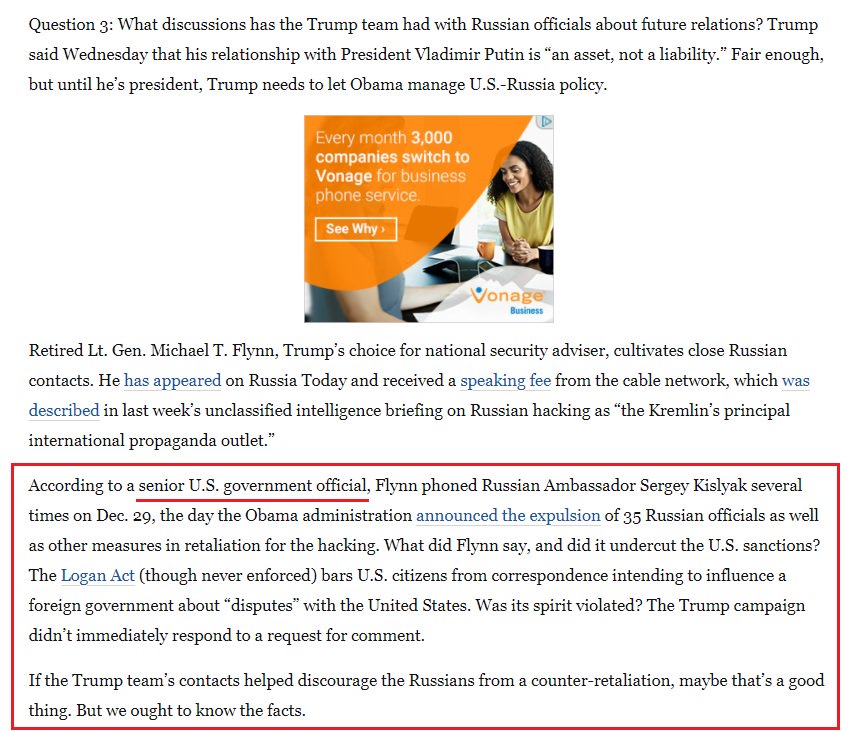 4)
Curiously enough, this leaker described by Ignatius as a 'senior US Gov't official' is willing tell Ignatius:
1.
Flynn & Kislyak talked on the phone
2.
The subject of the talk was the newly imposed Russian sanctions
5)
Almost a year later, we all know what the leaker is leaking to Ignatius is information from a CLASSIFIED INTELLIGENCE REPORT.
When Flynn called Kislyak, the calls on unsecured phones were being monitored, recorded, and transcribed.
6)
In this intelligence report written up after Flynn & Kislyak had their phone calls together on Dec. 29th, 2016, Flynn's name - still a private US citizen - was unmasked.
7)
Here's what I find really interesting about this leaker, whoever it was.
The FBI looked at this very same intelligence report that the leaker leaked to Ignatius. Here's what the FBI concluded after reading that SAME intel report:
washingtonpost.com/world/national…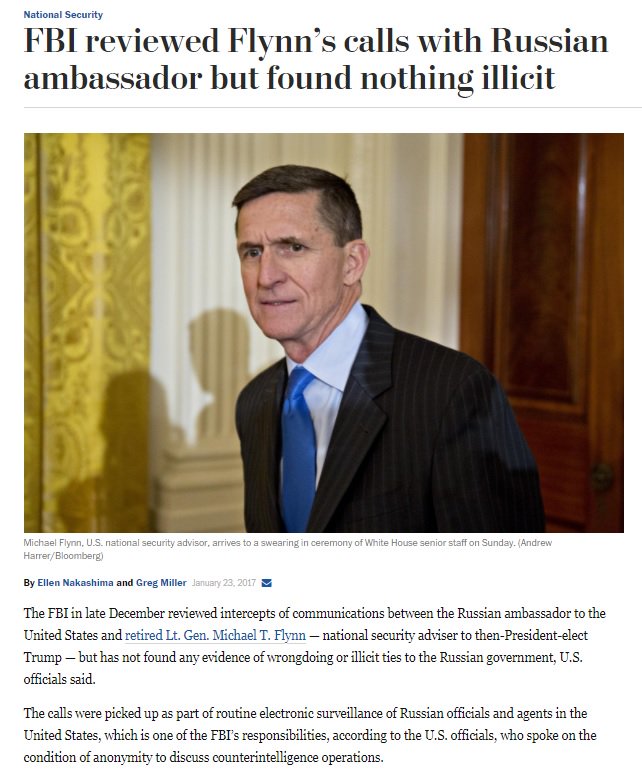 8)
If the *FBI* reading that intel report with Flynn's name unmasked were quickly able to determine exactly HOW Flynn & Kislyak discussed the Russian sanctions, why didn't the LEAKER share that information with Ignatius?
9)
Didn't it strike
@IgnatiusPost
as kind of curious that his gov't leaker knows WHEN the phone calls took place, WHO the calls were between, what the SUBJECT of the calls were, but claims to be completely in the DARK about HOW this subject was discussed?
10)
IF the leaker has seen the CLASSIFIED INTELLIGENCE REPORT that was made after these phone calls were intercepted, HOW is it possible the *LEAKER* wouldn't know exactly how the subject of Russian sanctions was discussed between Flynn & Kislyak?
I'll tell you.
11)
It's not possible. And
@IgnatiusPost
would know this.
Not only would Ignatius know the leaker has to know how the sanctions were discussed, he had to know he was being used to start a narrative placing Flynn under suspicion of a crime.
12)
"What did Flynn say, and did it undercut the US sanctions?"
Ignatius then starts discussing THE LOGAN ACT.
13)
Well look, allow me to explain the obvious here: the entire POINT in intelligence work of intercepting phone calls on unsecured phones is to -get this!- learn what the people involved are talking about and how they are talking about it.
14)
We have highly trained intelligence professionals monitoring these communications and they take their job very seriously. So when they intercept these calls, they make records, transcripts and summaries that appear in classified intelligence reports.
15)
The narrative this leaker used
@IgnatiusPost
to launch in the media, a narrative with the goal of placing
@GenFlynn
under suspicion of having violated the Logan Act, was always comically absurd.
16)
Any classified intelligence report made from the phone call intercepts is going to DETAIL exactly how the subject/s of the phones were discussed.
17)
The moment
@IgnatiusPost
's source told him "I read this classified intelligence report, I know Flynn called Kislyak, I know they discussed the new Russian sanctions BUT I have NO IDEA what Flynn said during these conversations."?
His BS detector should've gone off.
18)
Now add this into the mix. Flynn is an experienced intelligence operative with over 33 years experience in the field.
He knows these phone communications with Russian diplomats are monitored.
19)
This is another reason the narrative this leaker is using
@IgnatiusPost
to launch in this January 12th, 2017 column was always laughably absurd.
20)
As a former head of the Defense Intelligence Agency, we're supposed to believe Flynn didn't know or just forgot about the US intelligence community intercepting these kind of phone calls.
21)
Any narrative that tries to float the idea that Gen. Flynn had no idea or just forgot that all these kinds of calls are intercepted by US intelligence is a nonstarter.
22)
So what we have here is a malicious leaker high up inside the US gov't in January 2016 who wants use Ignatius to launch a false narrative in the media that will place Gen. Flynn under suspicion of having committed a serious crime.
23)
On January 11th, 2016, Buzzfeed published the Steele Dossier, full of still-as-yet-unverified Russian allegations against Trump and some of his key advisors.
24)
On January 12th, 2016, Ignatius publishes his column using his leaker's false narrative to frame Flynn for a crime and start calls for Flynn to be investigated.
25)
On January 23rd, 2016, the FBI announces it's reviewed the intercepts and the intel report on Flynn's phone calls with Kislyak and clears him of any wrongdoing.
26)
On January 24th, 2016, Gen. Flynn is suddenly confronted by FBI agent Peter Strzok, who wants to interview him about the Kislyak phone calls.
27)
Despite the fact that SOME PEOPLE inside the FBI had reviewed the intercepts and the intel report based on those phone call intercepts, and had just told the Washington Post Flynn had been cleared, here's an FBI agent that wants to grill Flynn about it.
28)
And during the course of this interview, I believe Flynn started to smell a rat.
It's very likely the questions Strzok was asking Flynn tipped the General off to the fact Strzok had an agenda. And it wasn't a nice agenda.
29)
"Why did you think you could get away with doing a secret deal?"
"Did Trump order or direct you to make a deal on getting the sanctions lifted?"
If Strzok's questions aligned with the narrative of the LEAKER from Ignatius' January 12th column, Flynn would be VERY ALARMED.
30)
What does Flynn ALREADY KNOW at the time he sits down with Strzok for this interview?
Some VERY HIGHLY PLACED people inside the gov't just tried to launch a false narrative to place him under suspicion of having committed a crime.
31)
From Jan. 12th, when Ignatius' column first launched that false narrative, until Jan. 23rd, a period of some 12 days, the media & political circles were filled with calls for Flynn's head, for him to be fired, investigated, etc.
32)
I think as Strzok was questioning him, Flynn instantly realized he was looking at someone working in concert with Ignatius' leaker.
33)
Flynn would know anybody who knows anything about the intelligence field would know all communications with Russian diplomats are intercepted.
As an FBI counterintelligence agent, Strzok would know this. And Stzok SHOULD know that FLYNN knows this.
34)
So what is Flynn forced to conclude when:
1)
a highly placed US gov't official leaks a fake narrative to a reporter to place Flynn under suspicion of a crime
and
2)
An FBI agent who should know better is acting like Flynn is guilty of this crime.
35)
I'm pretty sure Flynn would conclude this: "There are powerful people inside the present gov't who are trying to frame me as a way to get to President-Elect Trump."
36)
They don't hand out classified intelligence reports with the names of US citizens unmasked like they are candy.
You have to be WAY up there to see these. We're talking the very top.
37)
Flynn is not an idiot. He sees what's happening in the 12 days preceding this visit from Strzok.
Buzzfeed printing the Steele Dossier, taking all the fake Russian collusion allegations against Trump public.
Then Ignatius' column the next day, pointing right at HIM.
38)
That column is followed by 12 days of furious narrative driving in the media demanding answers about all this supposed Trump/Russia election collusion by political partisans disguised as journalists still absolutely infuriated that Hillary was 'cheated'.
39)
At that point, the nexus of political fixers inside the DOJ/FBI/Intel Community still figured they could quickly manufacture a crime that would get Trump impeached quickly.
40)
It didn't happen.
Instead, Flynn fell on his sword to protect the President-Elect.
Now it's almost a year later, and a lot has come out. And a lot more is coming out soon.
41)
As DOJ IG Michael Horowitz prepares his final report & Congressional committees continue to grill McCabe, Strzok, the Ohrs, Priestap, Fusion GPS founder Glenn Simpson and others, the truth is going to come to light.
42)
I just have one question for
@IgnatiusPost
: did you know that highly placed gov't official who leaked to you was using you to launch a false attack on a great American, or were you just an unwitting dupe?
/end
ADDENDUM: I worked all night. I haven't slept yet. So of course, it's been pointed out to me I messed up the years, I constantly typed '2016' when I meant '2017'.

:(