The assumption "bug collisions are so common in all software that everyone should assume that for any bug disclosed, it's probably been found by attackers & exploited already" contrasts how scientific research works. Security research is no exception.
Bug & research "collisions" can happen due to lots of low-hanging fruit. It can also occur when researchers pay attention to reach other's work. I've discussed researcher "swarming" for years, & recently on stage at BlackHat this summer.
Bug collision or correlation rates for software that has a lot of bugs (bug dense, say, because of not being well-tested) will generally model higher bug collision rates than in software with low bug density. See slides #23-27 from my RSA talk in 2015.
rsaconference.com/writable/prese…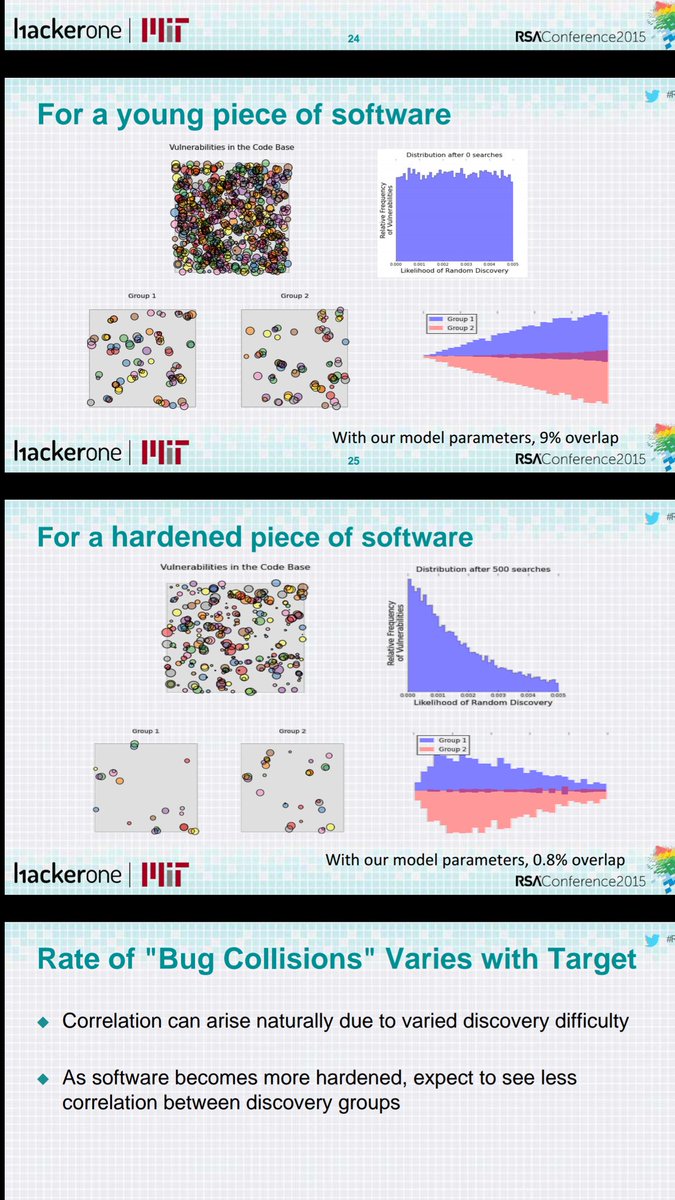 Researchers will swarm areas that others show results in. Let's not assume that further variants of these or other published bugs mean that we should assume all bugs are already under attack.
Time, scientific research, & bug hunting are still experienced as linear by most humans.
An old example of this "20 year old bugs, now suddenly uncovered by many at once" due to researchers swarming is format string vulnerabilities.
crypto.stanford.edu/cs155/papers/f…
Discussed openly for years, but the CVEs only really started rolling in after a critical mass of publications.
Both Harvard & RAND paper authors very much were trying to push the notion that by "measuring" bug collision rates using "real data", conclusions could be drawn across all software.
My minority report on this triad is this:
No it cannot because reasons for bug collisions vary.
1 characteristic about software itself that can statistically increase bug collisions is bug density. The characteristics about researchers that can increase bug collision rates include reading each other's work & talking through ideas. There are more factors of course.
My point isn't to list all possible factors that go into bug collision rates. My point is that it's dangerous to draw broad conclusions around this or other example of bug collisions to set policy like the government Vulnerability Equities Process (VEP) or disclosure deadlines.
Why did we (MIT Sloan, Harvard, & I) look at bug collision rates several years ago, one may ask. It was to answer the challenge posed by Dan Geer in his 2013 BlackHat keynote, where he argued that the US gov should try to outbid the black market for bugs if it would make a dent.
We looked at bug density, supply of finders, & other factors to build a system dynamics model. Best lever for govs to improve defense wasn't buying bugs & shoving it at vendors to fix. We've already seen vendors struggle to handle their incoming bugs, even with bug bounties.
We recommended govs sponsor creation of better tools to determine exploitability & give them to vendors. Rather than force feed vendors bugs (or "fish"), instead teach them to determine exploitability ("fish or not fish"). Vendors' capabilities need more fixing than their bugs.
When the DARPA Cyber Grand Challenge was just a concept, I pointed out that AI bug hunting would devour all vendor triage resources if unleashed upon the world. Pile of rotting "fish" bugs. So the organizers added the AI fixing requirements. But performance & app compat, I warned