OKAY so
sounds like Disney is gonna visually overhaul WDW Tomorrowland in the next few yrs
I'm here to tell you why that's BULLSHIT and why the 1994 take on Tomorrowland is one of the most visually compelling places in ANY Disney park, despite Disney's haphazard changes since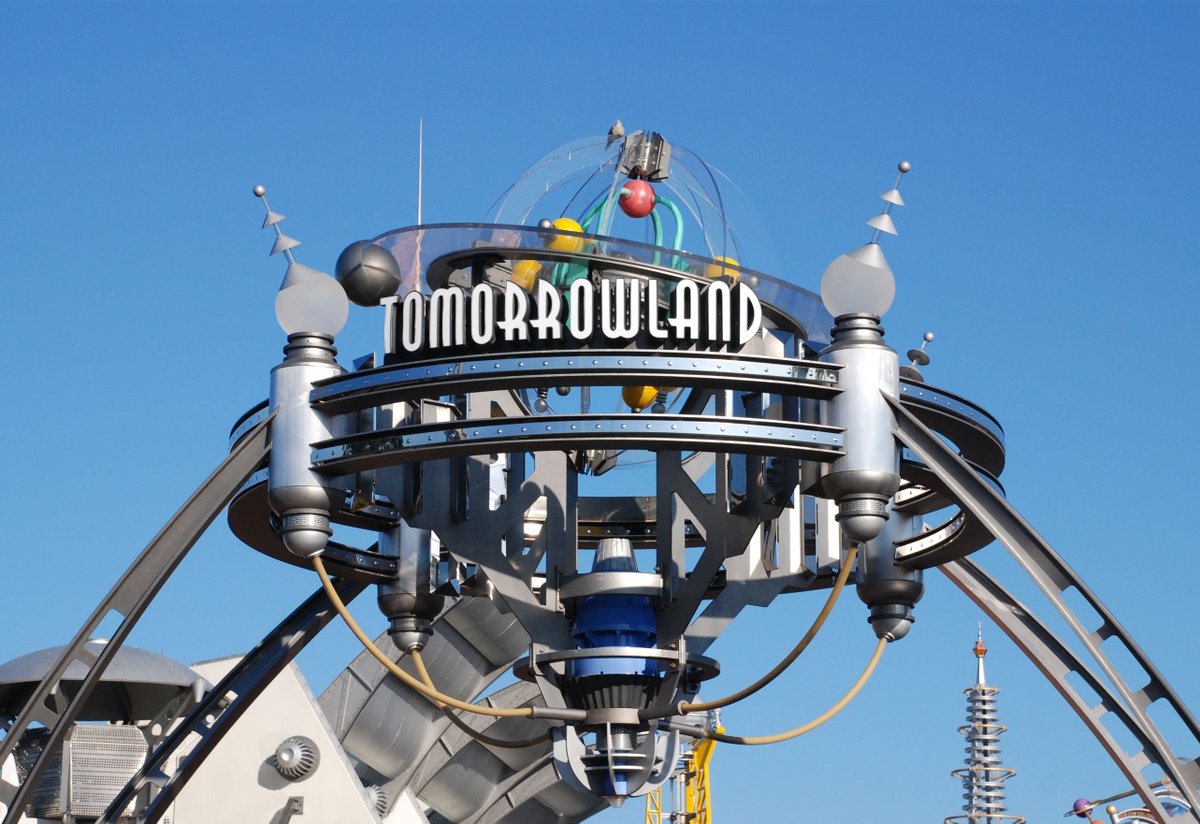 first, a little history
Tomorrowland, one of the 4 themed lands at Magic Kingdom in WDW, originally looked like the classic Disneyland variant - a lot of concrete work, Jetsons-like architecture, and themes like the US space race, automation, etc.
it aged.
FAST.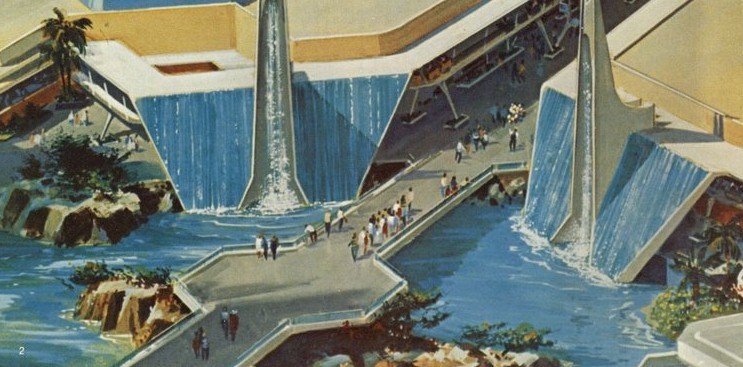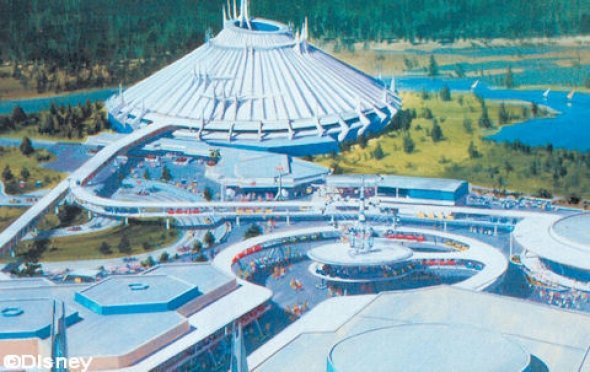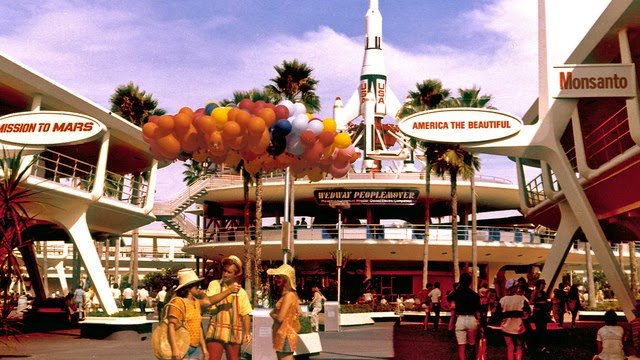 with EPCOT having an entire section dedicated to future tech, Tomorrowland was lookin dusty by the early 90s.
then, some genius Imagineers went "LET'S MAKE IT LOOK LIKE AN ART DECO INDUSTRIAL FUTURE WITH INFLUENCES FROM STAR TREK TNG AND FACTORY POMO DESIGN"
and IT RULED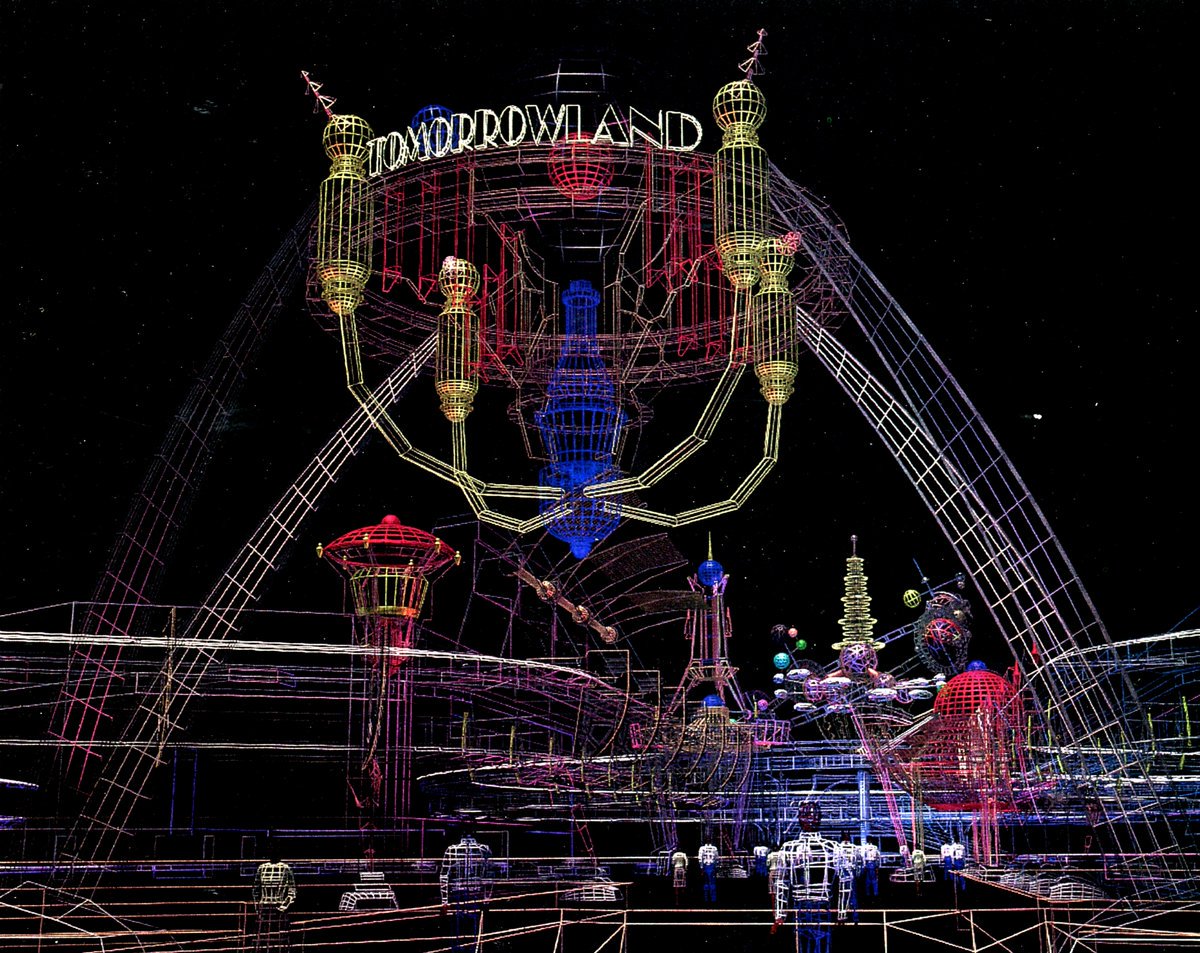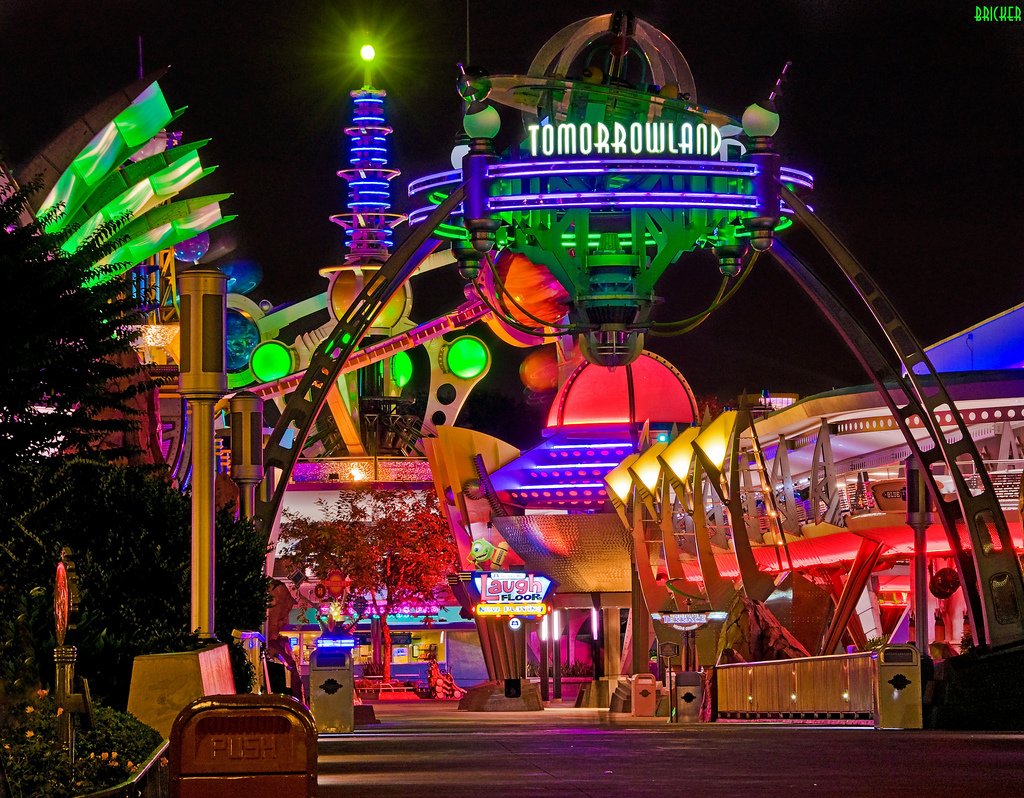 one can easily do a 1950's throwback design to harken to the golden age of b-movie sci-fi. that aesthetic is practically prefabricated at this point
but that shit is low-hanging fruit. Disney went WILD with 1994 "New Tomorrowland", inspired by a lot of popular design at the time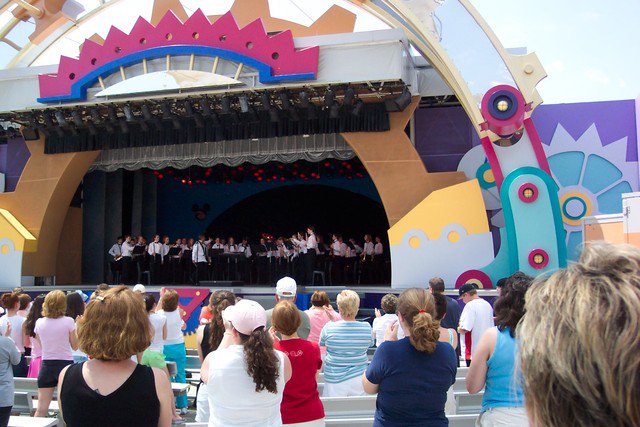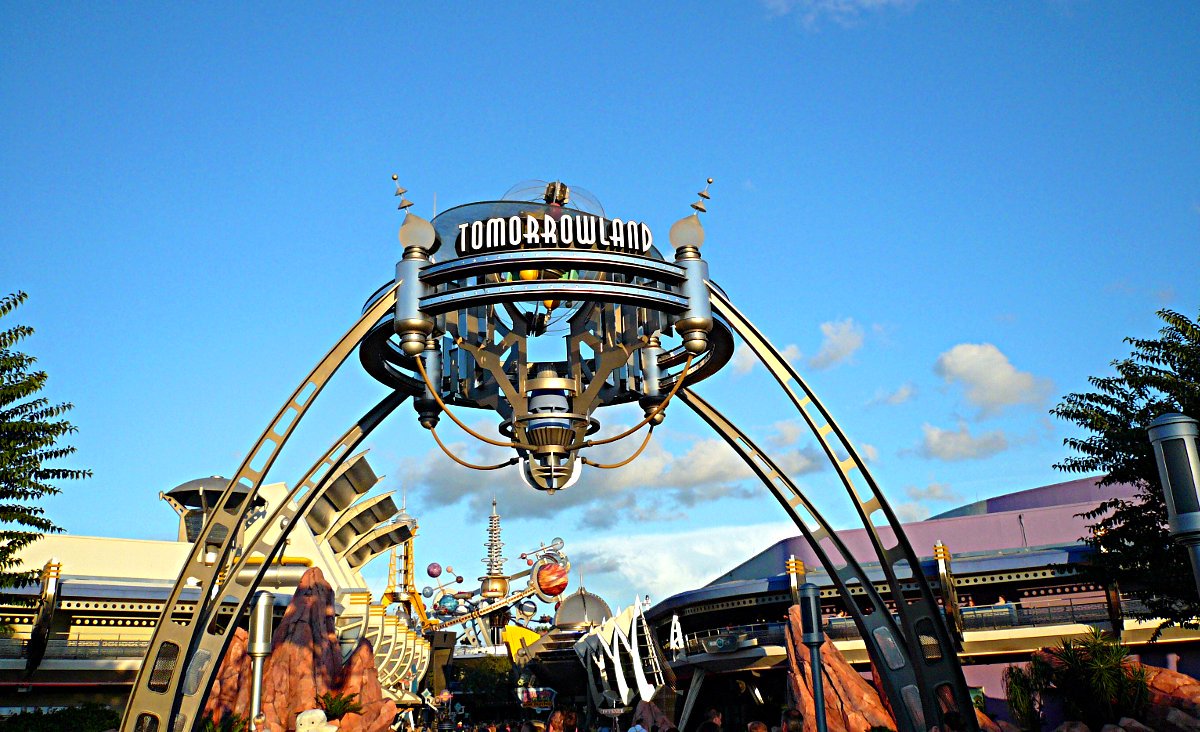 there was a clear aesthetic in the 80's/90's, nicknamed "Factory Pomo" in some design circles, that fused art deco design with modern stylization and dynamic typography
90's Disney was one of its biggest propagators, and 1994 Tomorrowland was ground zero
(graphic by Froyo Tam)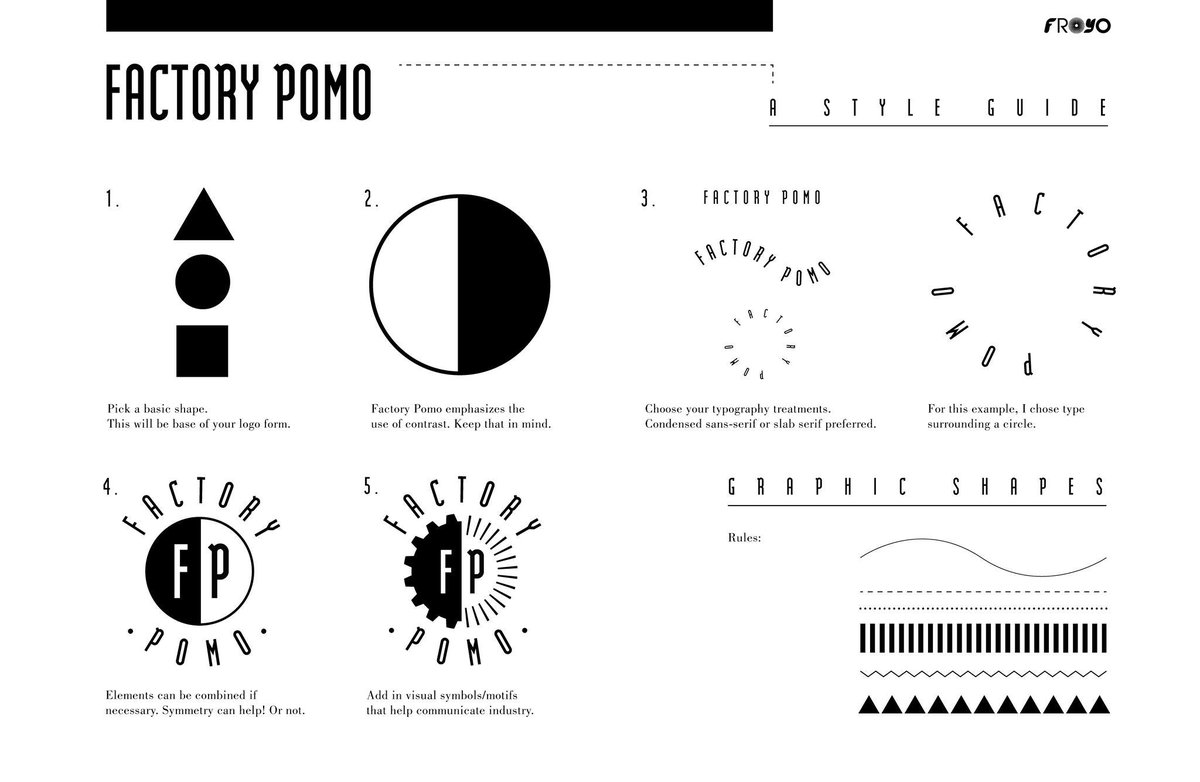 the groundwork for this incredible redesign was largely set by senior Imagineer Tony Baxter, specifically by his work on Discoveryland in Euro Disney - another BRILLIANTLY themed land that Disney has really been bent on fucking up ever since they built it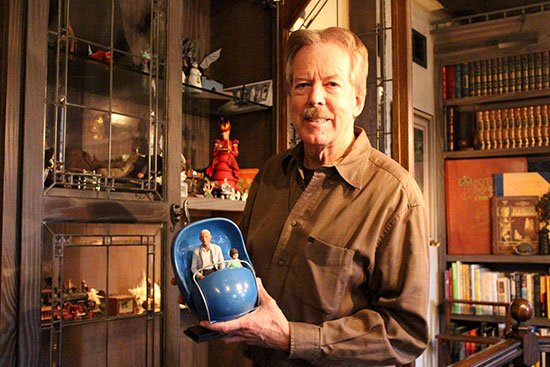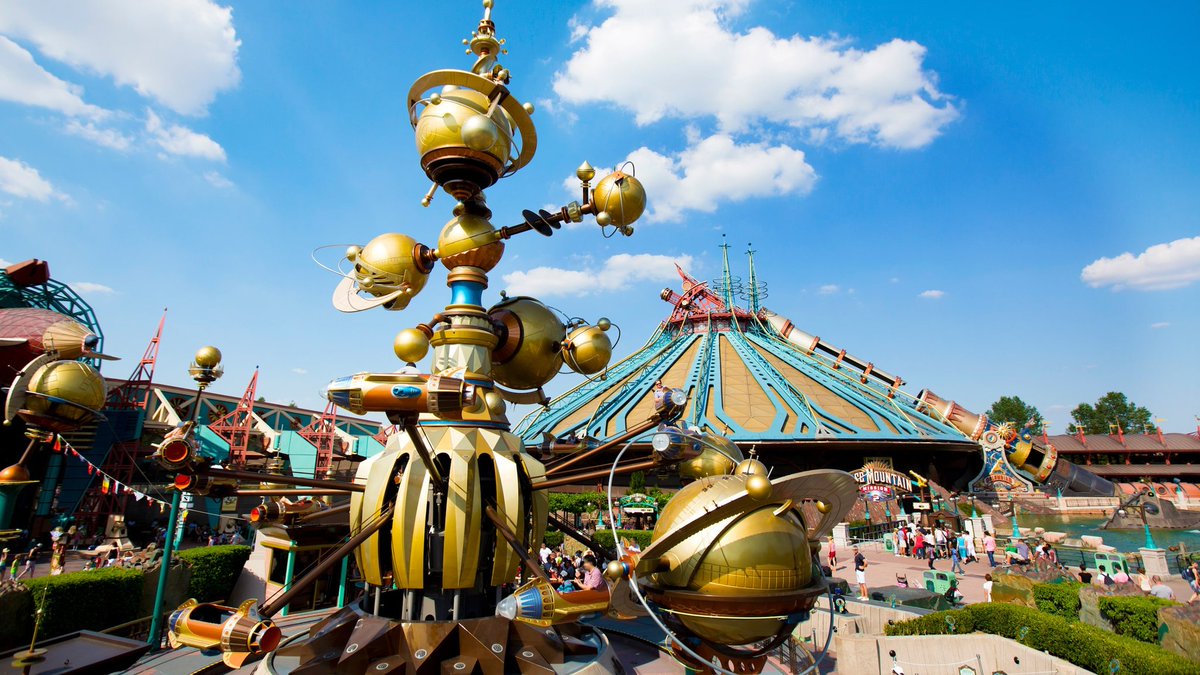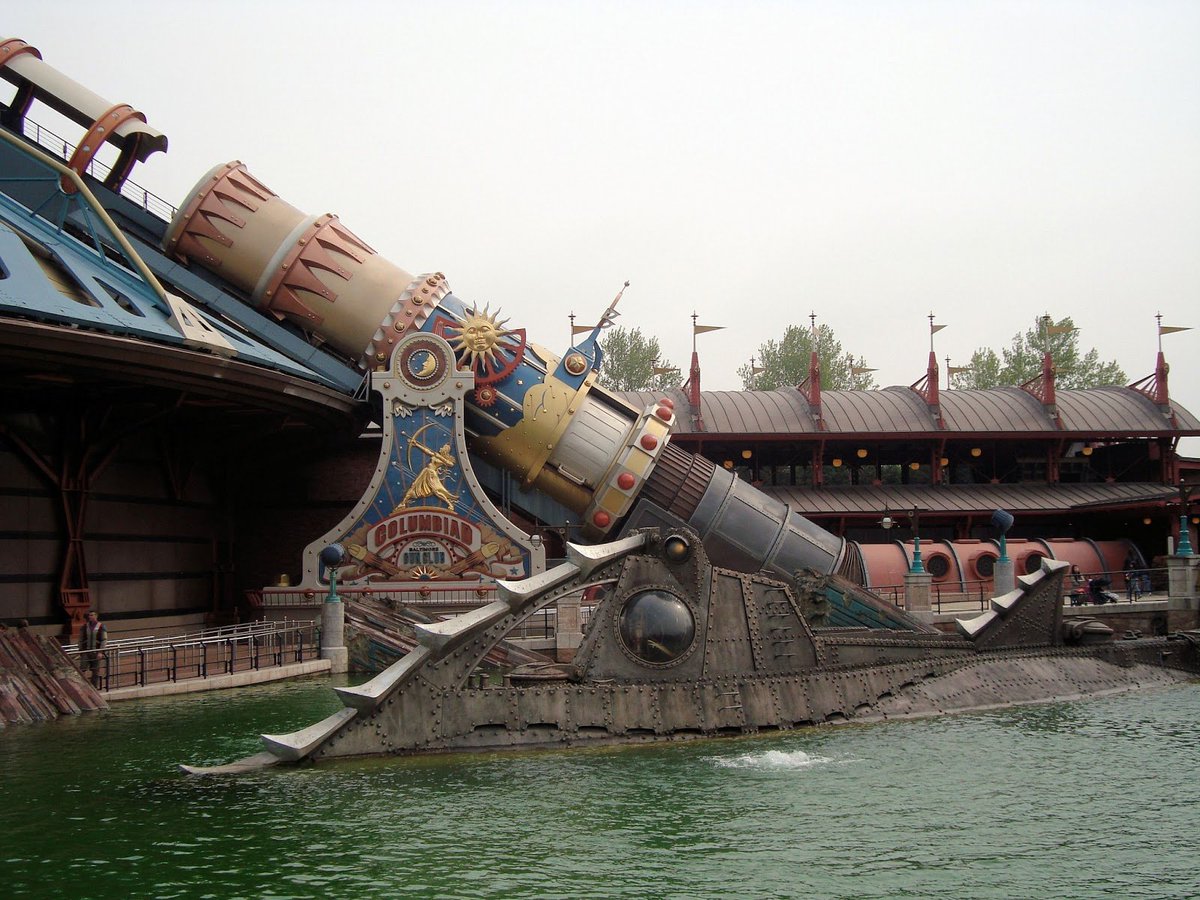 OKAY BACK
ANYWAY
Discoveryland used a steampunk aesthetic and was heavily inspired by Jules Verne, in proper Paris fashion.
Tomorrowland 1994 took inspiration from the ornate, retro-future design of Discoveryland, but instead, focused on infusing it with industrial themes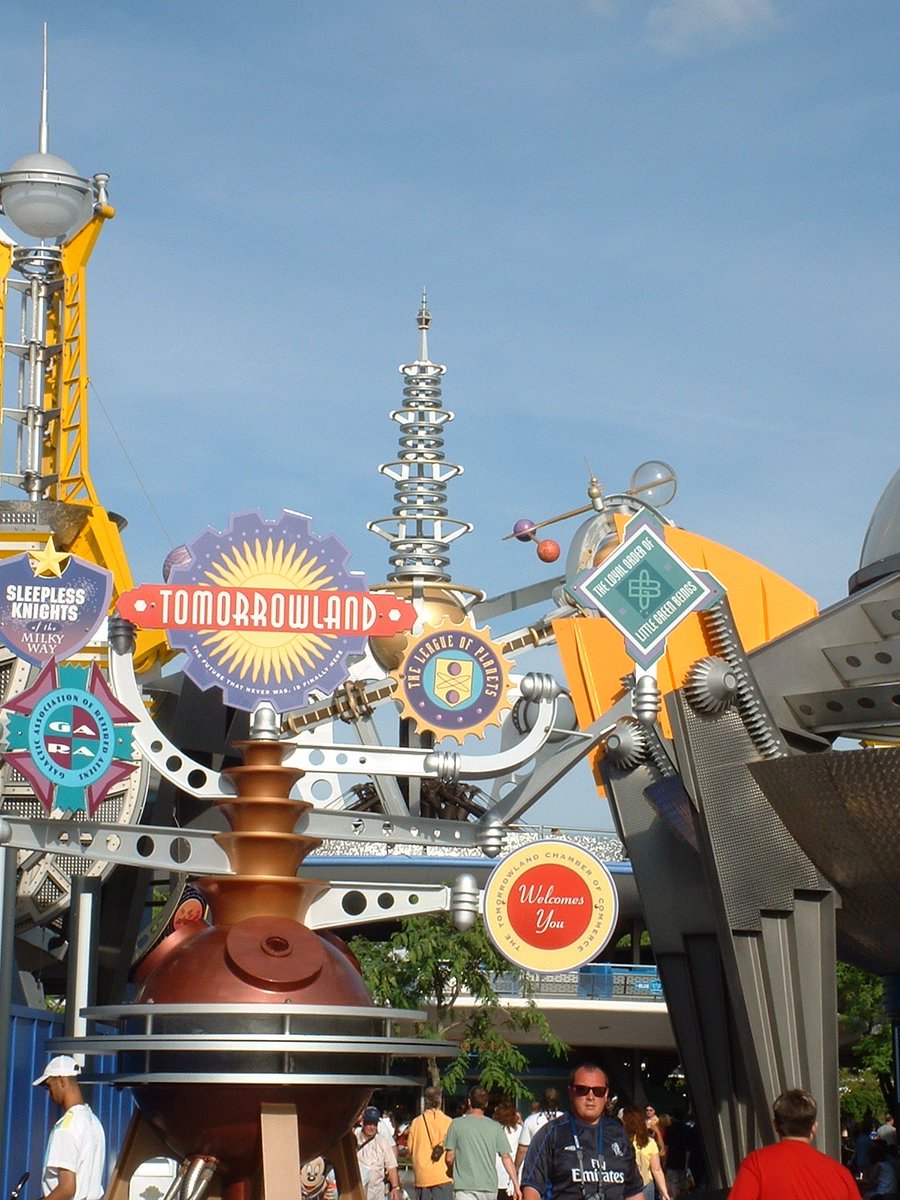 Gears/turbines are consistent motifs throughout the park's design, as well as art deco facades and columns. Metal supports often had rivets and holes in the rebar, reminiscent of gilded age ironwork, with deco gunmetal colors.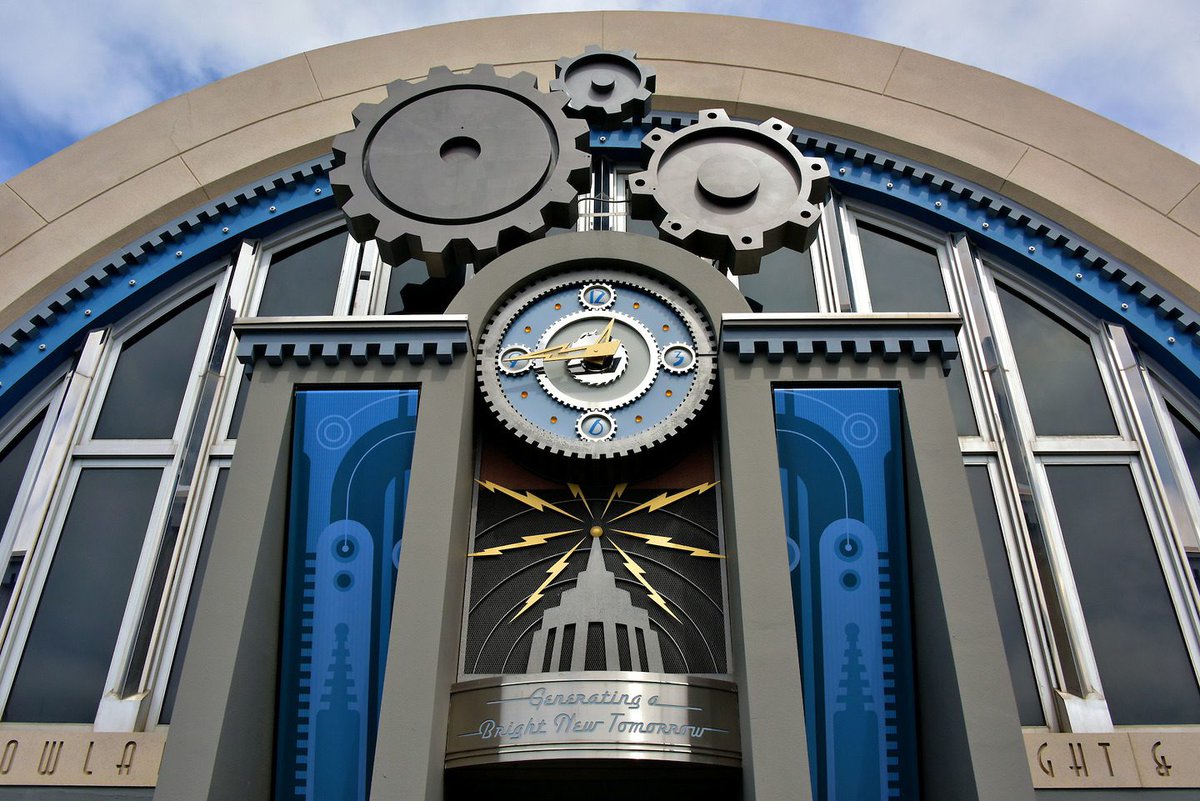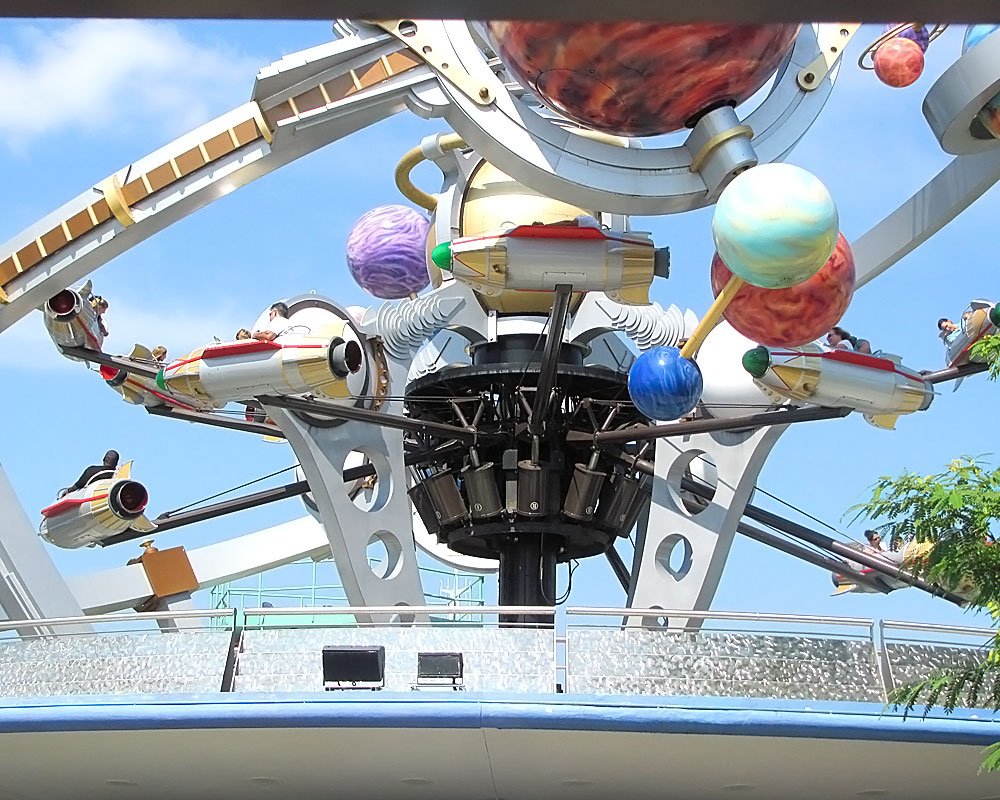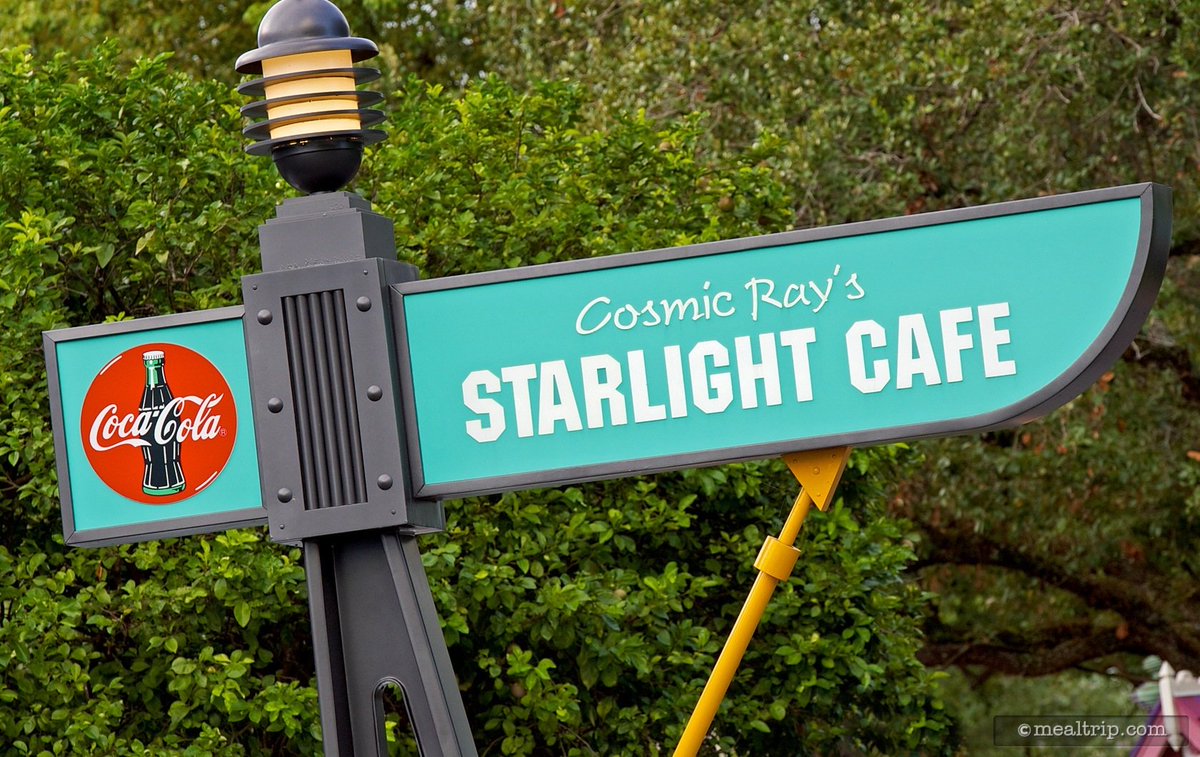 This look was then fused with more colorful and cartoony sci-fi zaniness, with spheres and jetsons-like rings as accents, all with a teal/purple/yellow/gunmetal color scheme
Together, this formed an INCREDIBLY unique look that went on to influence 90s museums/science centers/etc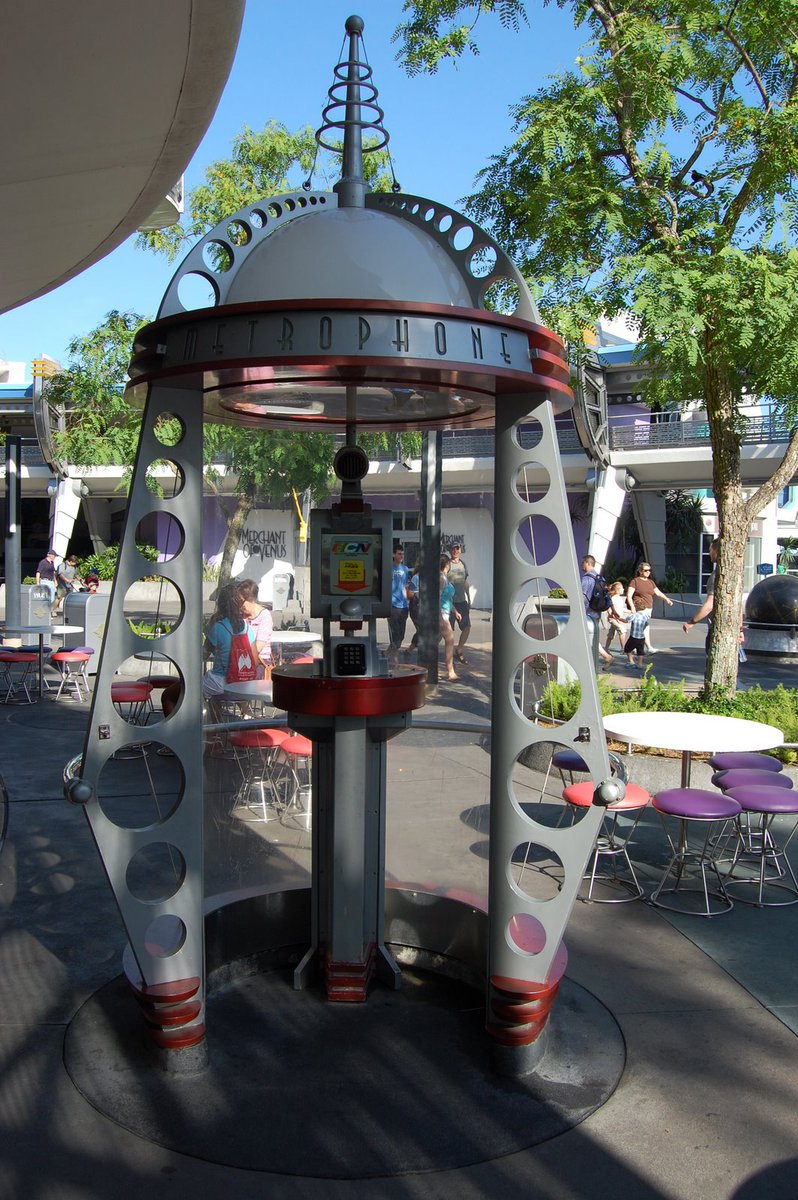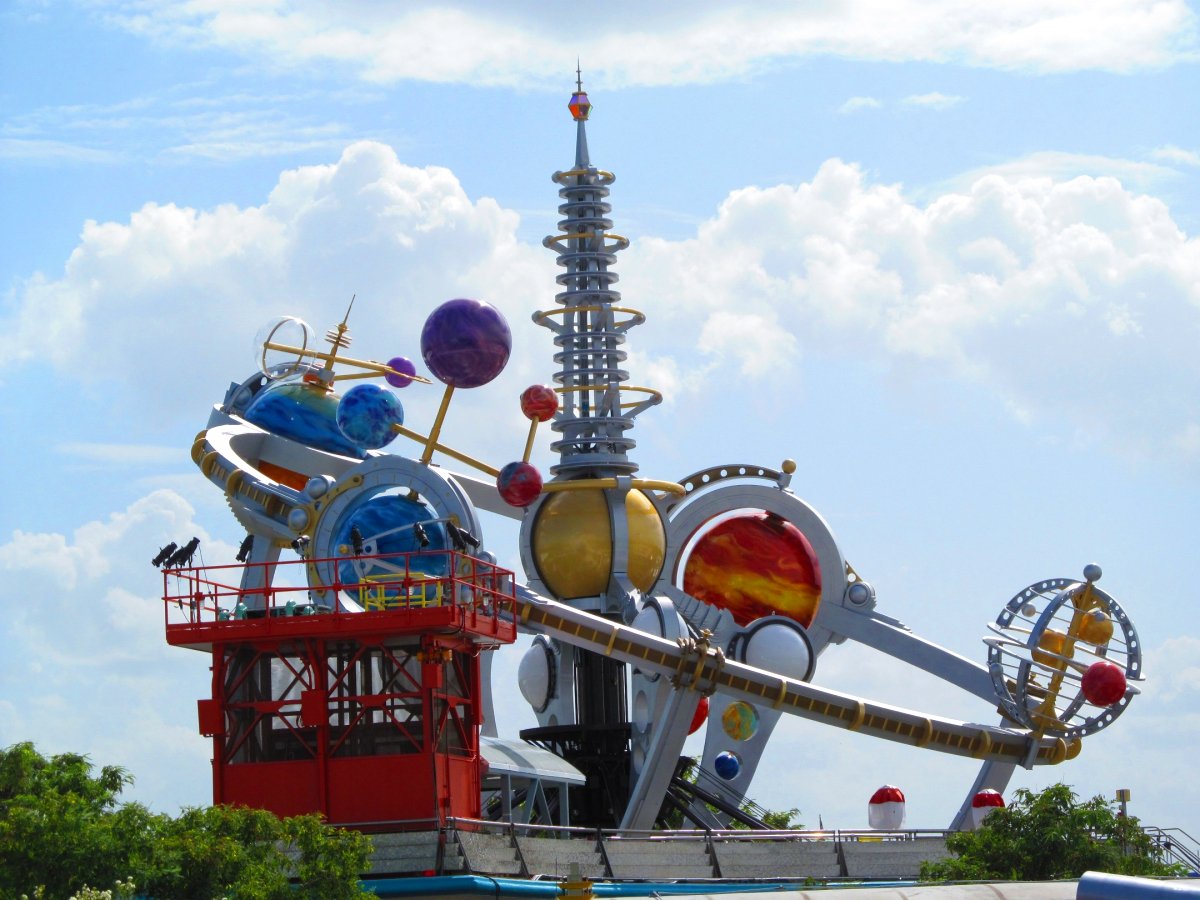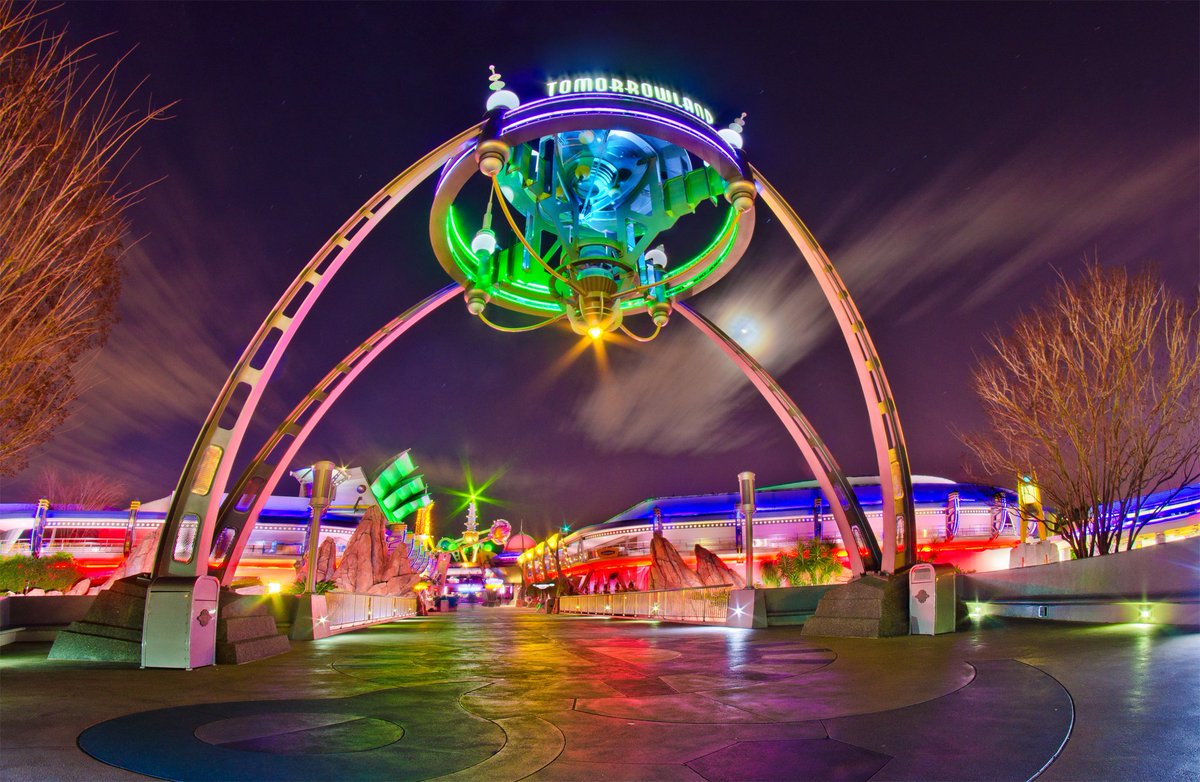 Even atop all this, there was a layer of homage to the 50's feel of the original Tomorrowland - best exemplified by Cosmic Ray's Starlight Cafe, featuring "lounge lizard" crooner Sonny Eclipse.
The architecture is decidedly "old Tomorrowland" - space age brutalist concrete forms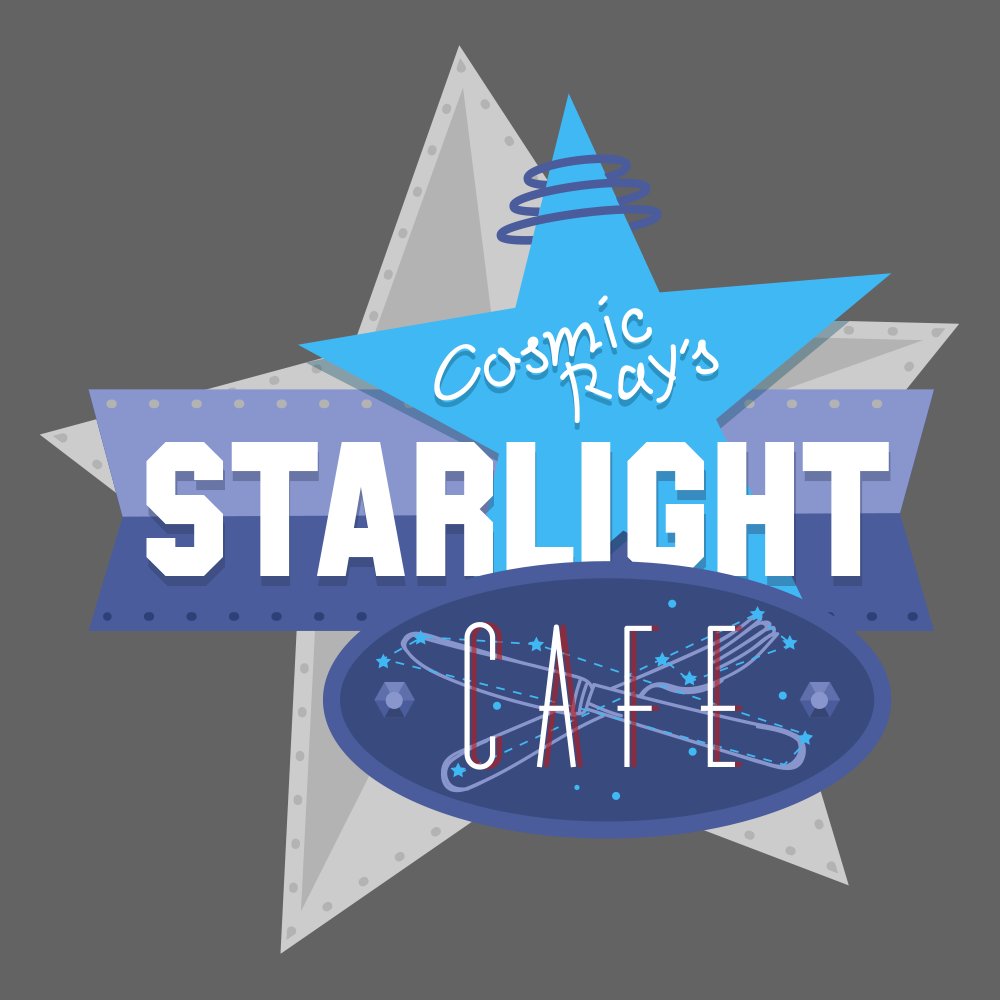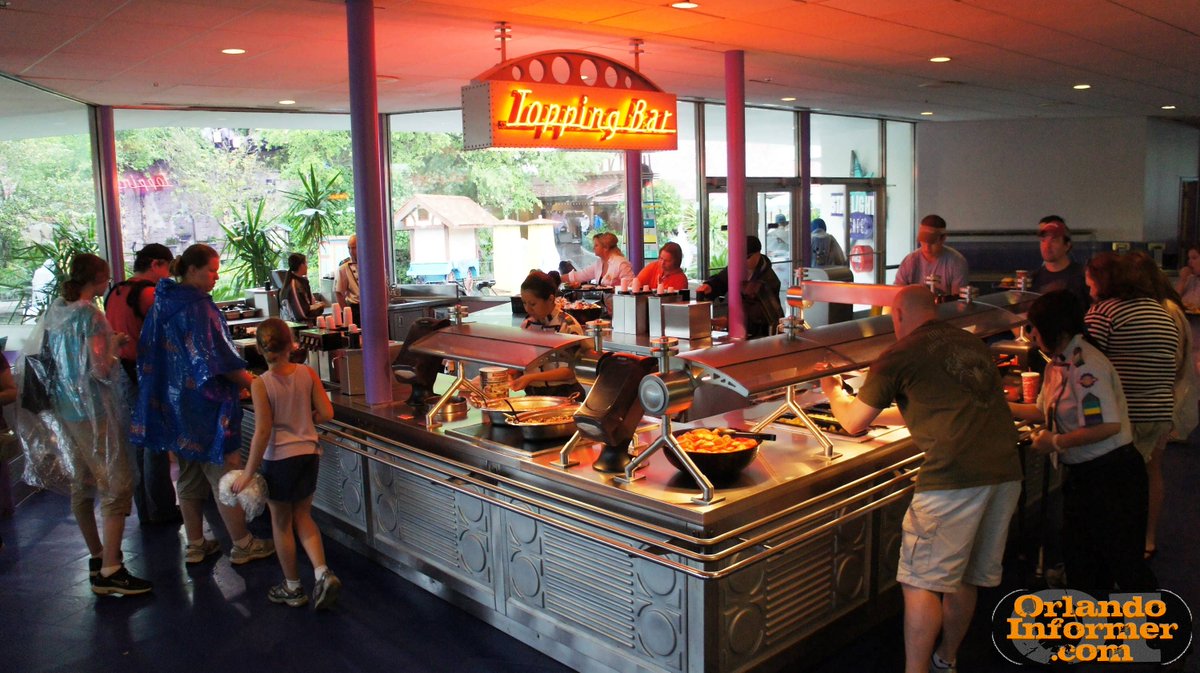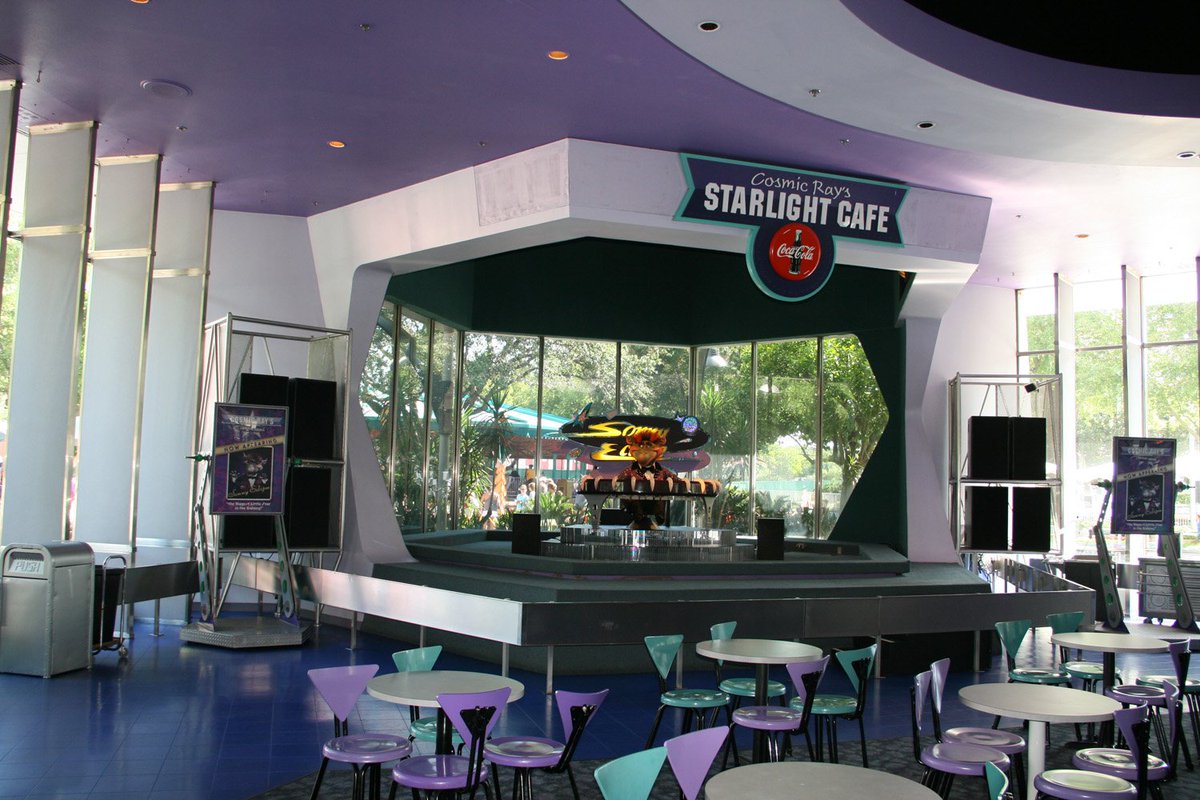 A unique look that captures retrofuturism flavored with something new, all while maintaining homage to the original look and feel - this is probably one of the best rethemings in Disney park history, and the amount of small details really showcase Disney imagineering in its prime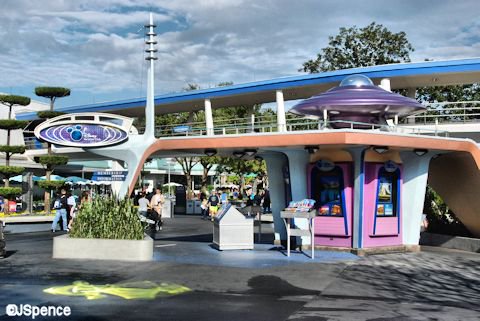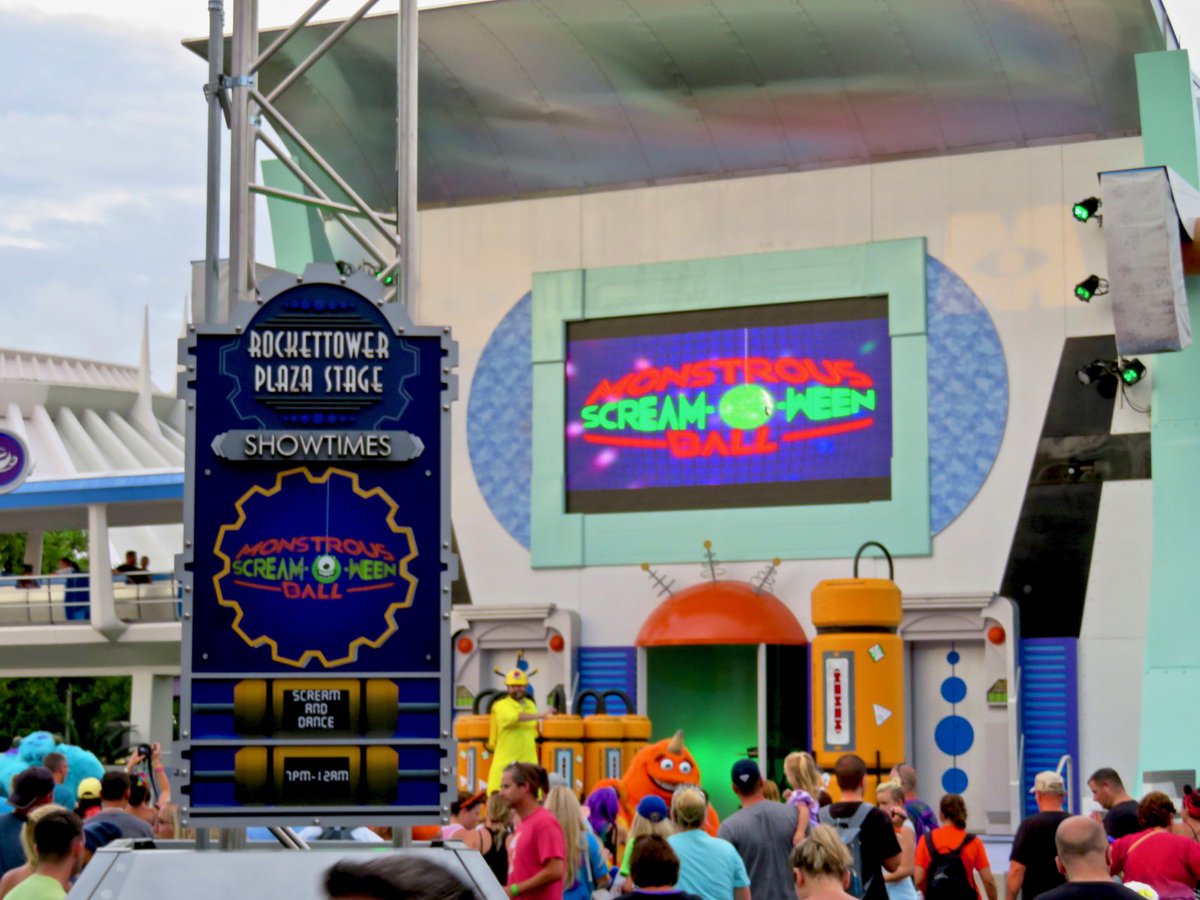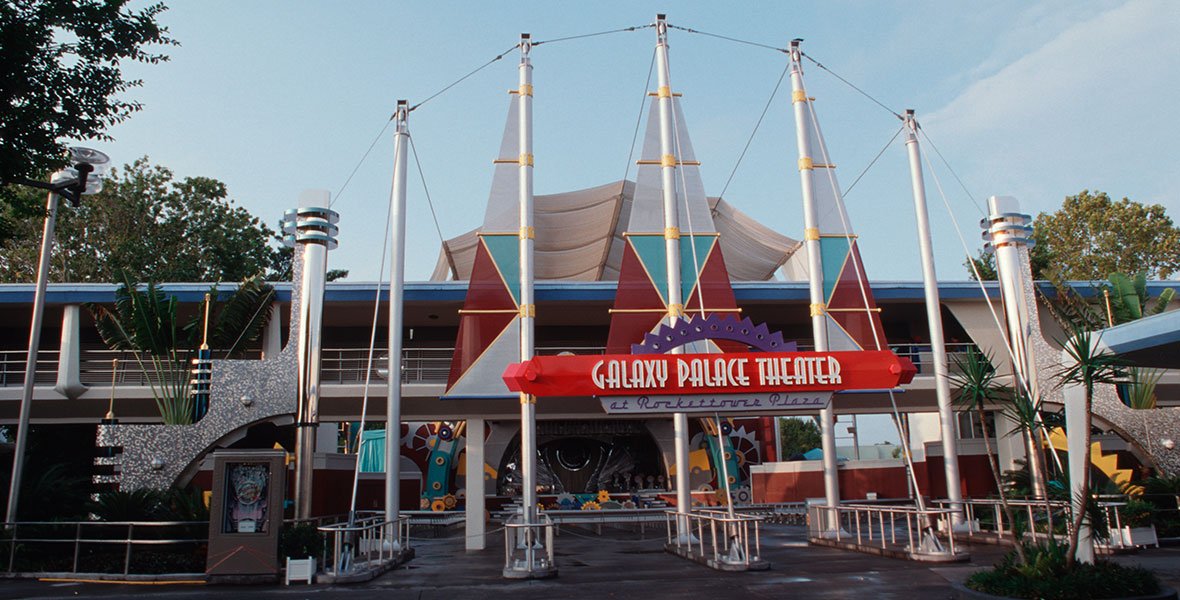 Fonts, for example. The main font for 1994 Tomorrowland was ITC Anna, a popular font within Disney at the time. Subfonts come largely from the Emigre Modula family, with some others. They were INCREDIBLY consistent and used them even down to snack bars and restroom signage.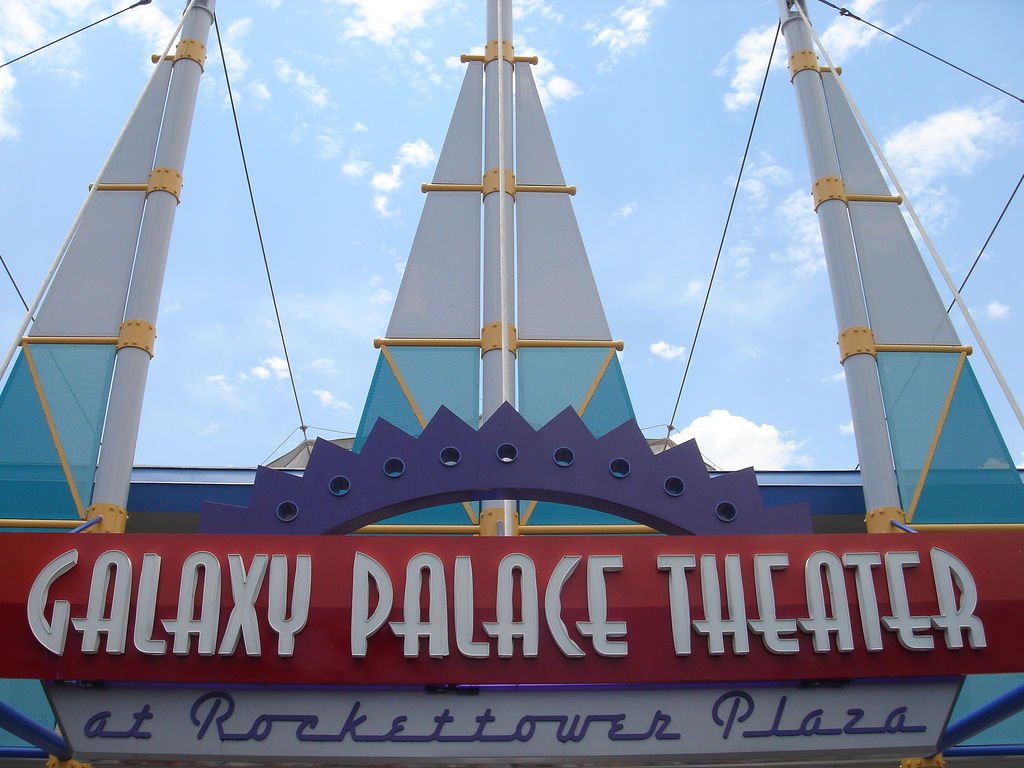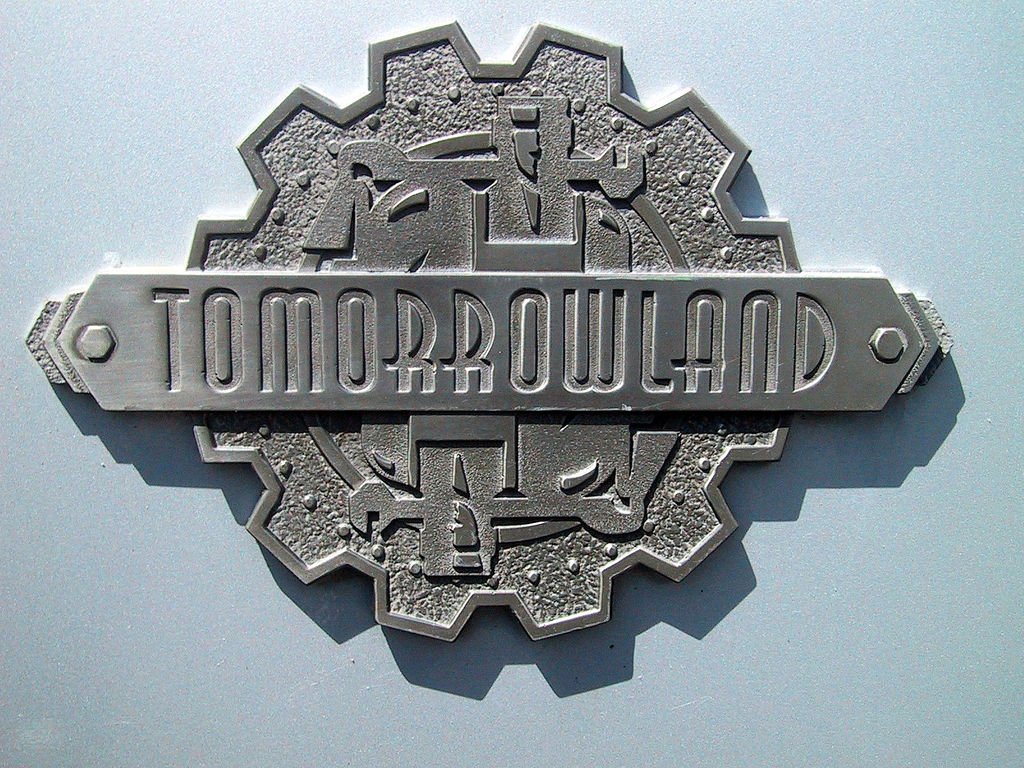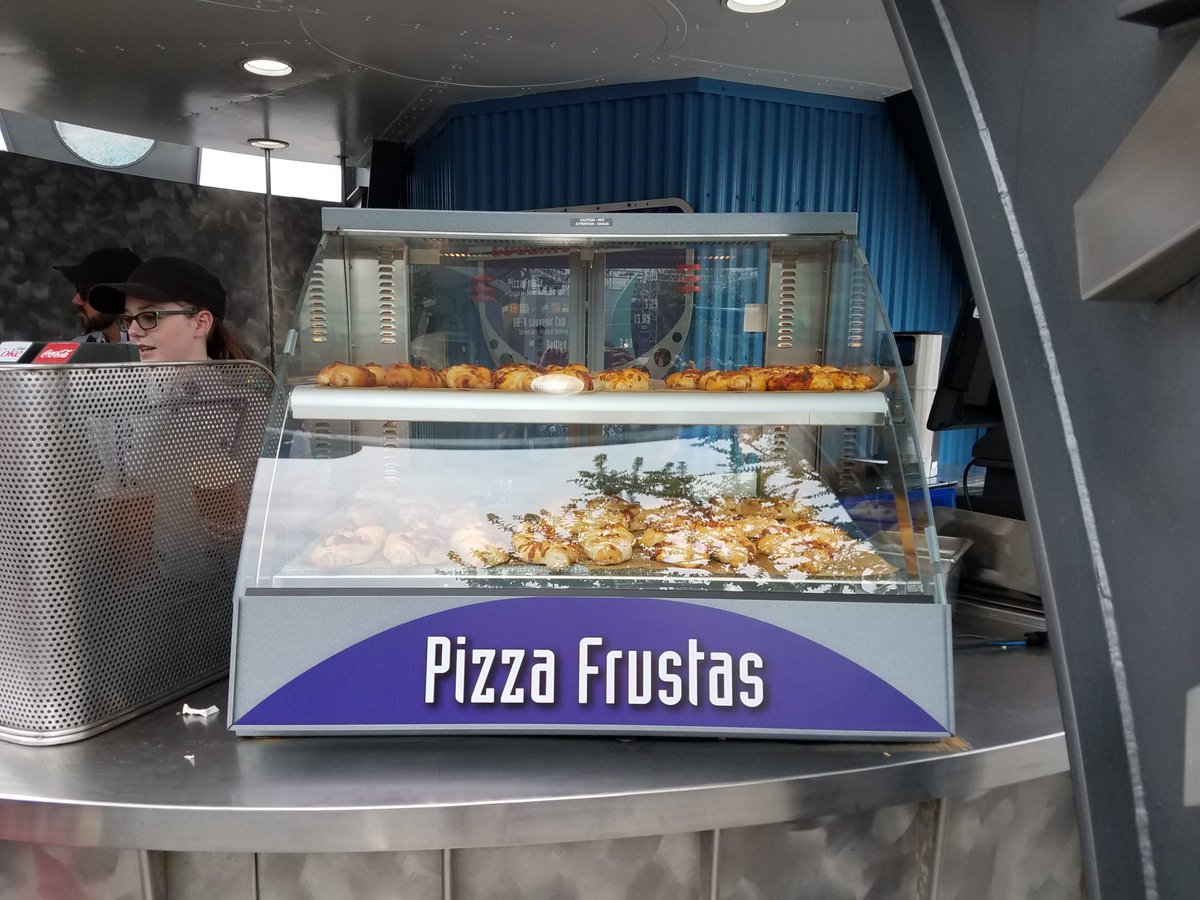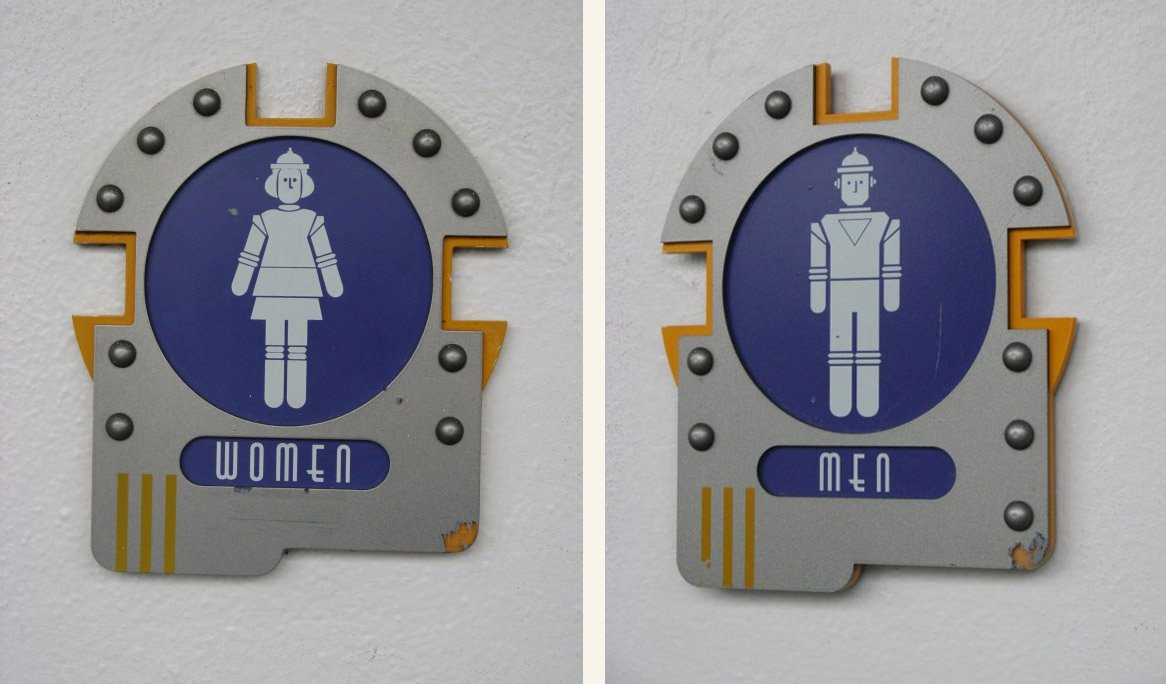 There were tons of semi-interactive tiny flourishes that drove home the "future + art deco + sci-fi + 50's" melange - this cute robo newsie, for example, whose design is equal parts 50's and 30's, and who would spout funny one-liners at guests waiting in line for the Peoplemovers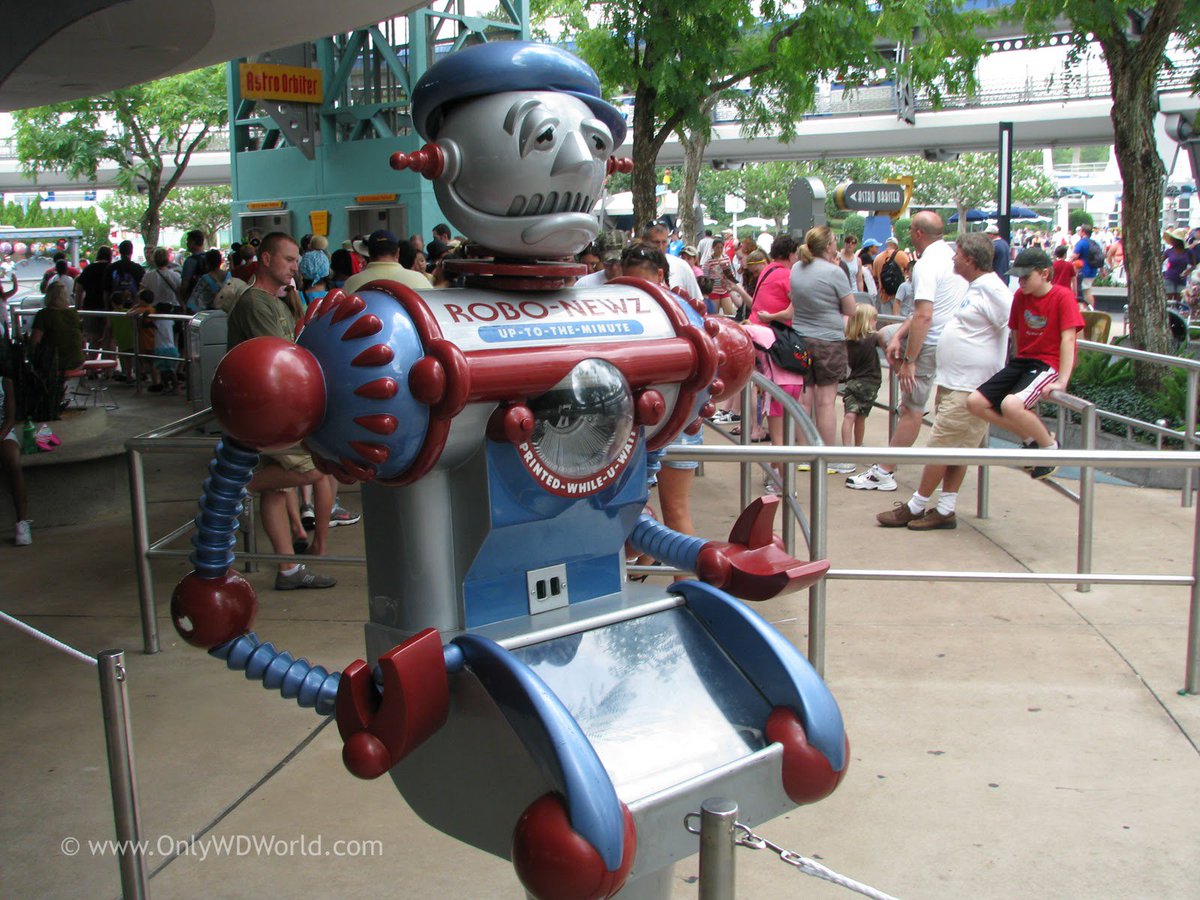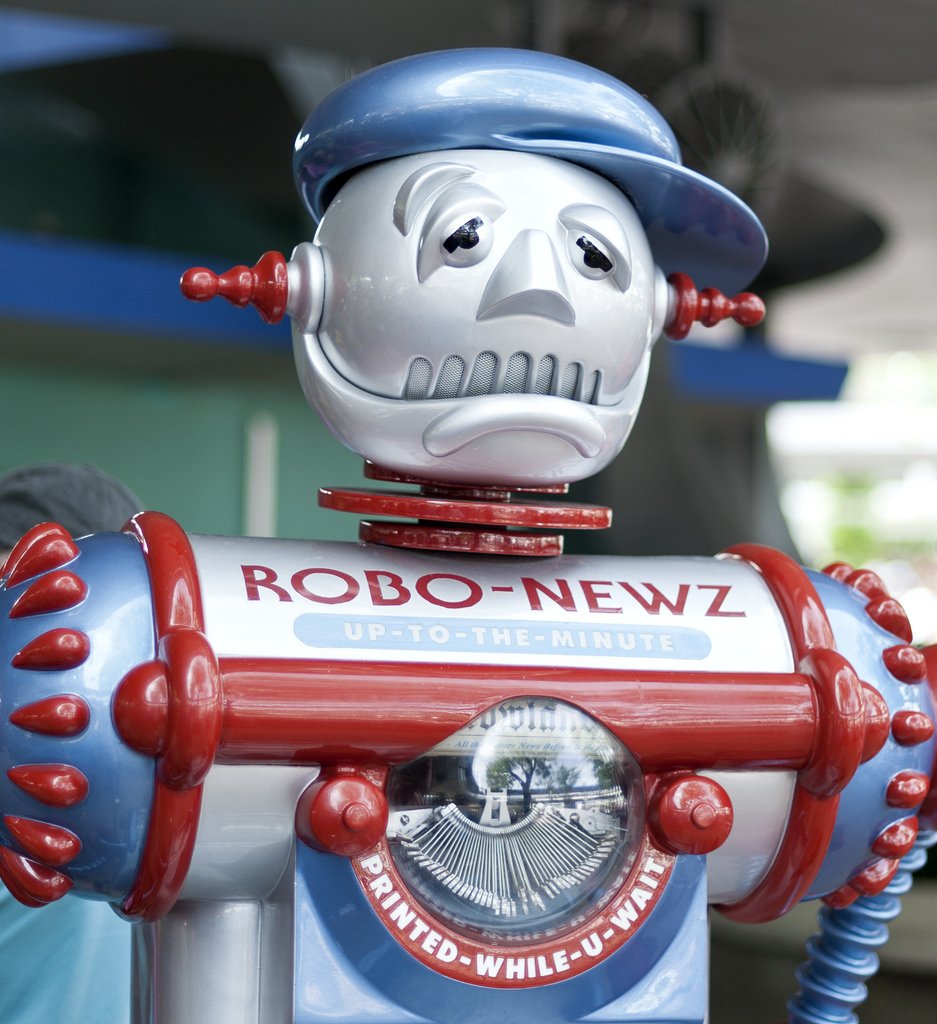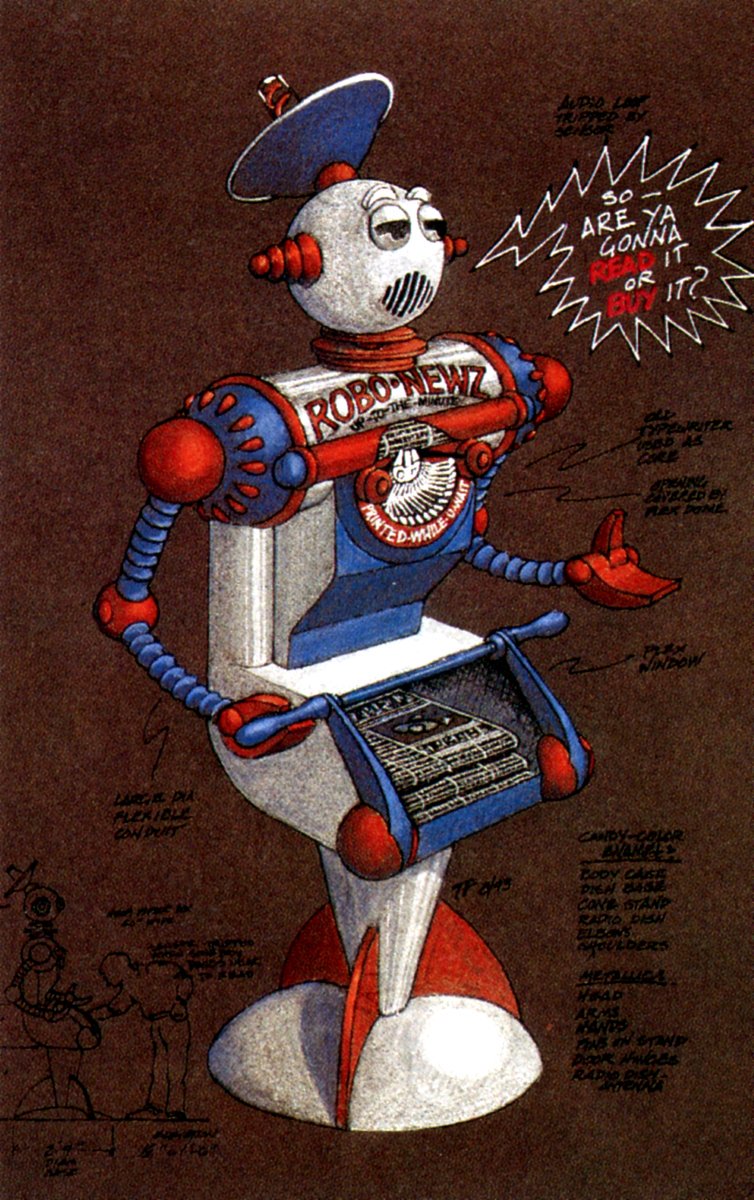 Artificial palm trees, straight out of Sonic the Hedgehog, open and close. A Kugel ball fountain, held up on a jet of water, provides an interactive setpiece. An inter-park communication line for cast members is disguised as a galactic phone booth.
The detail is SENSATIONAL.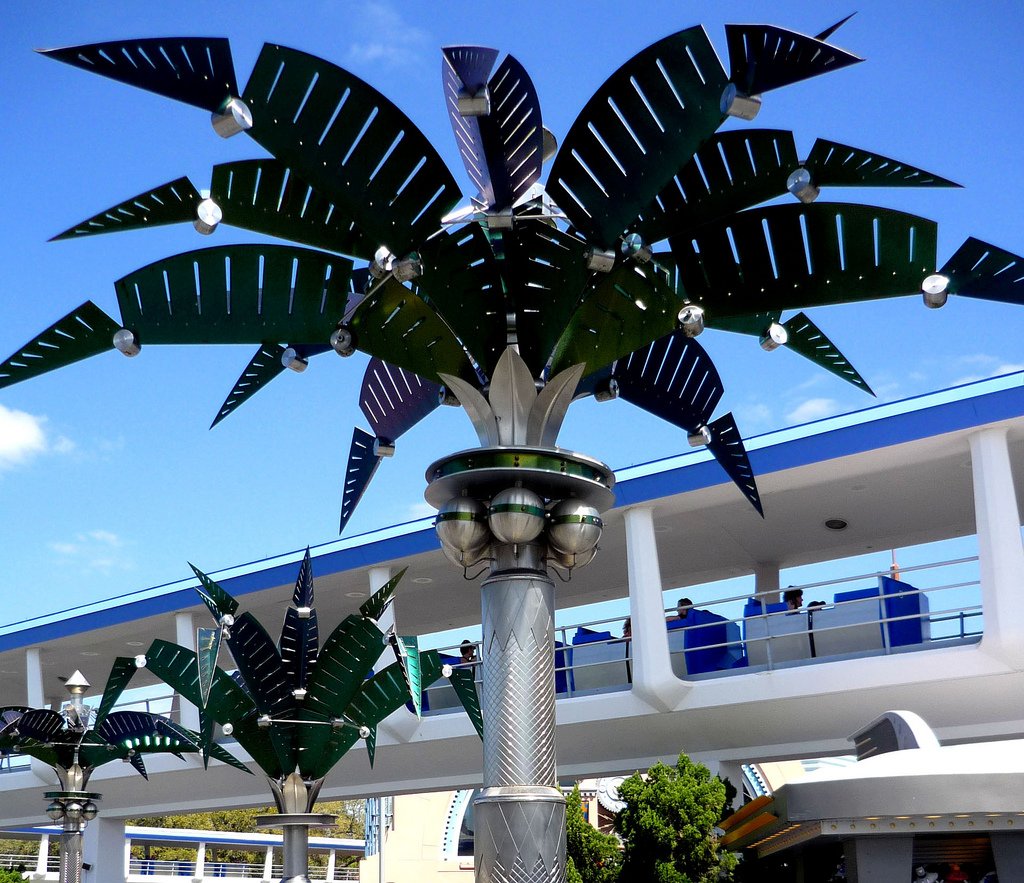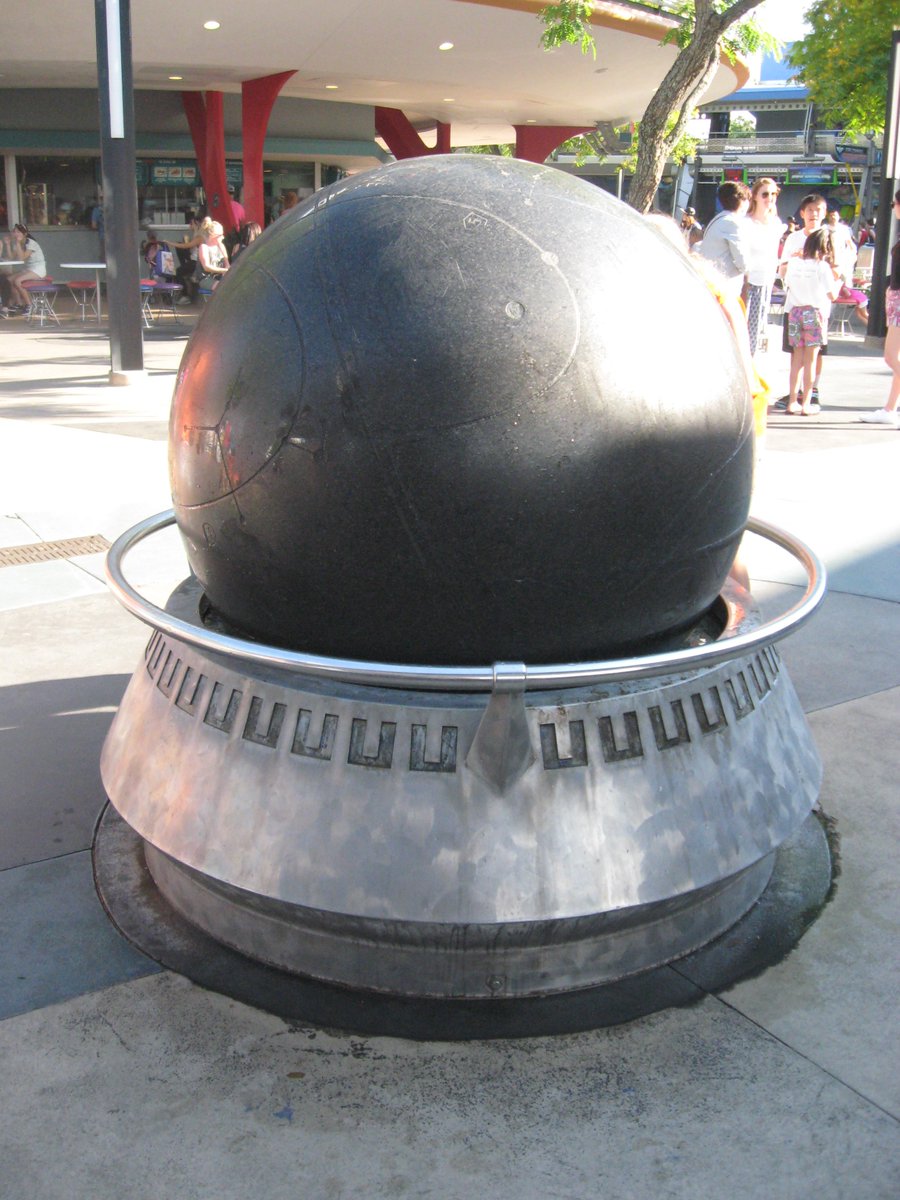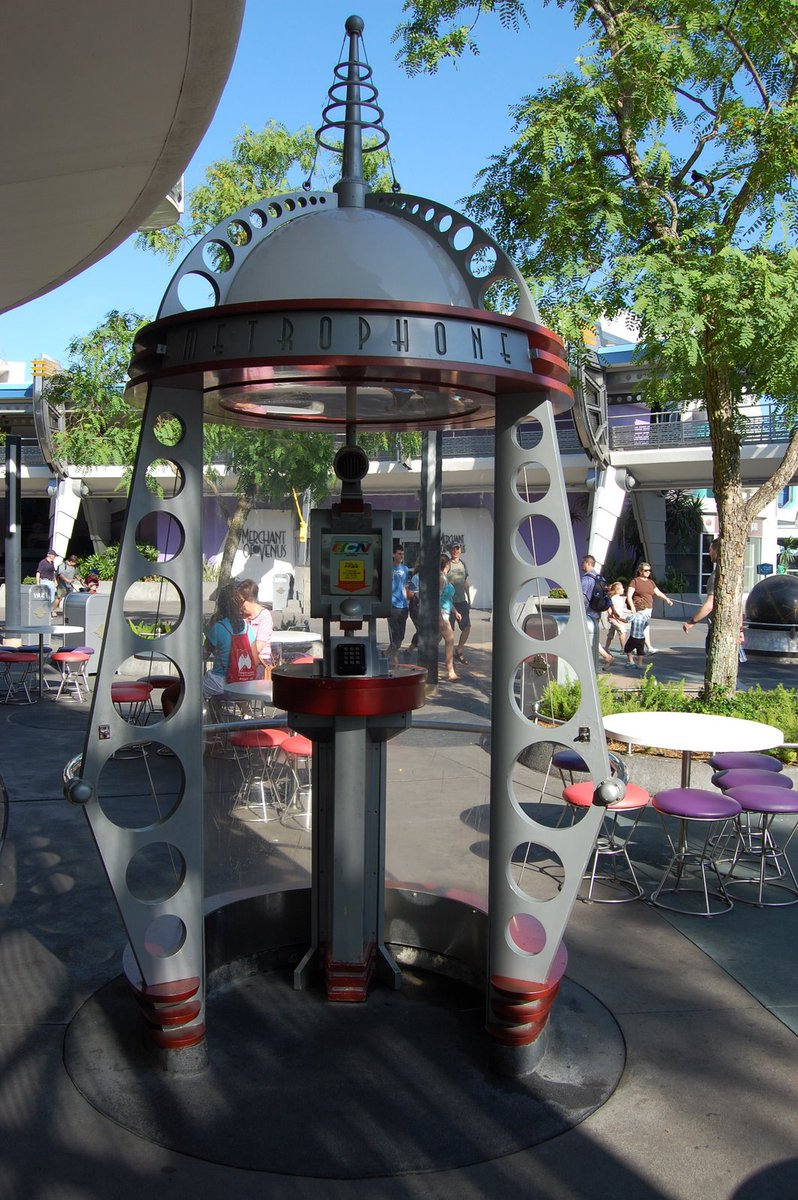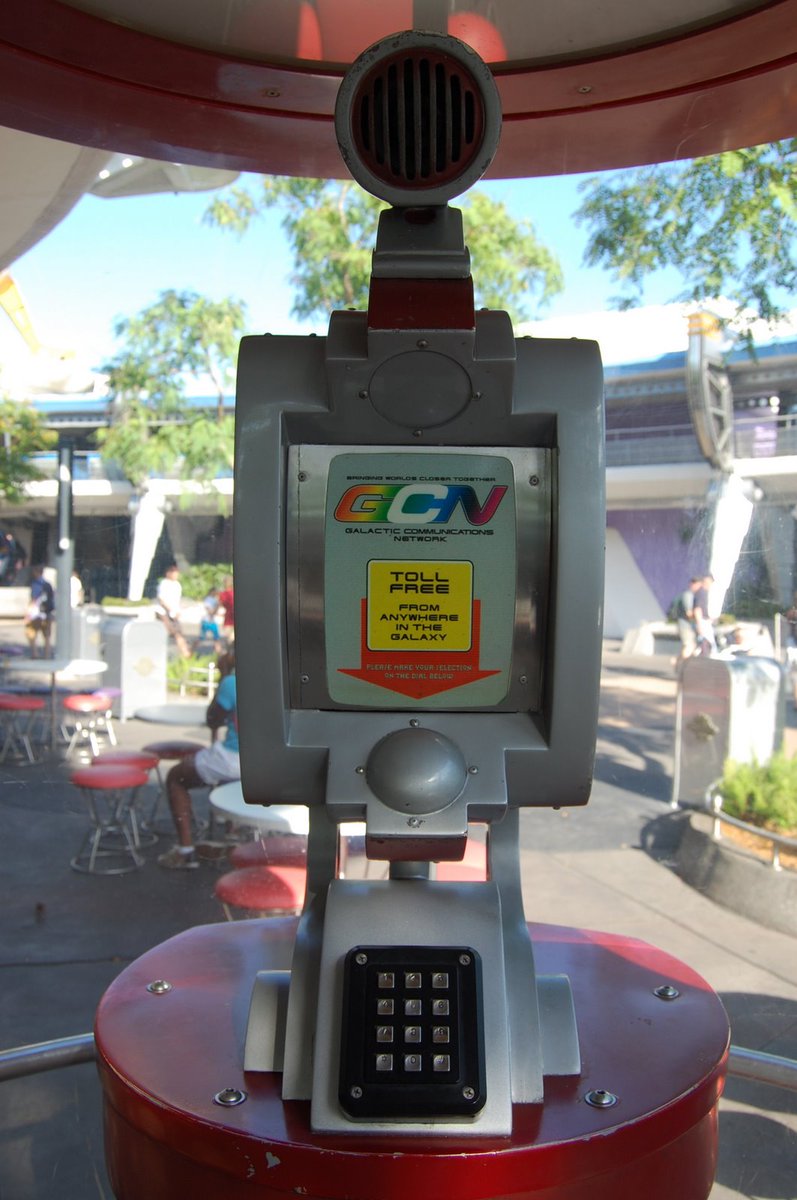 A personal favorite touch of mine - the Coke-sponsored Cool Ship snack bar has "crates" of intergalactic Coke laying around with a CUSTOM ALIEN LANGUAGE COCA COLA LOGO ACTUALLY MADE BY COCA COLA
this is the kind of stuff design nerds like me DROOL over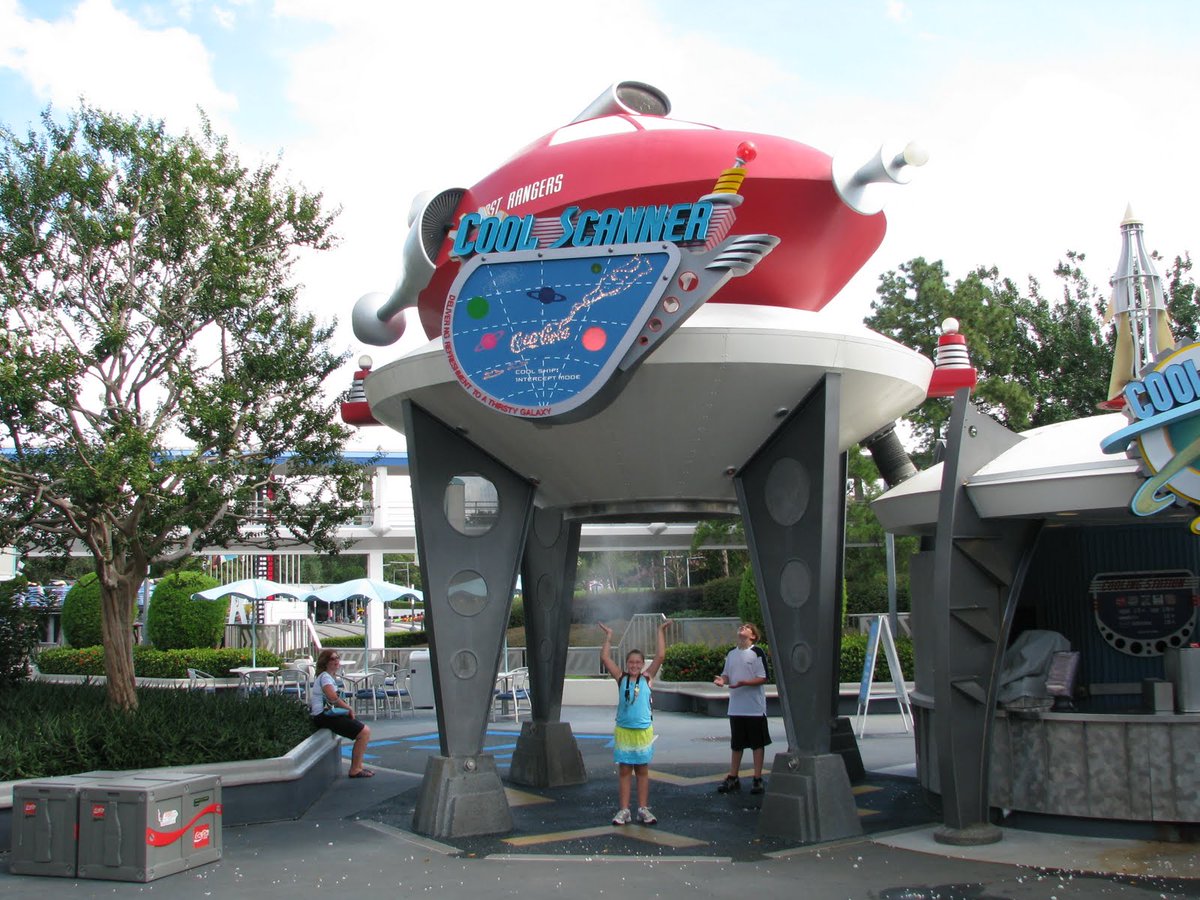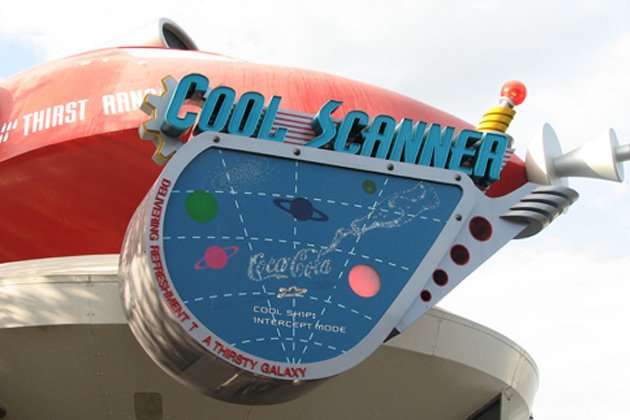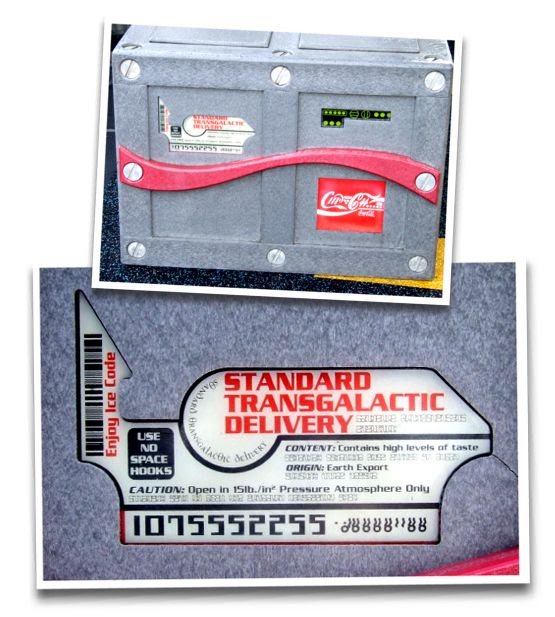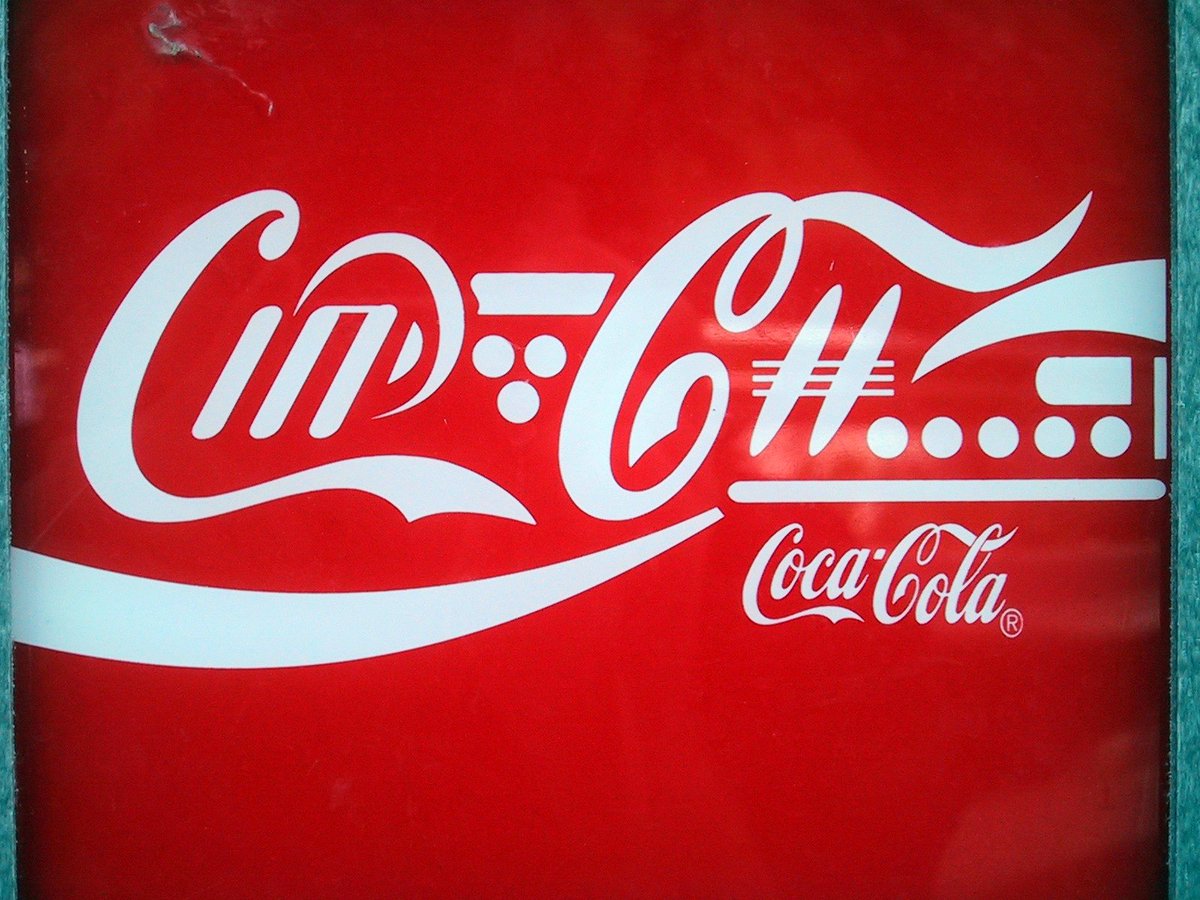 The design of the original 1994 attractions also were held to the meticulous standards of the park theming - starting with the now-demolished Galaxy Palace Theater, replaced with the (surprisingly on-theme) Rockettower Plaza Theater.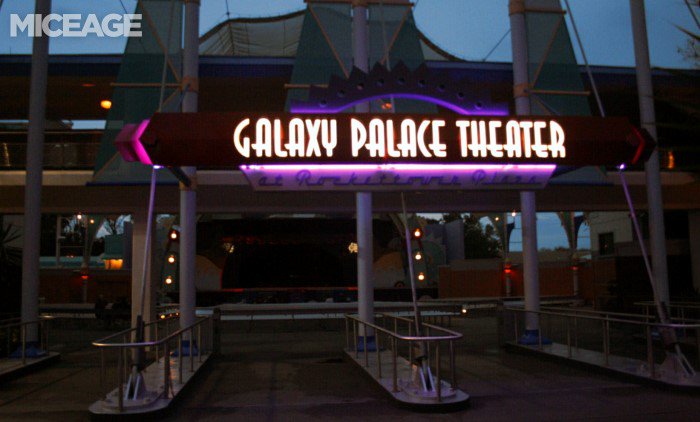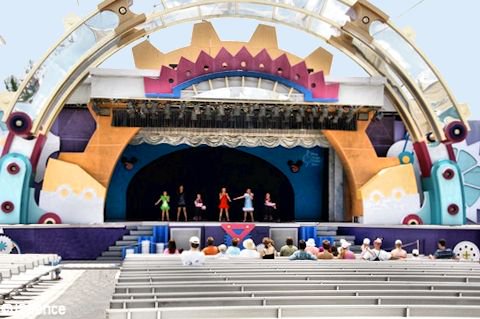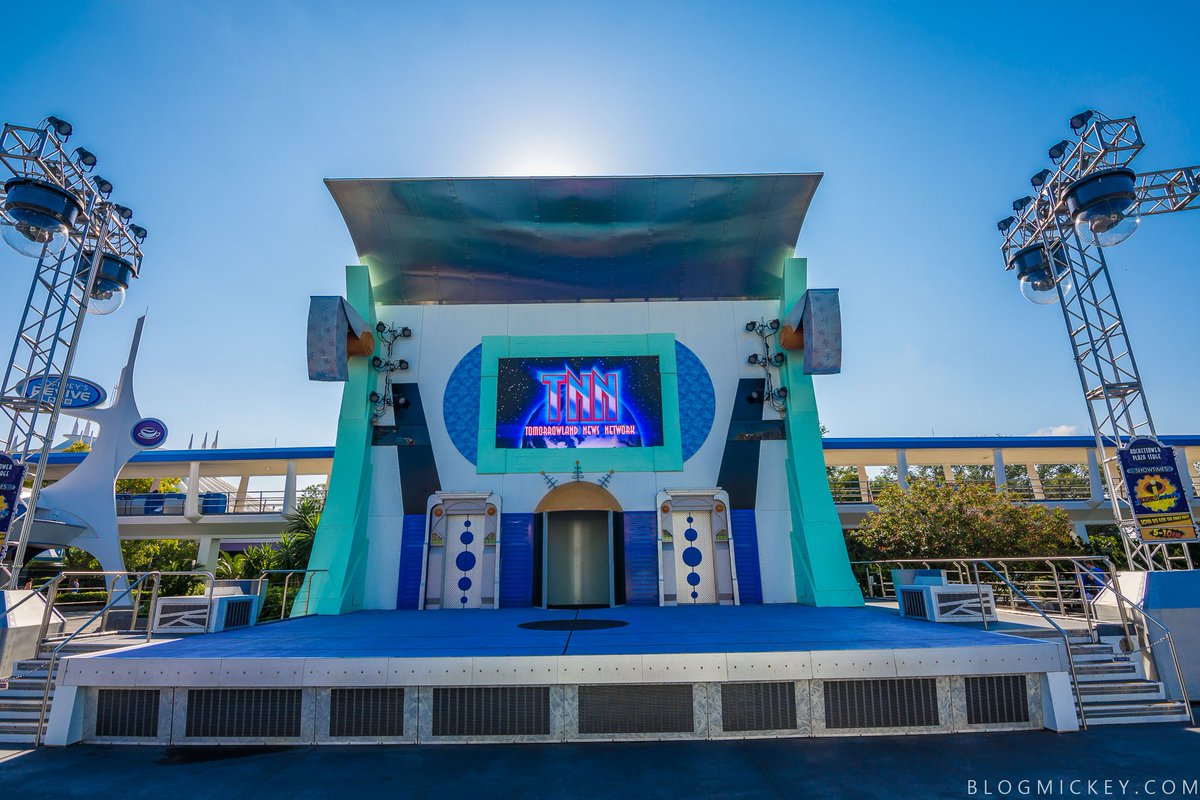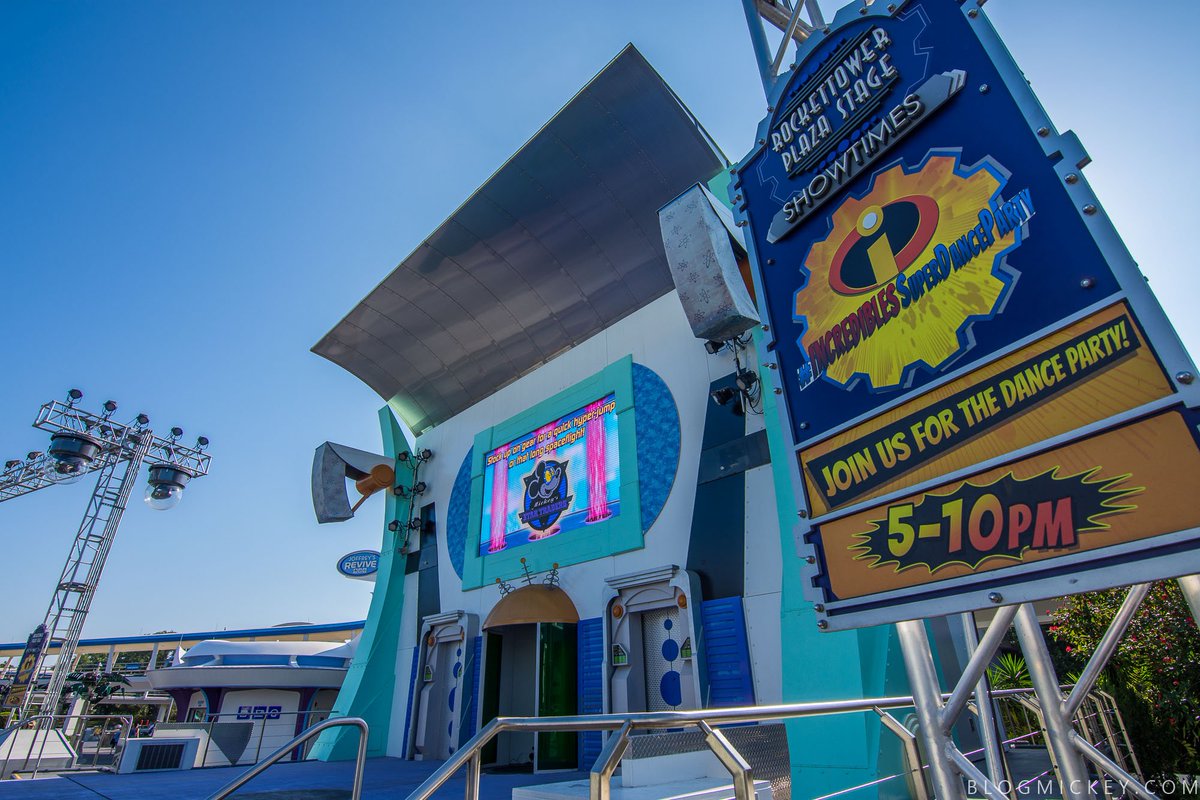 the latter was one of the few post-1994 elements added that adhered strictly to the theming and aesthetic (more on that later...), even going so far as to run Tomorrowland advertisements on its screen to add to the immersion.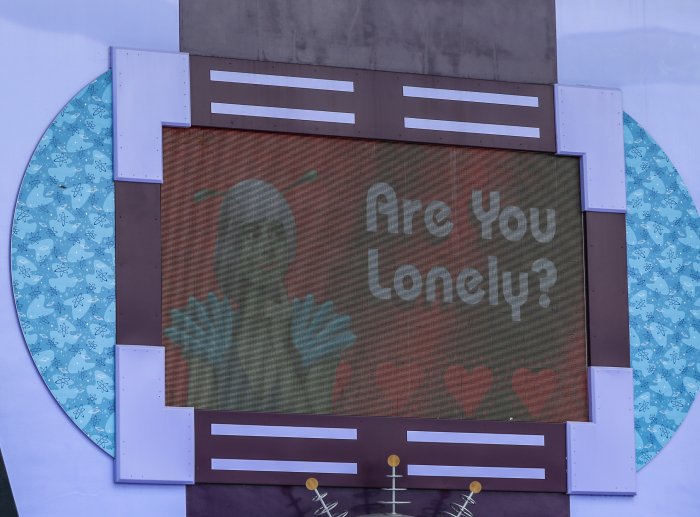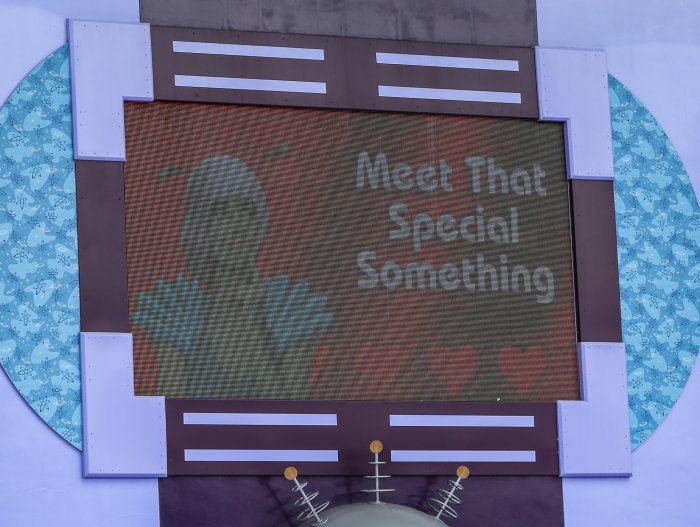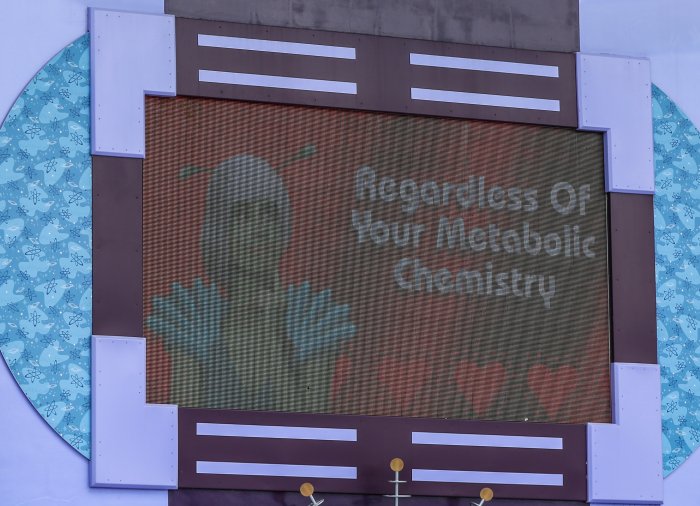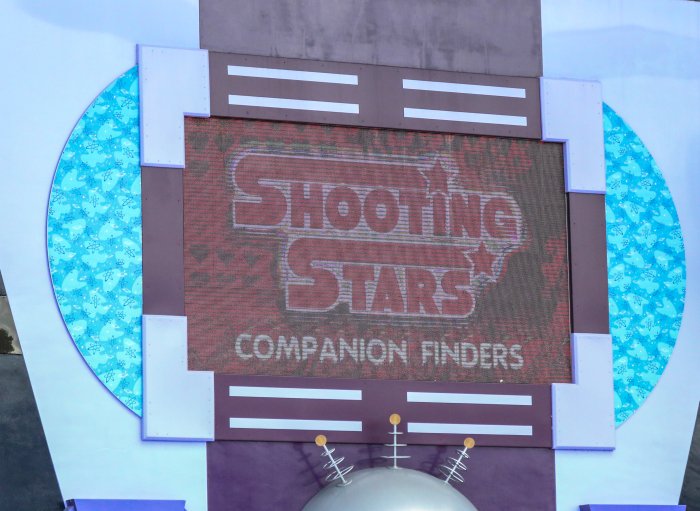 Up next is The Timekeeper, an attraction more or less lifted part and parcel from the aforementioned EuroDisney Discoveryland. This one is dearly missed by a lot of fans, and for good reason - it starred Robin Williams as one of the most lovingly designed Disney Animatrons ever.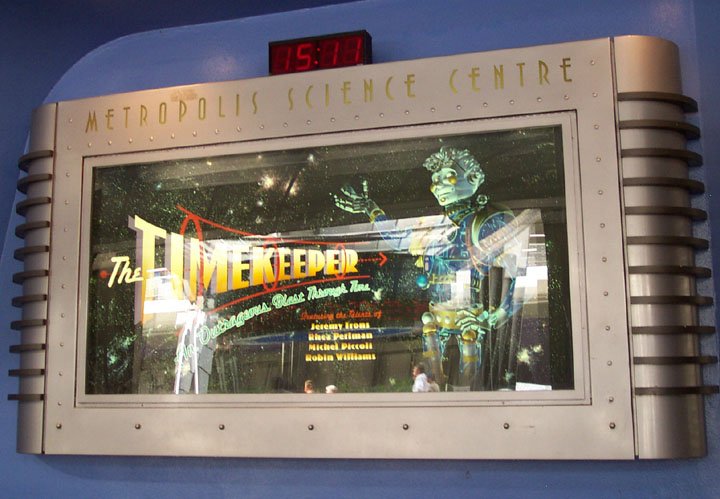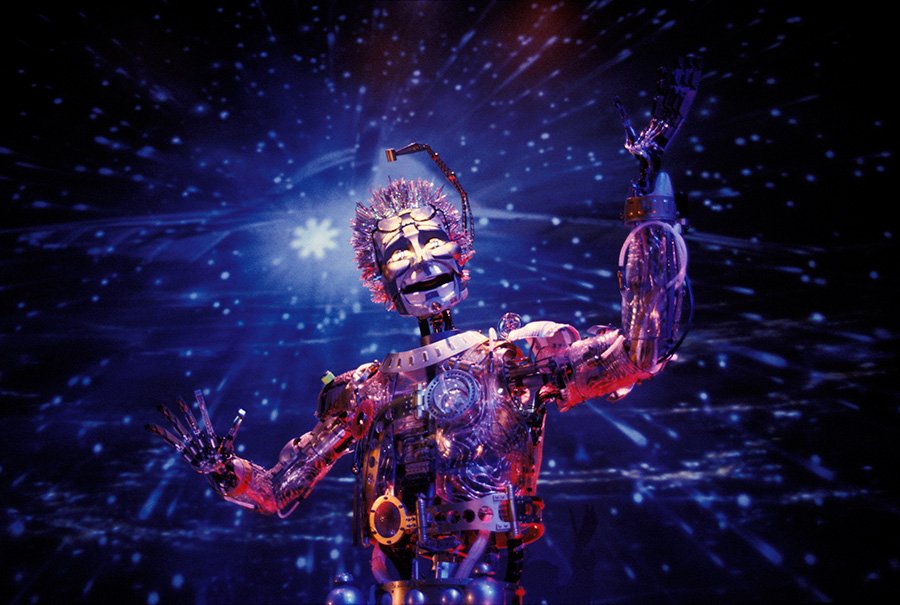 A trip to the Tomorrowland Metropolis Science Center (I WANT TO LIVE IN THAT FIRST PICTURE JFC) took guests on a journey through time back to meet - you guessed it - Jules Verne. The building and queue itself are so lovingly detailed and cohesive w/ the '94 look.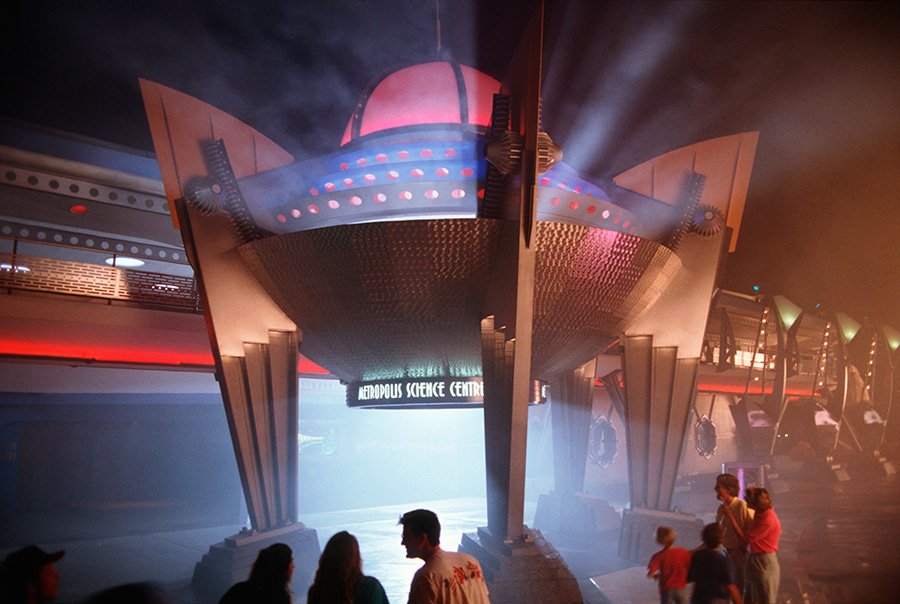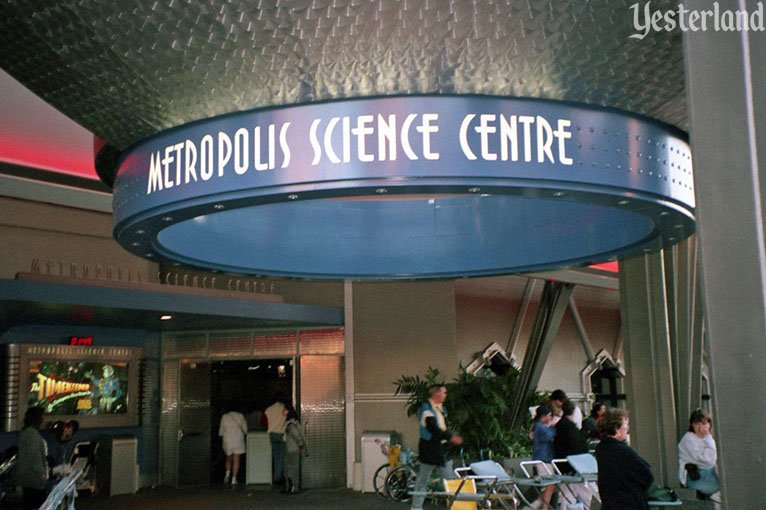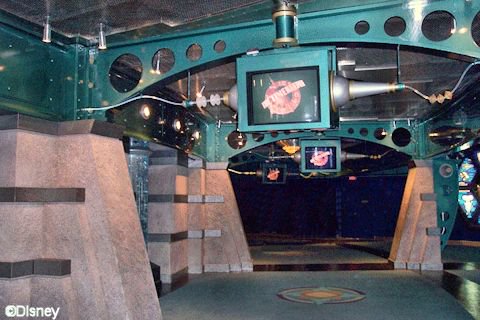 Focusing on this shot in particular (bc I love it so damn much) I particularly like the art deco stepped supports, the circle-brushed metal, and the turbines riding up the sides.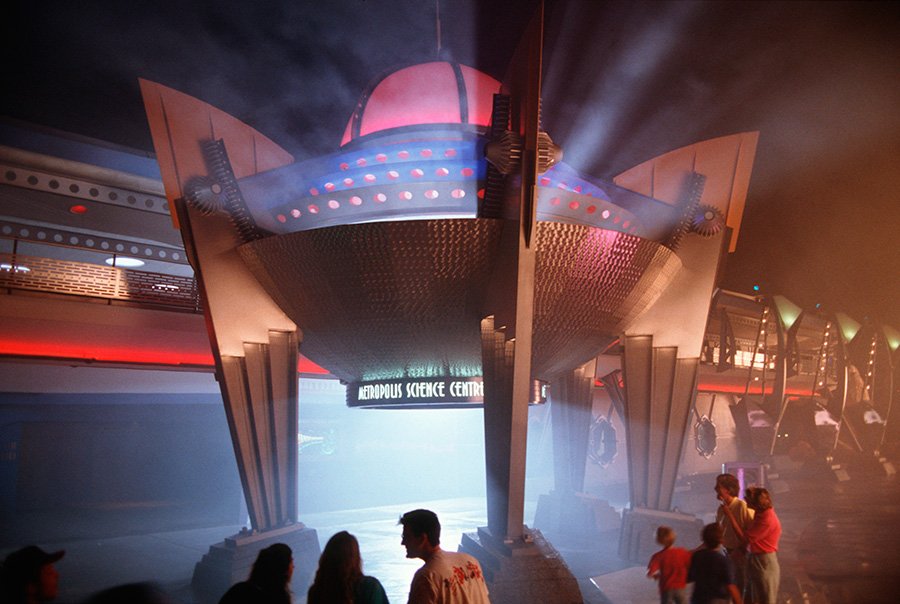 (this isn't as related to Tomorrowland due to the show being from Discoveryland and kinda clashing with the theme a lil, so I'm gonna gloss over it, but just as an aside, the show is /really/ heartwarming and a fun watch and you can see it all here. )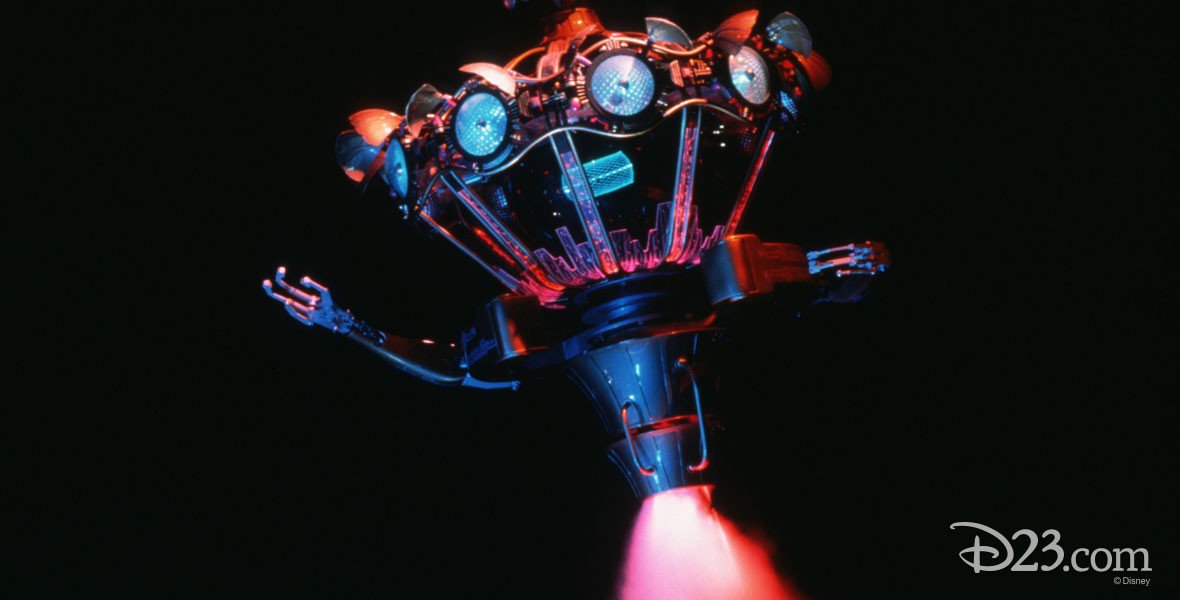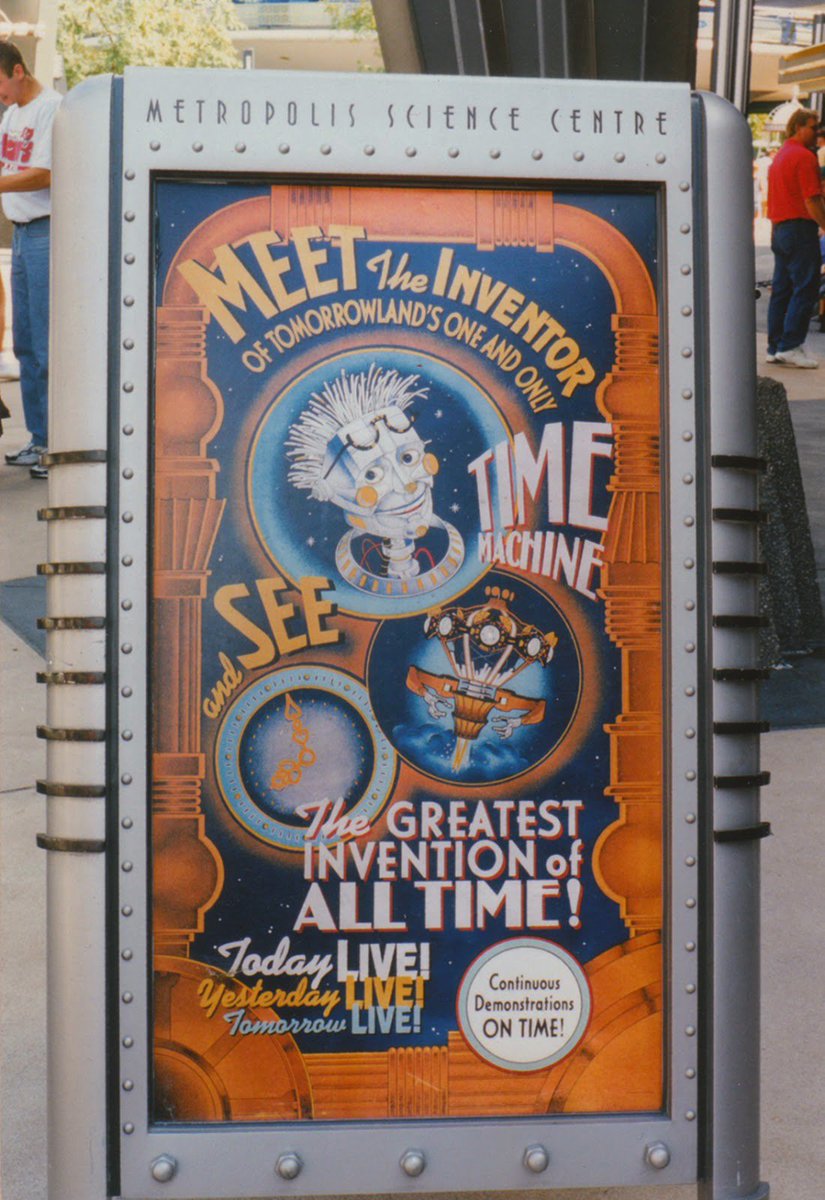 Moving right along, we hit perhaps the most infamous attraction of Tomorrowland - the ExtraTERRORestrial Alien Encounter. High-res images of the original exterior are hard to find (sorry), but it features an ornate antenna and dish, and is definitely more sci-fi than art deco.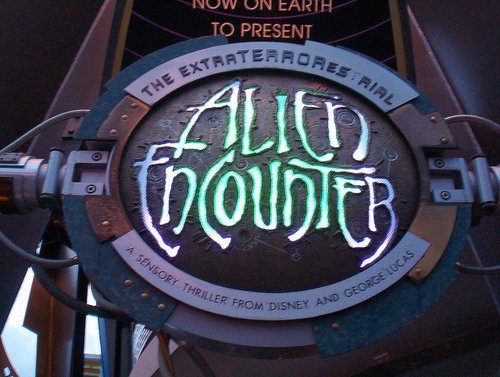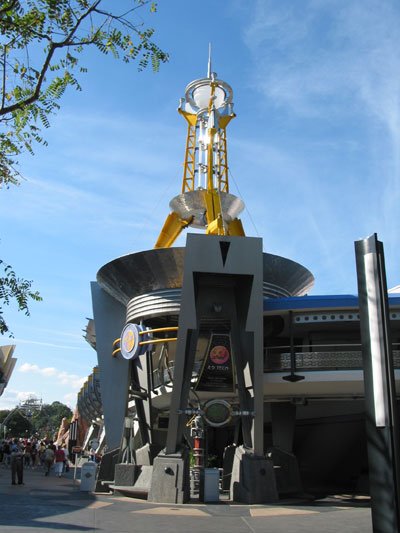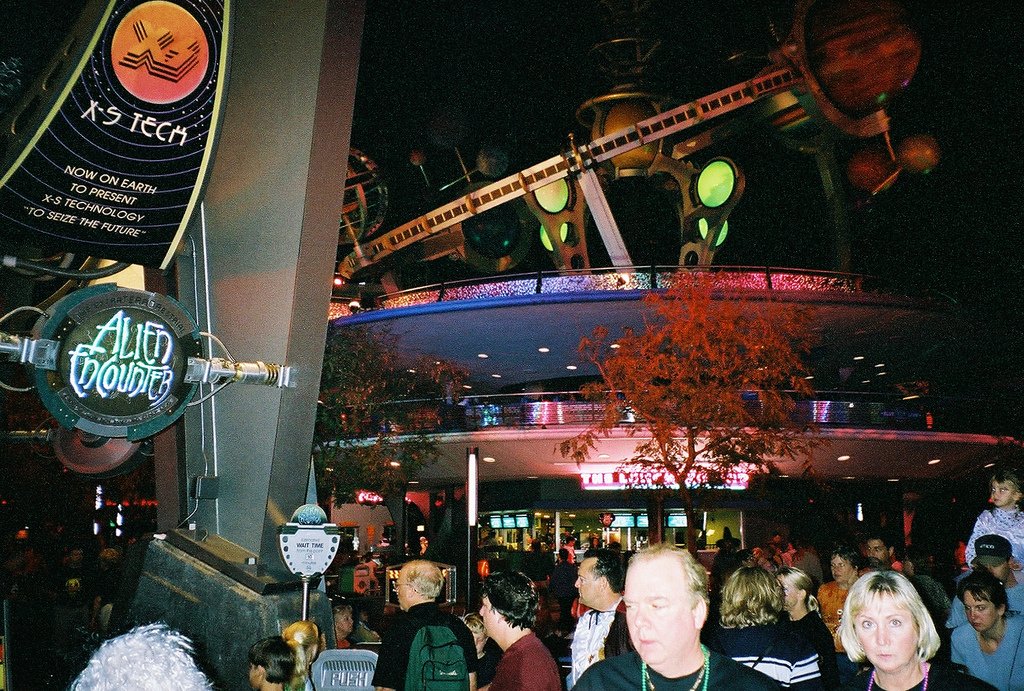 The architecture and interior of the place is very much H. R. Geiger inspired due to a scrapped tie-in with the Alien license (which Disney had lying around from the Great Move Ride at DHS).
This ride was TERRIFYING, and has a famous history (I'm not gonna go into it rn)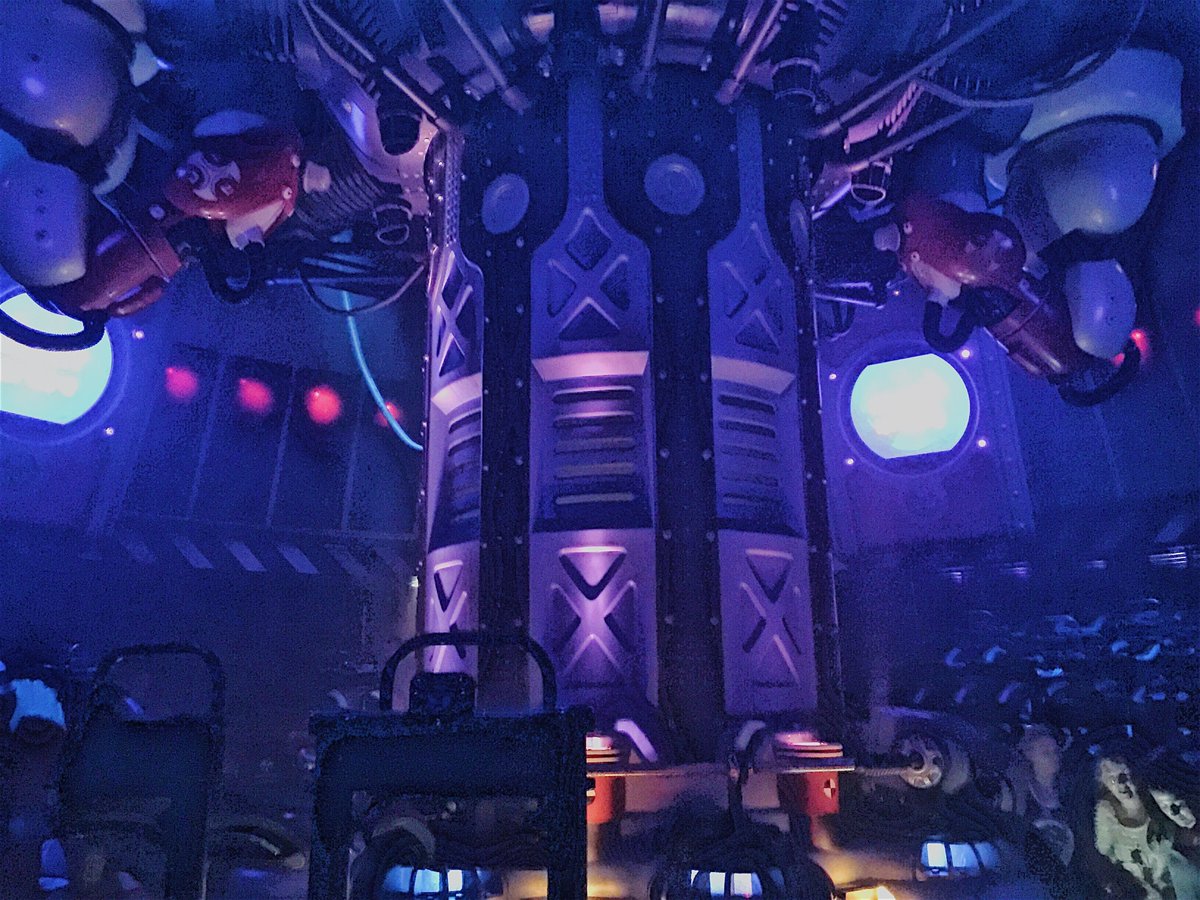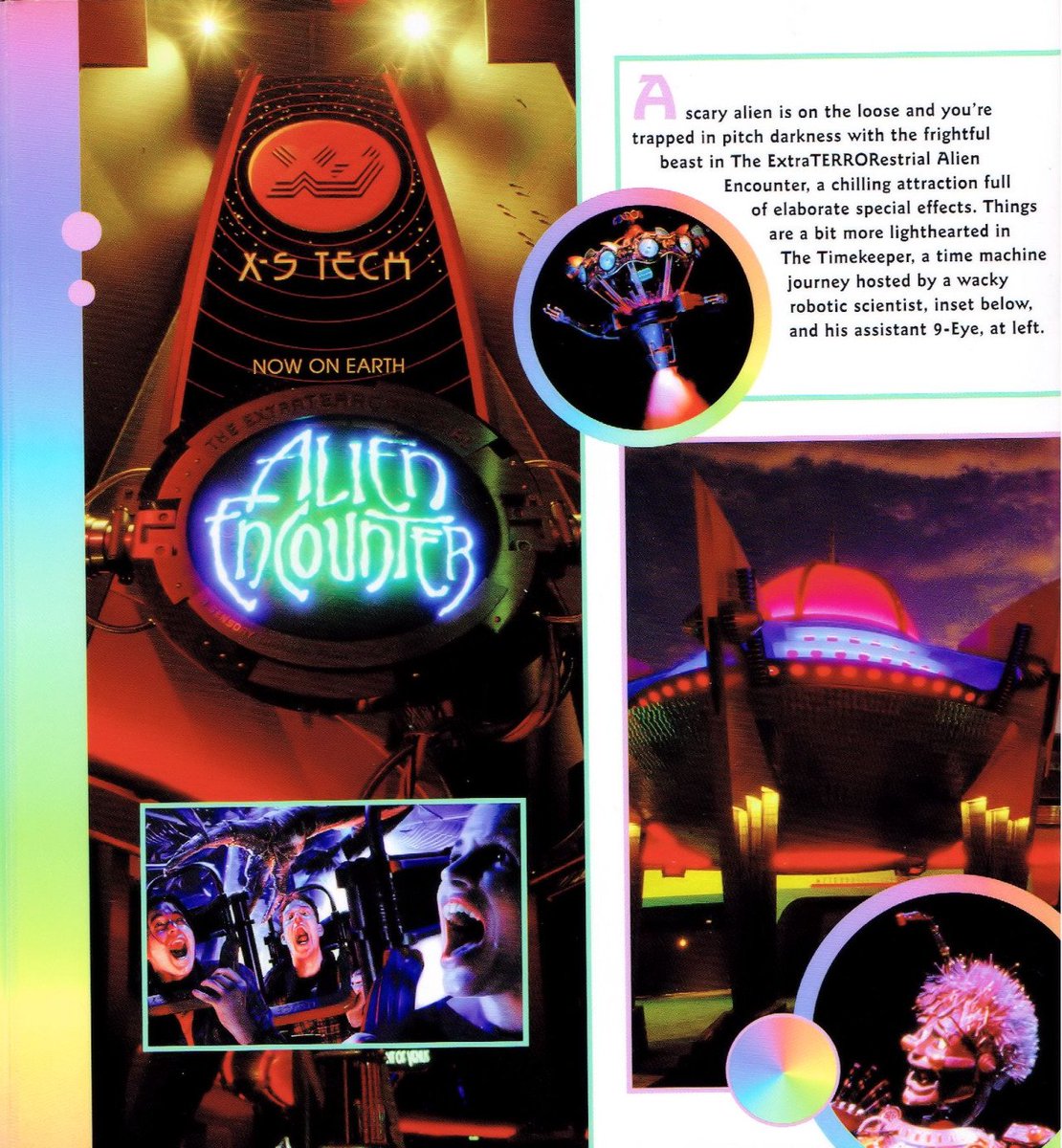 The Carousel of Progress, one of the only attractions still intact in its 1994 state, is perhaps the best fit with the 94 Tomorrowland aesthetic. Focus on industry and progress is pure Disney futurism.
(admittedly, the "future" as of 1994 is quaintly dated and charming now)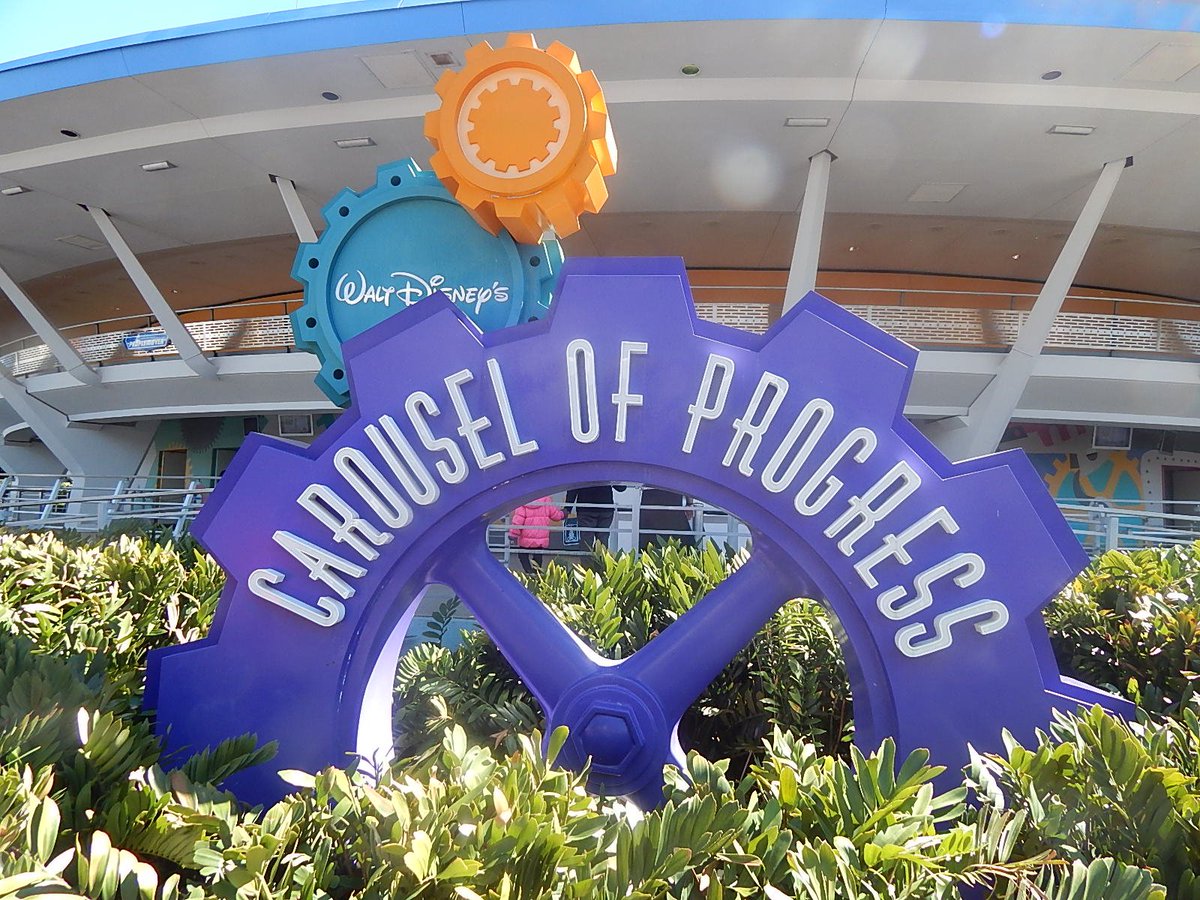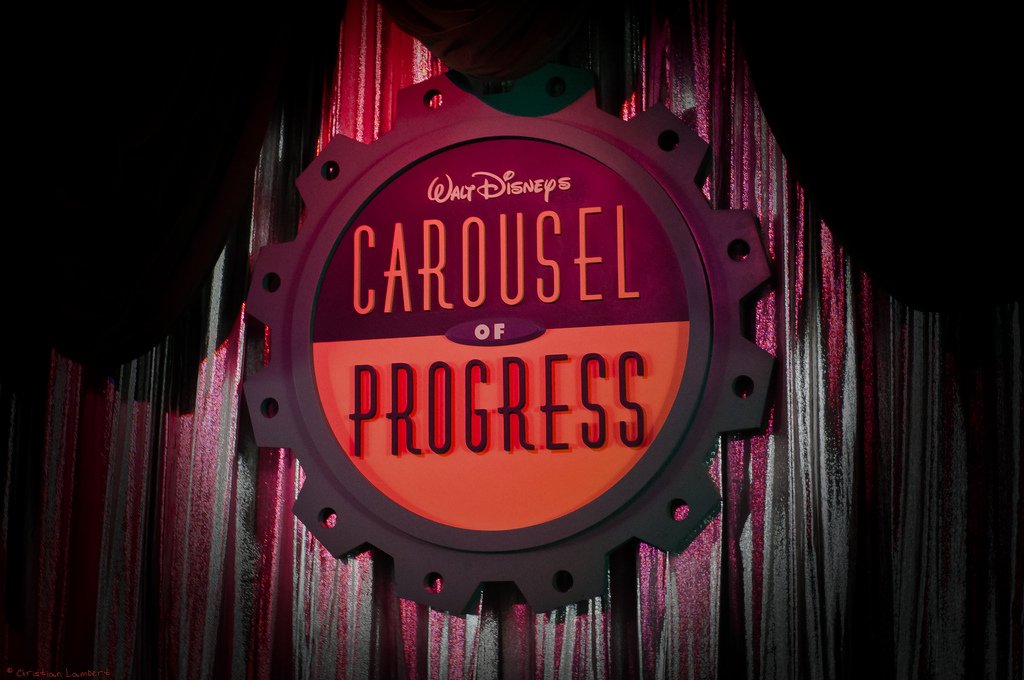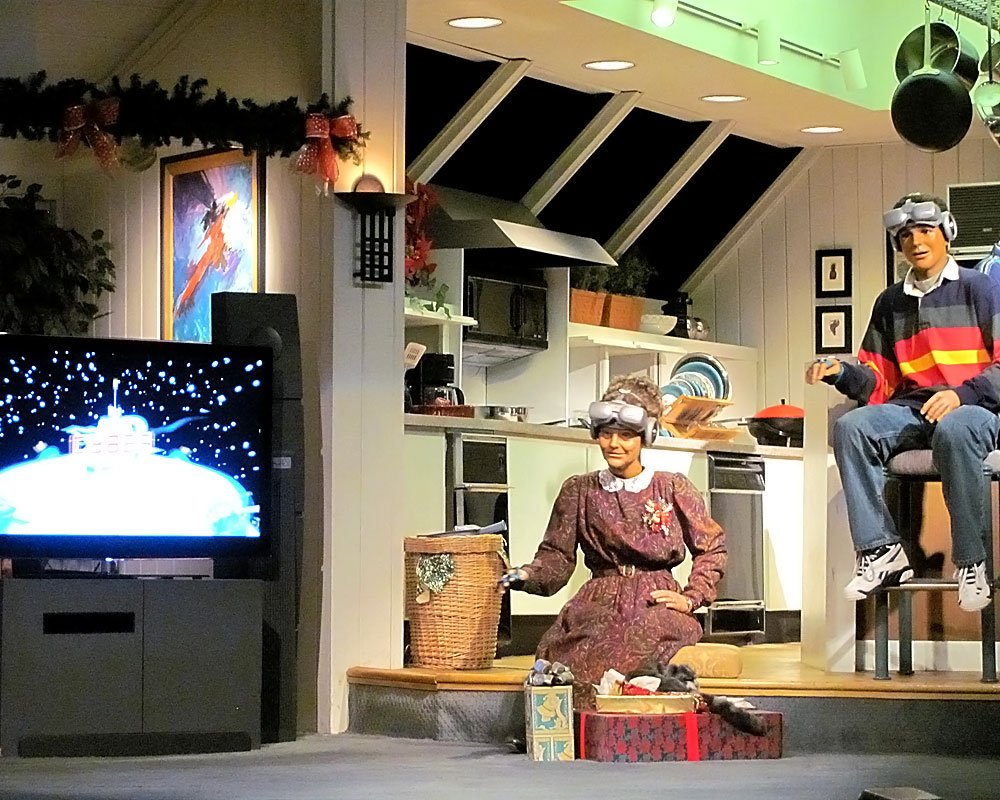 and, of course, the new orrery-shaped Astro Orbiter, to replace the aging space-race era Star Jets.
It makes the perfect centerpiece for Tomorrowland - colorful, but the elements of those art deco/factory pomo/50's space/cartoon sci-fi aesthetics woven in elegantly.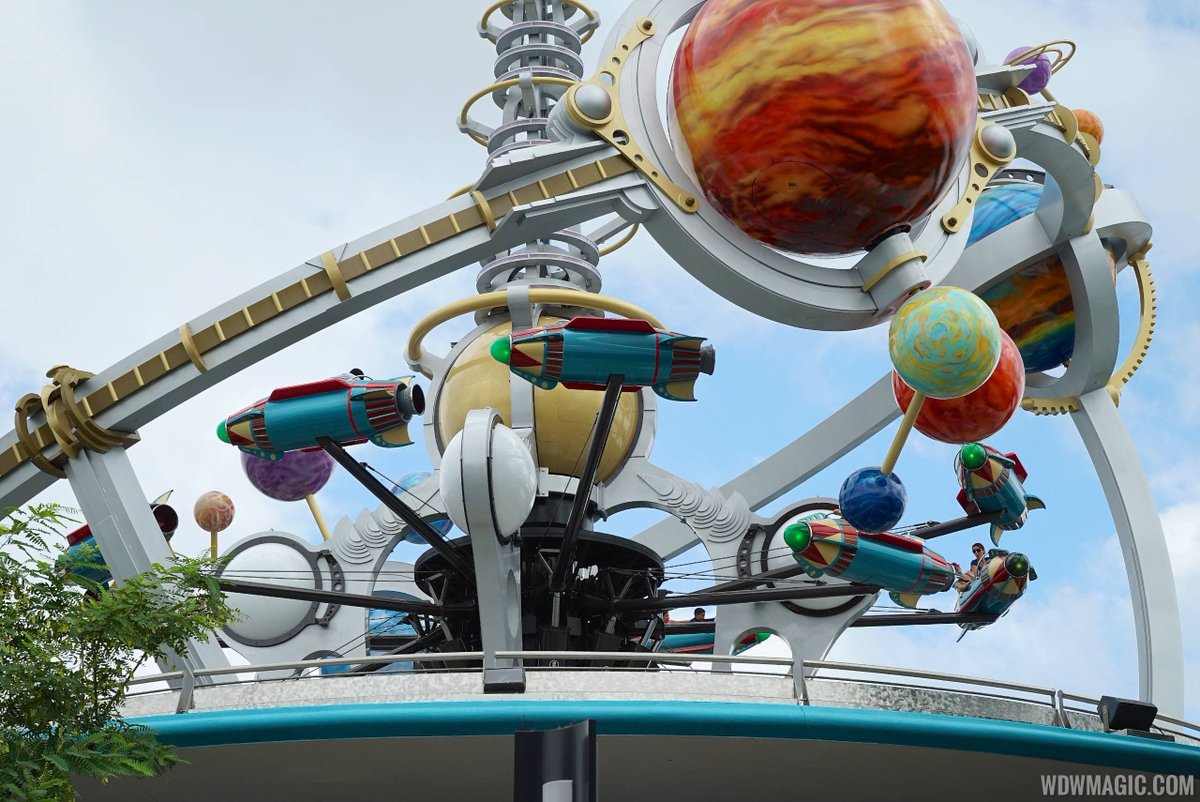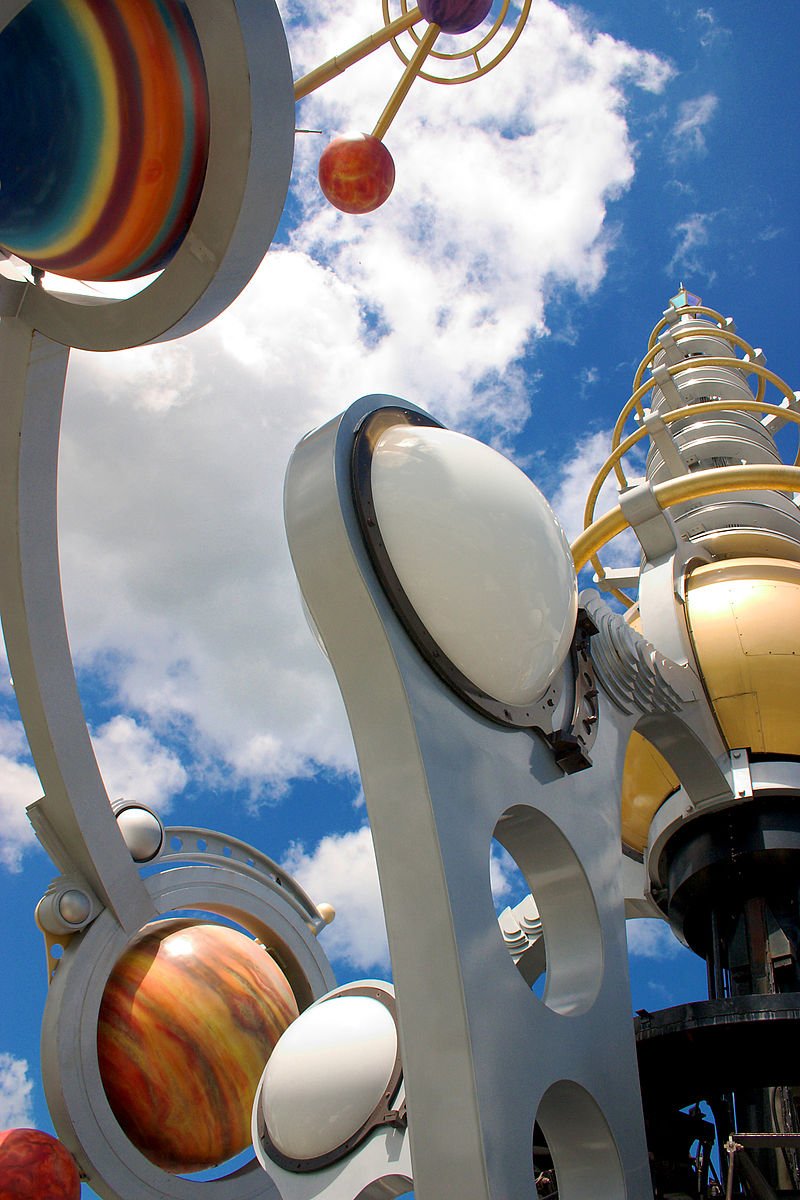 (I'm excluding attractions like Space Mountain, the Peoplemover, and the Tomorrowland Speedway from this because the 1994 makeover largely left them alone)
Finally, here are some high-res recreations of logos and signage throughout Tomorrowland.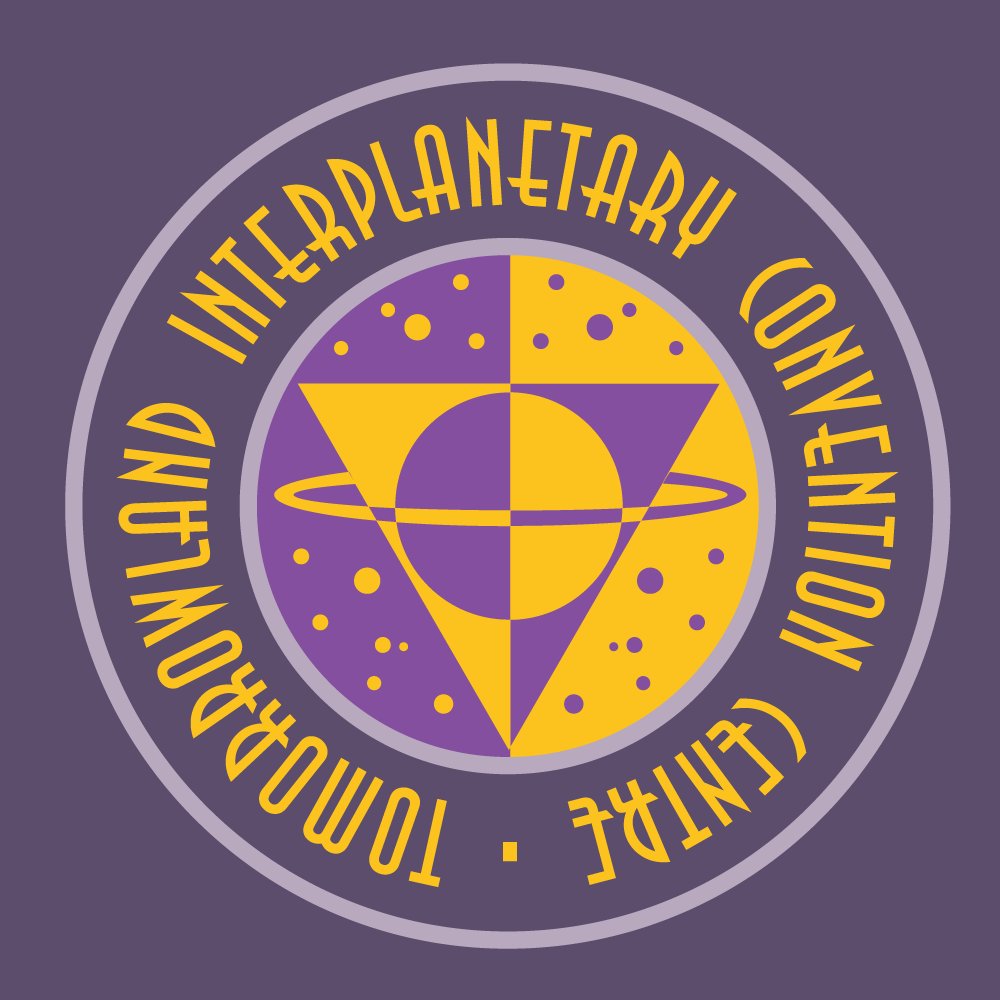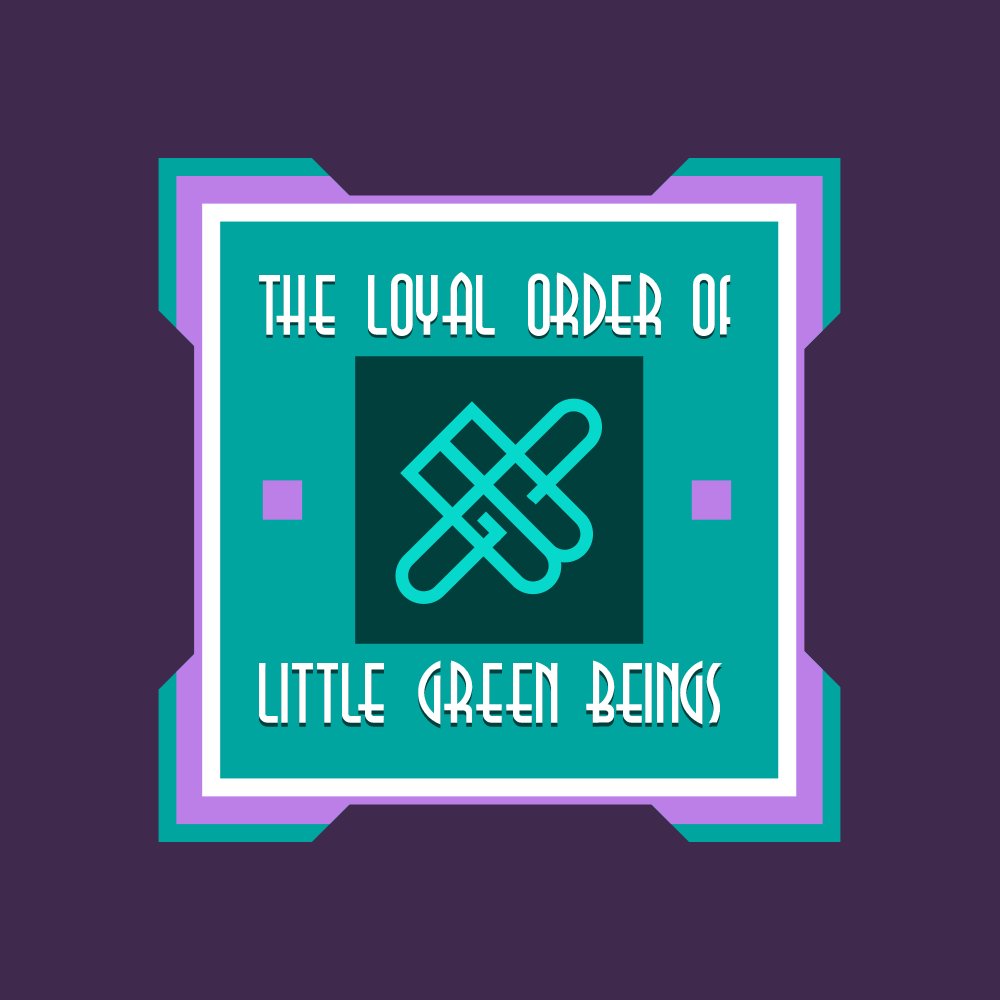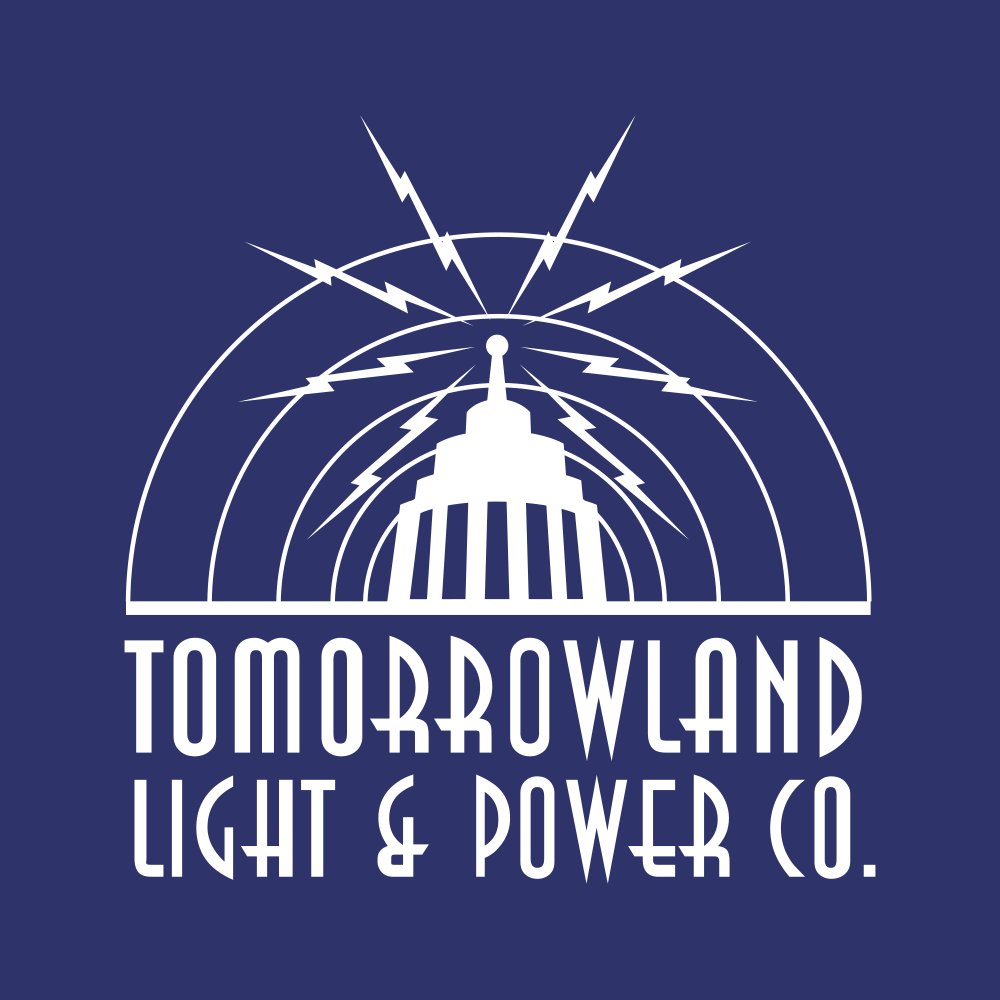 You may have noticed some foreboding allusions to post-1994 Tomorrowland in my tweets.
Lemme make something clear - Iger-era Disney really doesn't give a damn about park theming.
It's depressing and sad so if you don't wanna see that shit, tune out now. But here we go.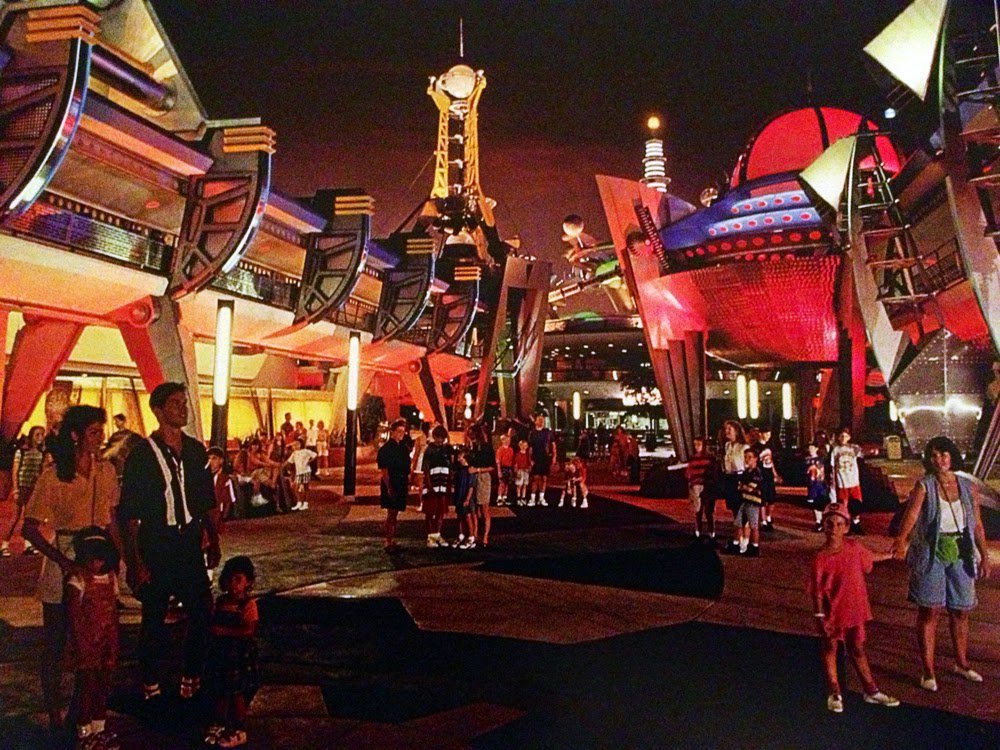 First, the obvious. Alien Encounter is gone. It scared too many kids and upset too many parents (fair), and when a certain alien had a hit Disney movie, the replacement plan was clear.
Stitch's Great Escape took the place of Alien Encounter in 2004.
It's horrible.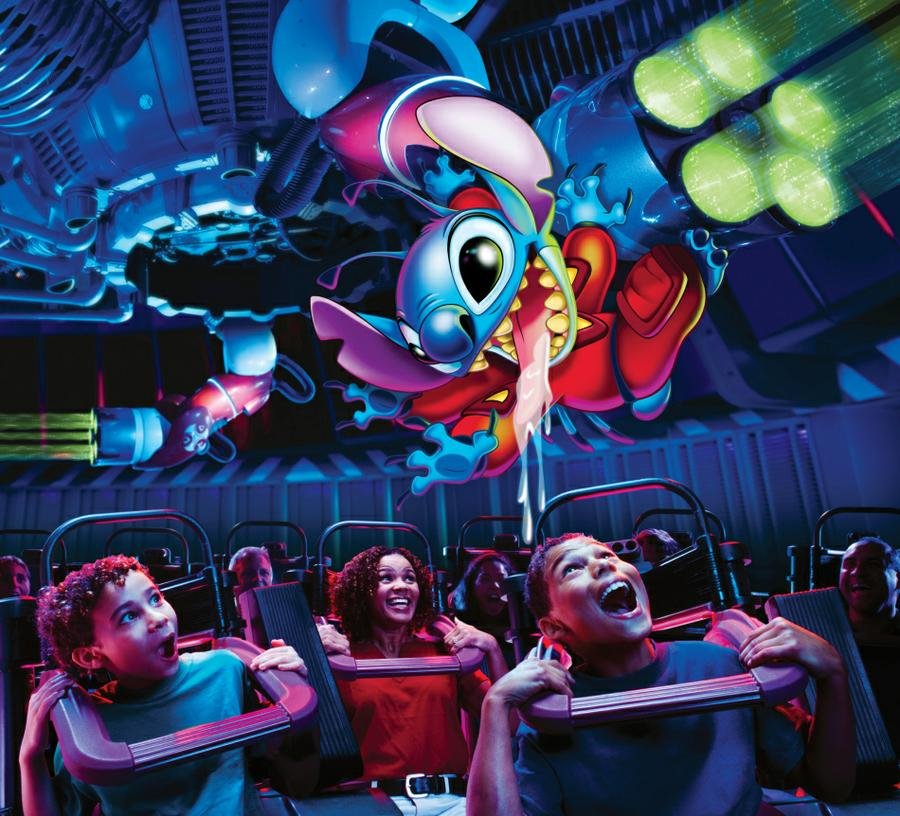 the ride is a lazy re-skin with really poor pacing, and the shoulder restraints don't add anything to the ride anymore, so they're just in the way.
also, stitch burps fucking chili dogs or something in your face and it's horrible and makes everyone want to throw up and it's bad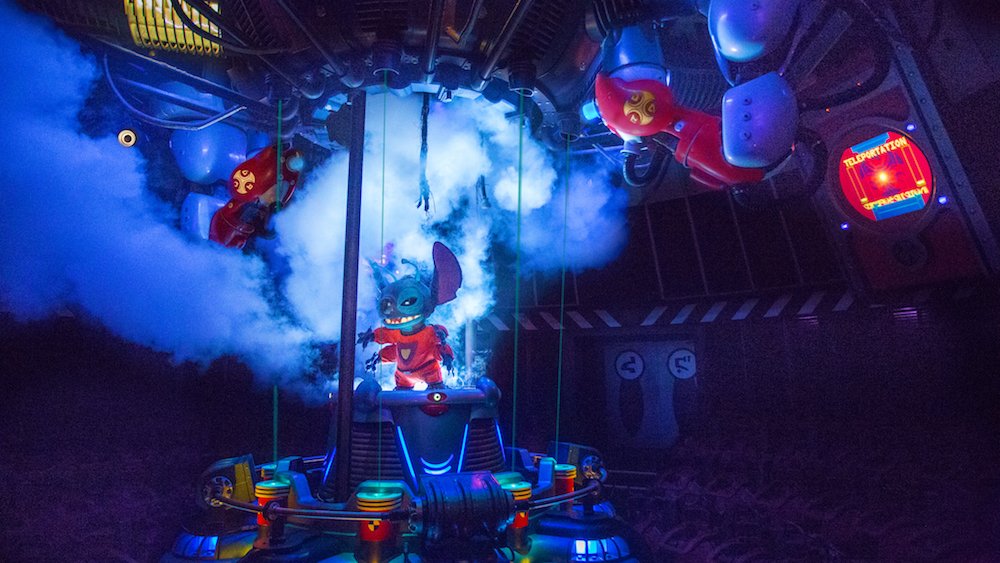 The Timekeeper was replaced by Monsters Inc. Laugh Floor, a comedy show using a performance capture system for live actors/CG models. Impressive tech, but Monsters Inc. has no business being in a future/sci-fi section of the park, and DEFINITELY lacking the soul of Timekeeper.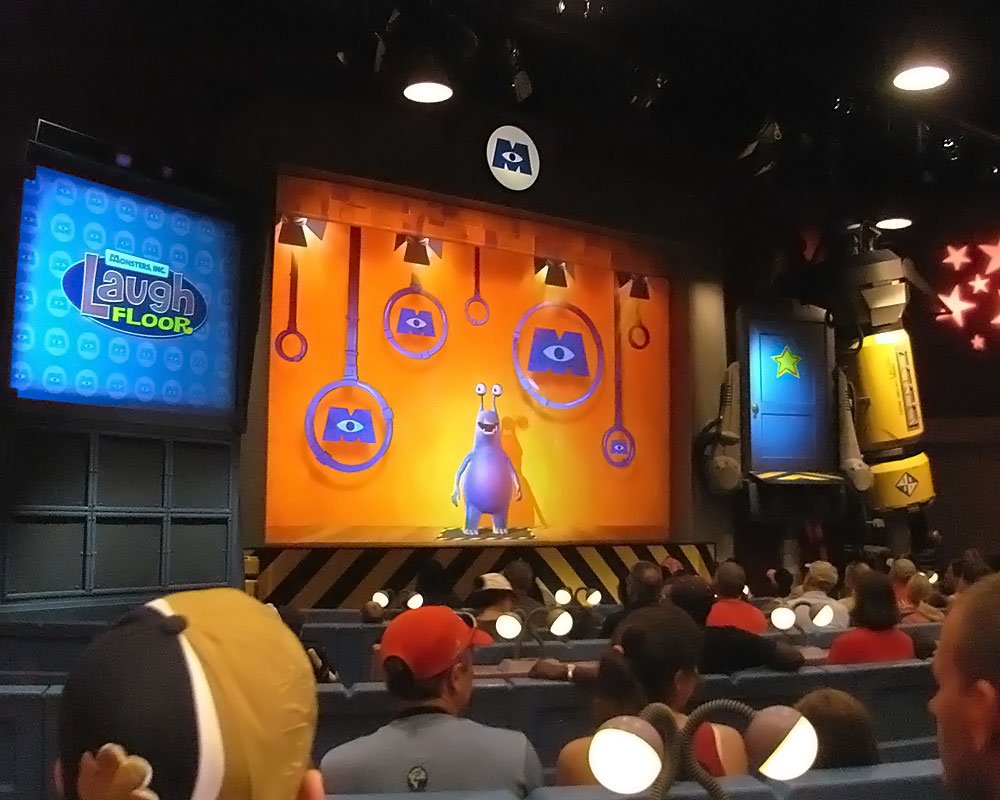 (the worst part about this one is that Monsters Inc. has vaguely art deco elements to it as a film, which could have integrated SUPER well into 94 Tomorrowland, but... again, Iger Disney).
Buzz Lightyear's Space Ranger Spin replaced Delta Dreamflight/If You Could Fly, another holdover from old Tomorrowland, and honestly is the best Disney IP fit in Tomorrowland. It's a super-fun light gun ride. I don't really have a beef with this one.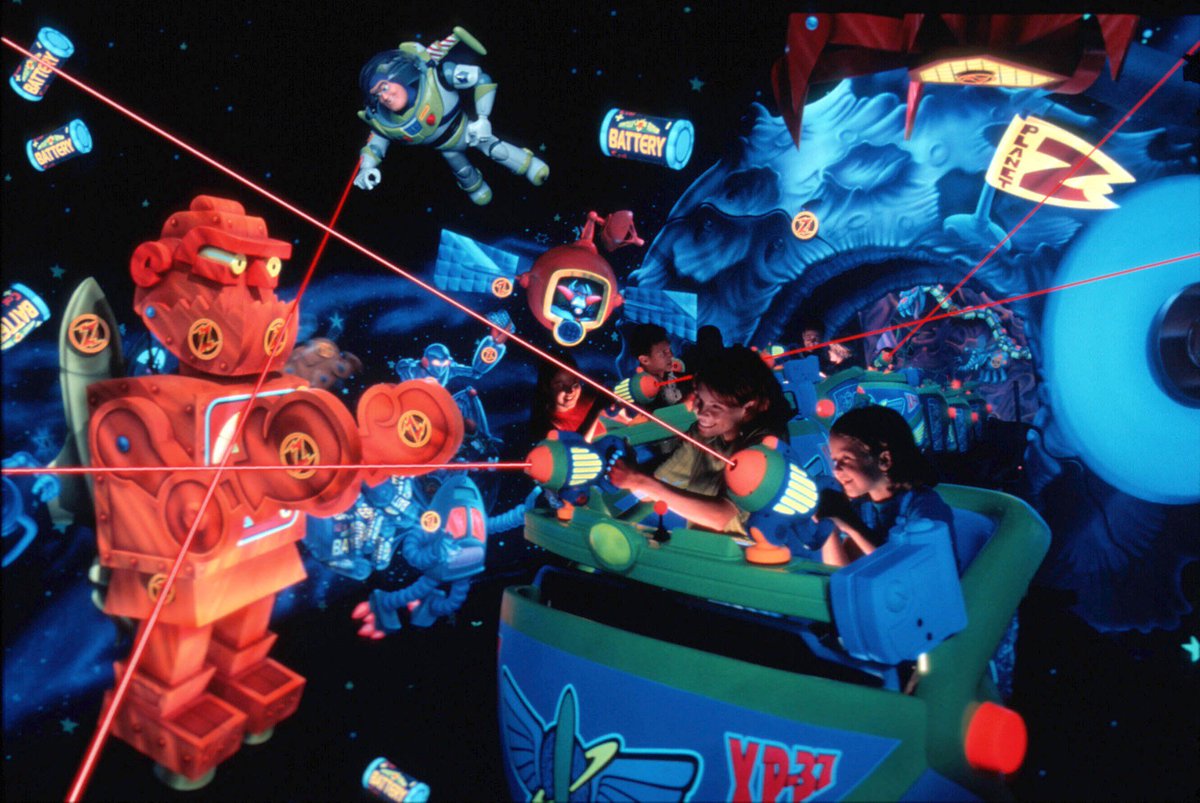 These new attractions all have one thing in common:
they threw off the thematic balance of Tomorrowland.
No regard for font, no regard for color palette, little to no regard for architecture. As is the case in most Iger expansions, loyalty to IP trumps park theming.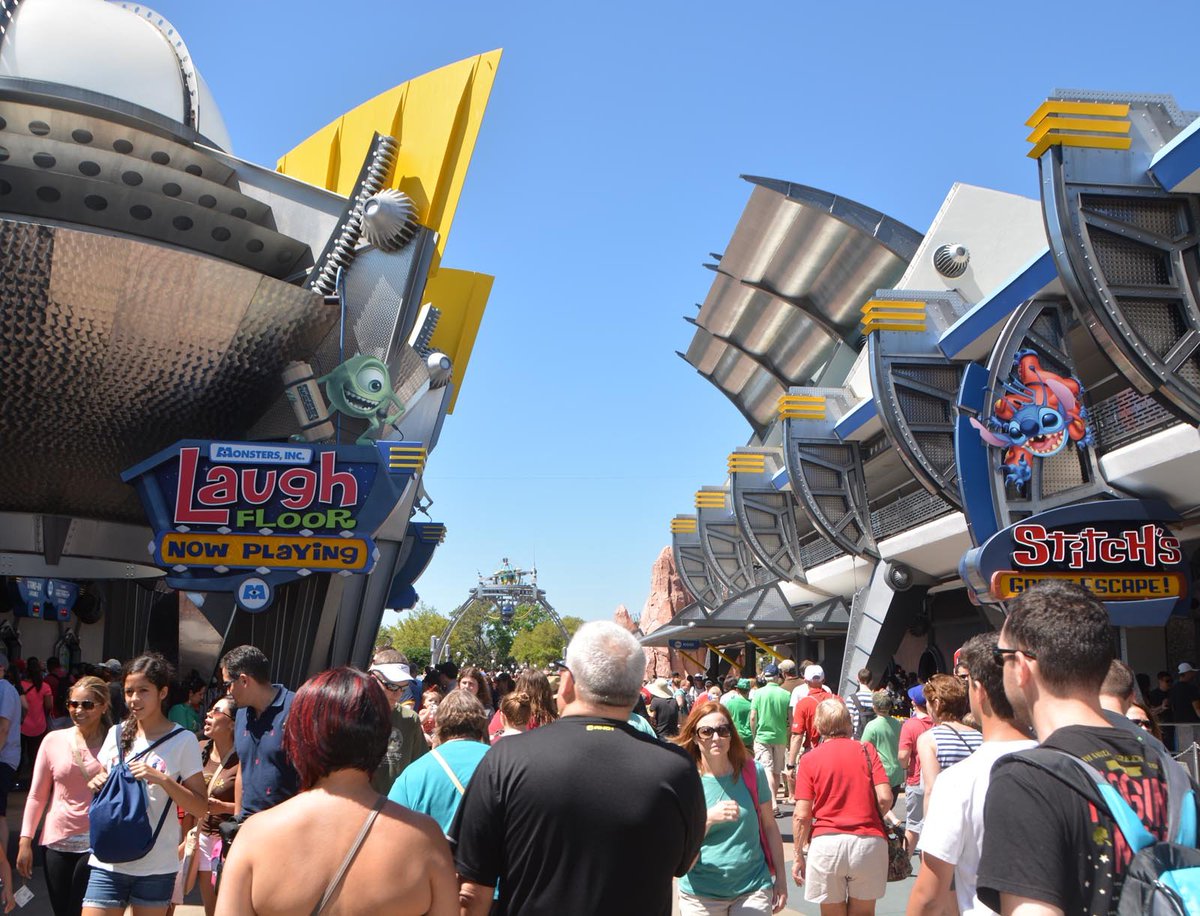 94 Tomorrowland continued a message set forth by the original - that the future is sometimes scary but we can make it okay.
Disney doesn't really care anymore. The IP-based rides and shows contribute nothing to that, so the park feels aimless, muddled, aging.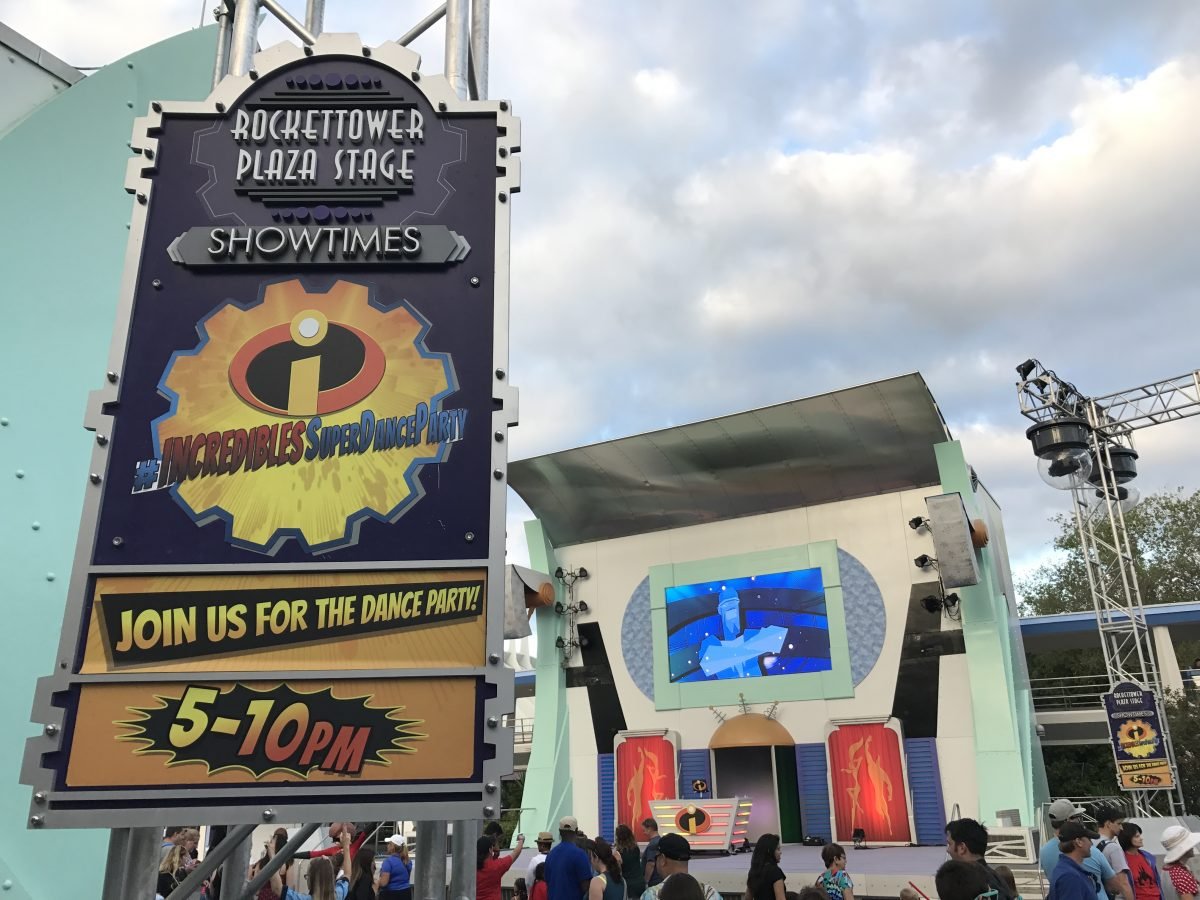 Future signage didn't keep to the color palettes or aesthetic much at all, either, despite some of the fonts being retained. They kinda default back to pre-94 Tomorrowland, which isn't OFF-theme, per se, but definitely breaks the design.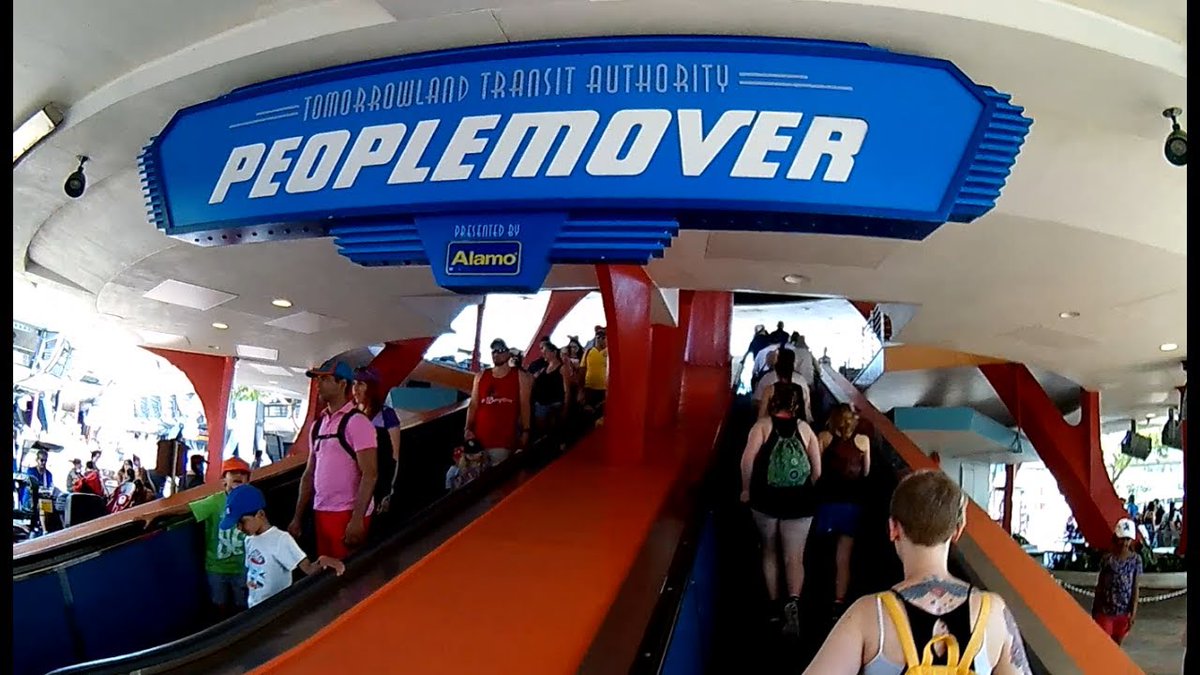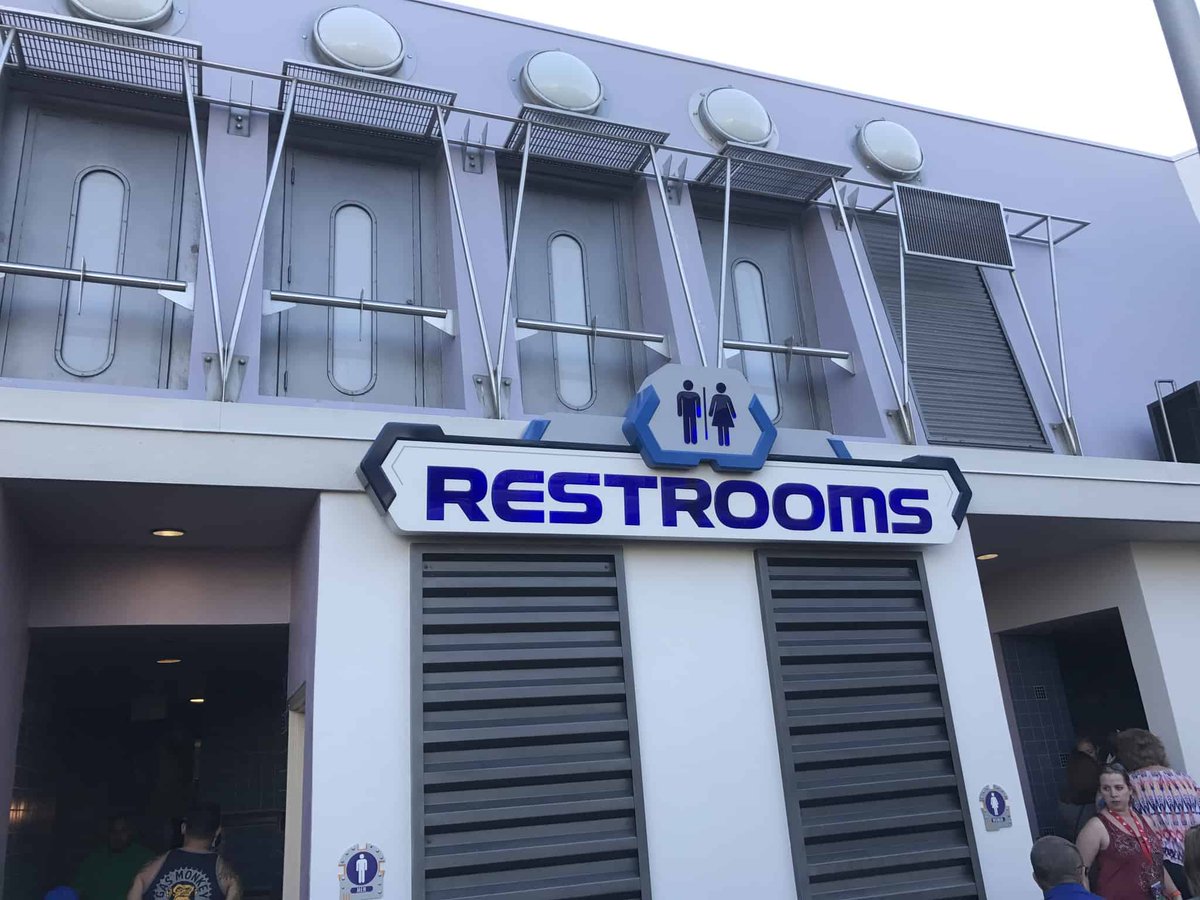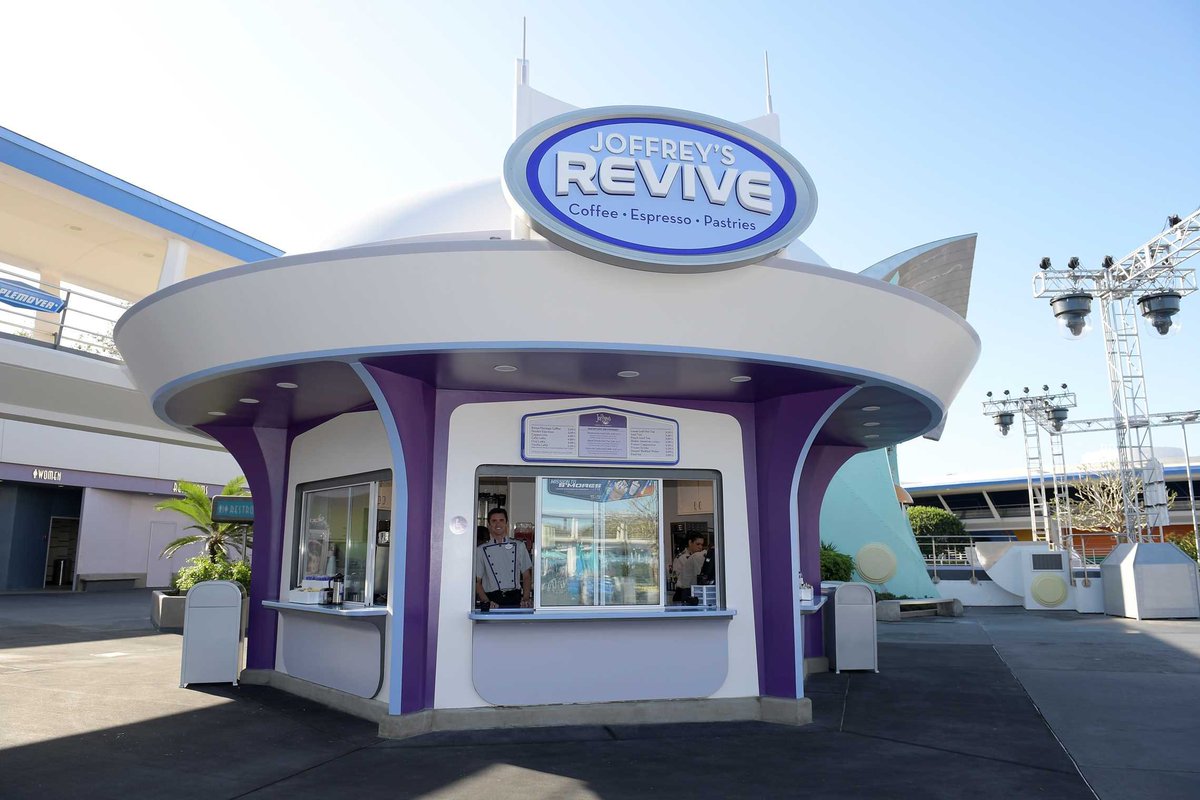 modern Tomorrowland displays the same symptoms as Epcot, California Adventure, Hollywood Studios, Celebration, FL: a park that was built with a vision and maintained by people who didn't
Breakdowns to non-ride theming are common. It's kinda falling apart. Buildings are empty.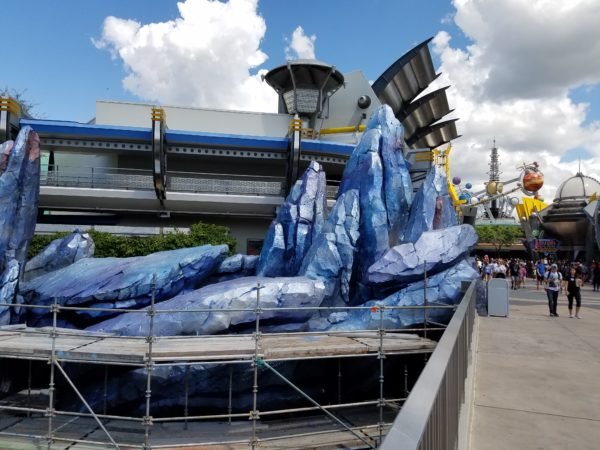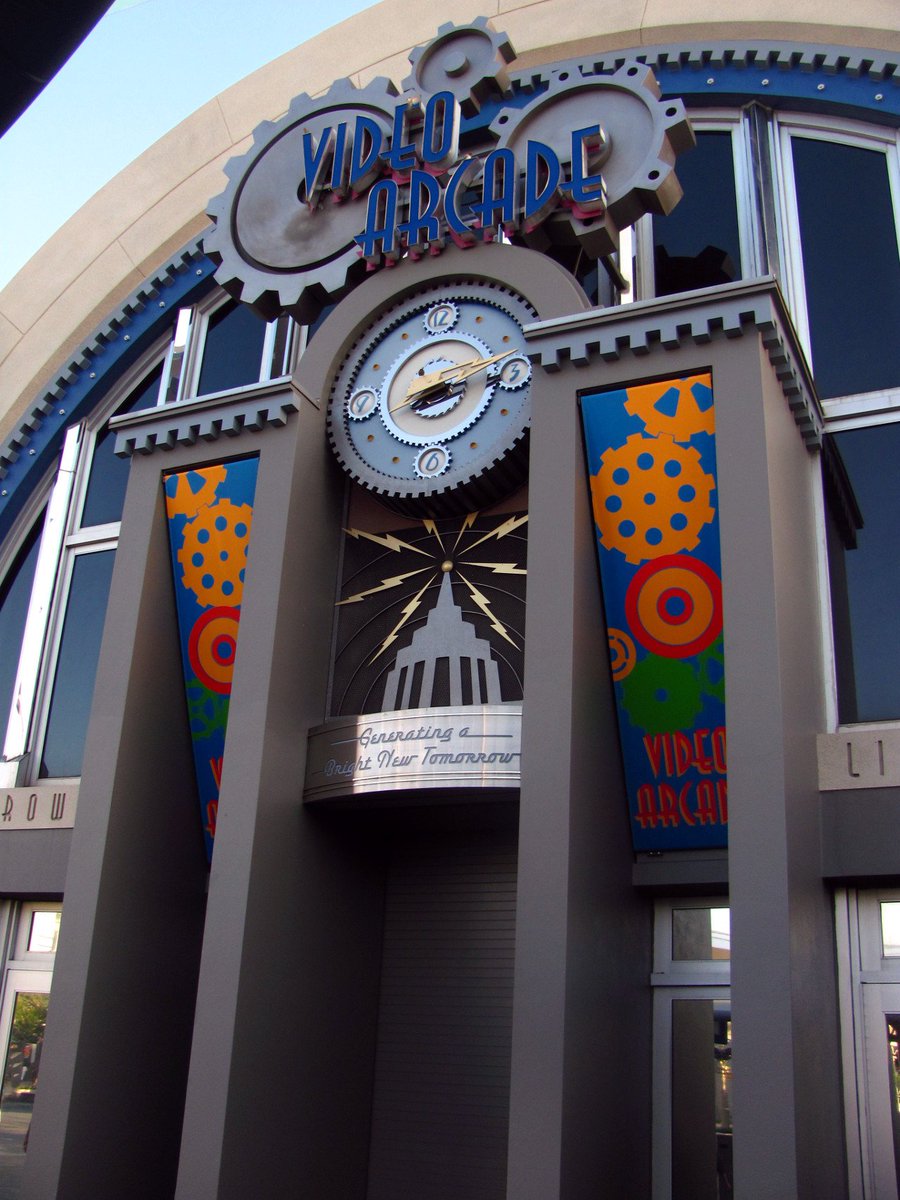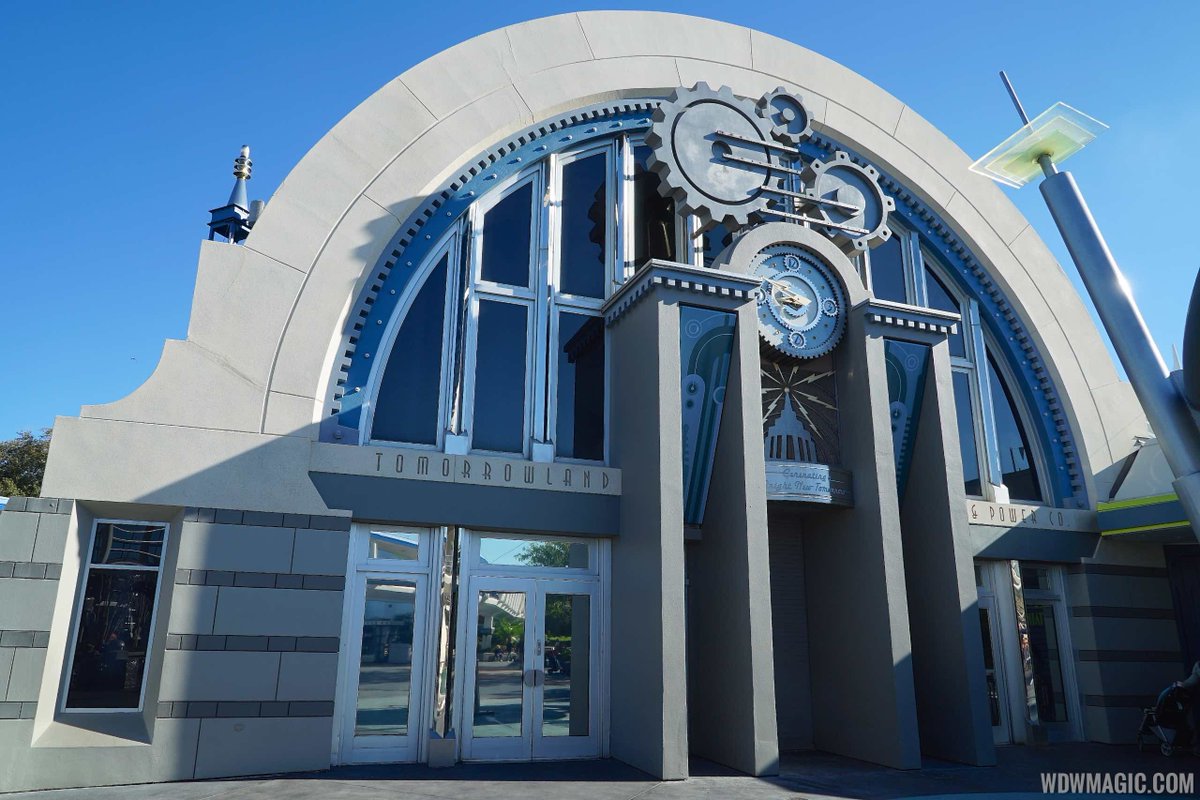 Recently, Disney revealed plans to build a Tron coaster in Tomorrowland. Not a bad fit, but there's gonna be some visual facelifts coming with it.
They're not really that encouraging. A stale, uninspired, Apple glossy white. Corporate. Consumerist, even.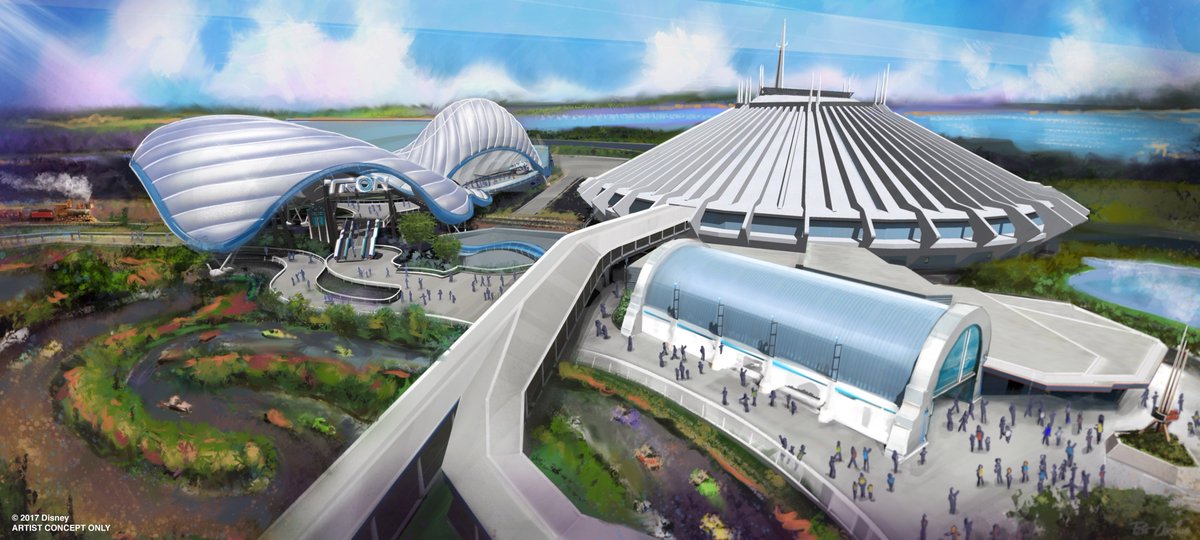 I know it's ironic to call something at Disney World consumerist as a pejorative, but 94 Tomorrowland definitely had some anti-consumerist skepticism in its design (PARTICULARLY with Alien Encounter). It's a thing that DOES happen in Disney Parks, believe it or not.
Ultimately, it feels as if Disney Parks have gone from design-trendsetters to design chasers, building land after land of hit franchises in sometimes naive hopes that they'll maintain relevance for decades (A V A T A R) instead of pursuing original vision.
In conclusion:

-enjoy 94 Tomorrowland while you can
-Bob Iger Retire Bitch
-You're Next, Epcot
-(no I really mean it I will write all damn day about Epcot)
if you liked me talking about design, maybe you'll like my work! I recently finished a free browser "Dreamcast-flavored" puzzle game called CROSSNIQ. It's like a cross between Bejeweled and a Rubik's cube, and I'm kickstarting an enhanced version soon!
crossniq.com