932 subscribers
When
#FusionGPS
's bank records reveal it was actually being PAID as a subcontractor by the FBI to run Section 702 queries to unmask names of Trump team members from raw SIGINT provided to it by the FBI, my God the FUN we're all going to have, eh?
Goddamn, the stories are practically going to write themselves, aren't they?
judicialwatch.org/wp-content/upl…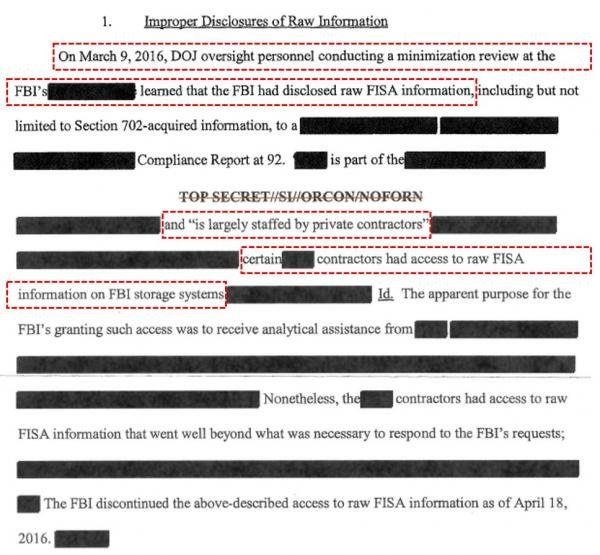 You'll want start at the bottom of page 83. The FBI was letting subcontractors have access to raw SIGINT, which the subcontractors were then using to make Section 702 unmasking queries.
In April of 2016, NSA head Mike Rogers noticed the unusually high # of Sec. 702 queries to unmask the names of US citizens being made by the FBI. He investigated & discovered, much to his horror, it was coming from a FBI subcontractor & unmasked names = Trump campaign team.
Rogers took action to demand a complete review of all Sec. 702 queries, something that shut the entire process down subsequent to April 2016.
Recall in his hastily called for press conference in March, 2017, Devin Nunes stated he was shown unmasked names of Trump transition team members collected in intel intercepts having NOTHING to do with Russia or any foreign country.


The Hillary campaign/DNC hiring of Fusion GPS who then hired Christopher Steele & Nellie Ohr to begin collecting Russian info for their Trump dossier began in June 2016.

June is....after April. April, May, June.

See the problem here, Olivia?
One thing I got from that Nunes presser last March is that whatever he was shown shocked and scared the living HELL out of him.

Was he looking at unmasked 702 queries of Trump campaign team people from pre-April 2016?

Because he very well could've been.
IF, as I've been hearing, the Fusion GPS bank records show they were being paid as an FBI subcontractor as part of a unit doing Section 702 unmasking queries of raw SIGINT gathered on the Trump campaign prior to April 2016, this scandal dwarfs Watergate.
Having it's access to the raw NSA SIGINT through the FBI abruptly cut off by Mike Rogers, Fusion then gets hired by HRC/DNC to compile the Steele Dossier which is used to get surveillance of Trump's team started back up through the FISA court granting a warrant.
Now, you can start to spend some time looking into a scandal that dwarfs Watergate, if you so choose.

Or you can spend another 5 months writing about minor process violations of people like Paul Manafort, Rick Who? and General Flynn.

Just a friendly heads up.
Unroll please DM n' stuff





932 subscribers
This content can be removed from Twitter at anytime, get a PDF archive by mail!
This is a Premium feature, you will be asked to pay $30.00/year for a one year Premium membership with unlimited archiving.
Don't miss anything from @drawandstrike,

subscribe and get alerts when a new unroll is available!