The key thing to remember about the
#UraniumOne
indictment publicly revealed yesterday:
The FBI had built an EXTENSIVE case. They'd tracked EVERYTHING. All the $ had been traced, the paper trail had been followed.
They knew who got how much & where it went.
However, the FBI was TOLD not to pursue the people inside the US gov't who took these massive bribes. They were told to just charge the Russian guy handling the bribery & setting up the scheme on behalf of Russia, Vadim Mikerin.
thehill.com/policy/nationa…
All that extensive documentary evidence showing which US gov't people got how much & where the $ went? It was just....filed away.
Including documents detailing the $ funneled by Russian nuclear officials to the Clinton Foundation.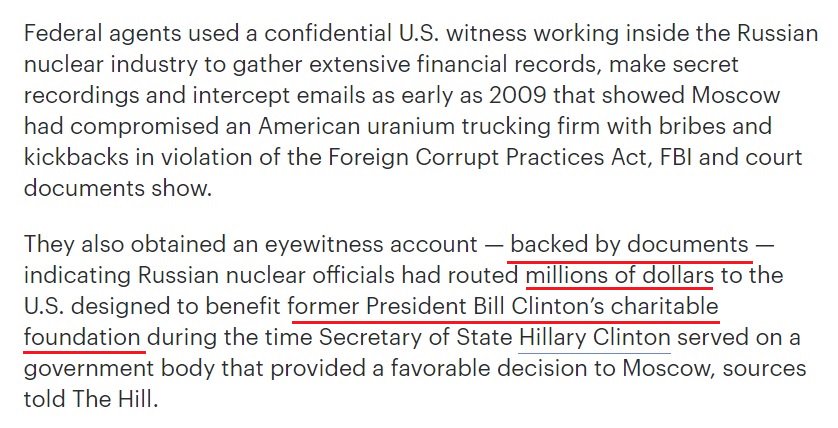 There was a KEY FBI INFORMANT right in the MIDDLE of this
#UraniumOne
scheme, recording things, giving the FBI access to exactly what was going down.
And this person was, until about 3 months ago, GAGGED from talking. Not until OCTOBER 2017 was this person cleared to talk
Now, Sessions took over the running of the DOJ from Loretta Lynch/Sally Yates in February.
Why did it take 9 months for the confidentiality agreement to be removed from this informant so he could testify to Congress?

This will show you how SMART Sessions is.
When Obama/Holder/Clinton decided to minimize the damage of the FBI being on the trail of the
#UraniumOne
bribery scheme, they fixed it so Congress wasn't told & they forced the informant to sign a gag order.
The FBI was only allowed to go after Mikerin & a few low level people, the informant was gagged, and so the
#UraniumOne
deal was allowed to sail through without a hitch.
Then
@peterschweizer
writes his book 'Clinton Cash' and calls attention to the massive amount of $ being given to the Clinton Foundation. The media is forced to cover it, but manages to finesse it so no real damage is done to the Obama WH or to Hillary's Presidential campaign.
PLENTY of people inside the Gov't who knew what happened with this
#UraniumOne
bribery scheme were willing to talk. They were MAD about being told to shelve the investigation and take no further action.
But Queen Hillary's Long Awaited Coronation was at hand, and so it appeared nothing could be done.
AND THEN A MIRACLE HAPPENED.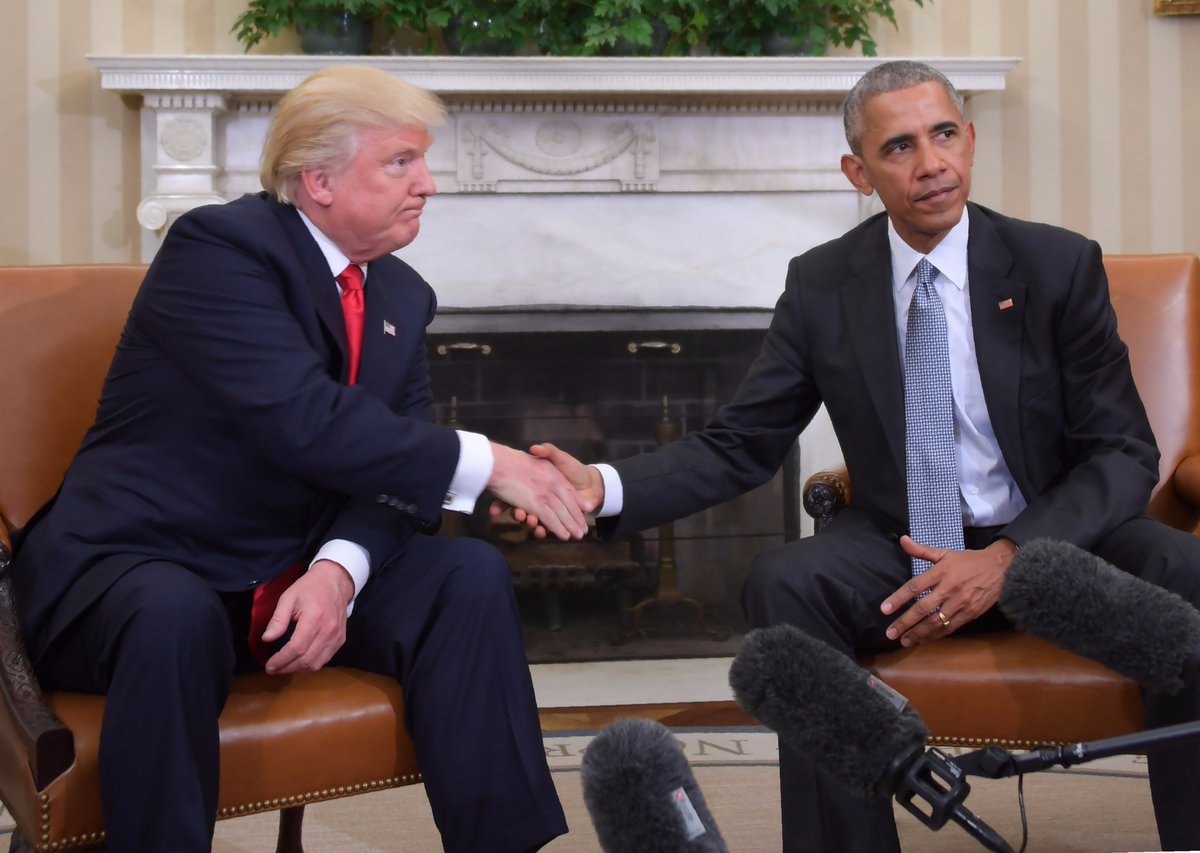 DONALD TRUMP WON THE 2016 PRESIDENTIAL ELECTION.

All of a sudden, hope sprang to life within the hearts of dedicated patriots inside the US gov't.

There's a chance...A REAL CHANCE...the traitors who took those millions in bribes can be exposed.
So what does Jeff Sessions find waiting for him when he assumes the office of the Attorney General?
He finds patriots ready to show him extensive documentary evidence of the
#UraniumOne
bribery scheme & how they were ordered to let all the traitors walk.
The biggest immediate scandal Sessions faced on assuming office wasn't JUST the illegal spying/unmasking being done using the Trump dossier & other intel shenanigans.
He also has to address someone aborting the
#UraniumOne
investigation.
Remember what DOJ Inspector General Michal Horowitz is charged with investigating: political fixing/abuses/favors being done within the department.
IF the FBI build a case showing TOP US GOV'T OFFICIALS accepted MASSIVE BRIBES from Russians to facilitate the
#UraniumOne
deal but were then told to DROP IT for political reasons, isn't THAT a clear example of political fixing?
So what does Sessions and Horowitz do? They reopen the
#UraniumOne
bribery investigation and they do it QUIETLY on the down low.
The best part? They KEEP THE CONFIDENTIALITY ORDER IN PLACE ON THE FBI'S INFORMANT. He's talking to THEM, just not to Congress.
That period of 'dead time' people think Sessions was sitting in his rocker from Feb.-Oct. of last year he's really getting ready to drop a massive hammer on a bunch of truly corrupt traitors to our country.
You know WHY that informant's gag was lifted in Oct. 2017 so he could finally begin talking to CONGRESS?

Because Sessions & Horowitz's work is mostly done. All the heavy lifting is over. The i's have been dotted, the t's have been crossed.
Jeff Sessions is, above all things, an American who loves his country. He has been very carefully and very cleverly closing a net around the traitors who sold their own country out to the Russians.
So it's been OK since Oct. once the FBI informant was ungagged if he testified behind closed doors to Congress & lawmakers leaked parts of his testimony to the media.

Why?

Because it's too late for leaks to matter.
Leaks of this guy's testimony in Feb, March, April, May, June, July, August, September WOULD HAVE mattered because the traitors could've taken action to avoid prosecution, to hide evidence.

But now it's too late.

Since Oct. there's nothing they can do.
You know how brilliant that was, going from Feb-Oct with that informant still gagged? It led a lot of the traitors to believe their fellow black hats still inside the DOJ/FBI were successfully covering for them.
None of these traitors had a real clue just how hot Sessions & Horowitz were on their trail until Oct/Nov hit. The informant is ungagged and then Horowitz does an interim release of evidence to Congress: Stzok's texts.
Like a hidden submarine suddenly breaking the surface of the ocean bow first Horowitz's investigation started coming into the open.


Everybody is looking at MUELLER and his team, focused like a laser on them from May to Nov.

Nobody even REMEMBERS Horowitz is there. Sessions? He's invisible, so of course he's not doing anything, right?
Now it's January. Think back to how things looked in early October.
Just in the past MONTH we've had the 'reopening' of investigations of
1)
HRC emails
2)
Hezobollah
3)
Uranium One
That's on top of the intel abuse/Fusion/leak investigations.
I put 'reopening' in quotes because let's face it: Sessions is only PRETENDING these investigations are being opened back up *now* in just the past couple of weeks.
They lulled all the rats to sleep thinking their fellow travelers still embedded in our gov't were holding Sessions/Horowitz at bay, getting ready to use that Mueller investigation to force a Trump impeachment or at least a scandal that would force a resignation.
They were wrong. They got PLAYED. And now they're going to be exposed. Those who left assured of their keeping all their ill gotten gains and those who stayed behind to cover their tracks.

They're ALL going to prison.
The evidence has been collected, the documentary trail has been laid out, and both Sessions and Horowitz know how solid their case is.

You're going to see A LOT of asset forfeiture in the next 5-6 years.
All those millions in bribes that Russian nuclear officials funneled into the USA to various government and business people? All of it and anything BOUGHT with it is going to be seized.
That's right, Hillary.
You don't get to keep the money.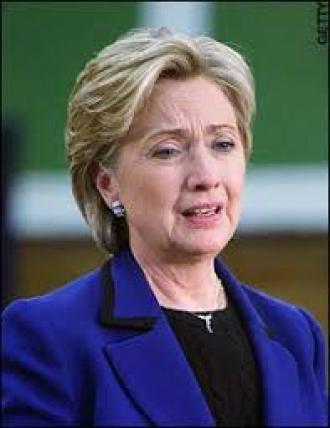 Examples are going to be made of these people so NOBODY is ever tempted again to prostitute their offices in the service of a foreign power so they can enrich themselves at the expense of the American people who trusted them with governance.
The entire scheme was laid bare long ago. The FBI was PROHIBITED from acting on the evidence it had collected. Measures were taken to ensure none of this ever went any further.
They didn't count on Donald Trump, though. Or on Jeff Sessions.
/end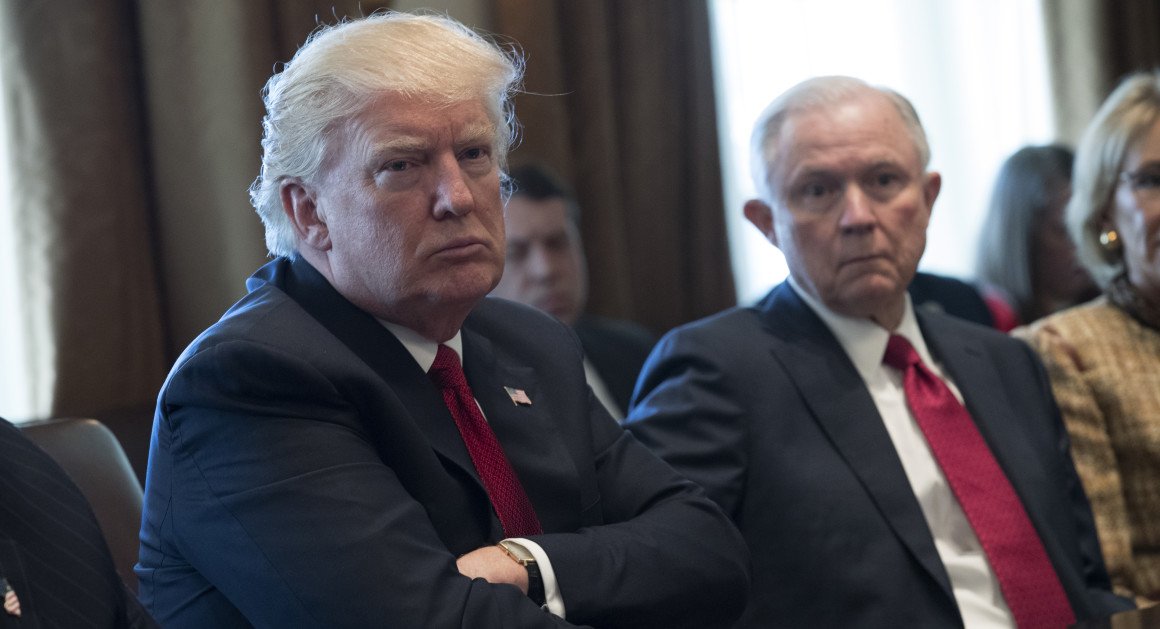 So what we learned today: don't start a long thread inside somebody ELSE'S thread. Start your OWN INDEPENDENT thread.

Otherwise, Thread reader app will only see the last long thread, not the first one.