Recently many a BJP supporters were preaching how BJP winning 2019 is more important for Hindus than them actually doing anything about RTE or Hindus in general.

FYI, BJP had supported RTE, the most anti-Hindu Law created in recent history, in Parliament when it was tabled.
Don't believe me? Here. Now you can argue that maybe BJP didn't understand that RTE was all about religious apartheid against Hindus, but then why has it never been in their manifesto for the past 7yrs? Will it be in 2019?
indiatoday.in/india/story/bj…
Not that being in the manifesto matters much anyway. I was of the opinion that inaction on Hindu issues was because Govt had intention but no cojones.
They dont focus on Hindu issues for the same reason Congress doesn't focus on poverty despite their
#GareebiHatao
slogan.
Modi Govt in the past 3yrs has proven that they can and will do whatever it takes to make laws & administrative orders on issues that they care about: GST, TripleTalaq, MadarasaReform, Demo etc.
So one has to assume ending religious apartheid against Hindus isn't one of them.
Do also note how all the state govts run by the BJP also have the same priorities. They all work in tandem & focus on central priorities of the BJP: Economy & Minorities.

Ride to power on the backs of majority & focus on upliftment of minority that'll never vote for you 👏🏼
Guys please, the amount of energy you spend convincing me that Congress is bad, would be better spent if you could prove how BJP is not the same.

Why must I vote for any party who is going to loot my temples & make apartheid laws? Be it Cong or BJP? Better NOTA or sit at home
I was unfairly targetting Dave last time. Raje has issued a similar order of selling Temple lands & MP is taking over more and more temples. Lets not talk about J&K either. All snake oil salesmen. For now, Yogi ji has my vote but hoping he won't be co-opted also.
Correction. I'm really sorry for claiming that RTE was never in BJP Manifesto. Actually it was. Just not a repeal or amendment, but "effective implementation". Yep, this is Modi ji's manifesto.
Thank you for pointing it out
@rahulroushan
bjp.org/images/pdf_201…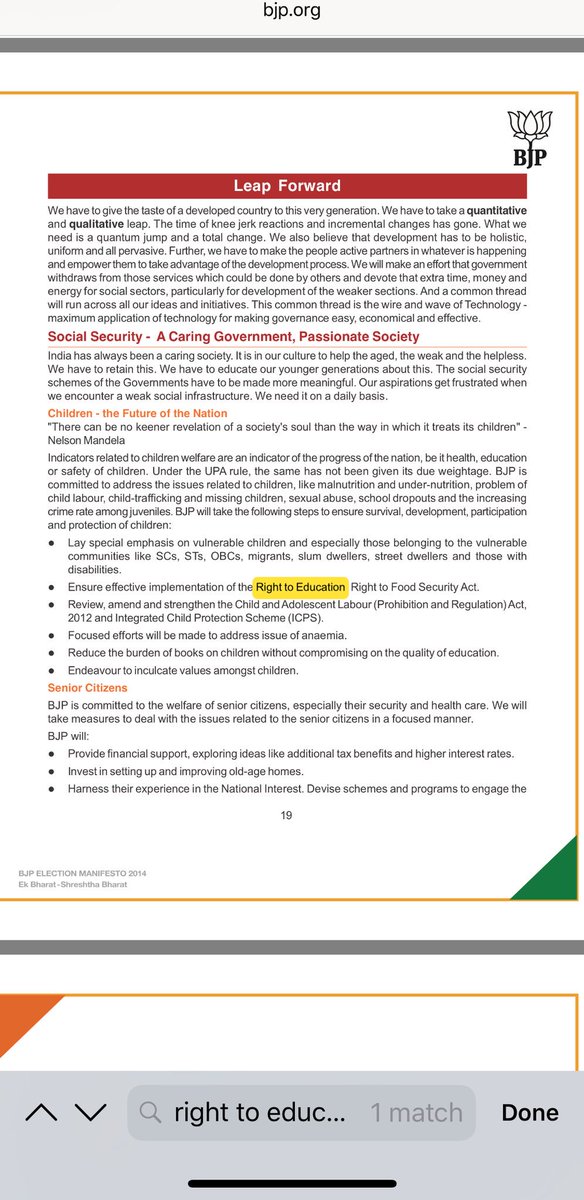 3 anti-Hindu apartheid laws that BJP has actually supported or extended:
1.
RTE: They're "effectively implementing" it & considering adding "Veda Pathshalas" as out of school.
2.
Temple Loot: Increasing loot in Raj, MH & MP that we know of.
3.
Anti-Superstition Laws: No action
Btw, Aghoras are banned, yes banned, under the anti-superstition laws in Maharashtra and the Hindu party that has been in power since 3yrs hasn't amended it. Meanwhile, miraculous Padres are spreading the light of walking-on-water Christ freely across the state.
And let me clarify it for you.

"WE" didn't lose 2004, BJP did. And they want to do the same again, so be it.

Confusing your voters as your soldiers is the most idiotic thing you can do. With voters, its a quid-pro-quo, not loyalty. Motivate me to vote for you or else I won't.